How to Make a Paper Christmas Tree DIY

If you're looking for a super easy Christmas decor DIY, you've found it with this paper Christmas tree board!
I love easy crafts, but I don't want them to look cheap. That's why I love this paper Christmas DIY because even though it is so affordable to make, it doesn't look cheap! Let me tell you how to make a paper Christmas tree DIY.
Watch the replay
I made this easy Christmas DIY during a Facebook live. If you want to craft along or see the step-by-step process, you can catch the replay over on my Facebook page!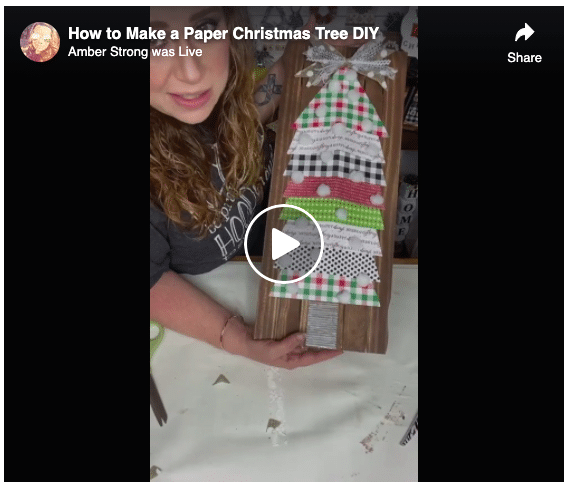 For this project, I will be using these items but you can substitute where you want.
"As an Amazon Associate, I earn from qualifying purchases."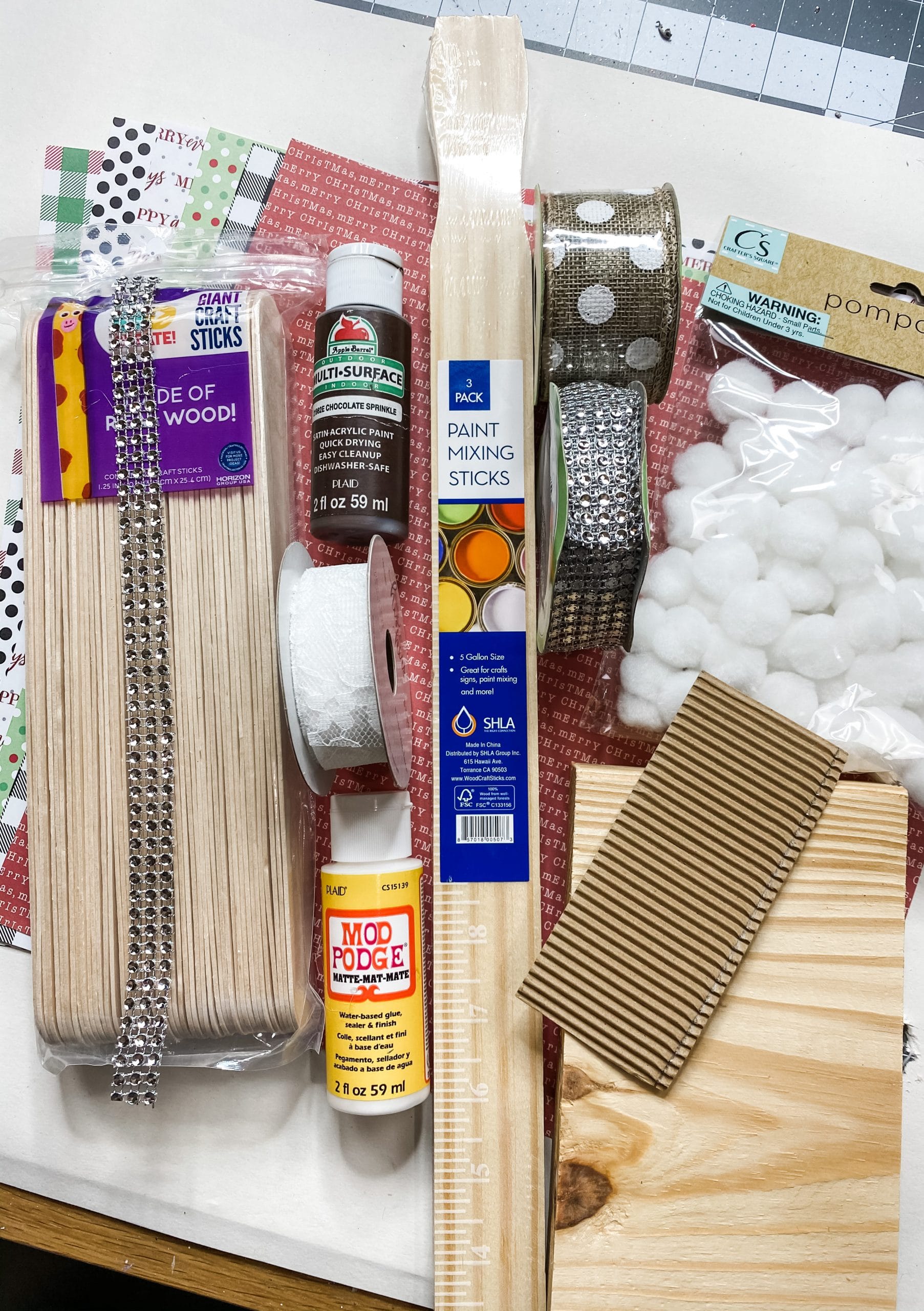 Let's get started!
To make the board for this paper Christmas tree, I used 6 of Home Depot's 5-gallon paint stirrers. Alternate the direction of the paint stirrers so that no 2 handles are next to one another.
I attached them together by hot-gluing giant craft sticks across the back of the paint stirrers.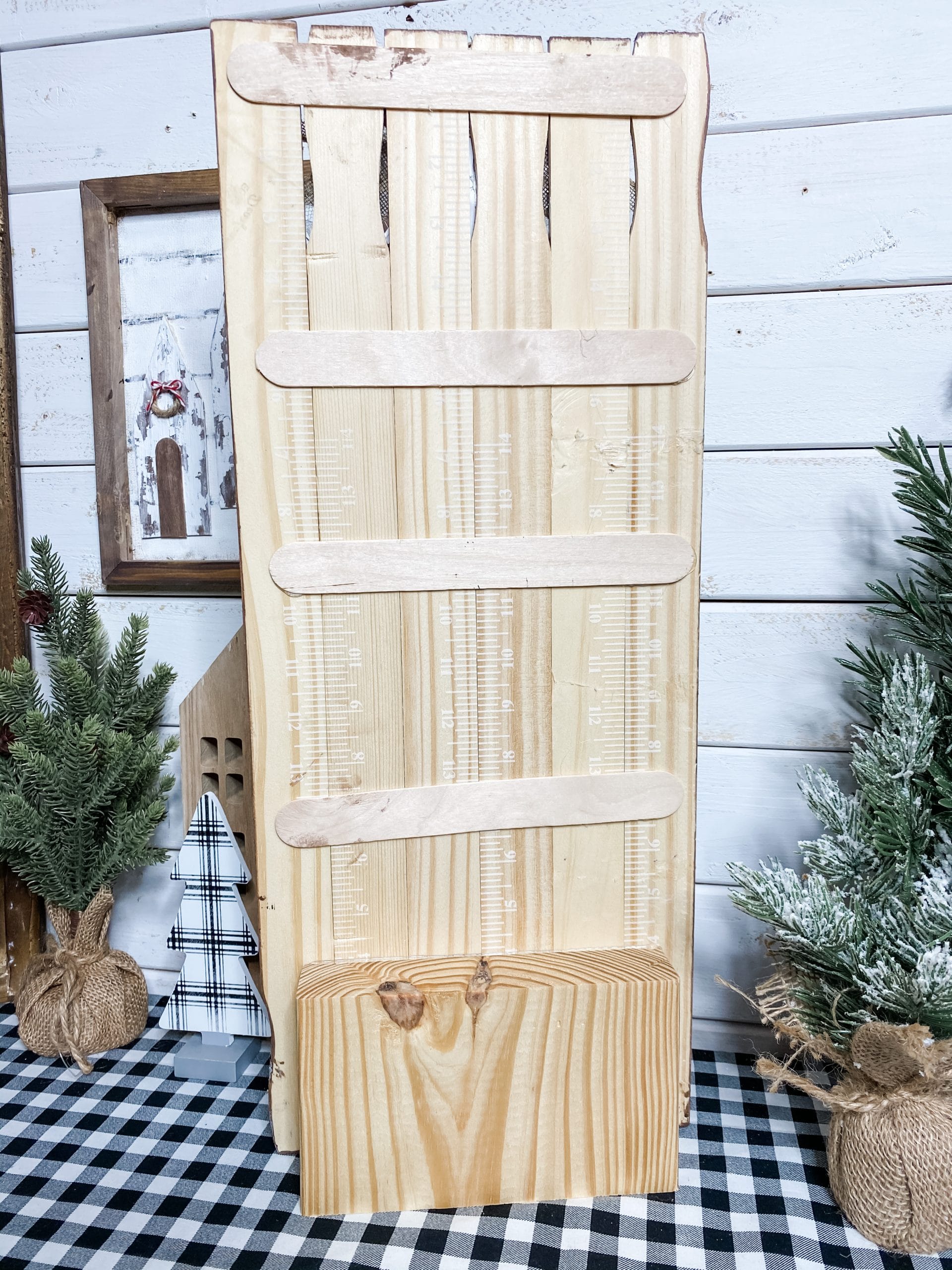 Next, I stained the paint stirrers by spraying the wood with water then spreading the paint across the board with a baby wipe.
The water helps the wood absorb the paint and gives it a stained finish rather than a painted look.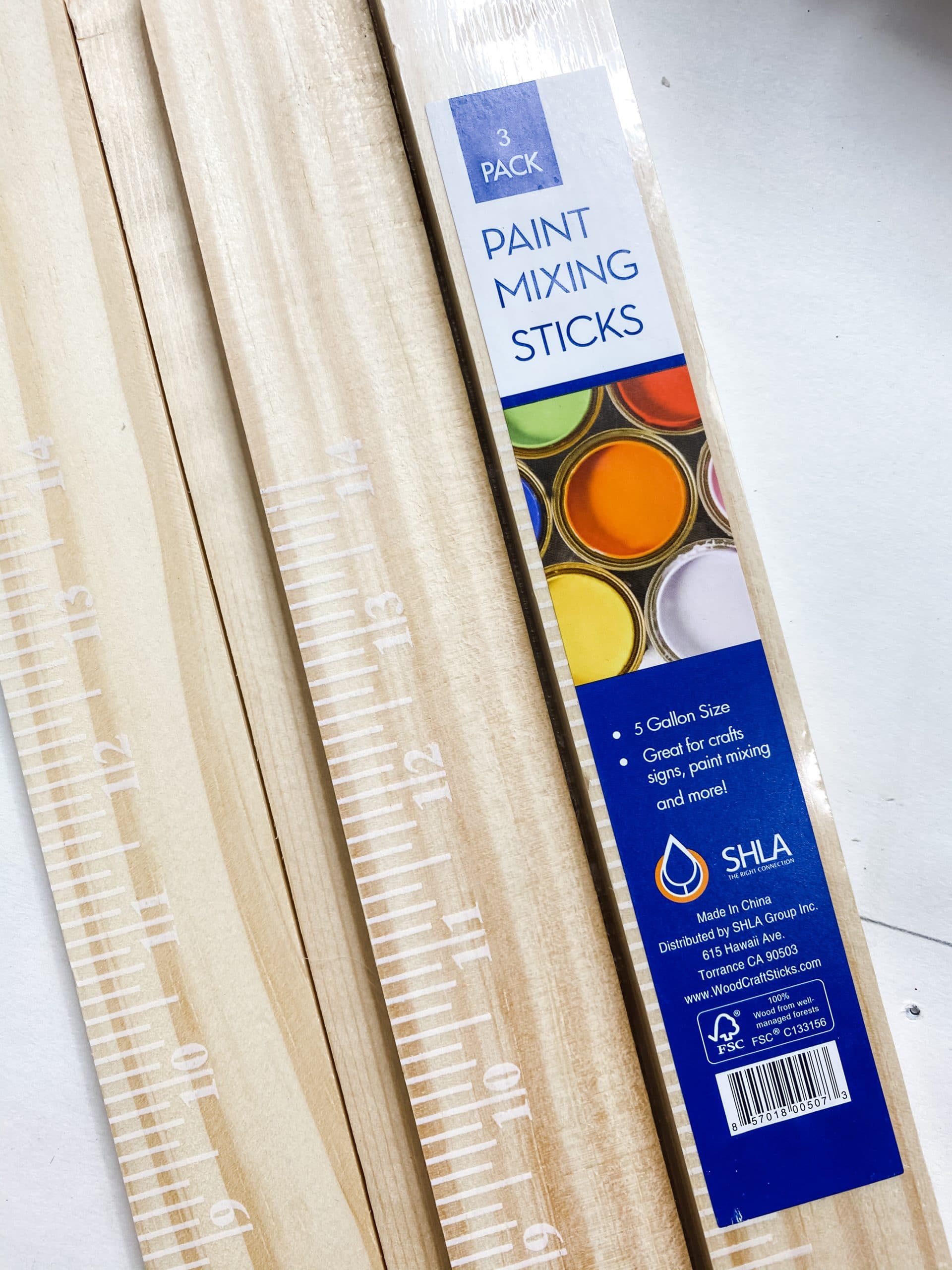 Make a Paper Christmas Tree
To make the paper Christmas tree, you're going to cut triangles out of the patterned scrapbook paper.
You can use as many or as few patterns as you want. I used 6 different scrapbook patterns, so I repeated a few of them to get the paper Christmas tree to the size that I wanted.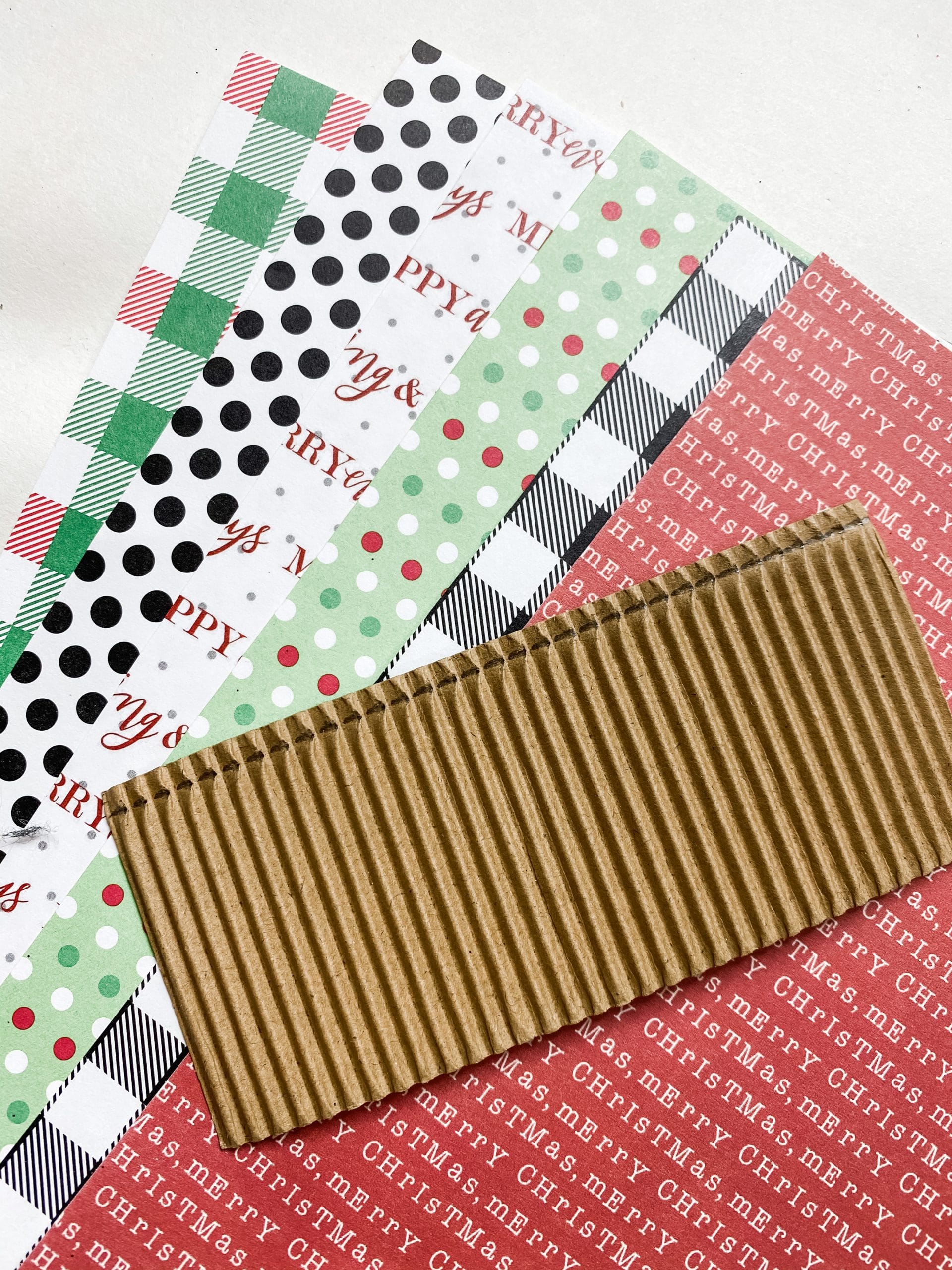 Slightly crease the center of each triangle. Next, I hot glued each scrapbook triangle onto the board. Don't glue the triangles down flat.
Instead, hot glue the sides of the triangles (not the bottoms) with the creases slightly elevated off the wood. This will give your paper Christmas tree some dimension.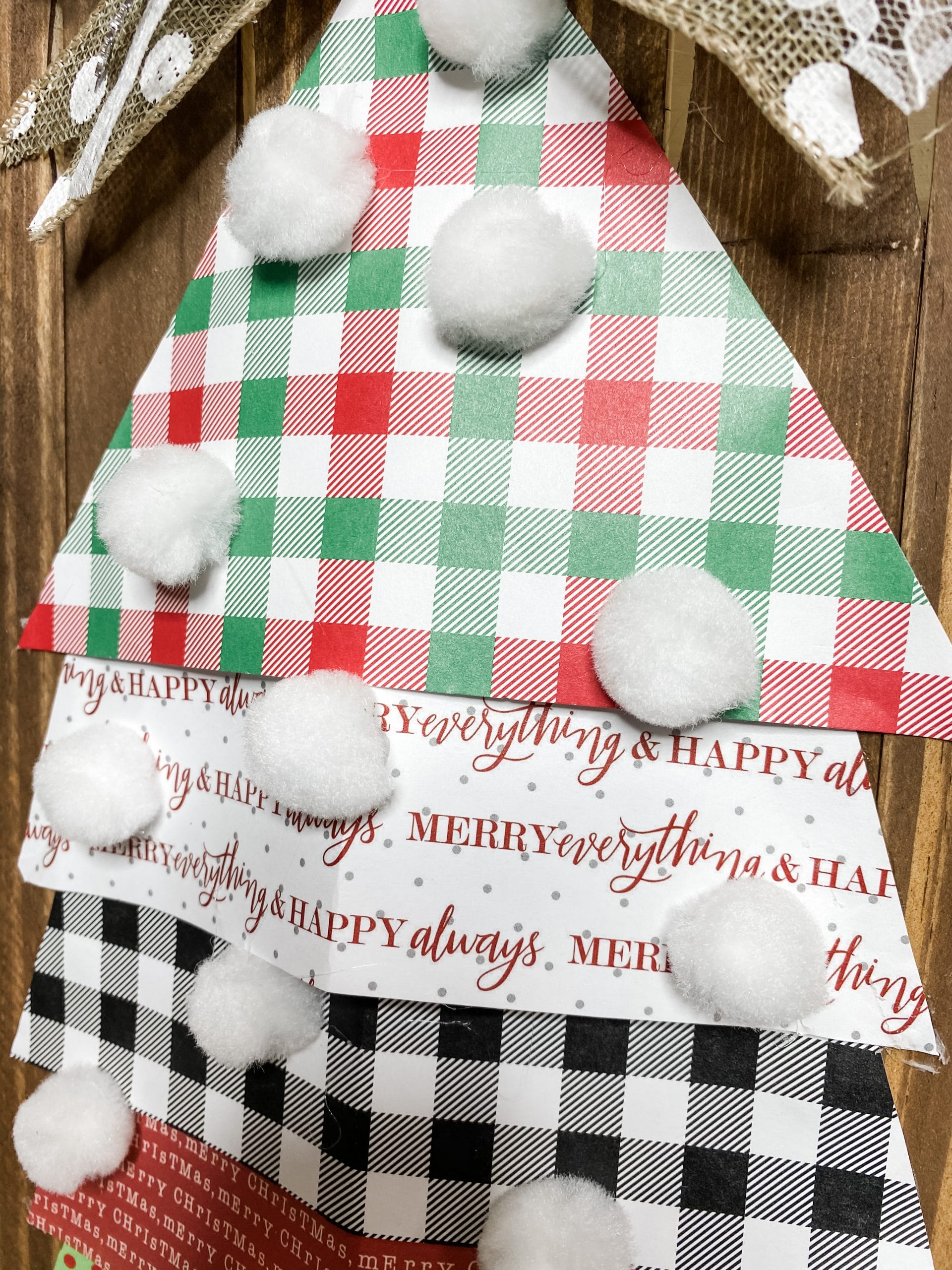 Make the tree trunk
I used corrugated scrapbook paper to make the trunk of my paper Christmas tree. If you don't have any corrugated scrapbook paper or your craft stores are sold out, you can always use cardboard in place of it.
Just separate the layers of the cardboard and hot glue it down with the wavy side facing up.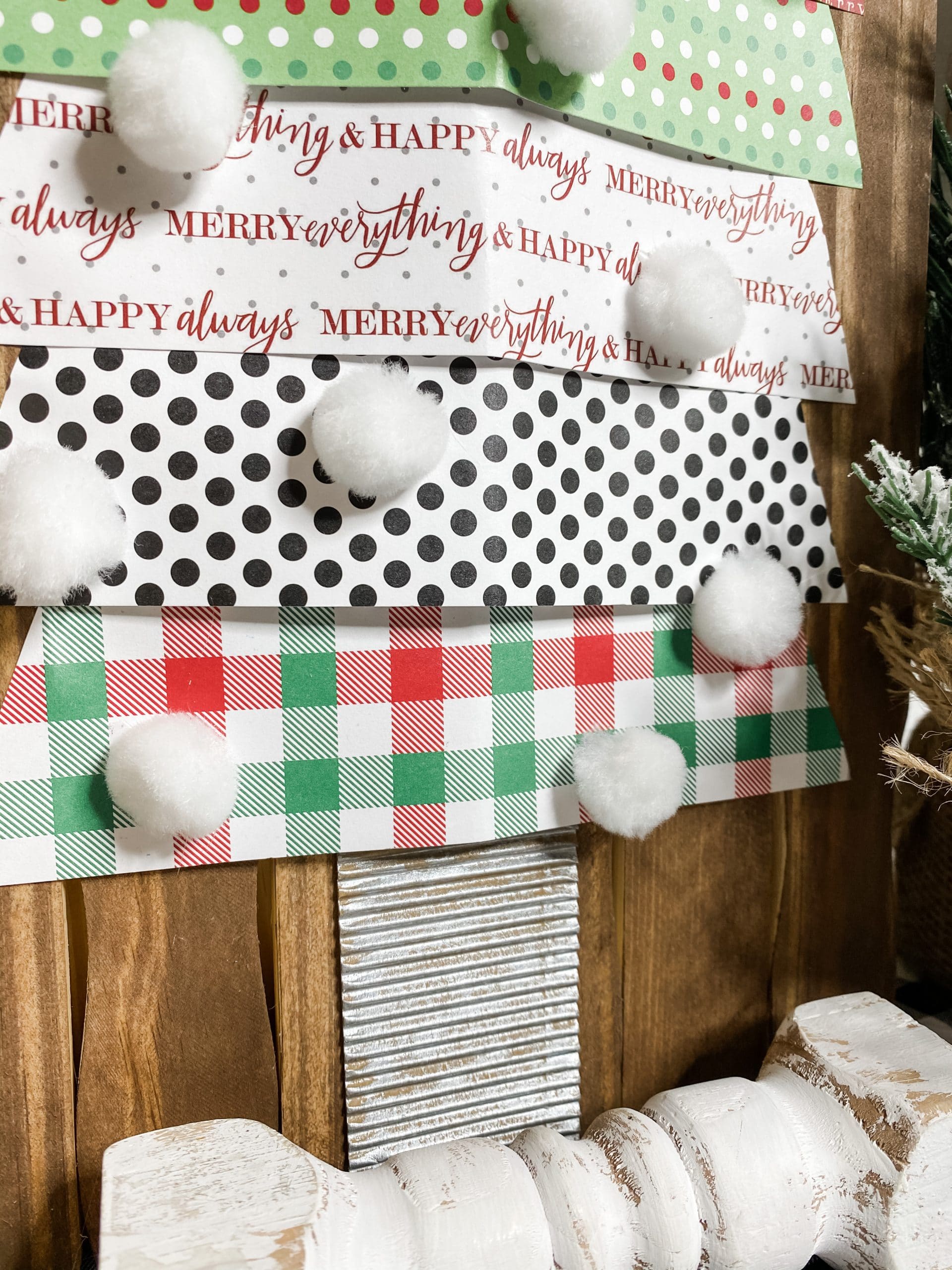 Cut the corrugated scrapbook paper to the size that you want your tree trunk to be and paint it with metallic grey paint.
Slide the paper just slightly under the bottom triangle of scrapbook paper and hot glue it into place.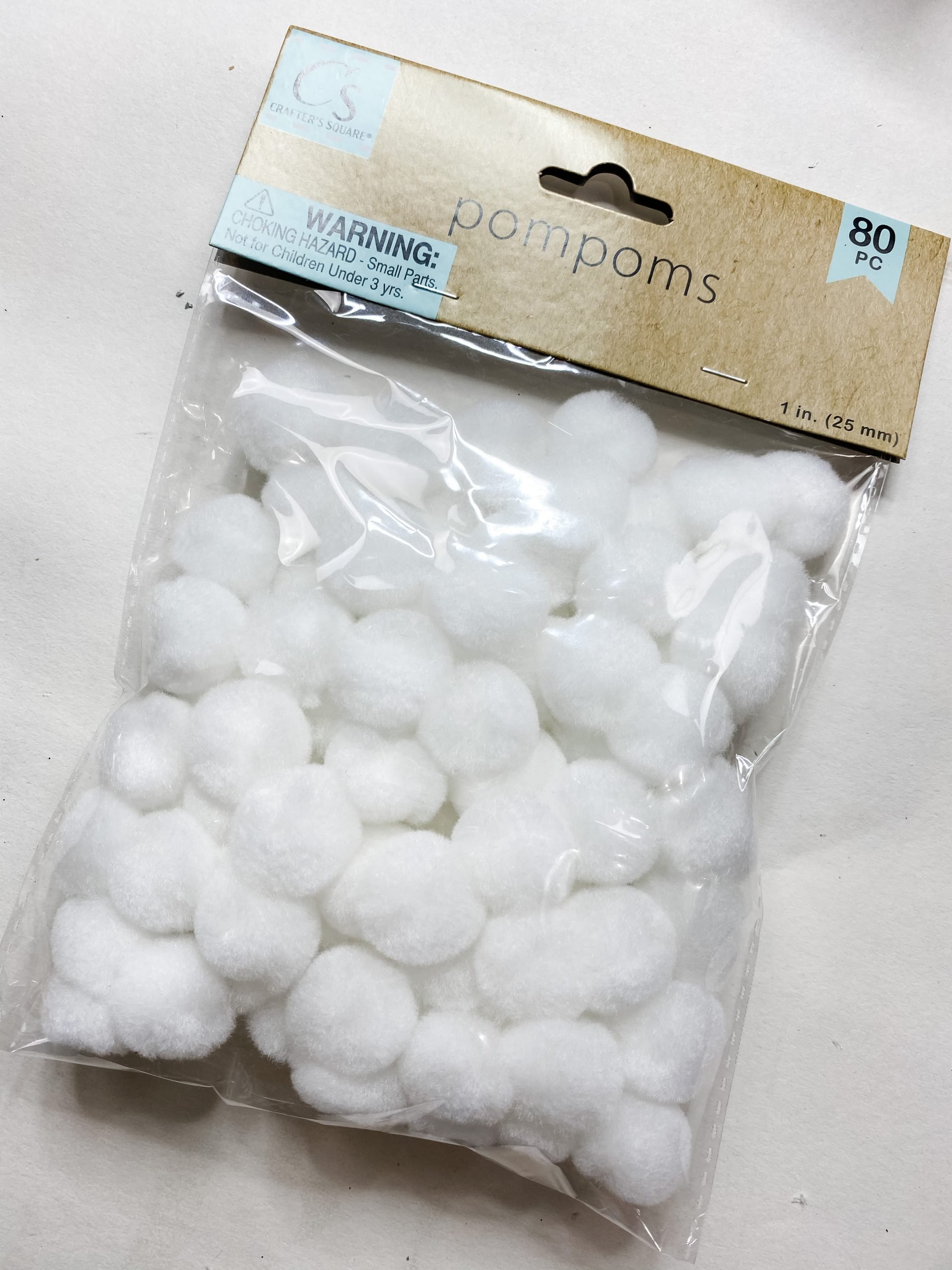 You can't have a Christmas tree without ornaments! I used some Dollar Tree white pom poms as the ornaments for my paper Christmas tree. Just hot glue them into place, and you have a decorated tree!
How to make a messy bow
Now it's time to make a messy bow for your paper Christmas tree! Don't worry, you don't have to be a professional bow maker to make a messy bow!
Pick the ribbon patterns you want to use. I used Dollar Tree diamond wrap, white lace ribbon, white ric rac ribbon, and burlap with polka dots.
Cut several strips of the diamond wrap, lace, and ric rac, and make sure they're all about the same length. Next, cut several strips of the burlap ribbon just a little bit longer than the other ribbons.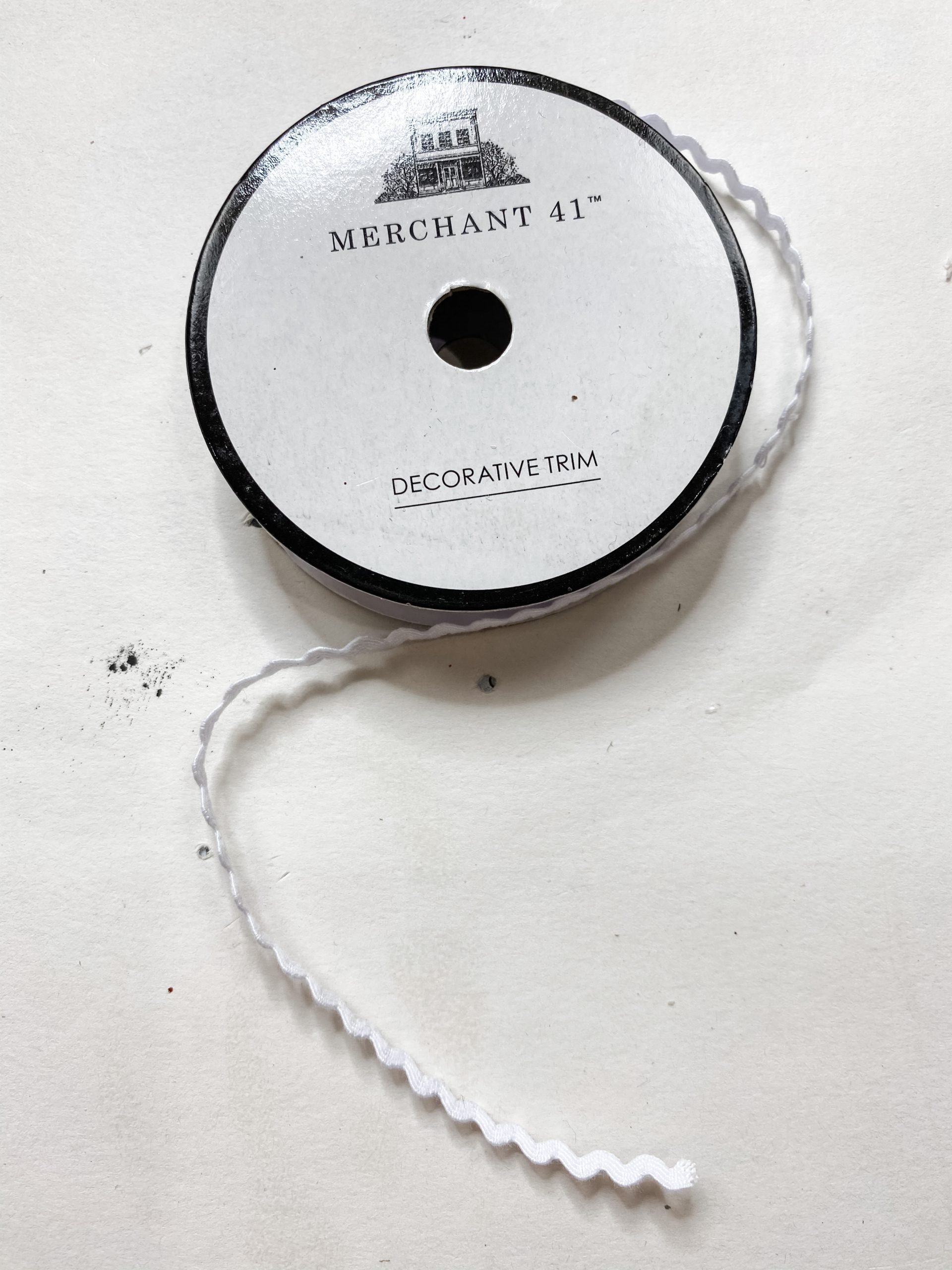 Fold the burlap ribbon strips in half longways and cut the ends at an angle. This will give the strips an x-shape.
To make the messy bow, lay the ribbon strips in alternating patterns in an x-shape. Secure the center of the messy bow with a piece of jute twine.
Now hot glue the messy bow on the top of your paper Christmas tree!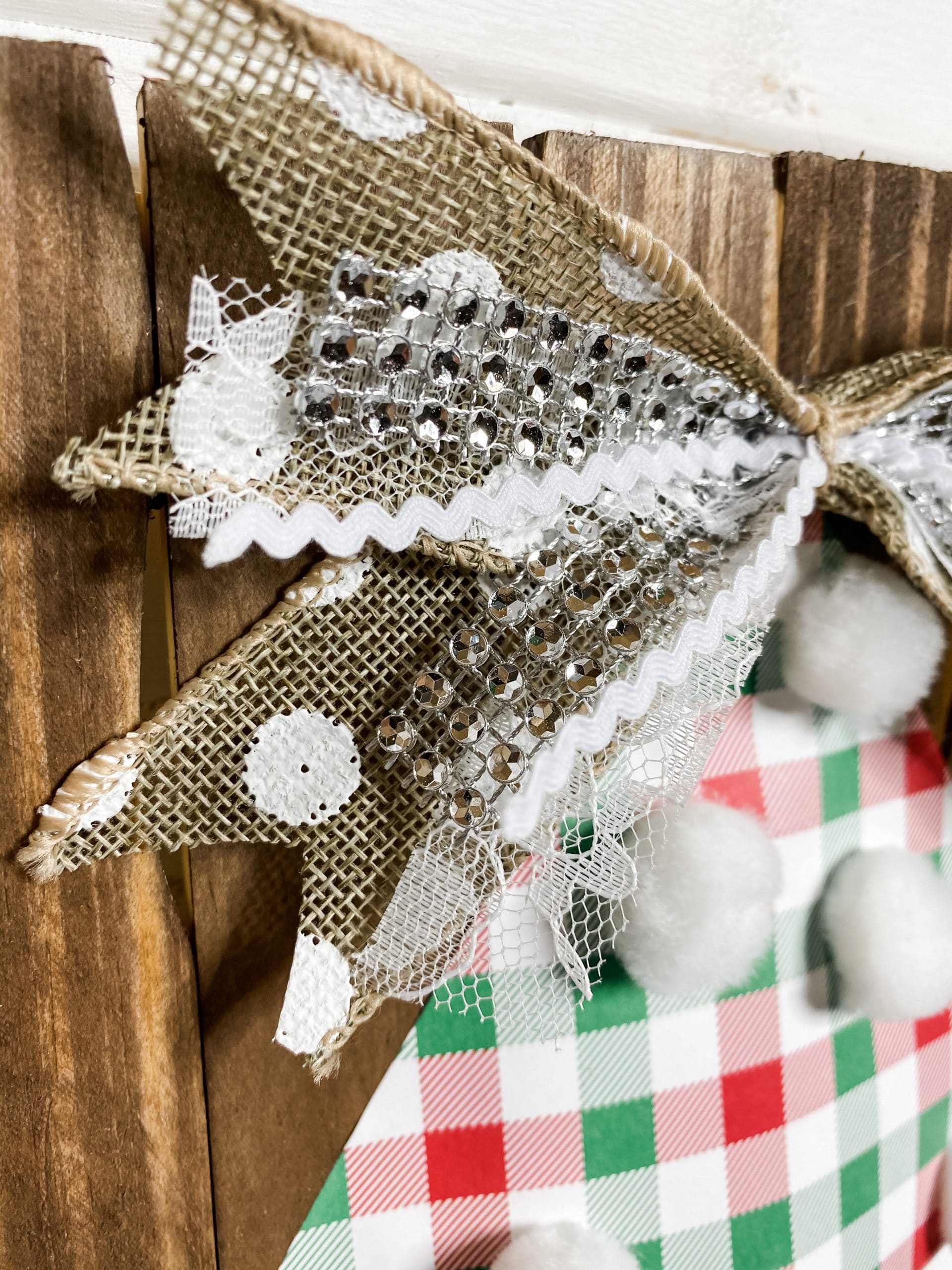 The finishing touches
This next step is completely optional and is only needed if you want the board to be able to stand alone and not have to be leaned against a wall.
I created a stand by hot-gluing a Dollar Tree skewer to a scrap piece of 2×6 wood and attaching that to the back of the board at the very bottom. This allows my paper Christmas tree board to stand alone.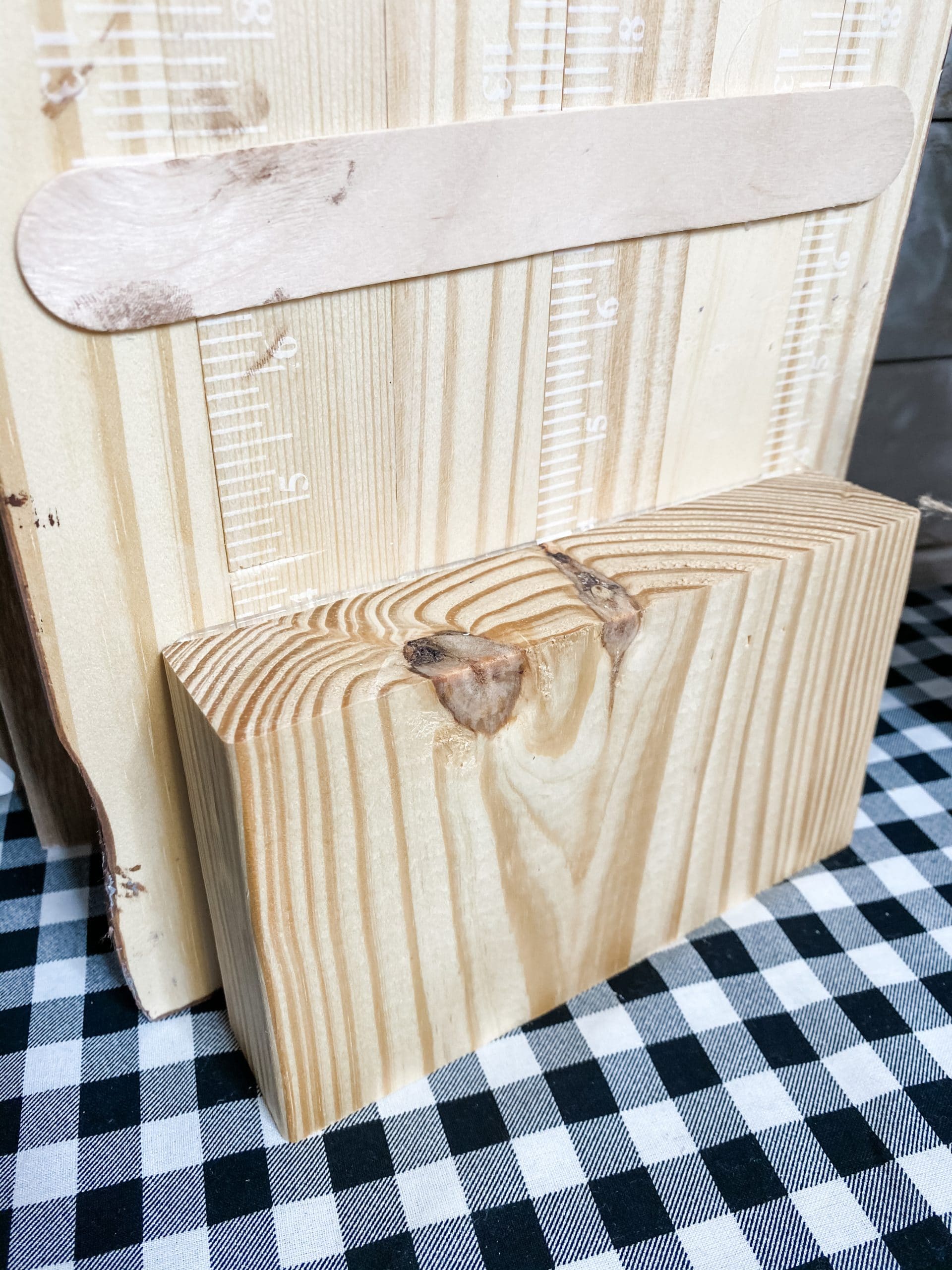 I hope you enjoyed learning How to Make a Paper Christmas Tree DIY as much as I did and decide to make it for yourself!
I would love to see how yours turns out! You should totally join my FREE Facebook group called On A Budget Crafts! It is a judgment-free community for DIY crafters to show off their projects and ideas.

Thanks for stopping by! XOXO Amber
You can also shop my ENTIRE AMAZON Favorites shop just click here! It's packed full of all the things I use and love.
Here is the supply list I highly recommend every creative have on hand!! Would you also pin my blog for later and get on my newsletter alerts? I would love to have you join my #craftycrew.

Join my free "ON A BUDGET CRAFTS" Facebook group!
PIN THIS POST FOR LATER!