DIY Pumpkin Patch Sign with Napkins
Let me be honest, I always have fun when I'm crafting, but making this DIY Pumpkin Patch Sign with Napkins was SO MUCH FUN!
Crafting with napkins is so easy and a great way to add that extra oompf to your home decor! With a little bit of Mod Podge, you can customize any surface with any napkin design you want!
Watch the DIY tutorial video
I shared the quick DIY tutorial for this easy DIY Pumpkin Patch Sign with Napkins along with three other orange and black Fall decor ideas on my Youtube channel!
Check out these orange and black decor ideas!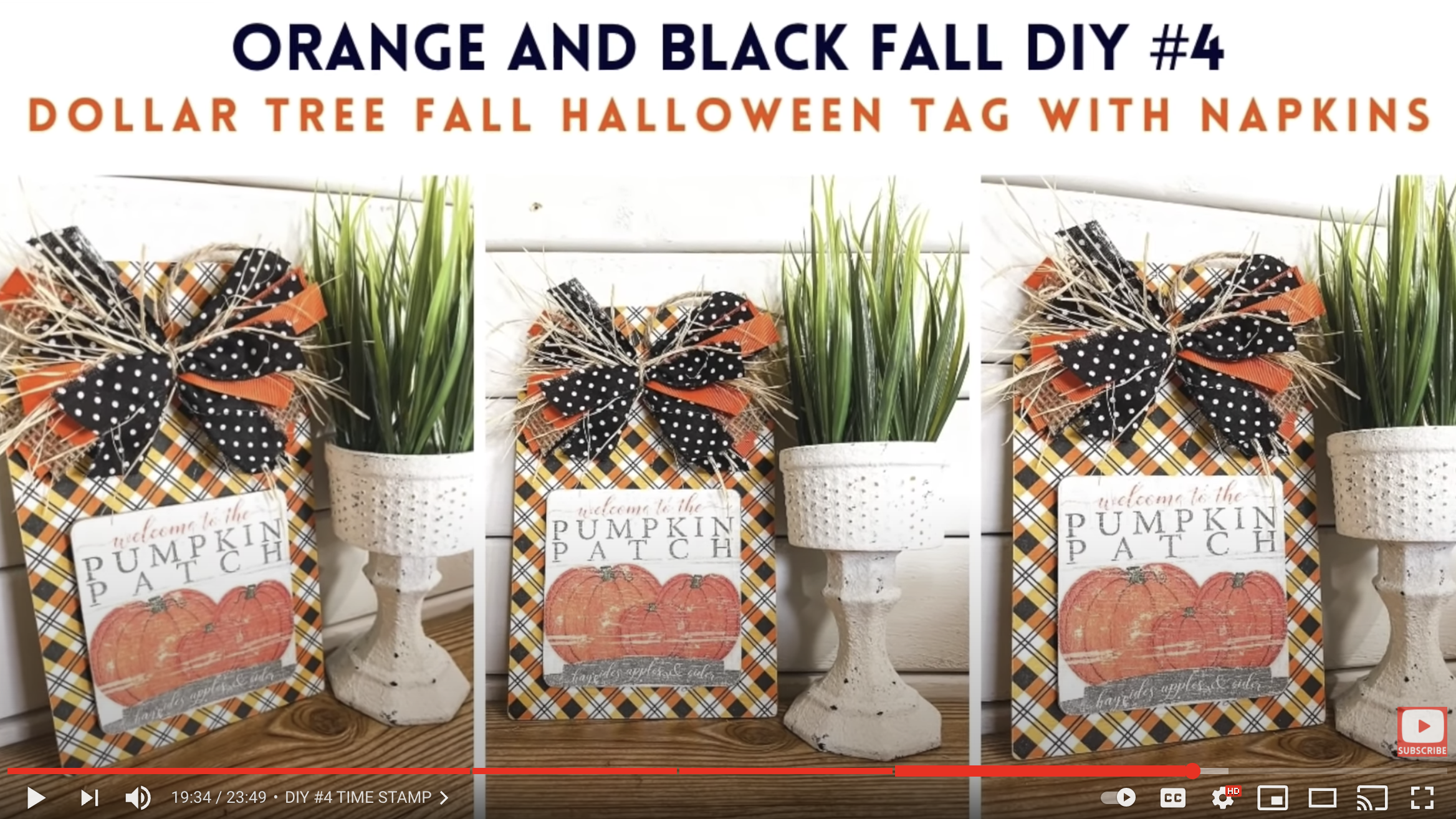 I recorded how to make this adorable DIY Pumpkin Patch Sign with Napkins during a LIVE video on my Facebook page.
If you want to see the extended DIY process, craft along, or just join in on the fun conversations, you can watch the DIY tutorial replay video on Facebook!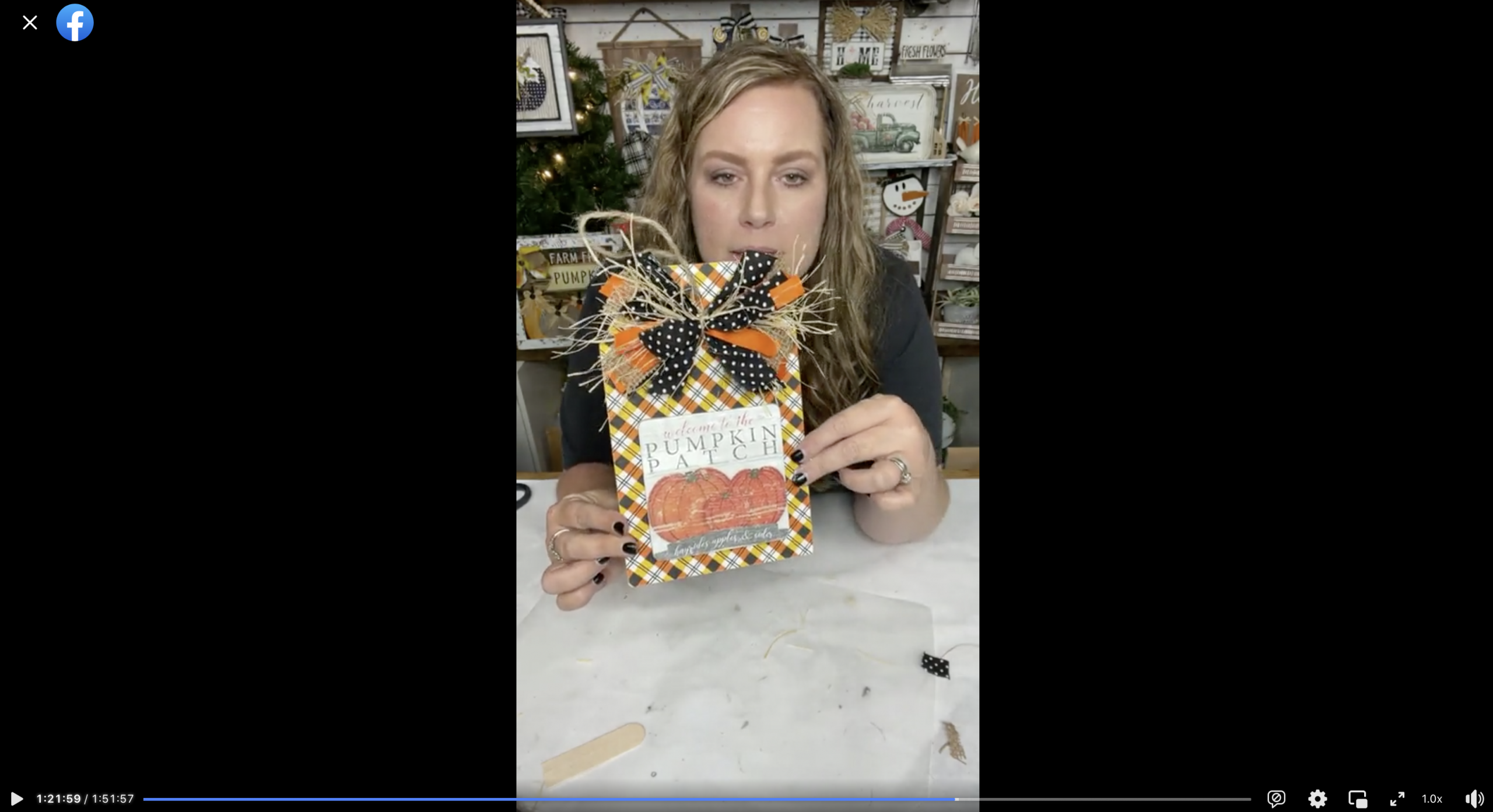 For this project, I will be using these items, but you can substitute where you want.
"As an Amazon Associate, I earn from qualifying purchases."
Dollar Tree Tag Sign
Dollar Tree Raffia
Orange, Yellow, and Black Plaid Napkin (Home Goods)
Dollar Tree Burlap
Dollar Tree Jute Twine
Black/White Polka Dot Fabric
Dollar Tree Orange Ribbon
Welcome to the pumpkin patch napkin
Apple Barrel Black Acrylic Paint
Apple Barrel Snow White Acrylic Paint
Mod Podge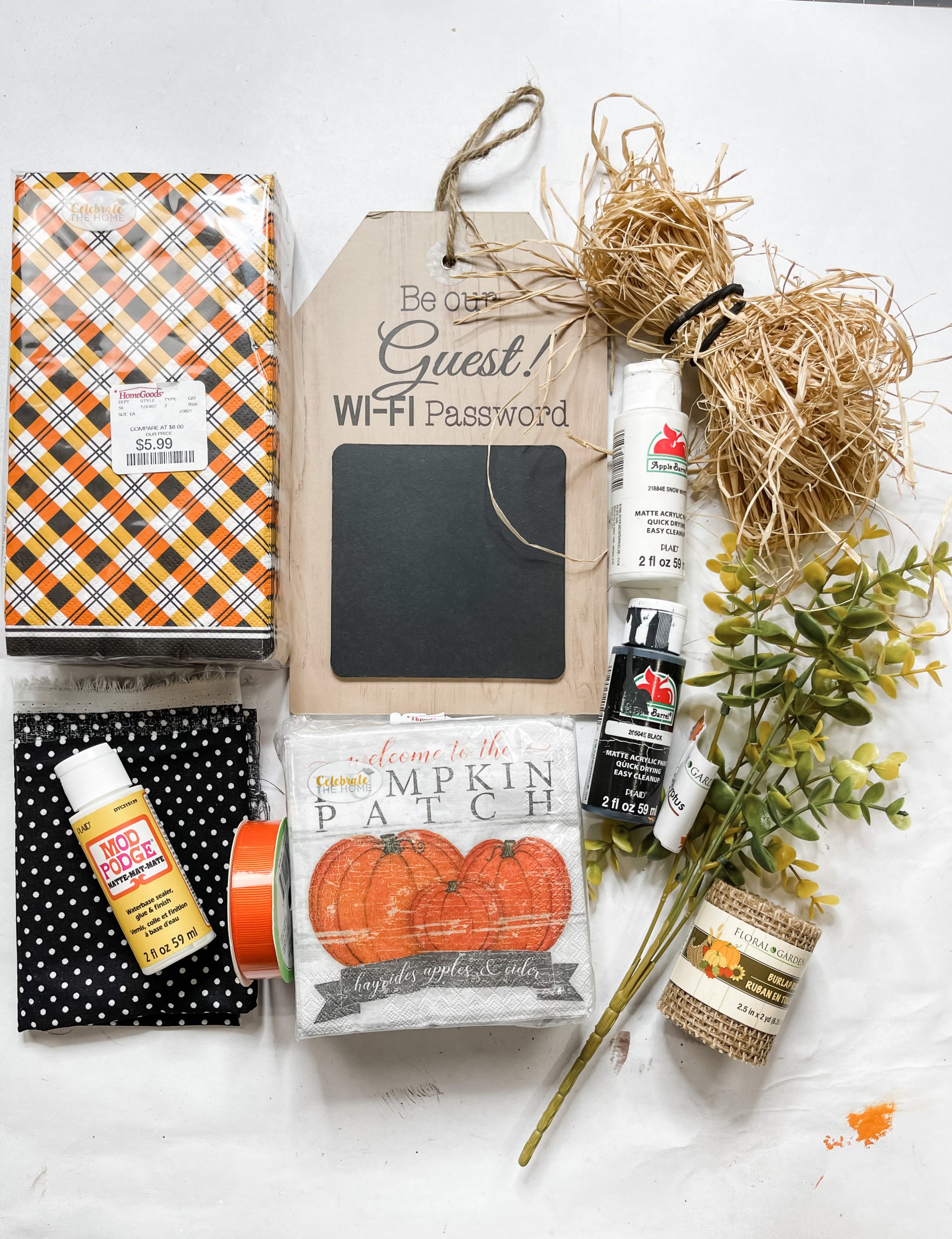 How to Make a DIY Pumpkin Patch Sign with Napkins
I started this project by removing the chalkboard piece from the Dollar Tree tag sign. I just used a putty knife to pry it off.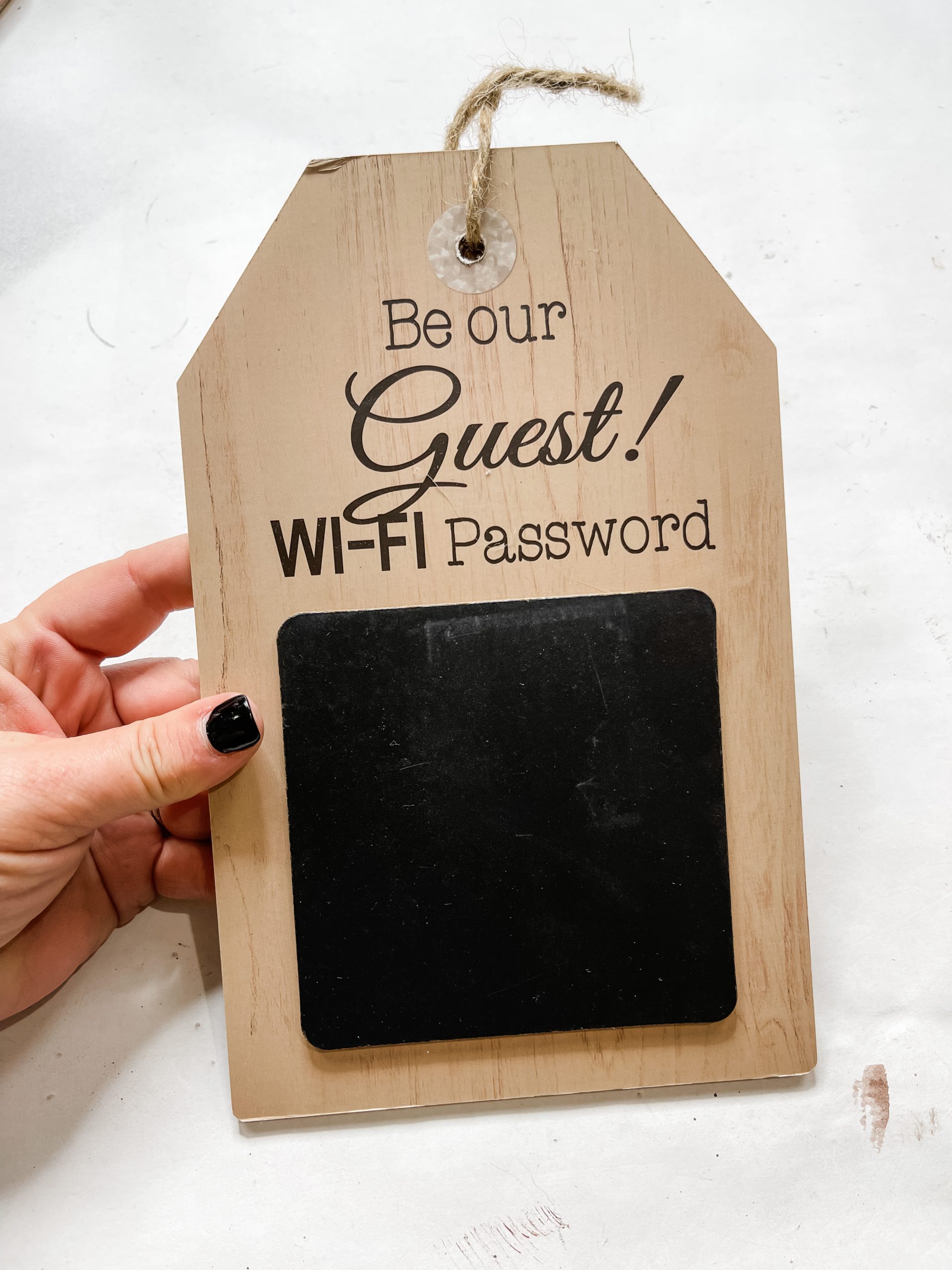 Then, I untied and remove the twine hanger and flipped the sign over. I used Apple Barrel white acrylic paint and painted the entire back of the tag sign.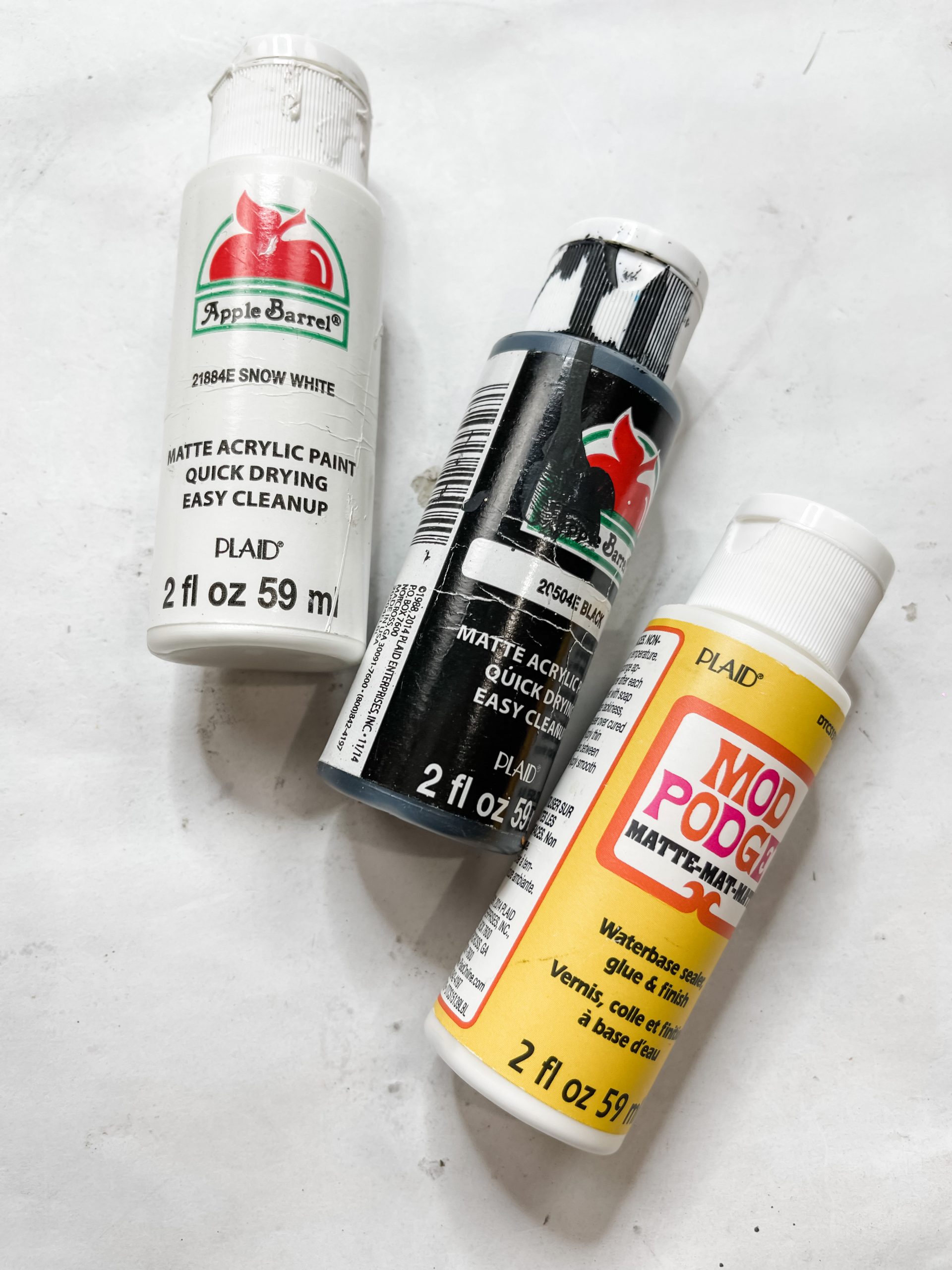 Painting the sign white helps keep the colors of the napkin bright when you decoupage it onto the sign. Otherwise, the brown would show through the napkin and darken this project.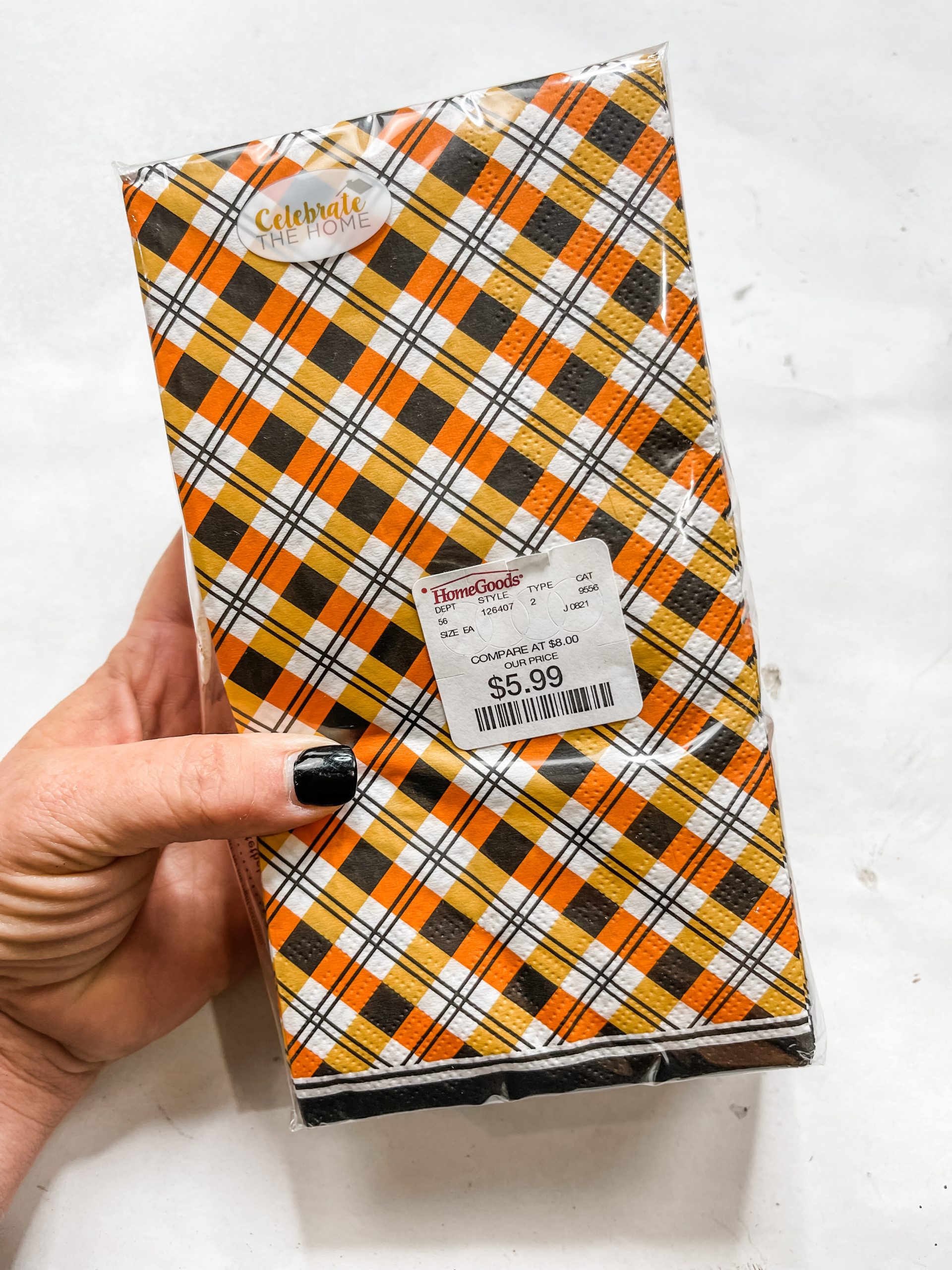 How to decoupage napkins
Allow the white paint to dry completely, then apply a coat of Mod Podge over the white paint. Separate the plies of your plaid napkin and place the patterned ply on the Mod Podge.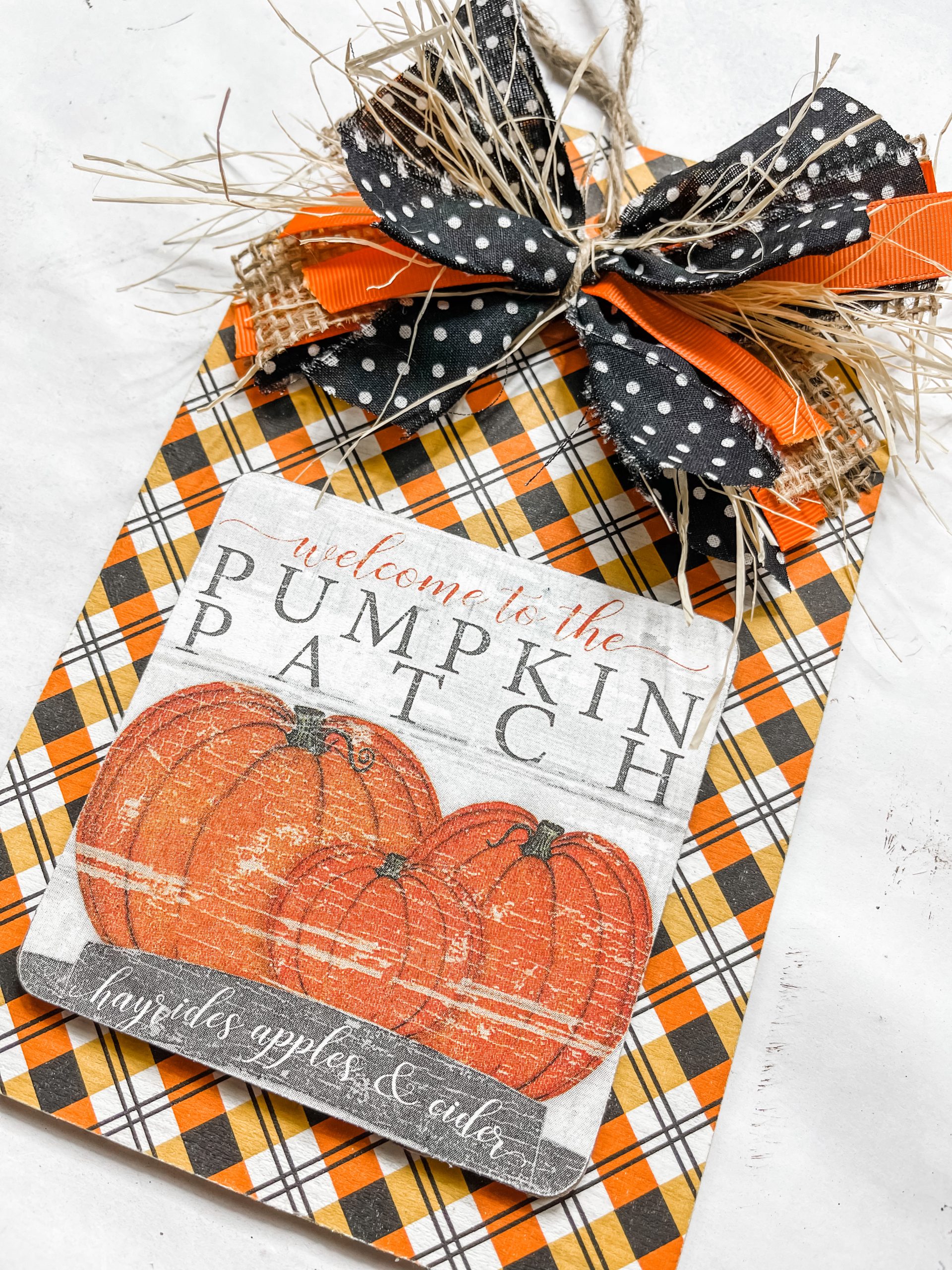 I covered the napkin with a piece of wax paper and used a mini iron to smooth out the napkin and secure it to the sign. Use a sanding sponge to remove the excess napkin from the sign.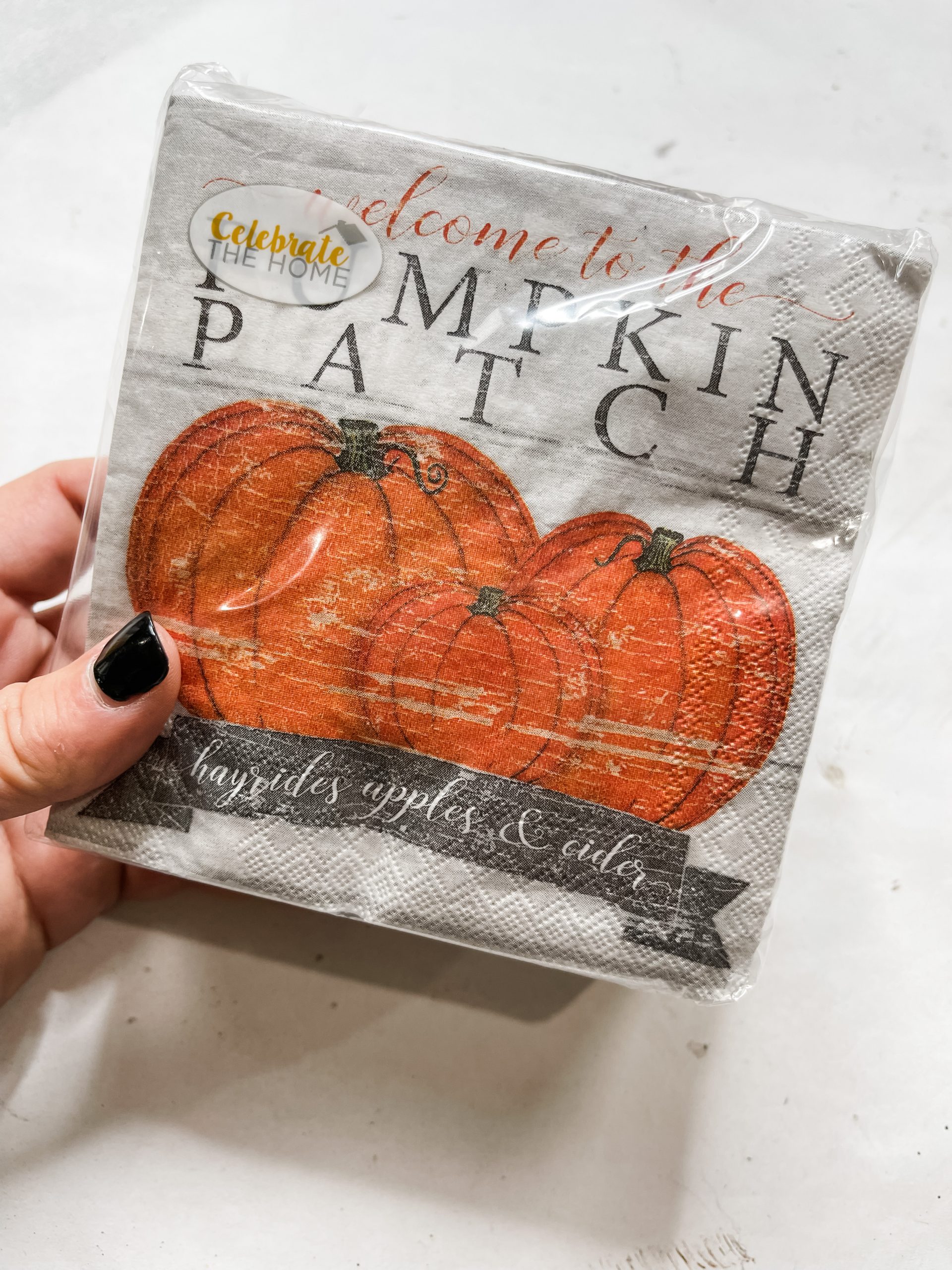 Then, I grabbed the chalkboard piece and painted it white. Apply Mod Podge, separate the plies for the pumpkin patch napkin, and repeat the steps from the plaid napkin.
How to make a DIY bow
Tear a few strips of the black and white polka dot fabric and cut a few strips of the orange ribbon and burlap.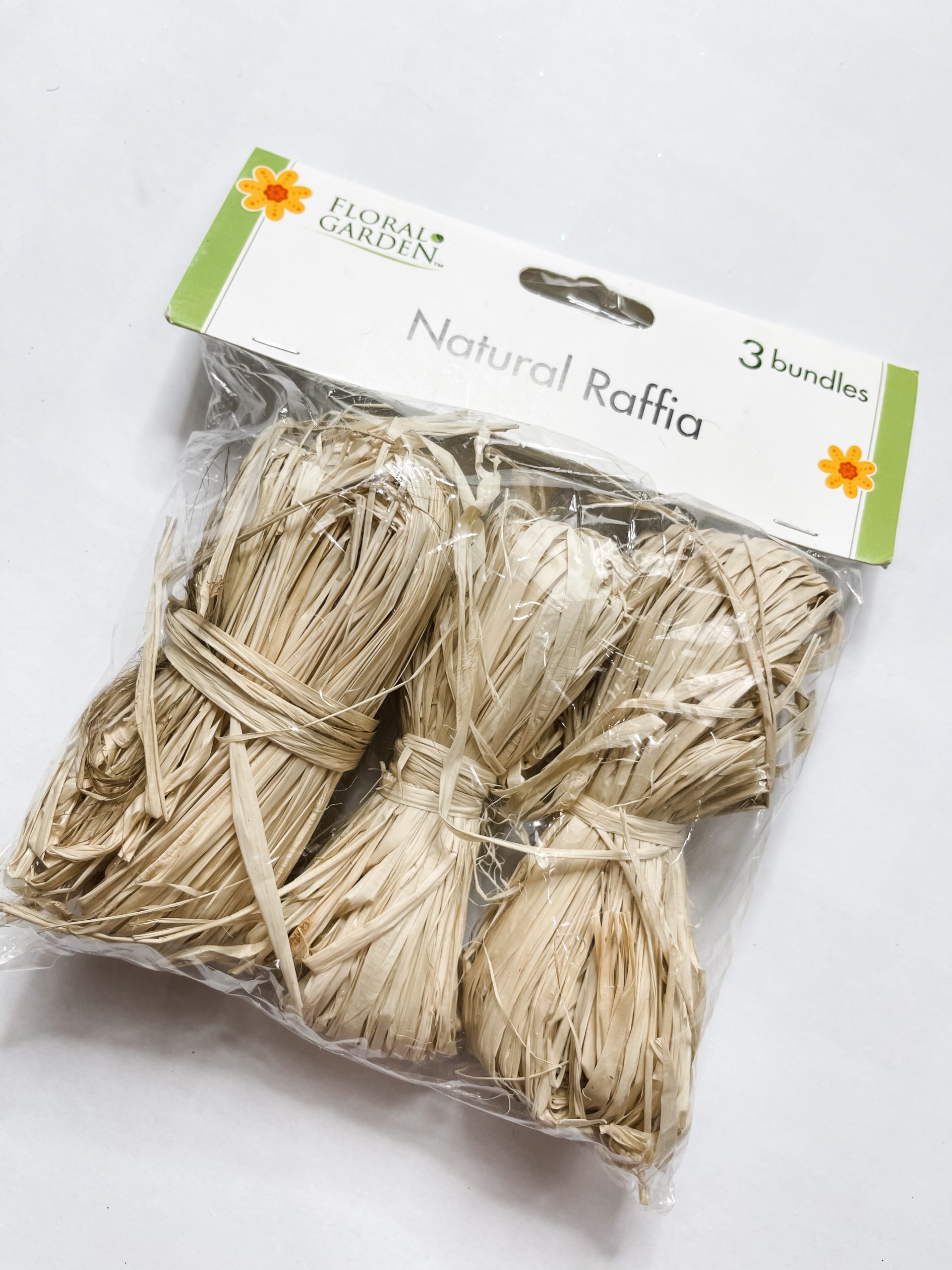 Lay the strips in an X pattern, alternating fabric and ribbon patterns as you go. Separate some strands of raffia and layer them in as you go.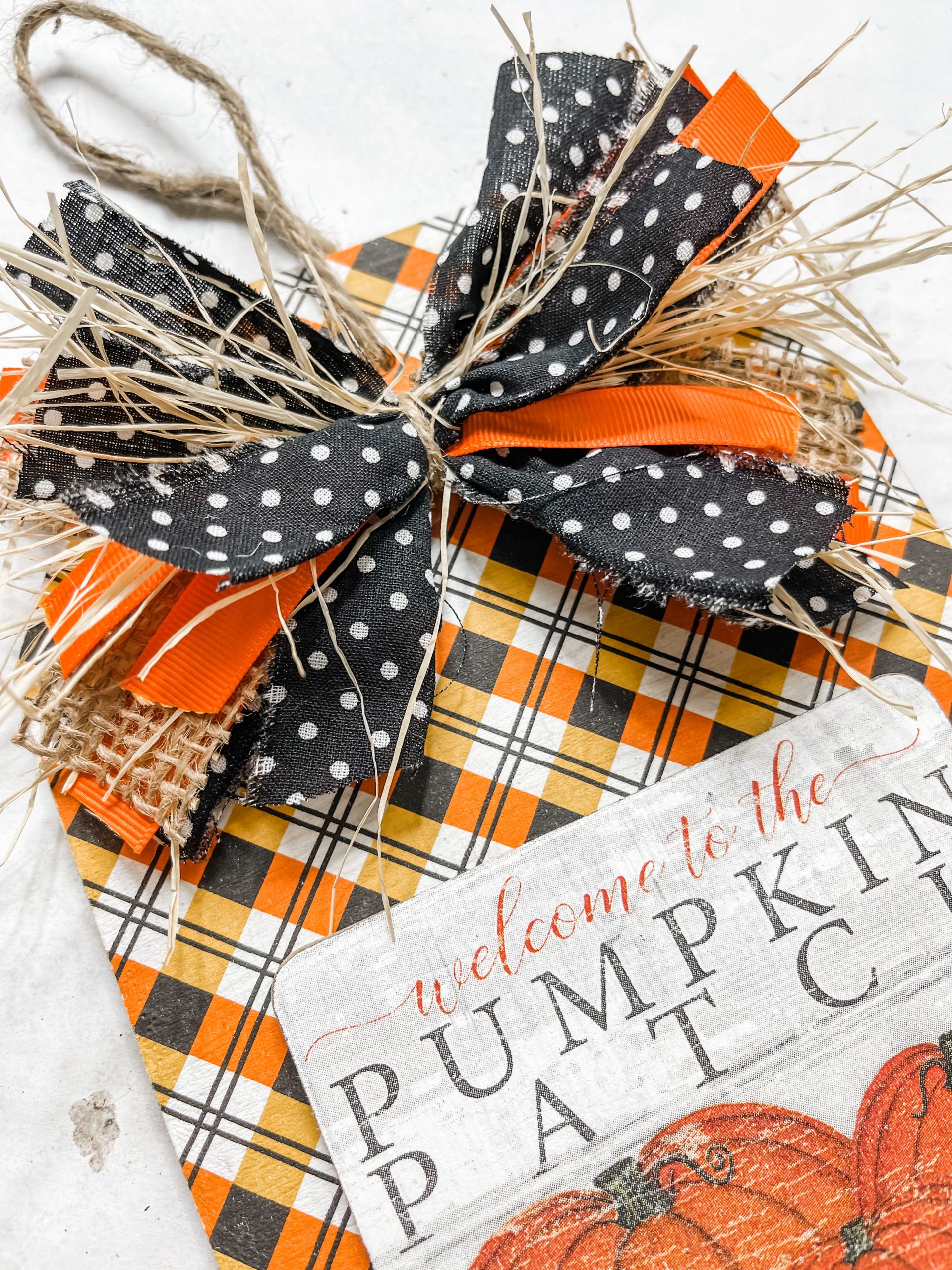 Secure the center of the bow with a piece of jute twine, then fluff and trim the fabric and ribbon strips until you're happy with your bow!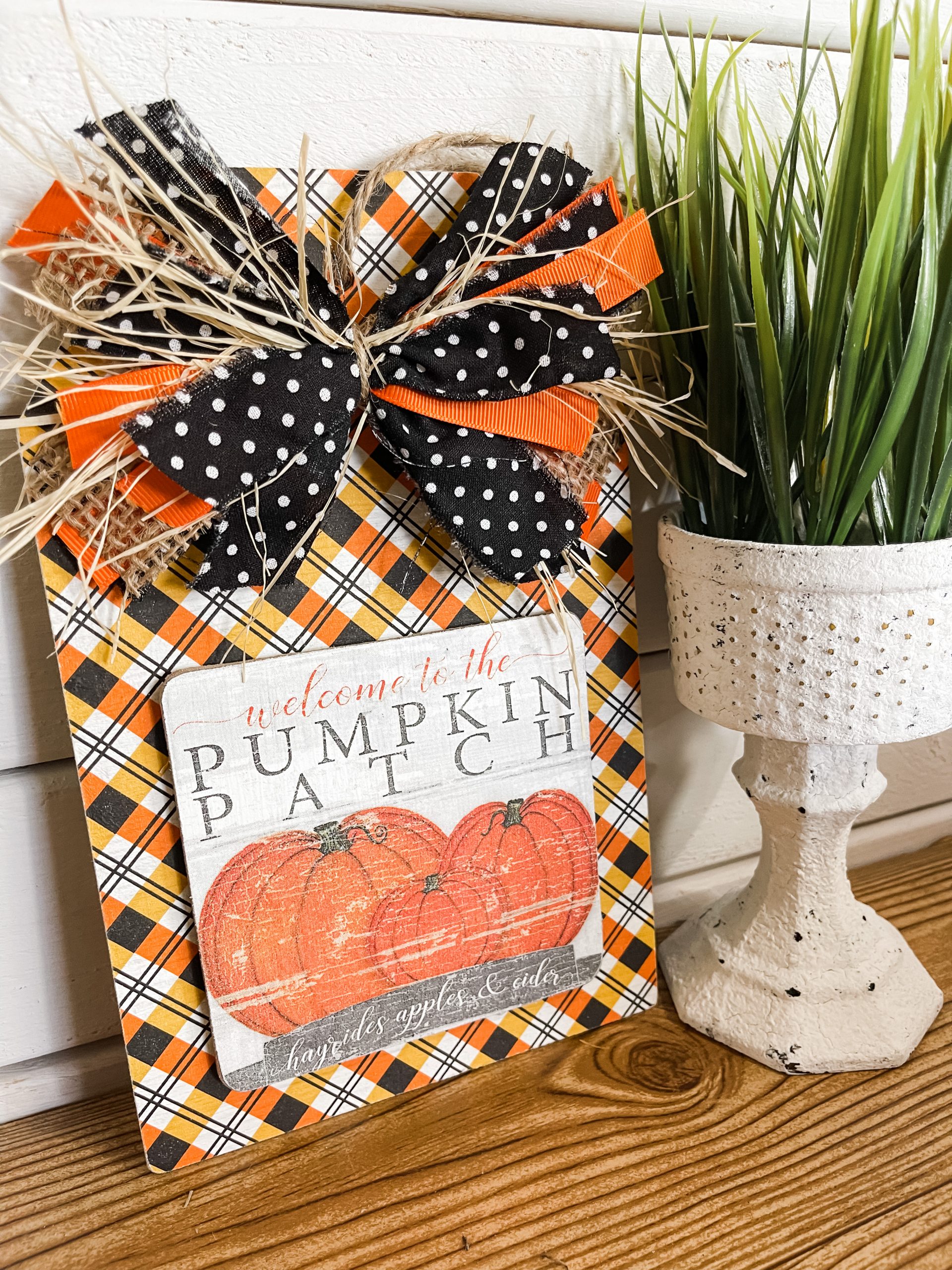 Bring it all together!
Thread the jute twine hanger back through the hole at the top of the tag sign and tie it in place. Hot glue the DIY bow just below the hole.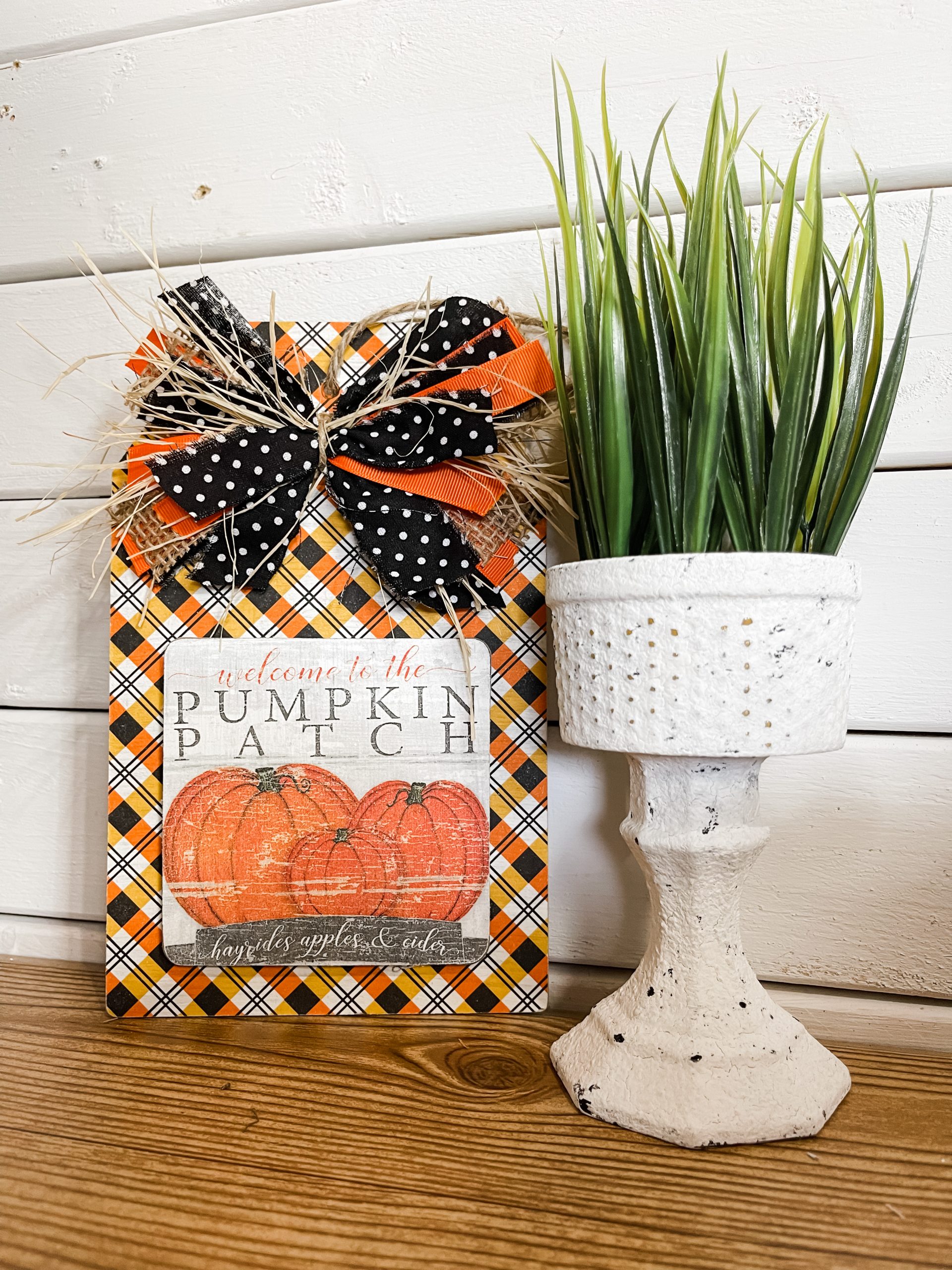 Lastly, hot glue two pieces of a craft stick to the back of the decoupaged chalkboard square and hot glue the square beneath the bow on the tag sign!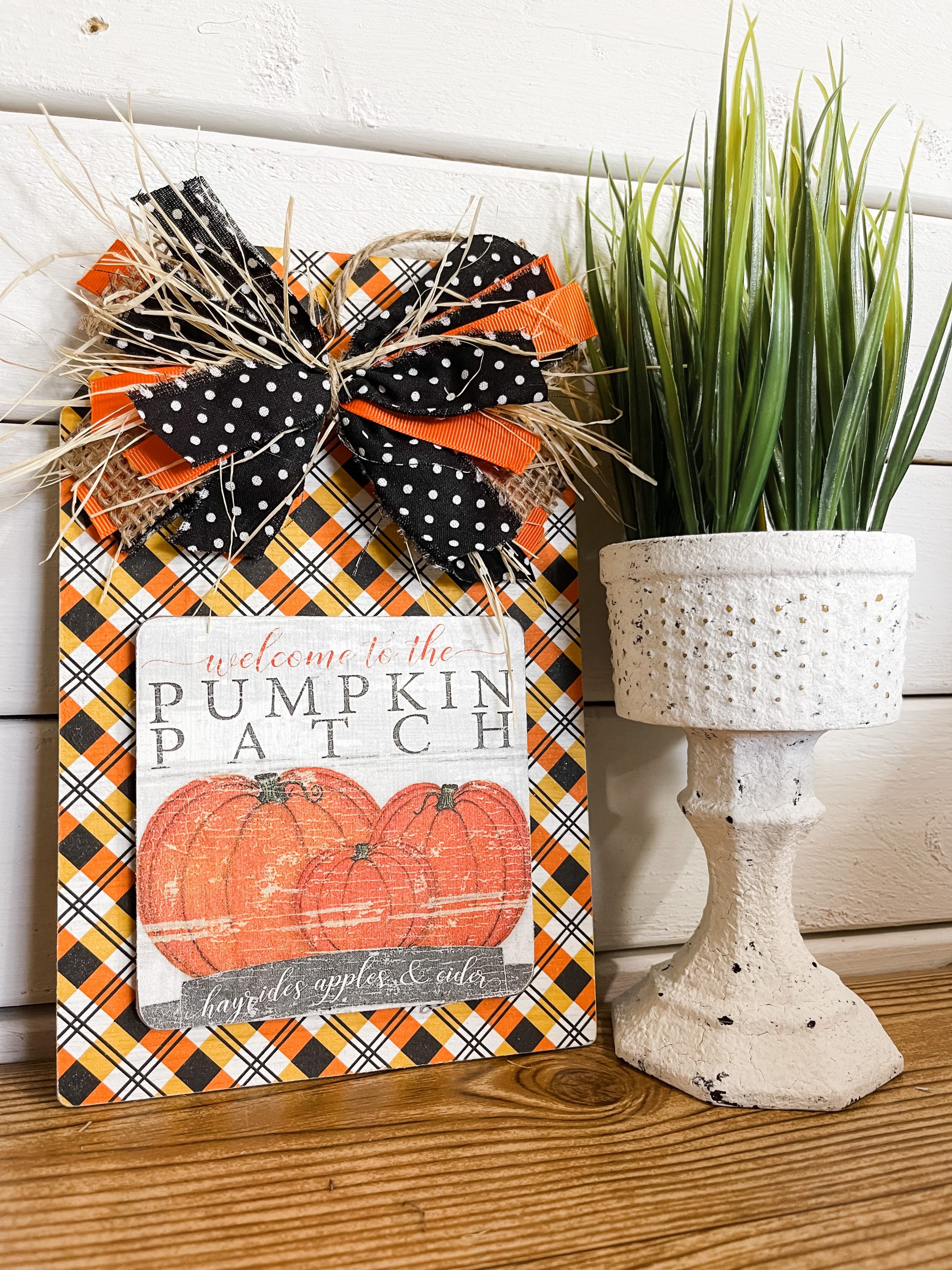 I hope you enjoyed this DIY Pumpkin Patch Sign with Napkins as much as I did and decide to make it for yourself! If you do, I would love to see how yours turns out!
You should totally join my FREE Facebook group called On A Budget Crafts! It is a judgment-free community for DIY crafters to show off their projects and ideas.
If you loved this DIY Pumpkin Patch Sign with Napkins, you might also like these DIY ideas!
Thanks for stopping by! XOXO Amber
You can also shop my ENTIRE AMAZON Favorites shop just click here! It's packed full of all the things I use and love. Here is the supply list I highly recommend every creative have on hand!!
Would you also pin my blog for later and get on my newsletter alerts? I would love to have you join my #craftycrew.
I email alerts about new blogs like this DIY Pumpkin Patch Sign with Napkins so you're always up to date on fun, new DIY ideas!
Inspired? Leave me a comment below! I love hearing from my readers!

Join my free "ON A BUDGET CRAFTS" Facebook group!