DIY Chicken Coop Decor with Dollar Tree Items

I am so happy with how this DIY Chicken Coop Decor with Dollar Tree items turned out! It is such an adorable DIY farmhouse decor and it's super easy to make.
If you're looking for ways to decorate your home without hurting your bank account, DIY'ing is definitely the way to go. You can create store-quality decor for a fraction of the price!
This DIY chicken coop would be perfect in a bedroom on a shelf or night table. What do you think?
Watch the replay
I recorded the how-to process of making a DIY chicken coop decor with Dollar Tree times during a LIVE video on my Facebook page. If you want to see the steps, craft along, or just join in on the fun conversations, you can watch the replay!
For this project, I will be using these items but you can substitute where you want.
"As an Amazon Associate, I earn from qualifying purchases."
Dollar Tree Pet house
Dollar Tree Spanish Moss
Fake eggs (Hobby Lobby)
Dollar Tree Glass candle holder
Dollar Tree Black buffalo check ribbon
Corrugated Scrapbook Paper
Rustoleum Silver Spray Paint
Waverly Antique Wax
Waverly Ink Chalk Paint (black)
Folkart Java Chalk Paint
Folkart White Chalk Paint
Mod Podge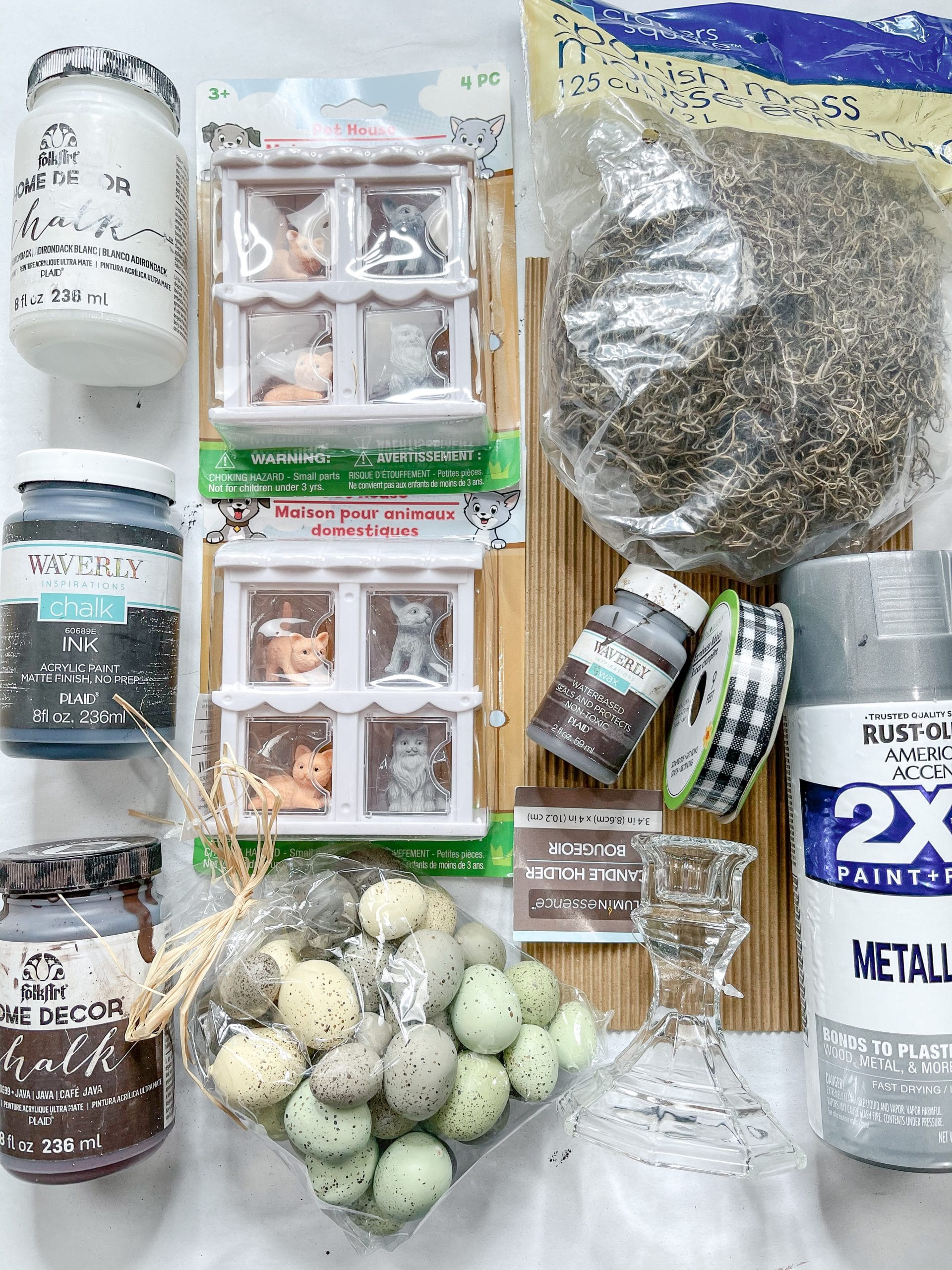 How to Make a DIY Chicken Coop Decor with Dollar Tree Items
First of all, open up the Dollar Tree pet house and remove the little animals from them. You won't need them for this project, so you can set them aside. I gave the little animals to my granddaughter, and she LOVES them!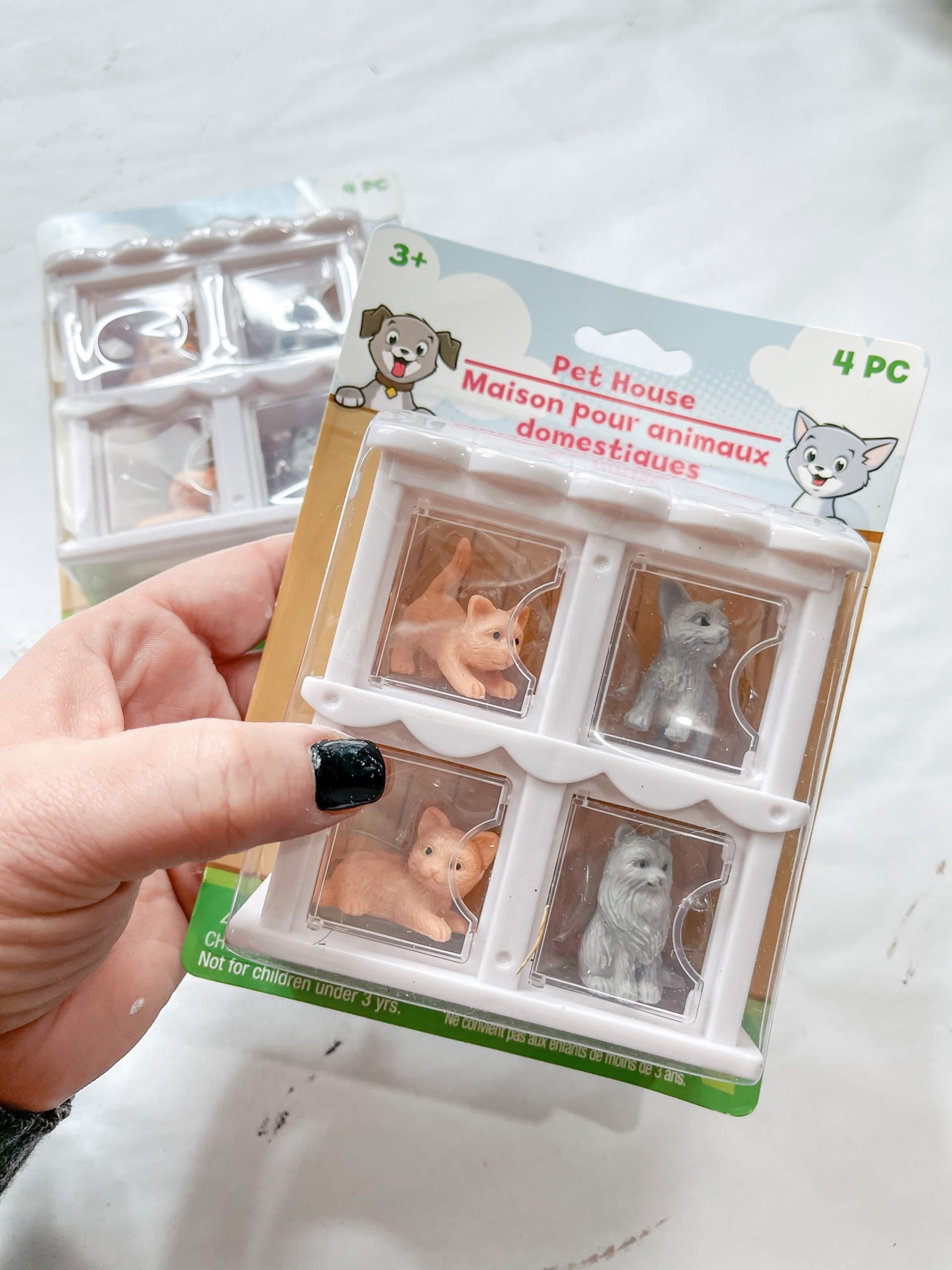 Then, spray paint the pet house with your Rustoleum Silver Metallic Spray Paint. Originally, I used two of the Dollar Tree pet houses, but I decided after the project was finished, it looks better with just one.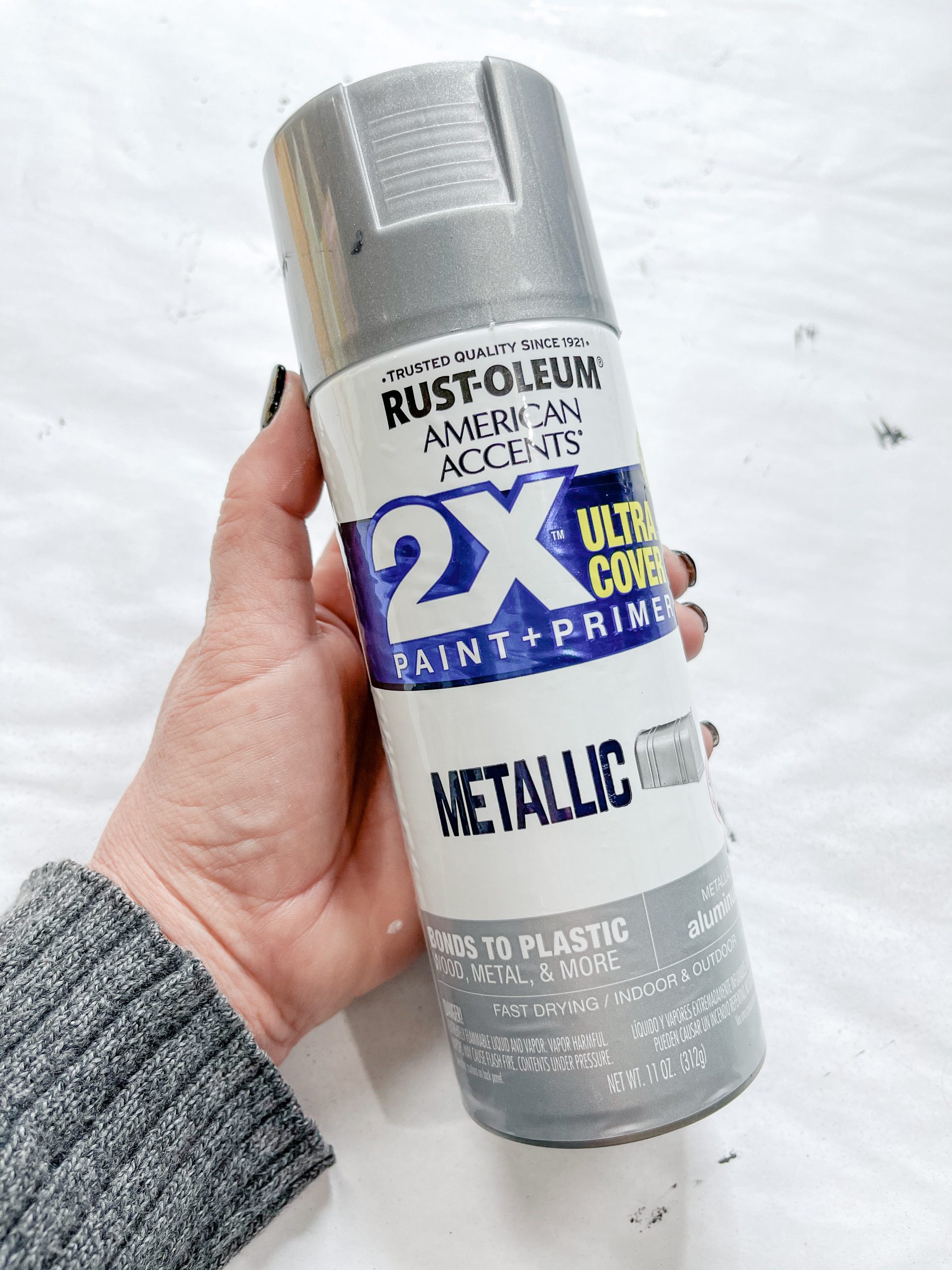 I used my heat gun to quickly dry the spray paint. If you don't have a heat gun for crafting, you can use a hairdryer on the low-cool setting!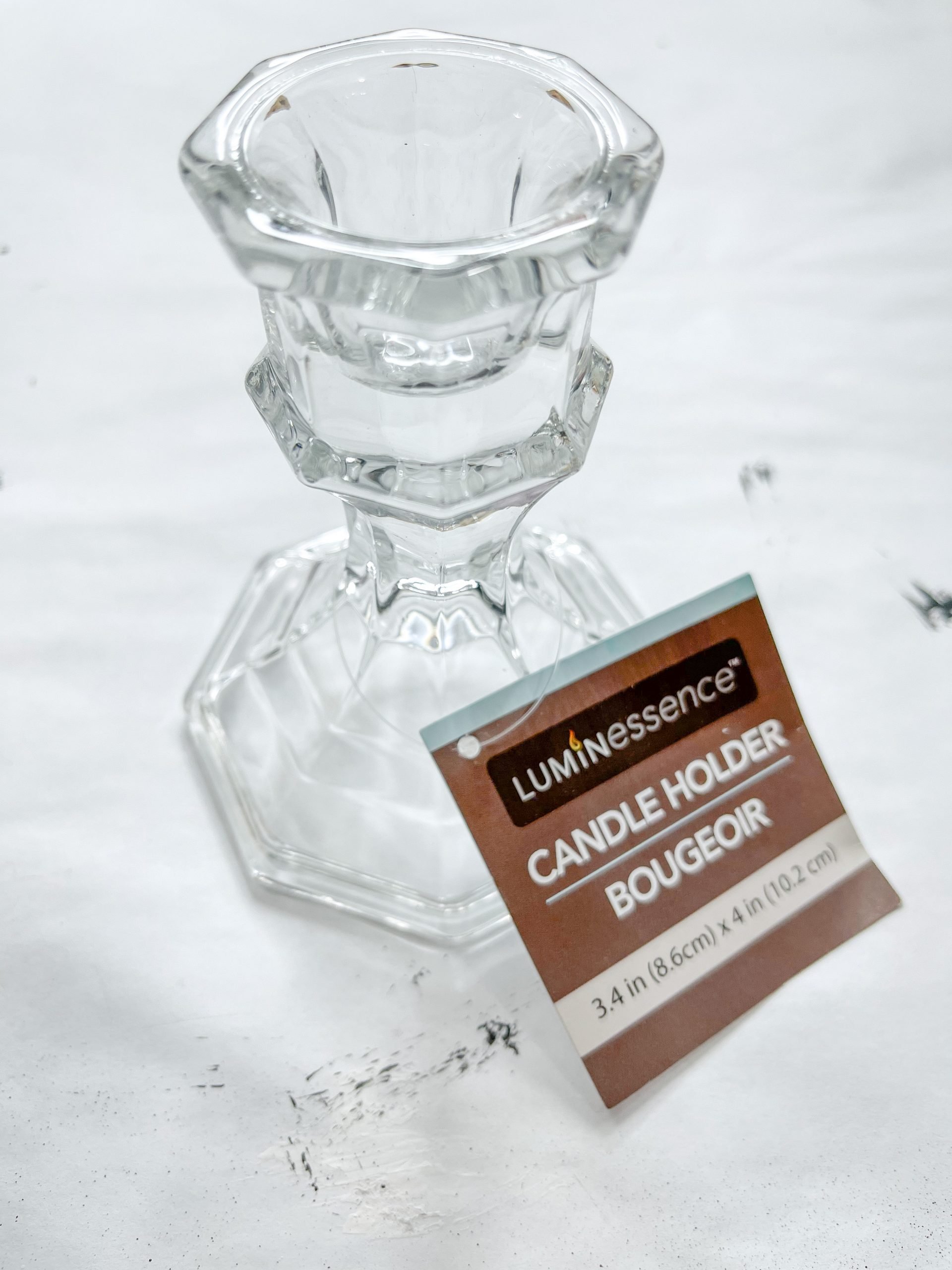 Next, paint your Dollar Tree glass candle holder with the Waverly Ink chalk paint. Again, I used my heat gun to quickly dry the black paint, then I painted the glass candle holder white.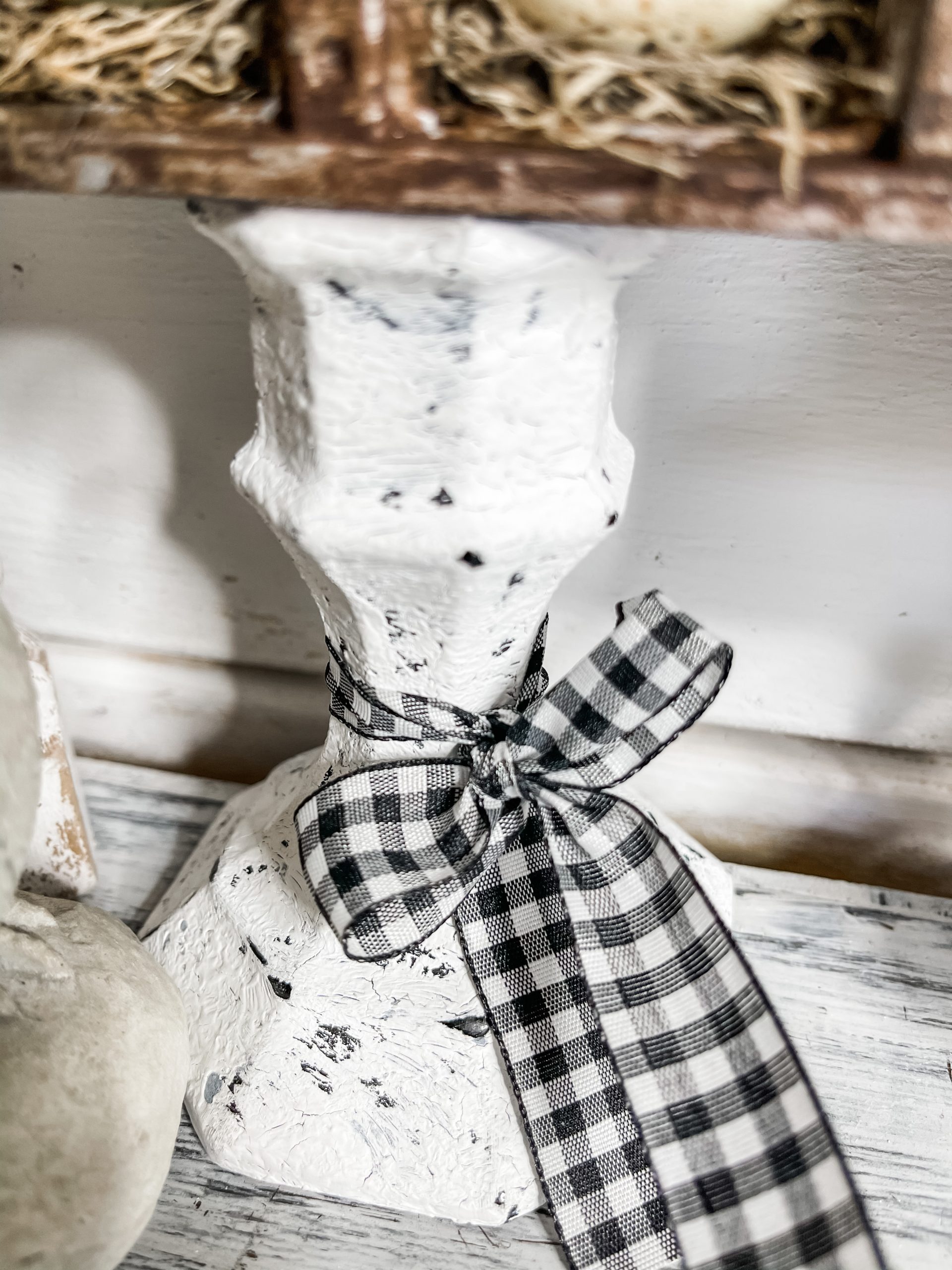 Don't worry about getting full coverage, because you want the candle holder to have an aged, distressed finish
How-to: Faux Rust Finish
Make sure the spray paint is completely dry on your pet house, the apply Mod Podge to it. The Mod Podge will help create texture for your faux rust finish.
Allow the Mod Podge to dry, then get your Waverly Antique Wax and Folkart Java Chalk Paint ready. You'll also need a small paintbrush and a wet wipe.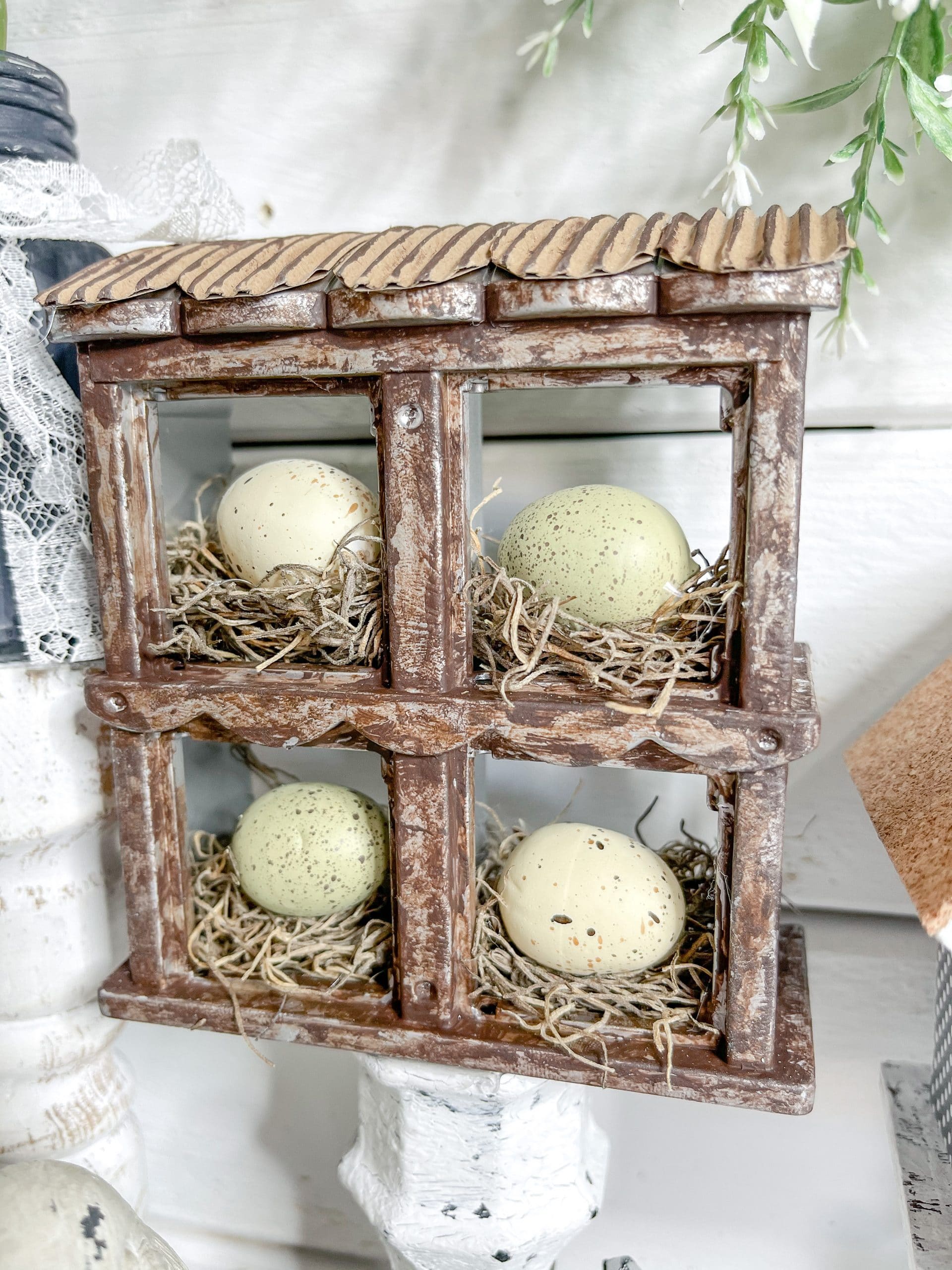 Lightly brush a small amount of brown paint onto the face of the pet house and use the wet wipe to smudge it and blend it out. For the next layer, use the wax.
Repeat the process, alternating between paint and wax, until you have the perfect faux rust finish for your Dollar Tree pet house! Once the face is finished, do the same thing to both sides of the pet house.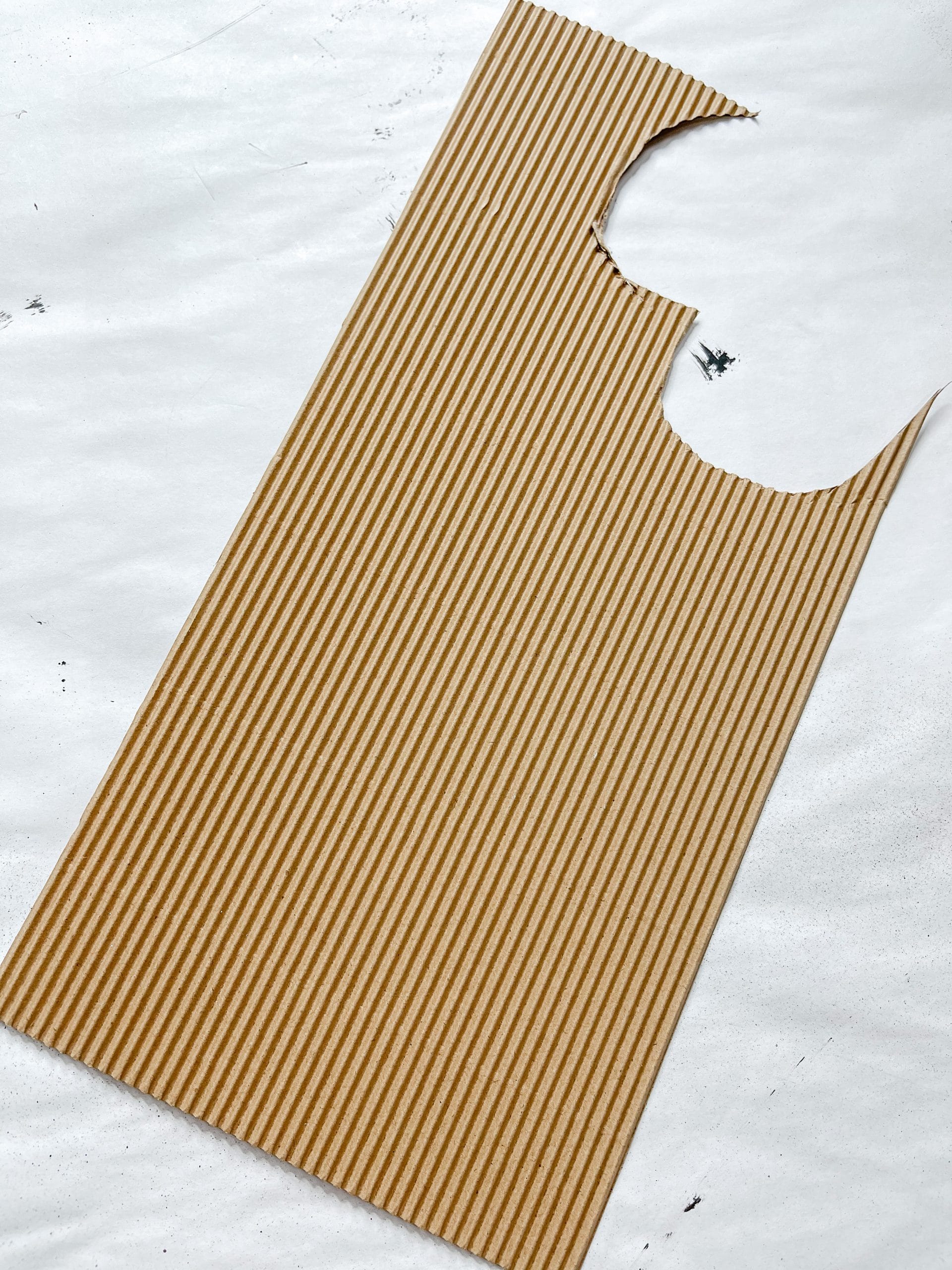 Make your DIY chicken coop's roof
For the roof, you'll need brown paint and corrugated scrapbook paper. Cut the corrugated scrapbook paper into small rectangles, like shingles on a house.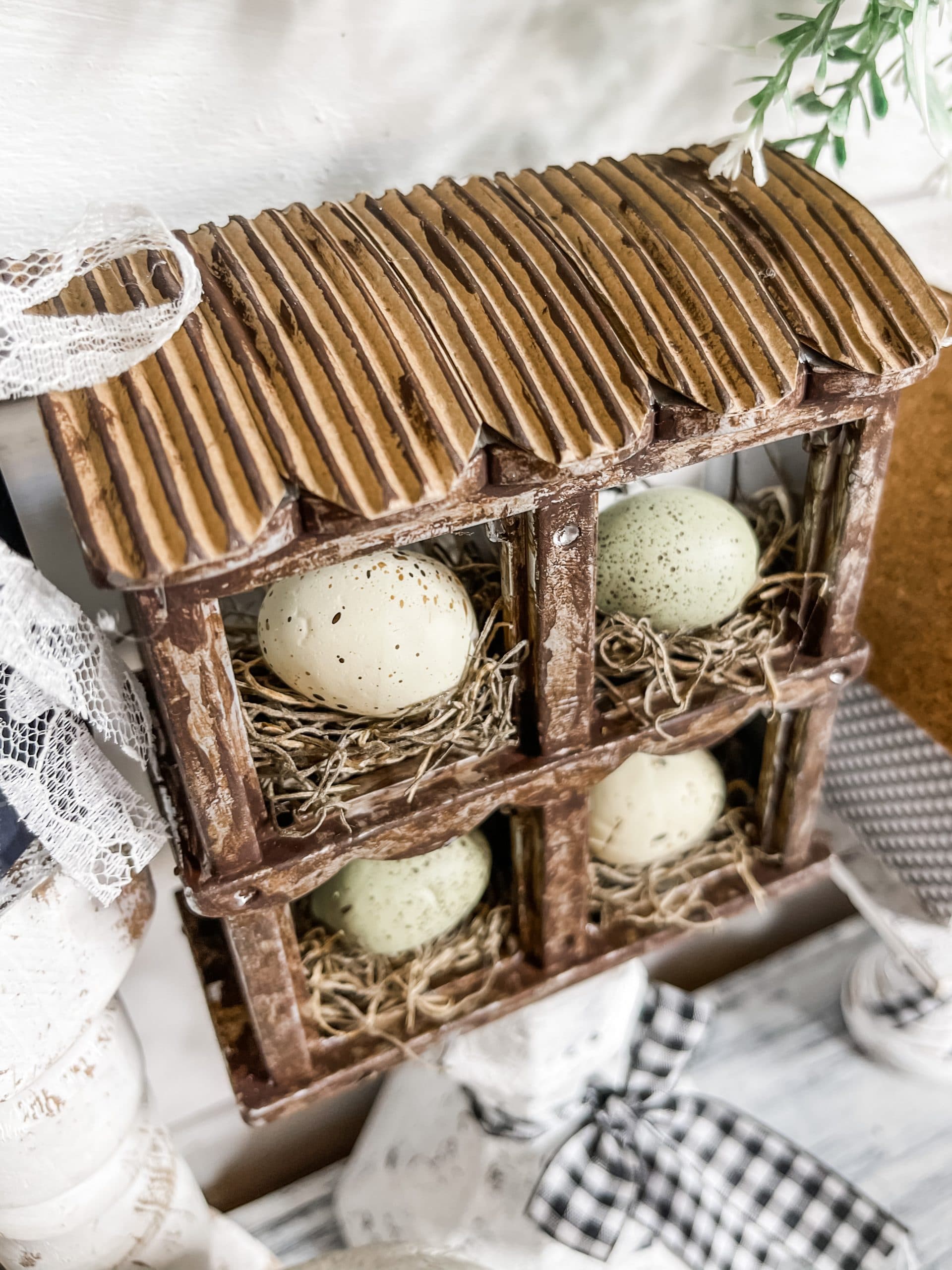 Then, lightly brush brown paint across the pieces of scrapbook paper. Once the paint is dry use scissors to round out one side of each of the pieces, then hot glue them to the top of the painted pet house.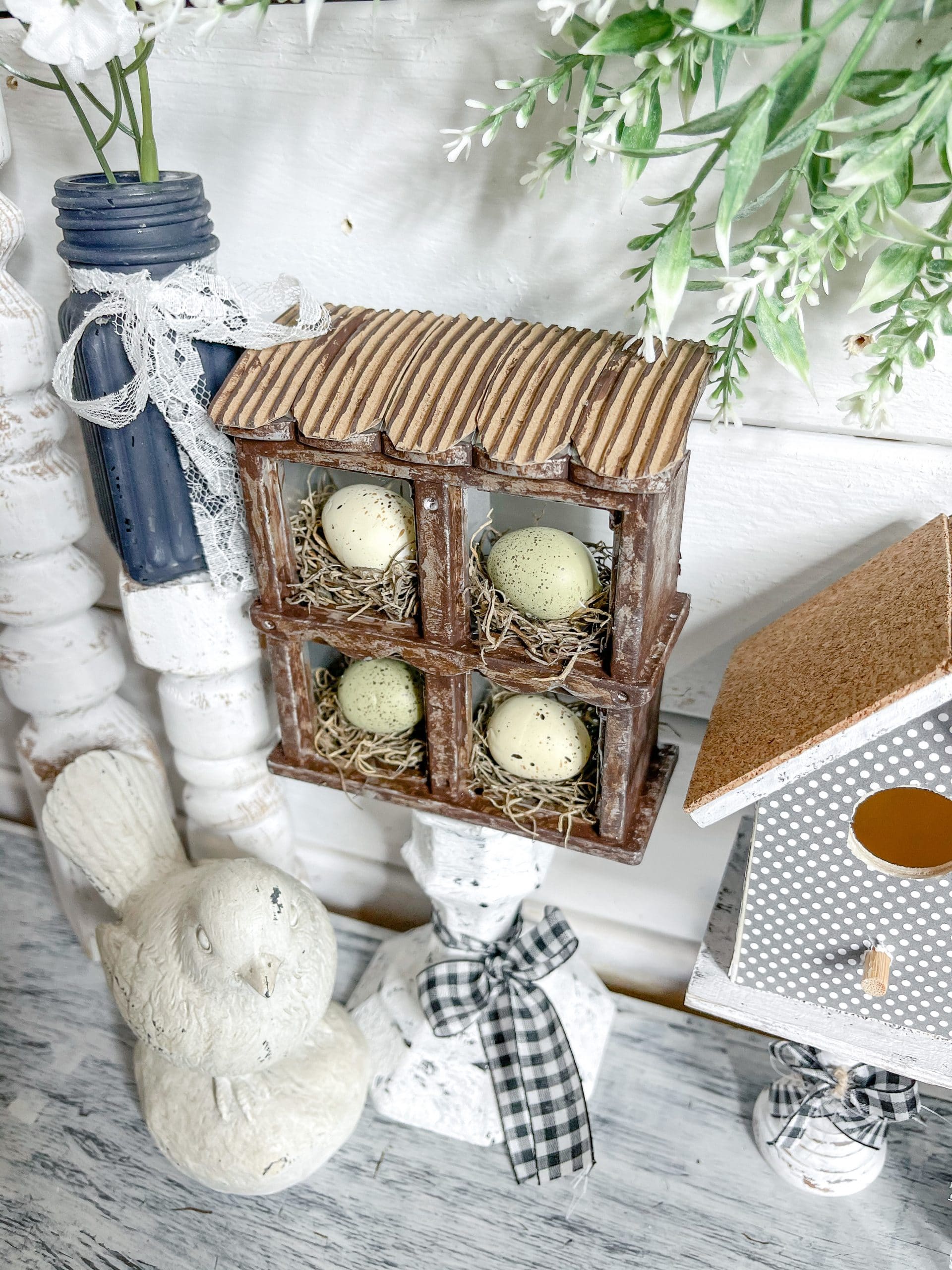 Now you need the fillers for inside the DIY chicken coop! So, get your Dollar Tree Spanish moss and the eggs from Hobby Lobby. Get four small bundles of the Spanish moss and hot glue each one into one of the four holes of the pet house.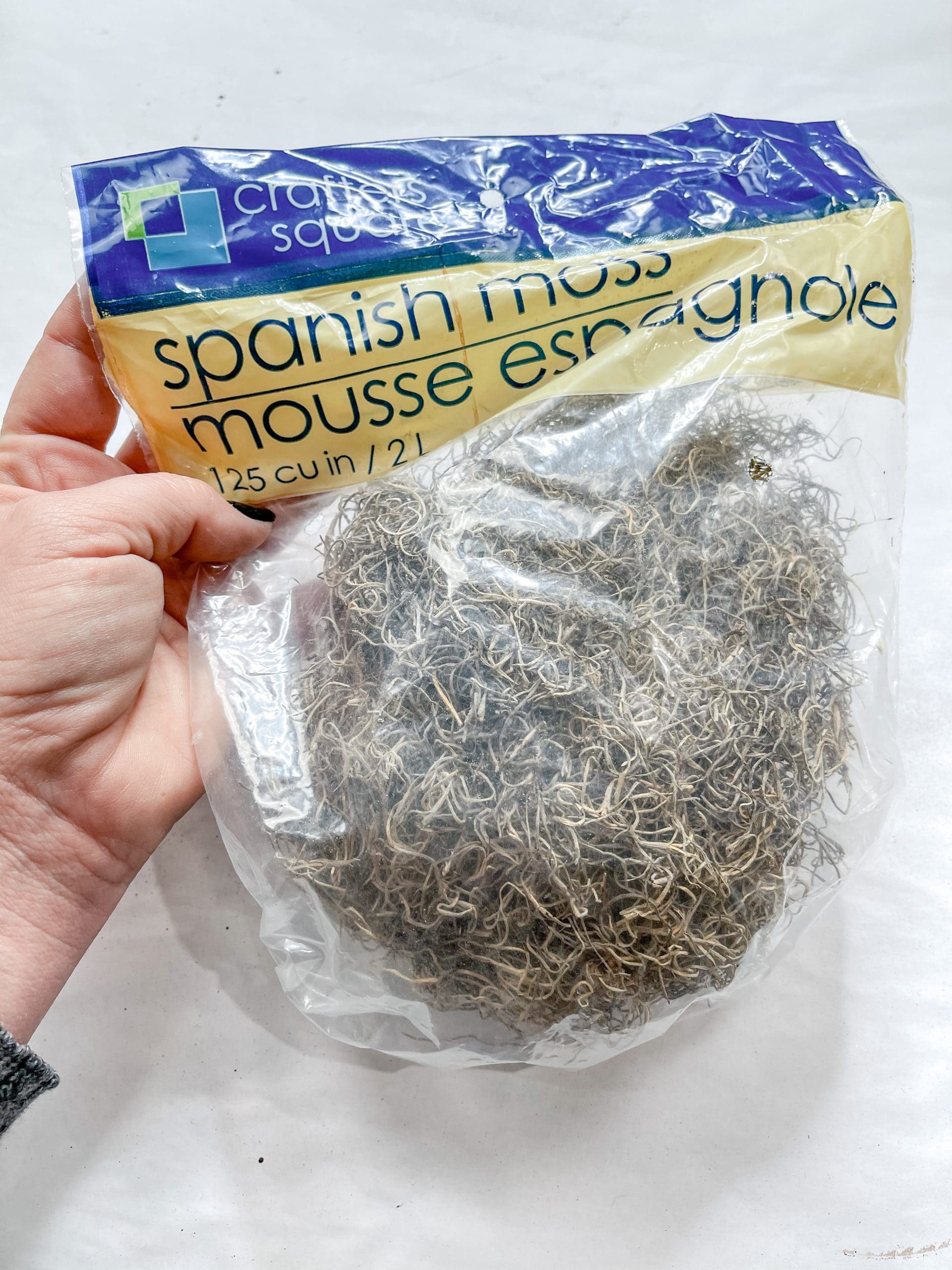 Then, hot glue one egg on top of each of the small piles of moss. Next, you're going to hot glue the pet house on top of the glass candle holder. If the hot glue doesn't give you a secure enough bond, you can always use E6000 glue.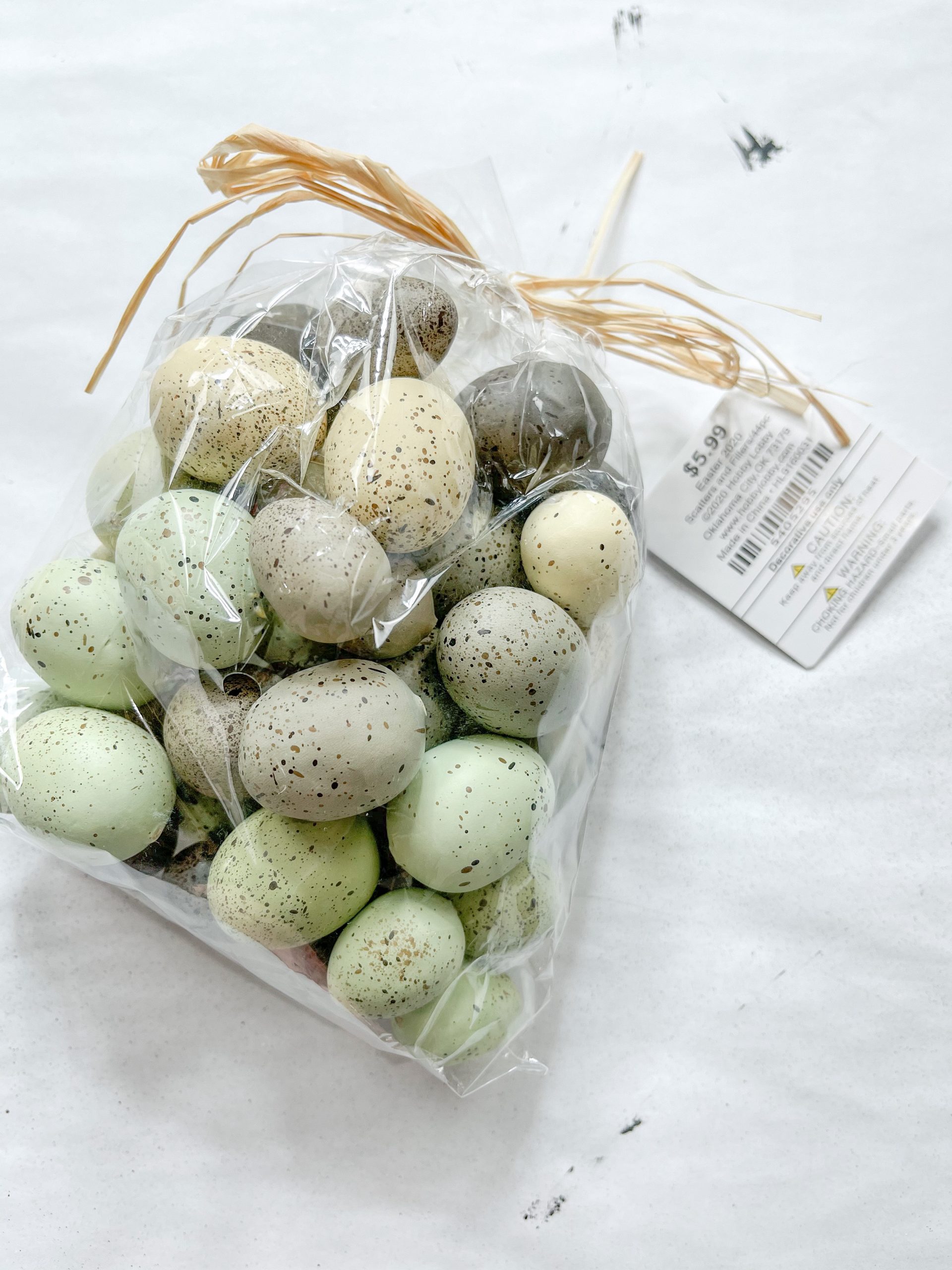 Lastly, tie a little bow out of Dollar Tree black buffalo check ribbon around the bottom of the glass candle holder, and you're ready to decorate!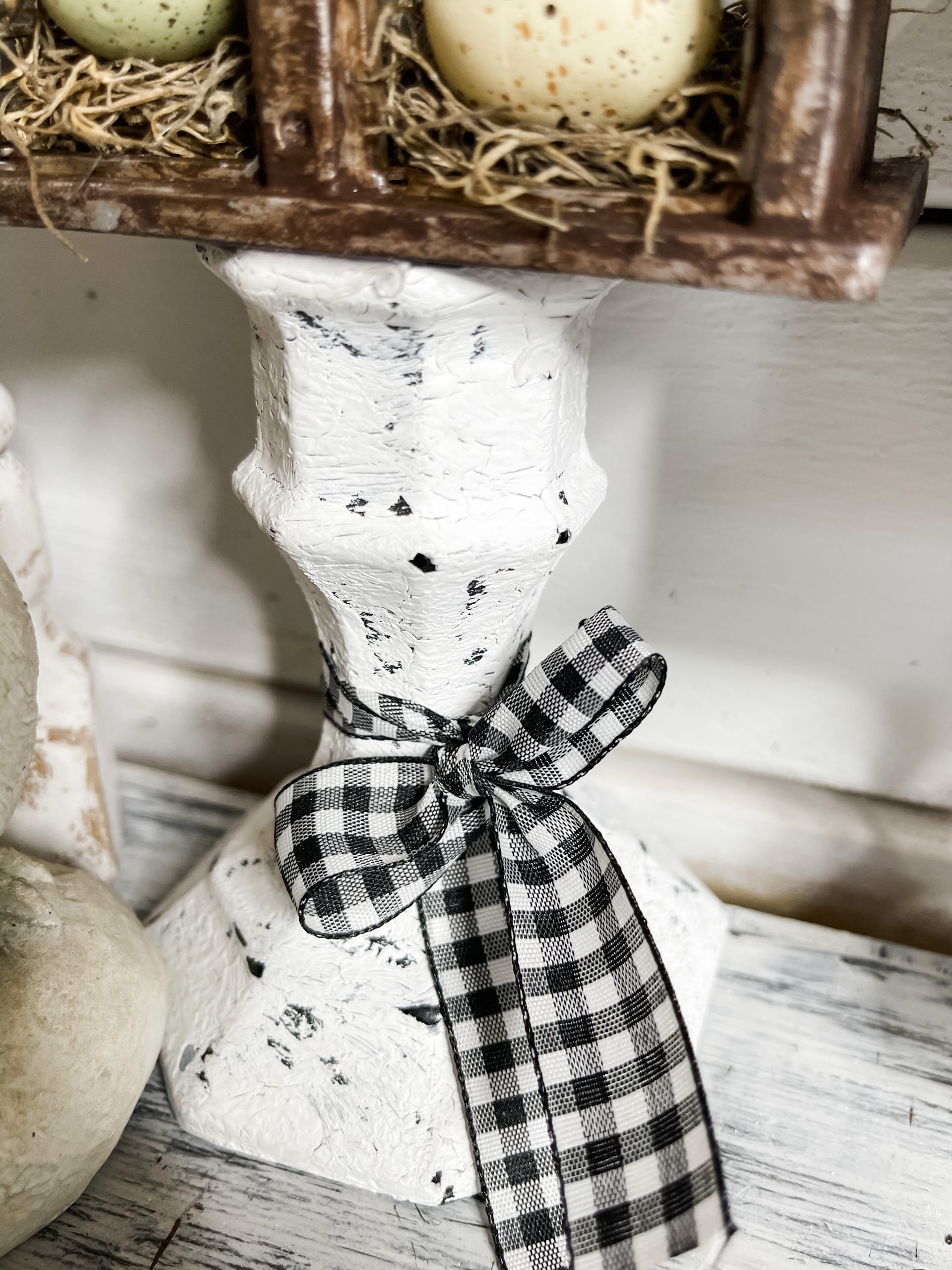 I hope you enjoyed learning how to make a DIY Chicken Coop Decor with Dollar Tree Items as much as I did and decide to make it for yourself! If you do, I would love to see how yours turns out!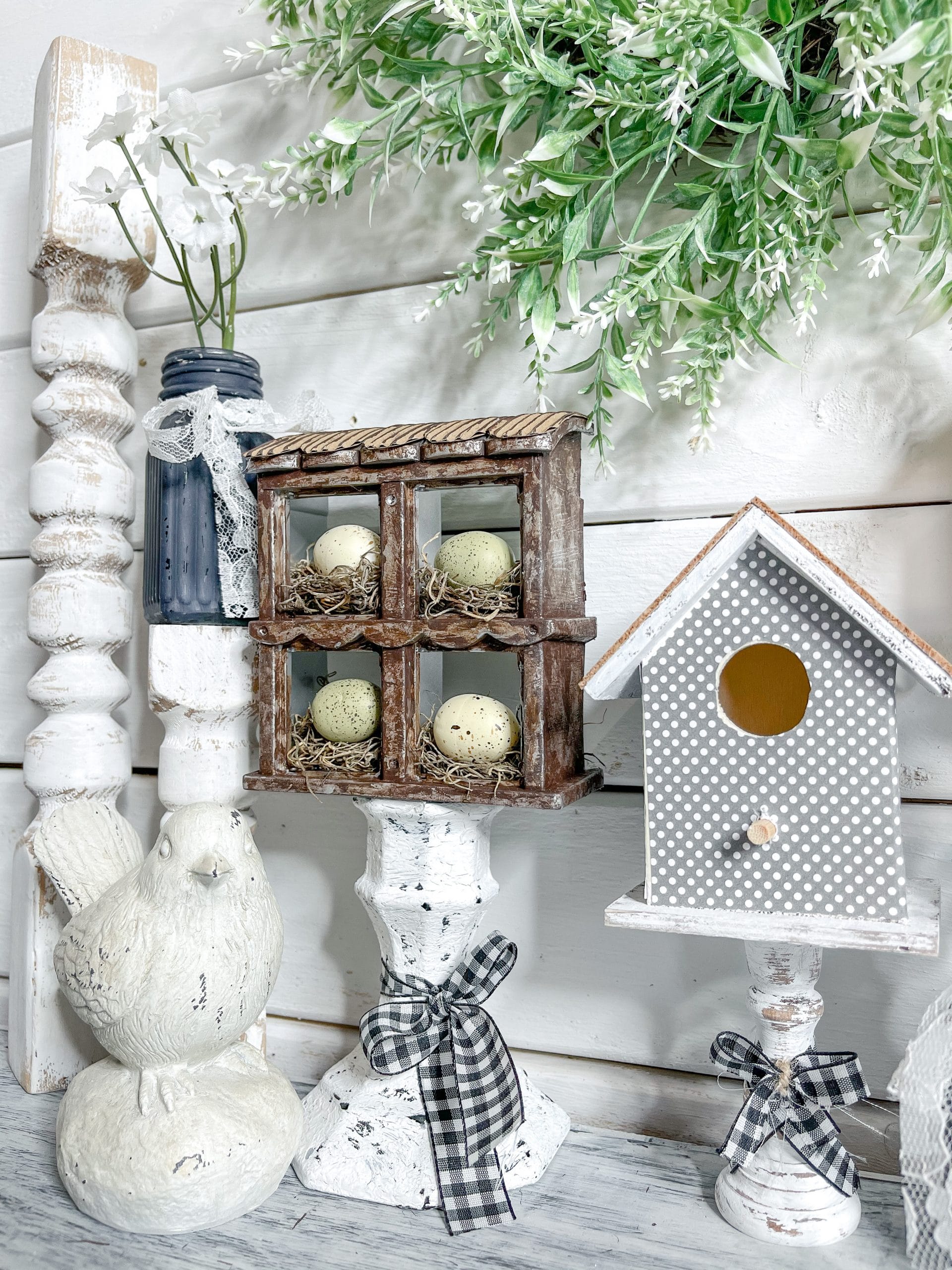 You should totally join my FREE Facebook group called On A Budget Crafts! It is a judgment-free community for DIY crafters to show off their projects and ideas.
Thanks for stopping by! XOXO Amber
You can also shop my ENTIRE AMAZON Favorites shop just click here! It's packed full of all the things I use and love. Here is the supply list I highly recommend every creative have on hand!!
Would you also pin my blog for later and get on my newsletter alerts? I would love to have you join my #craftycrew.
Inspired? Leave me a comment below! I love hearing from my readers!

Join my free "ON A BUDGET CRAFTS" Facebook group!