I can hear it in my head! The silent chant happening "Save the brushes"! hahaha… I am certain you might have pitched a few brushes in your creative adventures, and those bad boys are EXPENSIVE! If you are a furniture painter then you know how important it is to clean your paintbrushes. Especially when you have invested in professional brushes like Paint Pixie Brushes.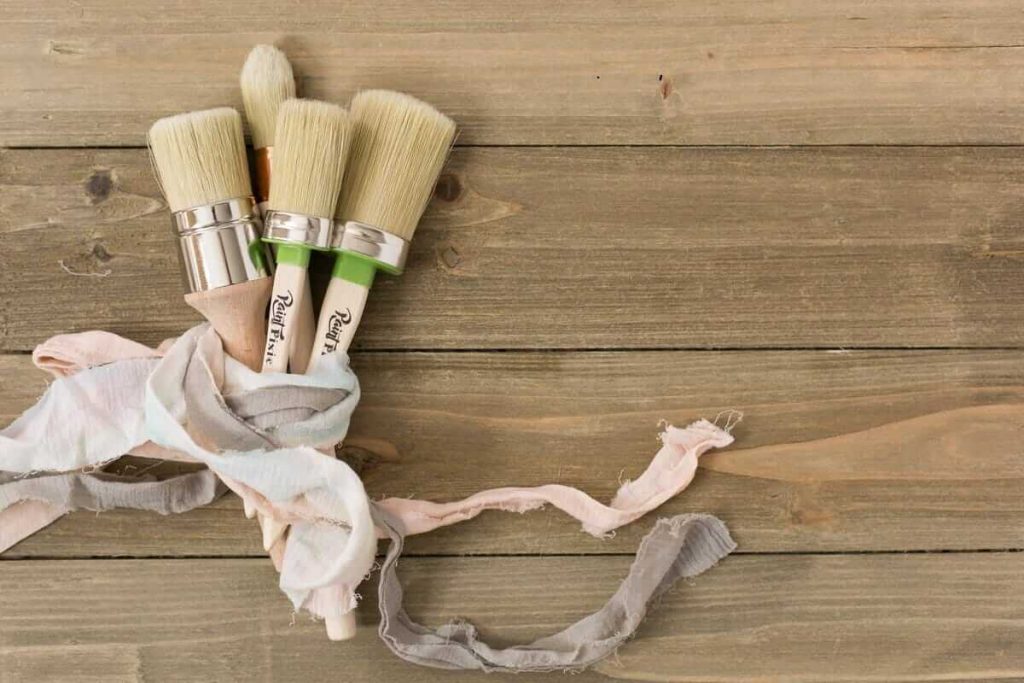 Back in my furniture painting days, I was so guilty of walking away in the middle of a project and forgetting that I left my professional paintbrushes loaded with paint. Then, hours later, I remember that I forgot to wash them out, or I go back to finish my project only to find that my brushes are DRIED UP! There are a ton of LIVE HOW TO PAINT FURNITURE videos I did back in the day of me painting away and then FORGETTING TO CLEAN UP and SAVE MY BRUSHES! But I got smart!
If this is you then I have a few quick tips.
We've all been there. If you've forgotten to clean your paintbrushes, here are some tips to save them.
Grab your brushes and start breaking the paint to spread out the bristles.
Grab a cup and add some water and a little fabric softener. Set your brushes in the solution to soak. After an hour take the brushes out and start working the paint and bristles and repeat.
Once you get the bristles and paint broken up you will need to start the cleaning process.
I suggest getting a fine-tooth comb, you can order online or pick one up at your local store.
I recommend using warm water and a makeup brush cleaner like this one to work the paint out.
If you are not familiar with brush cleaners I have 2 that are my go-to. Paint Pixie Suds Soap and Scrubby Soap. These 2 work wonders for cleaning brushes safely without damaging them.
Work the soap into the bristles and keep doing the process gently until you are able to get most of the paint out.
If your brushes are pretty loaded with dried paint, I recommend repeating this process a second time from the beginning.
Once you have gotten all the paint out, Hang your brushes to dry, lay flat (French tip Brushes), or prop up.
Allow to dry and store your brushes until your next project.
I did a quick on the fly Facebook Live Video that you can watch below several months ago back when I had my storefront. That is one thing I loved was sharing helpful tips for creatives!
Did you know…?
If your brushes are just not coming clean and can not be saved, please consider when painting and walking away from your project wrapping your brushes in plastic wrap. This keeps the paint wet and prevents them from drying out.
But did you know that with DIY paint it is water-based all natural and water reactivated, so your likely hood of recovering your brushes is much greater than with any other paint out there! Simply add water to your brushes and work the paint to reactivate it. Then rinse and wash!
I hope that you found help with how to clean your paintbrushes through my tips here, and you are able to save some of your paintbrushes and extend the use of them!
I also have a whole section in my Amazon Shop dedicated to paint and supplies you can check out all the products I have used right there!
XOXO – AMBER

Follow Me and Pin Me ON PINTEREST