Dollar Tree Shower Organizer DIY Shelves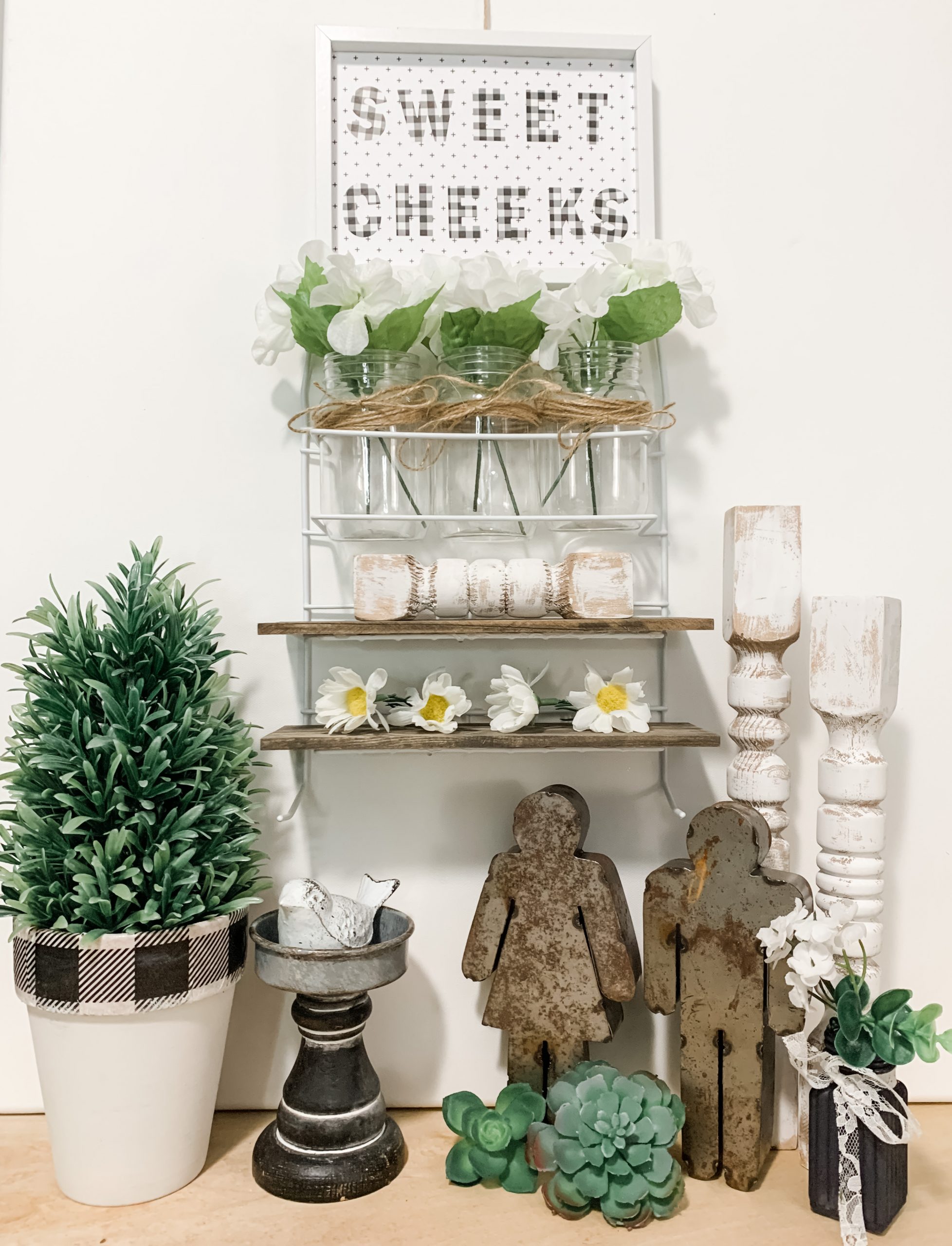 I am always looking for ways to repurpose regular household items into amazing DIY home decor, and that's how I came up with these easy Dollar Tree Shower Organizer DIY Shelves!
With most of the supplies coming from Dollar Tree, it is incredibly affordable and perfect for someone wanting to decorate their home on a budget!
Check out the Youtube Video (it is fully edited)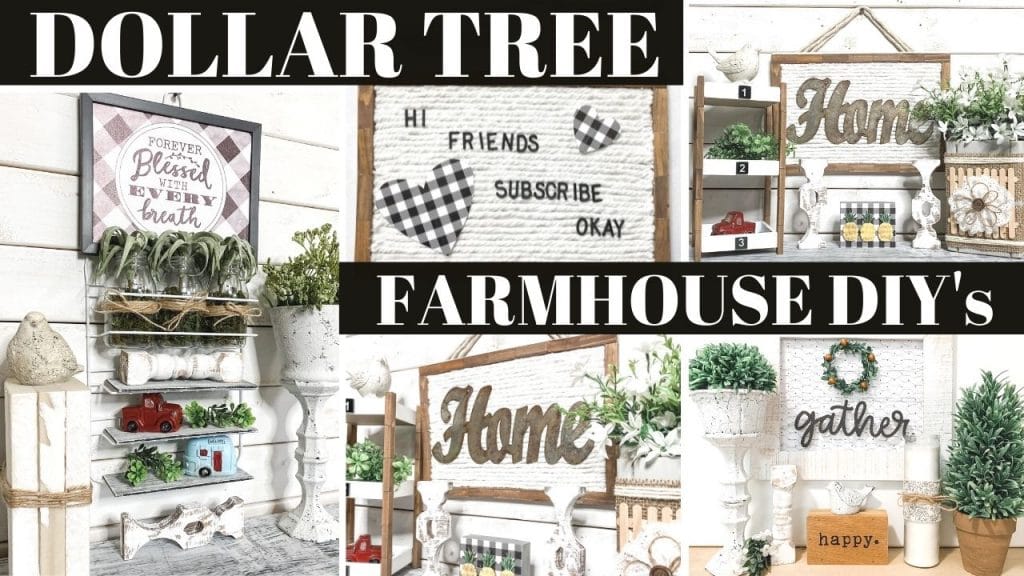 WATCH the Shower Caddy DIY Tutorial
Supplies I used for the Youtube Dollar Tree Shower Caddy DIY:
Dollar Tree Shower Organizer
Picture Frame from Dollar Tree
Dollar Tree Printed Canvas
3 Dollar Tree plastic Jars
Dollar Tree Jute
Dollar tree Wood planks
Greenery picks
Black paint, White Paint, Gray Paint
Chip Brushes https://amzn.to/2Zfsjkh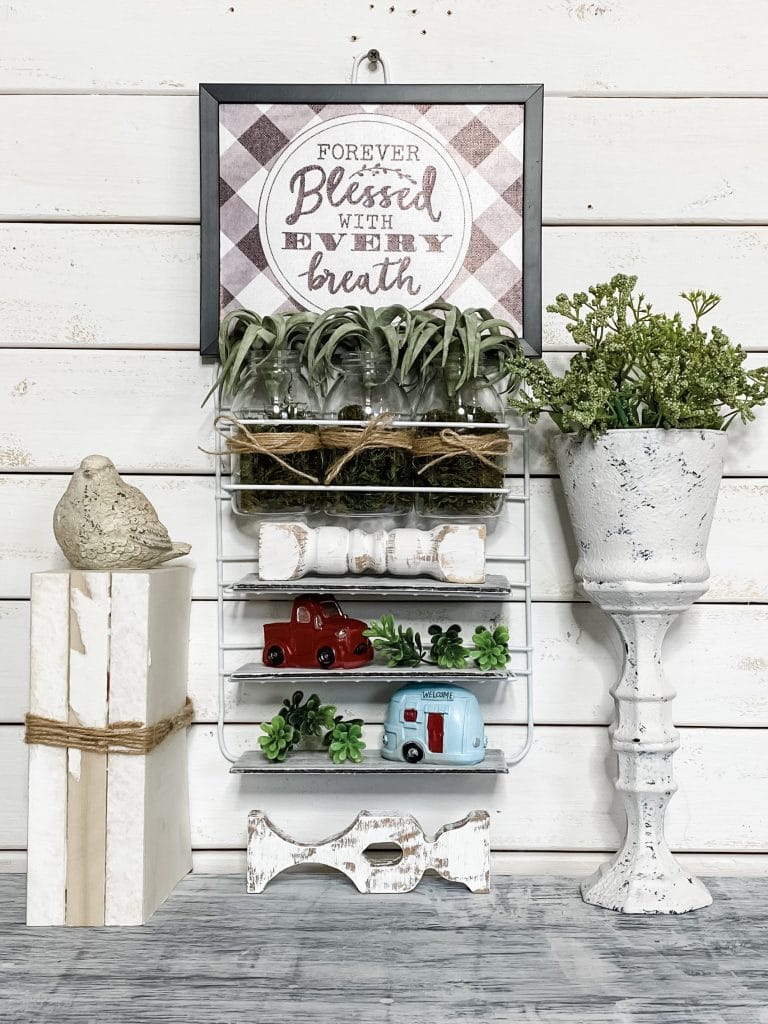 Watch the Facebook replay
Want to see how I turned a regular shower organizer into super cute farmhouse decor? Watch the Facebook LIVE replay of me making these Dollar Tree Shower Organizer DIY Shelves!
For this project, I will be using these items but you can substitute where you want.
"As an Amazon Associate, I earn from qualifying purchases."
Dollar Tree Shower organizer
Dollar Tree White flowers
Mason Jars x3
Dollar Tree Picture Frame
Dollar Tree Wooden Rectangles x2
Buffalo Check Letter Stickers (Hobby Lobby)
Scrapbook Paper
Jute Twine
Mod Podge
Brown Paint
Wet Wipes

How to Make Dollar Tree Shower Organizer DIY Shelves
I know that this Dollar Tree picture frame is adorable, I do, but I needed it to repurpose a Dollar Tree shower organizer. I started by cutting the jute twine on the back of the frame, then I removed the backing and pulled the paper design out of the frame.
Then, I placed my scrapbook paper design down and put the back of the picture frame on it. I used an Exacto knife to cut the scrapbook paper to be the same size as the frame backing.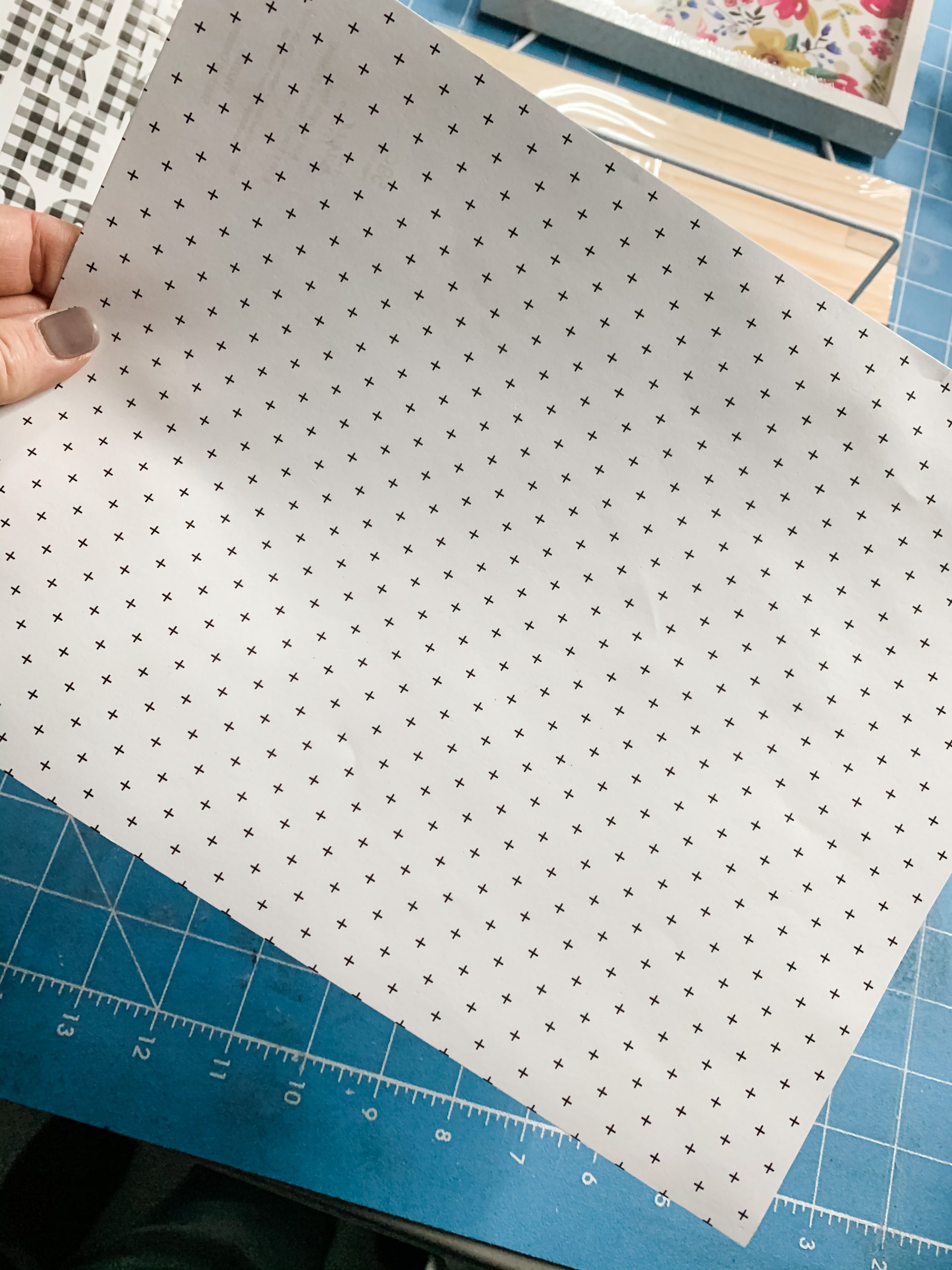 Hot glue or decoupage your scrapbook paper onto the Dollar Tree picture frame backing and put it back into the picture frame. Next, I tried to use a pair of aviation snips to cut the top of the shower organizer, but I couldn't get it to cut.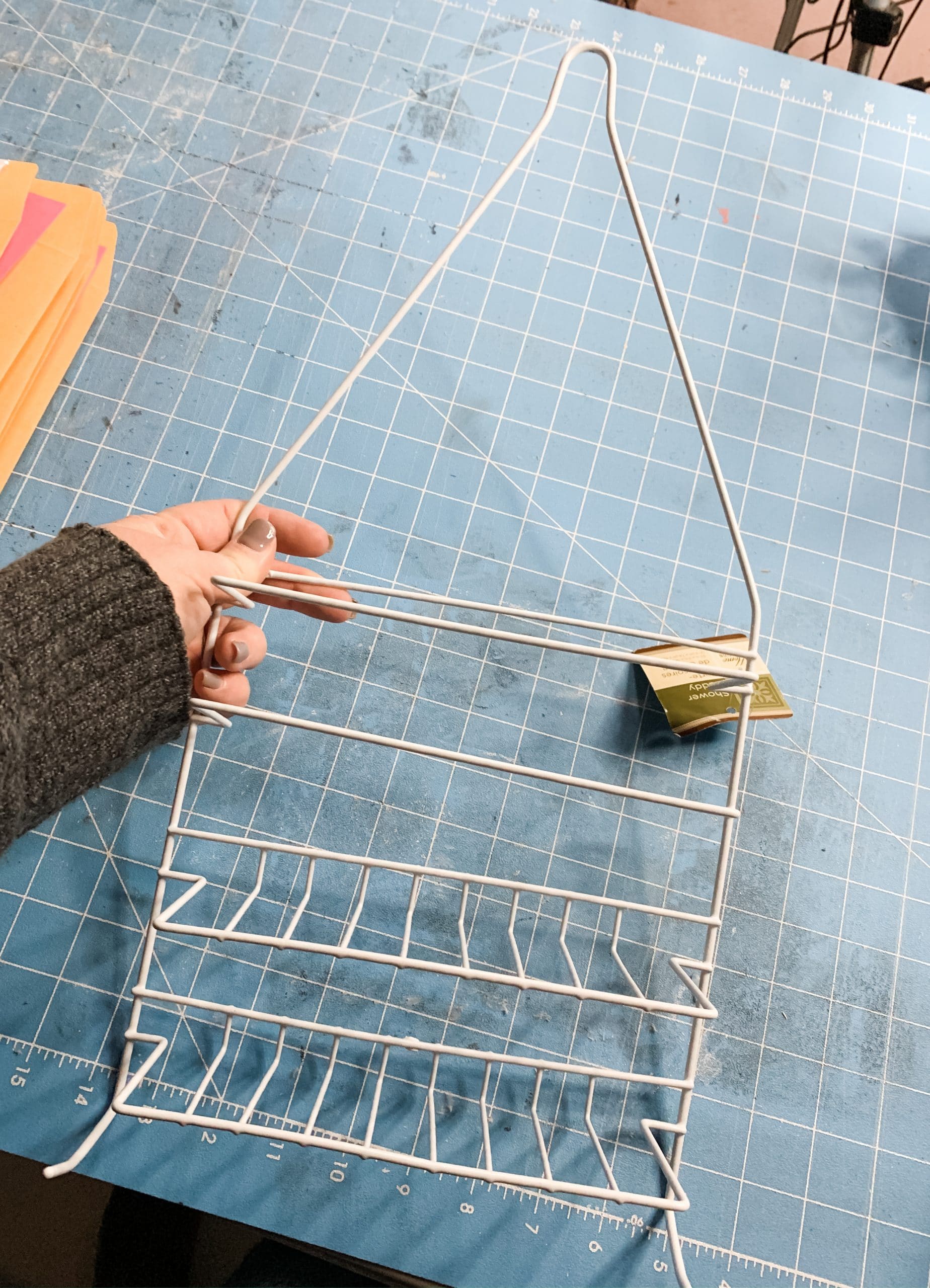 Instead, I tried bending the top of the organizer so the Dollar Tree picture frame would fit on it. Once I was happy with the shape of the top of the shower organizer, I set it to the side and got the wooden rectangles and brown paint.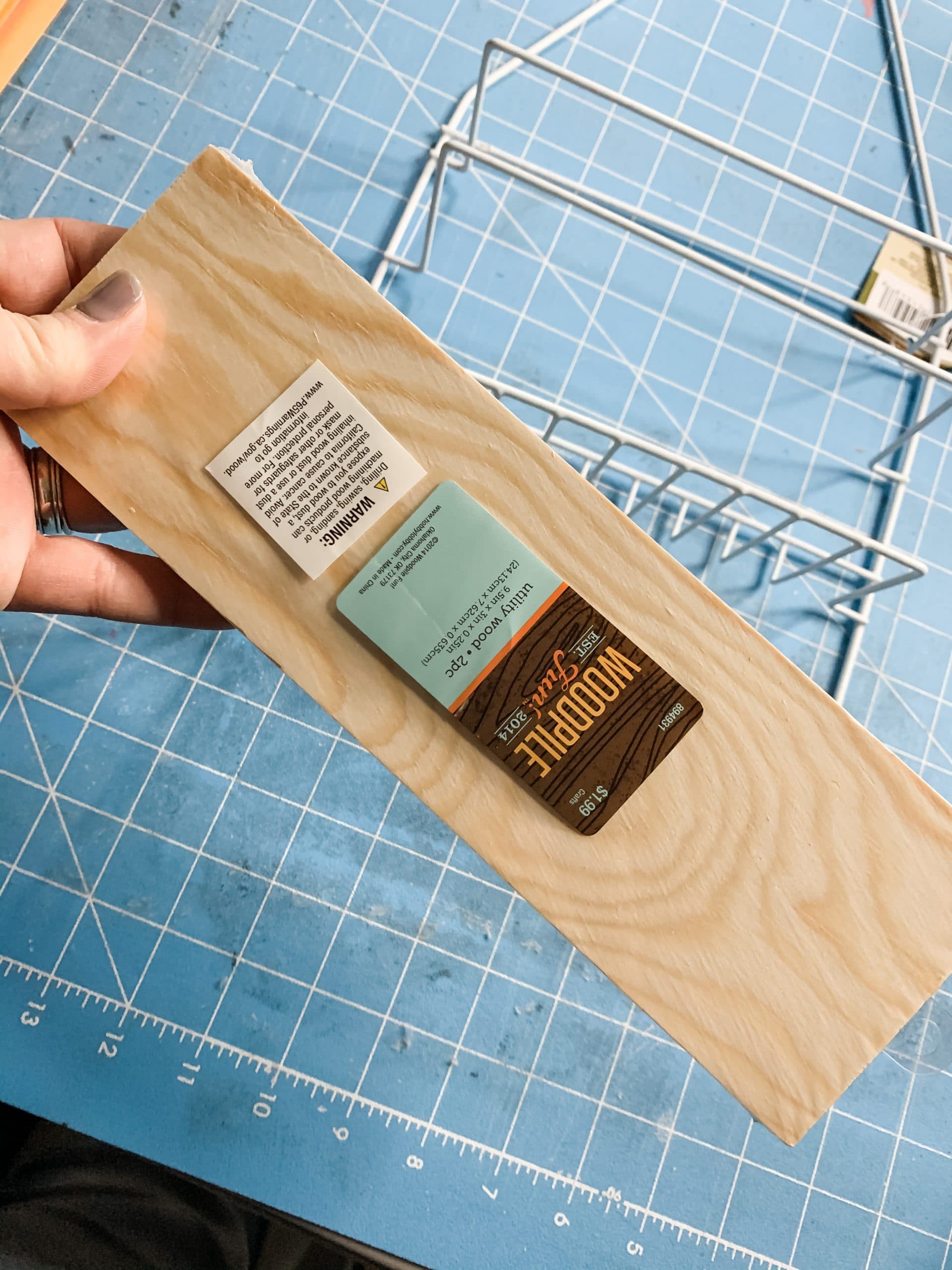 How to stain wood
To stain the wooden rectangles, dab a wet wipe into your brown paint and use the wet wipe to spread the paint across the top and bottom of the wooden rectangles.
If your wet wipes aren't wet enough, spray them with water. The water will help the wood absorb the paint and give it a stained finish rather than a painted look.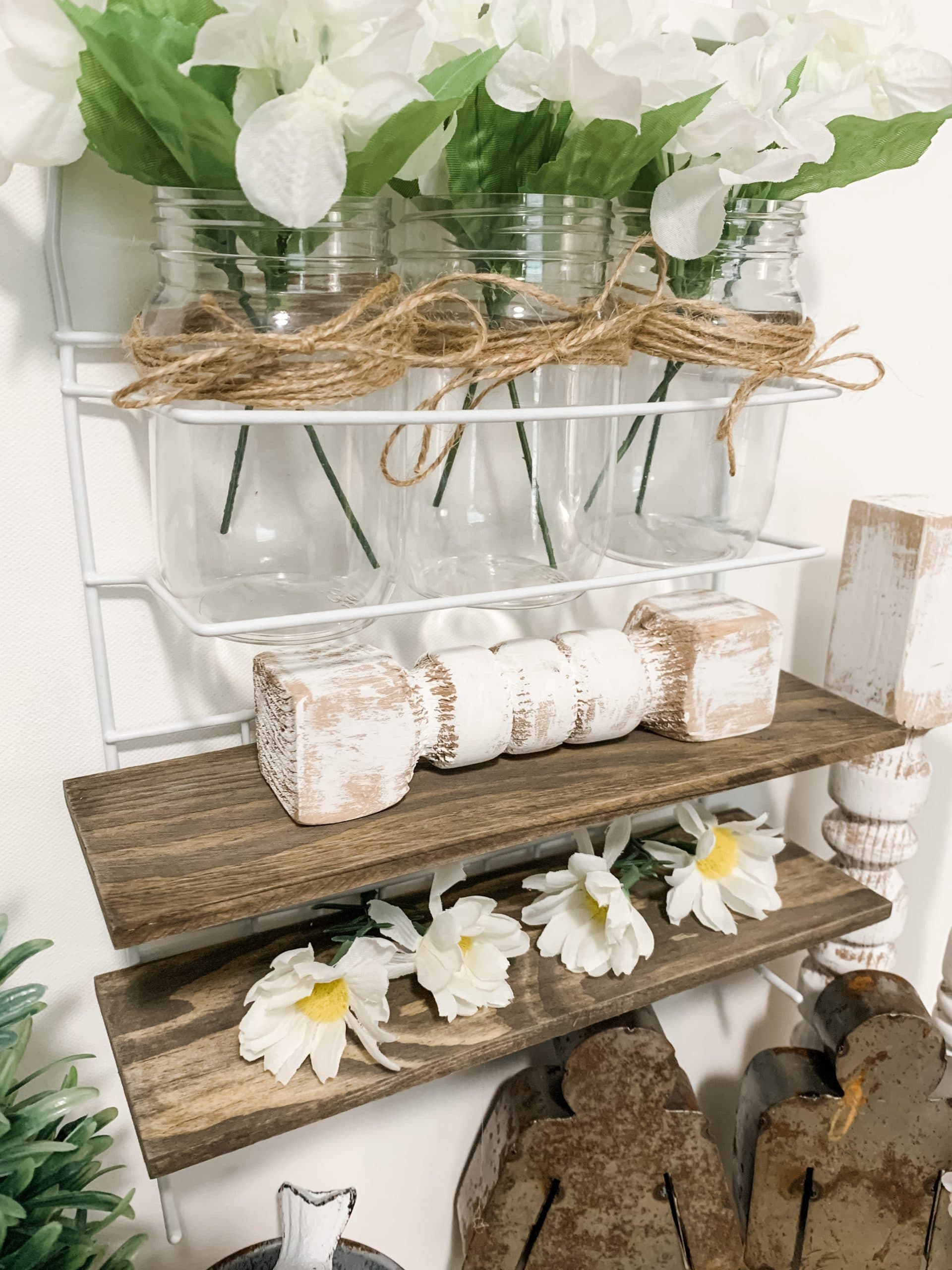 Once the wooden rectangles are dry, hot glue them onto the bottom two shelves of the Dollar Tree shower organizer. I used my heat gun to quickly dry the wooden rectangles.
If you don't have a heat gun, you can use a hairdryer on the low cool setting to speed up your drying process.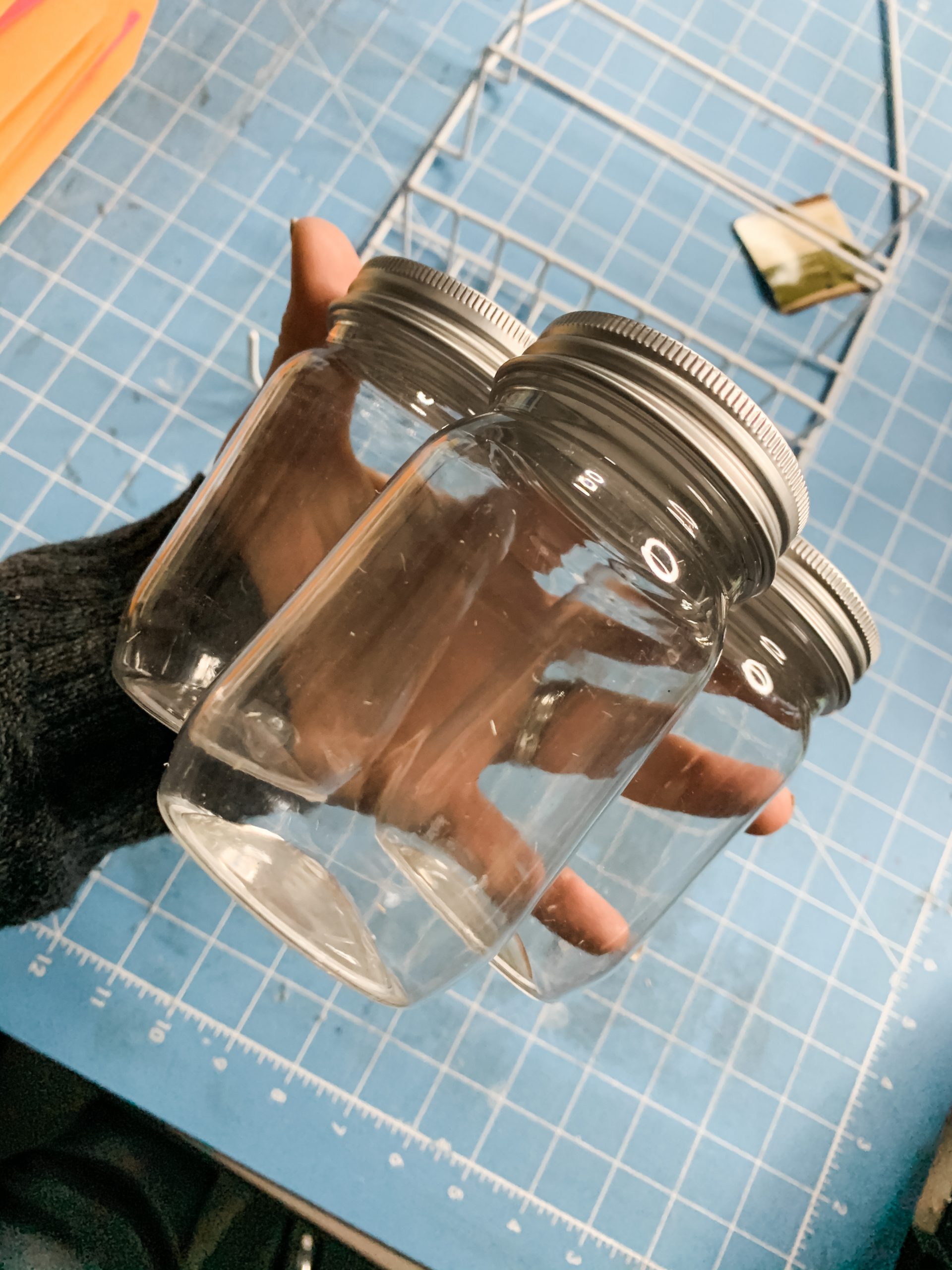 I kept it simple with the mason jars and just wrapped some jute twine around the top of each of the three jars. I tied the ends of the jute twine in a little bow. Then, I hot glued each of the jars in place above the top shelf.
Once the jars are in place, grab the stickers you need for the phrase you want to put on your picture frame. I wanted mine to say "sweet cheeks," and I used buffalo check letter stickers that I bought (on SALE) at Hobby Lobby!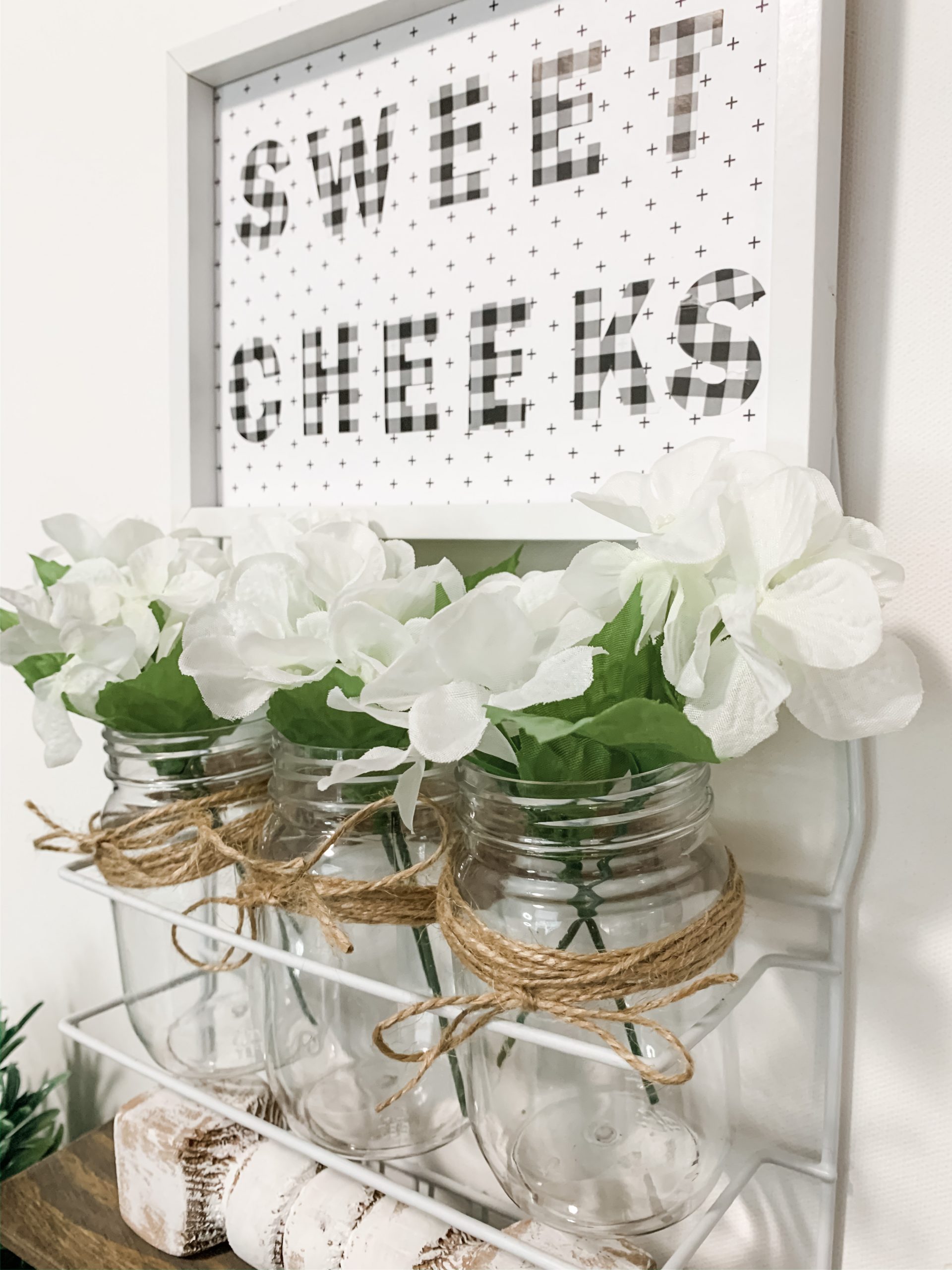 Bring it all together
Hot glue your picture frame onto the top of your Dollar Tree shower organizer, and get your flowers. I used white flowers from Dollar Tree, but you can use whichever flowers you want.
Trim the stems so the flowers will fit properly in your mason jars, and then just put them in the jars. I didn't hot glue them or secure them so I could switch them out if I wanted to!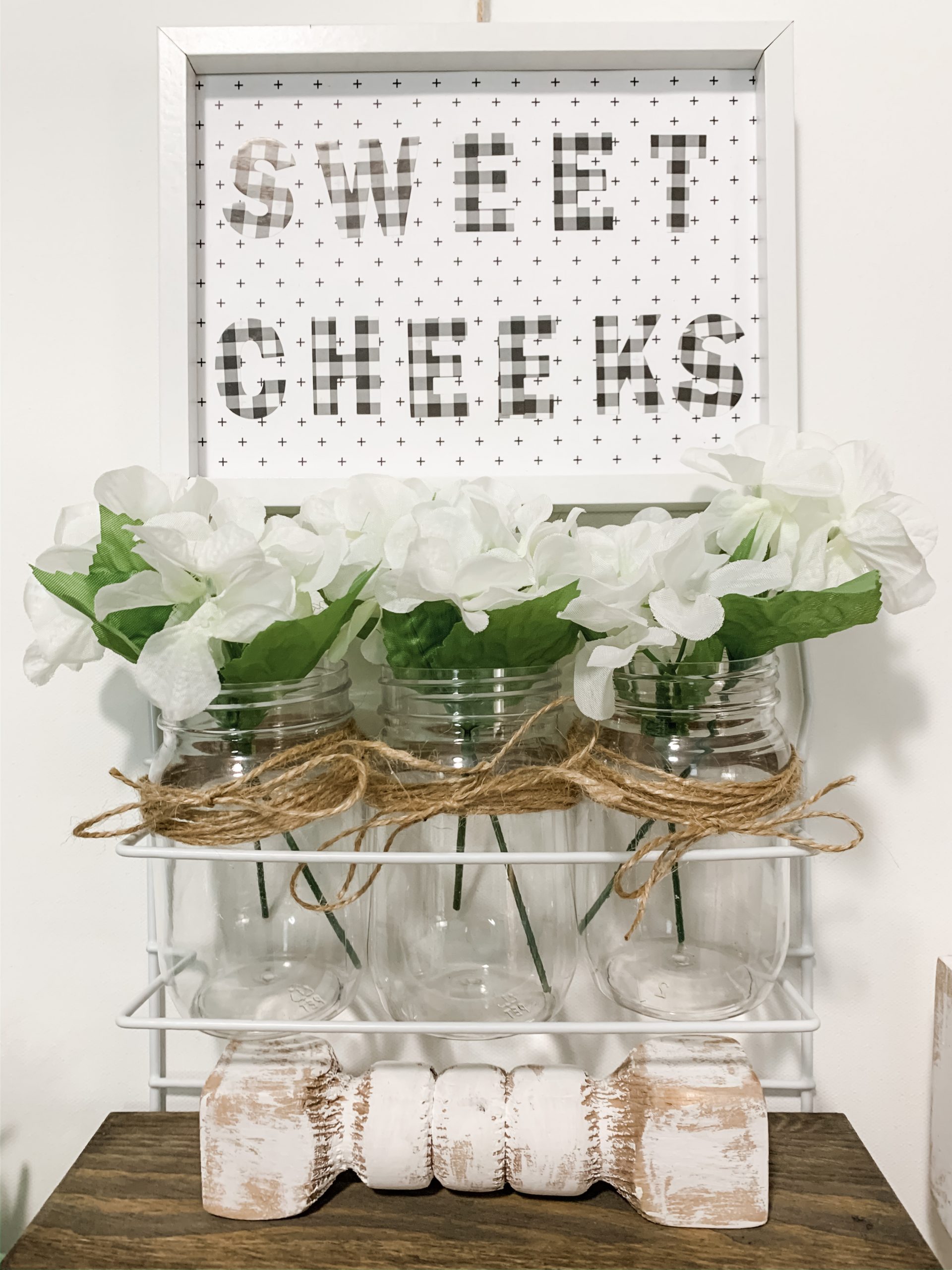 I hope you enjoyed this Dollar Tree Shower Organizer DIY Shelves as much as I did and decide to make one for yourself! If you do, I would love to see how yours turns out!
You should totally join my FREE Facebook group called On A Budget Crafts! It is a judgment-free community for DIY crafters to show off their projects and ideas.
Thanks for stopping by! XOXO Amber
You can also shop my ENTIRE AMAZON Favorites shop just click here! It's packed full of all the things I use and love. Here is the supply list I highly recommend every creative have on hand!!
Would you also pin my blog for later and get on my newsletter alerts? I would love to have you join my #craftycrew.
Inspired? Leave me a comment below! I love hearing from my readers!

Join my free "ON A BUDGET CRAFTS" Facebook group!