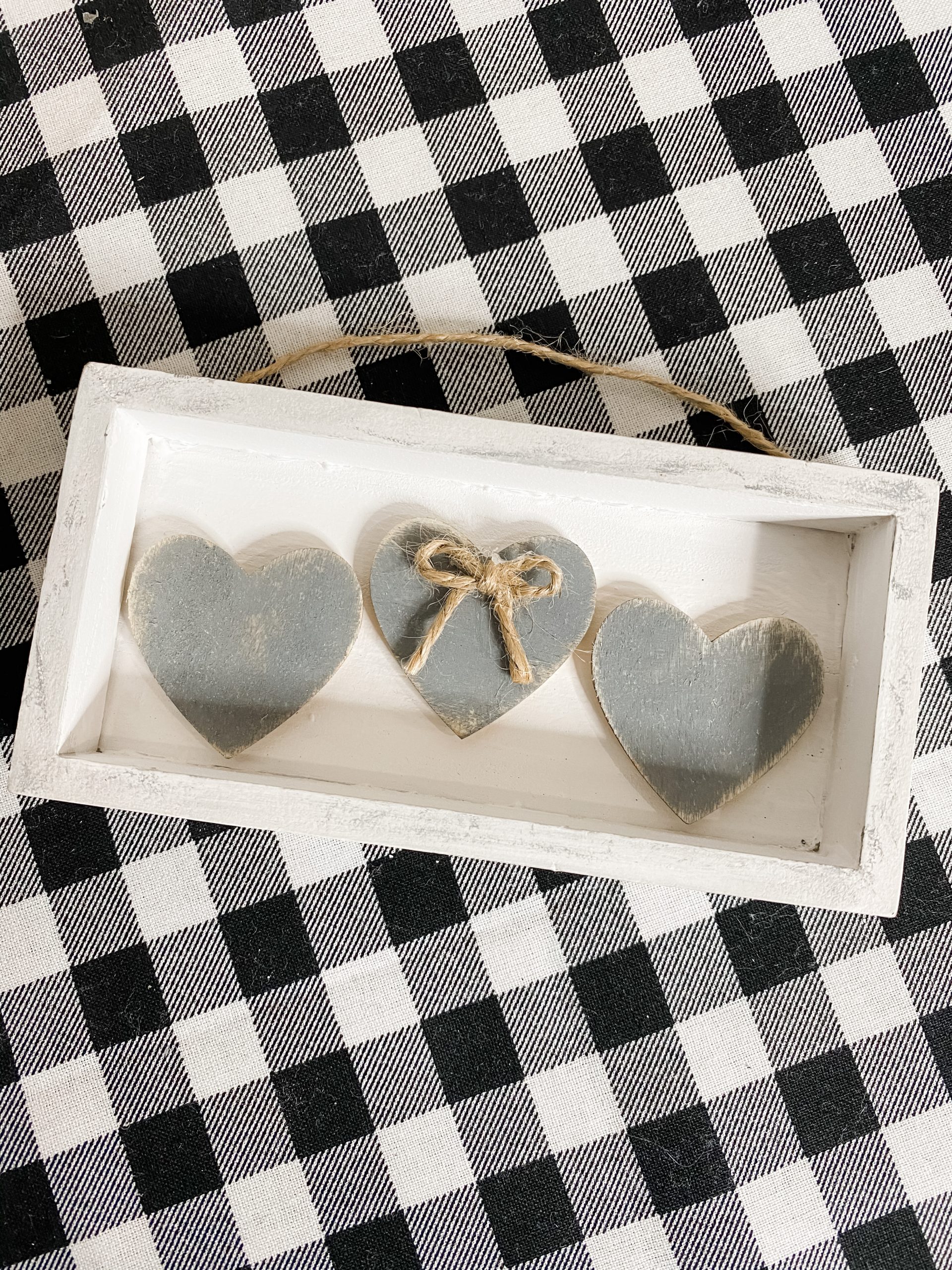 Alright, y'all. This is going to be a very quick Valentine's DIY project but to be honest, you can use this year-round! This DIY Target Dollar Spot Sign Makeover Heart Decor was a spur of the moment DIY idea that I came up with to fill wall space when staging another DIY project for pictures.
Y'all know me though. If I get a DIY decor idea, I just have to go with it and bring what's in my mind to life!

Even though this is an incredibly simple DIY project, I still have a DIY video tutorial for you! If you need to see the visual steps of how I created this cute little Valentine's Day decor, you should definitely watch this short tutorial video!
For this project, I will be using these items but you can substitute where you want.
"As an Amazon Associate, I earn from qualifying purchases."
Dollar Tree Wood Heart Stickers
Target Dollar Spot Mini Sign Box
Artist's Brushes
Let's get to it – How to makeover a Target Dollar Spot sign
The first thing I had to do to bring my Valentine's Day decor DIY idea to life was paint the mini Target Dollar Spot sign. I used Apple Barrel White Acrylic Paint and just painted the entire mini sign. It took 3 coats of paint on the inside of the sign to cover the black words that read "Life Happens, Coffee Helps".
Don't get me wrong the sign was adorable beforehand, however, I have 4 more of these signs still in my craft stash.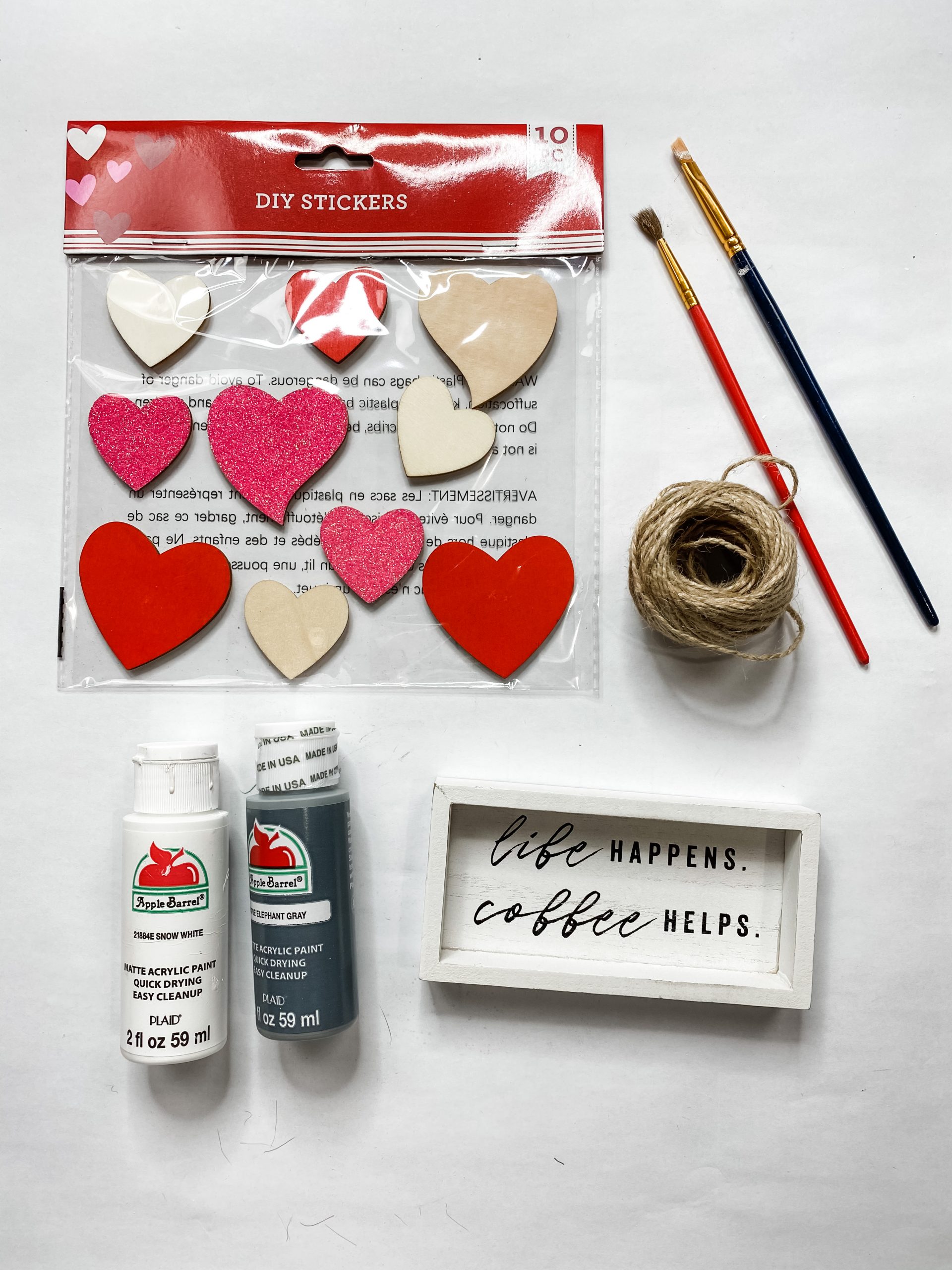 If you did not happen to snag one of the Target Dollar Spot signs, you could always use foam board or cardboard to create the back of the sign, and you can frame it out with the Dollar Tree tumbling tower blocks that we all refer to as tiny Jenga blocks.
I painted the inside first, but it was very obvious that I had painted only the inside because the white paint was so bright. That's why I decided to just go ahead and paint the entire sign.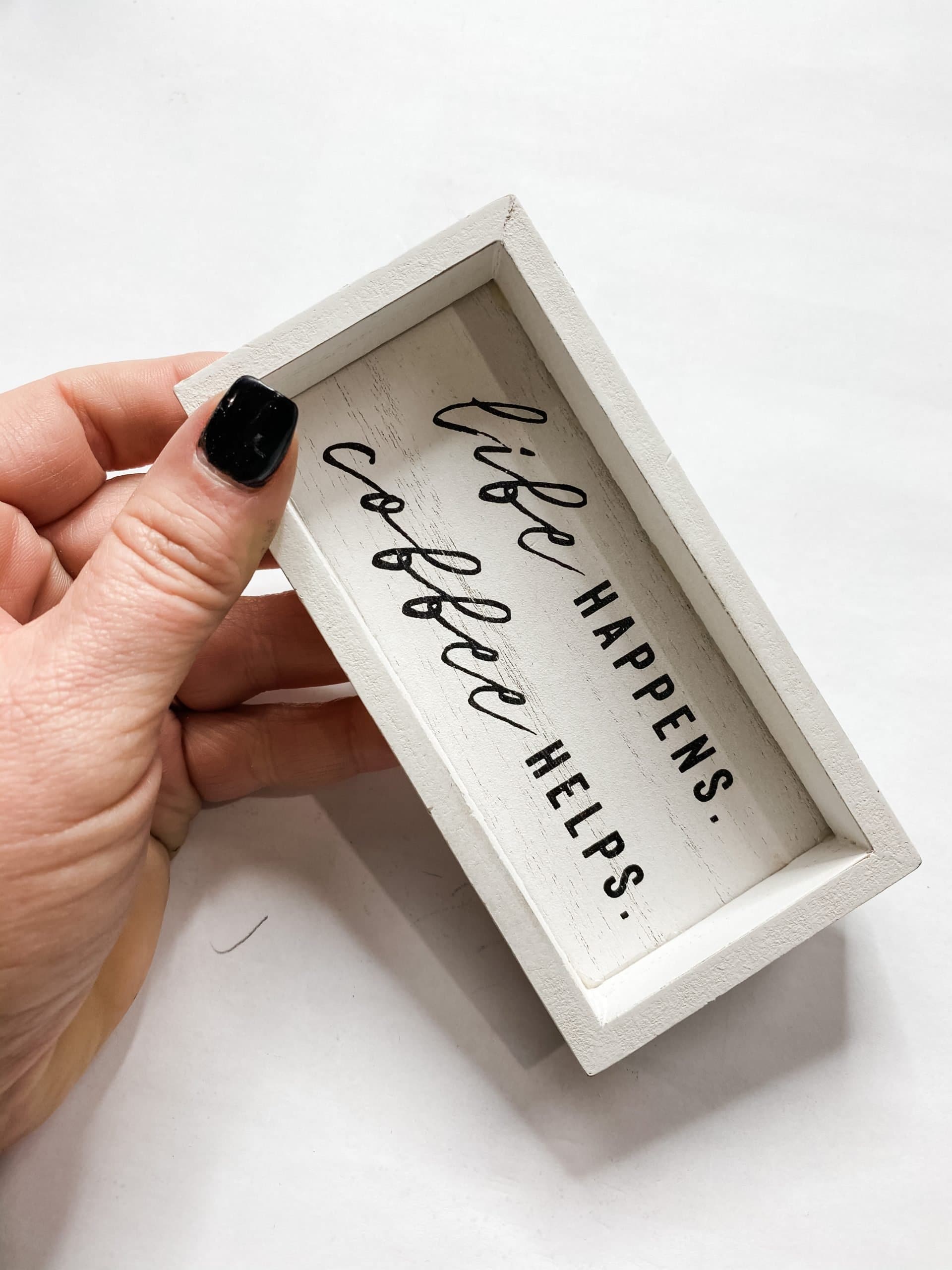 Farmhouse Style is still in!
Allow the white paint to dry before moving on. I used my heat gun to speed up the drying process. If you don't have a heat gun, you can use a hairdryer on the low cool setting!
After I dried the white paint, I used a wet wipe or baby wipe to spread a small bit of the Apple Barrel Elephant Grey Acrylic Paint around the face of the wood sign to give it a slightly distressed, aged finish.
Elephant Grey is one of my favorite colors of grey paint to use when crafting or making my DIY home decor!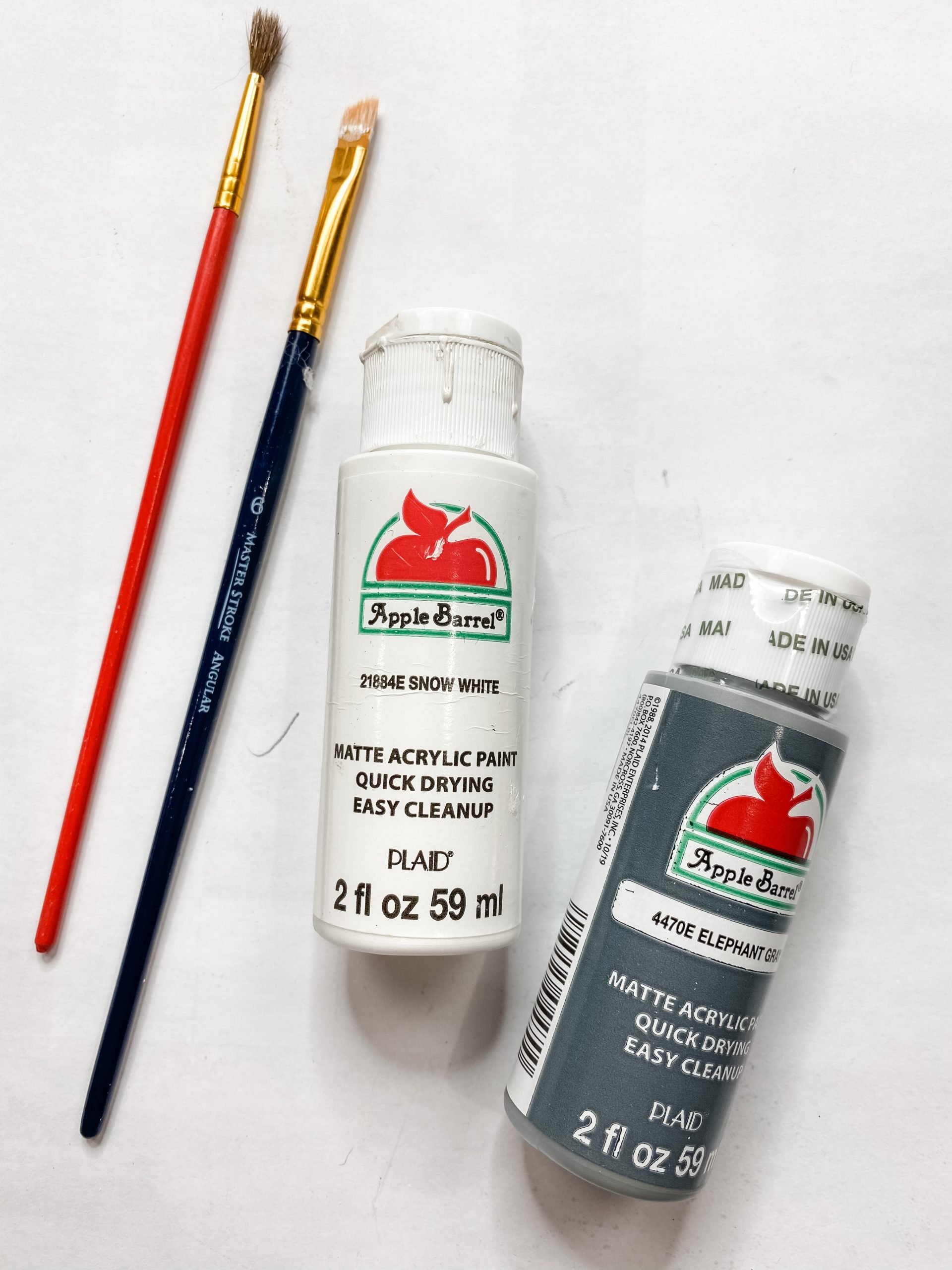 You can set your painted mini sign to the side and grab the Dollar tree wood heart stickers. The pack of wood stickers has heart stickers in red, pink, and wood color. I used the plain wood stickers for this project. They required less work to make them match the sign! Crafter tip: You can always use cardboard to create the hearts if you do not have the ones I am using on this project.
Heart decor can be used year-round
Get three of the plain wood stickers and you're going to paint them grey with the Apple Barrel Elephant Grey Acrylic Paint. Once they dried, I lightly sanded each heart to get the matching distressed look. I used a rough grit sanding sponge.
Bring it all together
Once all your paint has dried on the wood sign and each of the little wood heart stickers, you can start bringing it all together! Hot glue each of the wood heart stickers on the inside of the mini wood sign.
The last supply you'll need for this DIY Valentine's Day decor is some jute twine. I cut a small piece, tied it into a bow, and hot glued it to the top of the center wood heart sticker. It was the perfect touch to finish off this super cute Target Dollar Spot Sign Makeover!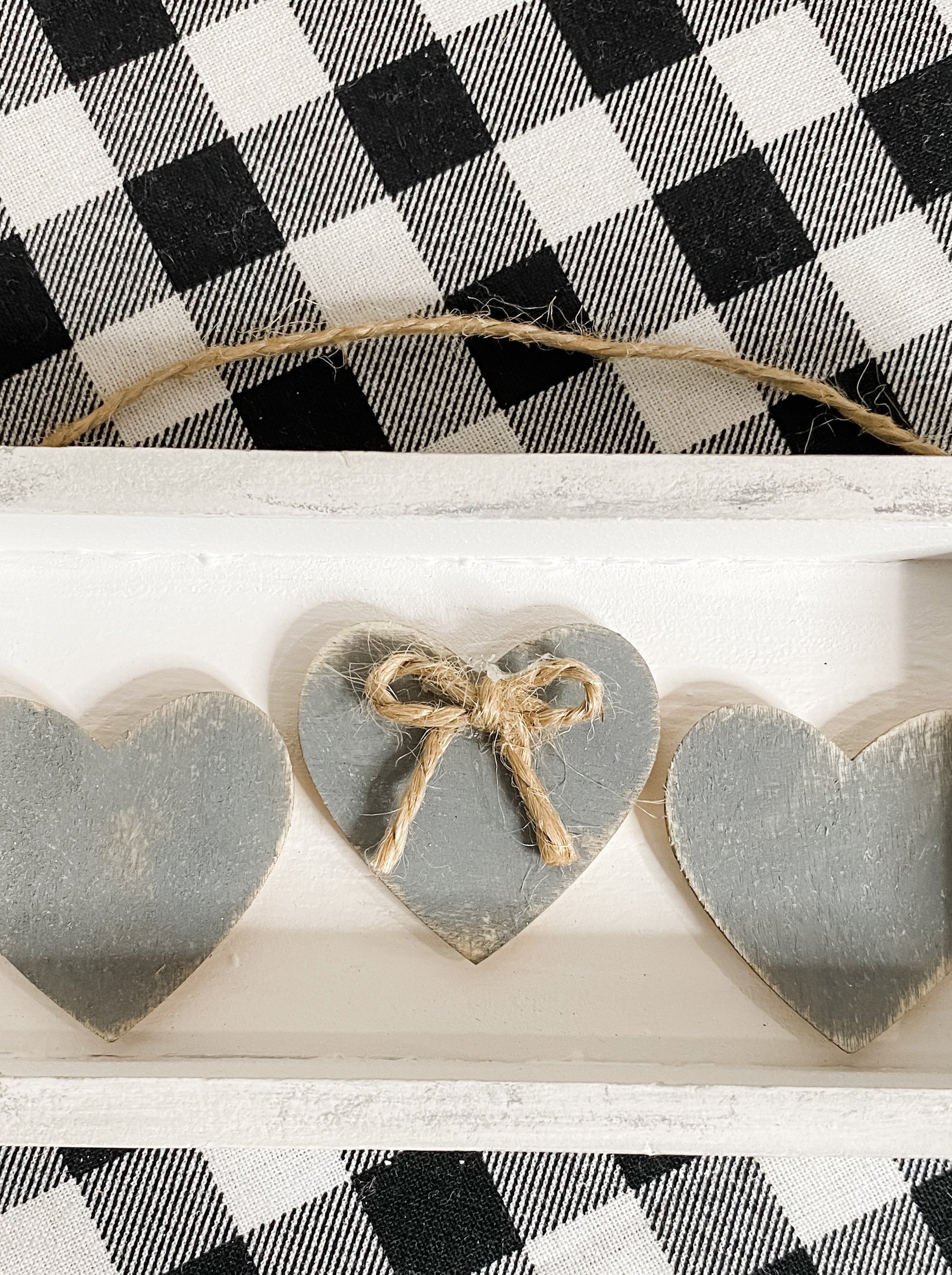 The last step of this simple DIY project is to add your hanger! I used the same jute twine for the hanger that I used to make the little bow for the center heart. Cut the twine to the length that you want and then hot glue the ends to the back of the mini wood sign.
I told you this would be a very quick DIY! Did you think I was lying?? Once the hot glue has dried and your jute twine hanger is secured, you're ready to hang this adorable mini heart decor anywhere in your home!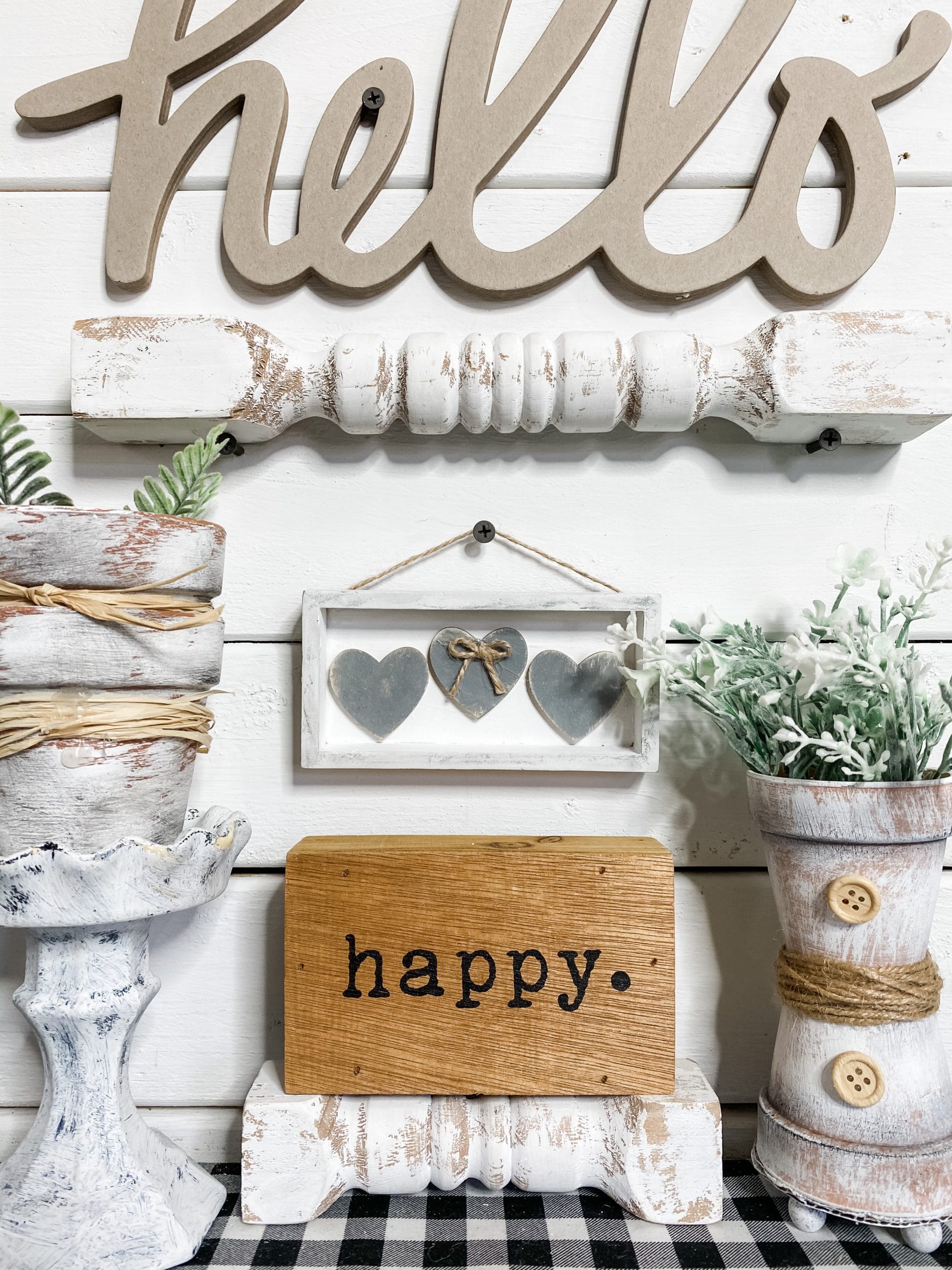 I hope you enjoyed this DIY Target Dollar Spot Sign Makeover Heart Decor as much as I did and decide to make one for yourself! I would love to see how yours turns out!
You should totally join my FREE Facebook group called On A Budget Crafts! It is a judgment-free community for DIY crafters to show off their projects and ideas.
Thanks for stopping by! XOXO Amber
You can also shop my ENTIRE AMAZON Favorites shop just click here! It's packed full of all the things I use and love. Here is the supply list I highly recommend every creative have on hand!!
Would you also pin my blog for later and get on my newsletter alerts? I would love to have you join my #craftycrew.
Inspired? Leave me a comment below! I love hearing from my readers!

Join my free "ON A BUDGET CRAFTS" Facebook group!