DIY Dollar Tree Easter Decor with Decoupaged Eggs
This DIY Dollar Tree Easter Decor with Decoupaged Eggs is so stinking adorable, and was just so much fun to make! Most of my projects are simply decoration, but this one could be so sentimental if you included your littles in making it.
You could let your kids or grandkids help decoupage the eggs and write their names on them to make this affordable DIY more personal to you and your family! This Easter DIY is definitely kid-friendly and budget-friendly!
Check out these other adorable Easter DIY's!
Watch the replay
Want to see how to make this Easter DIY decor before you get the kids ready to go to Dollar Tree? Well, I recorded the how-to steps during a LIVE video on my Facebook page, and you can watch the replay to see how the craft was made or join in on the fun conversations!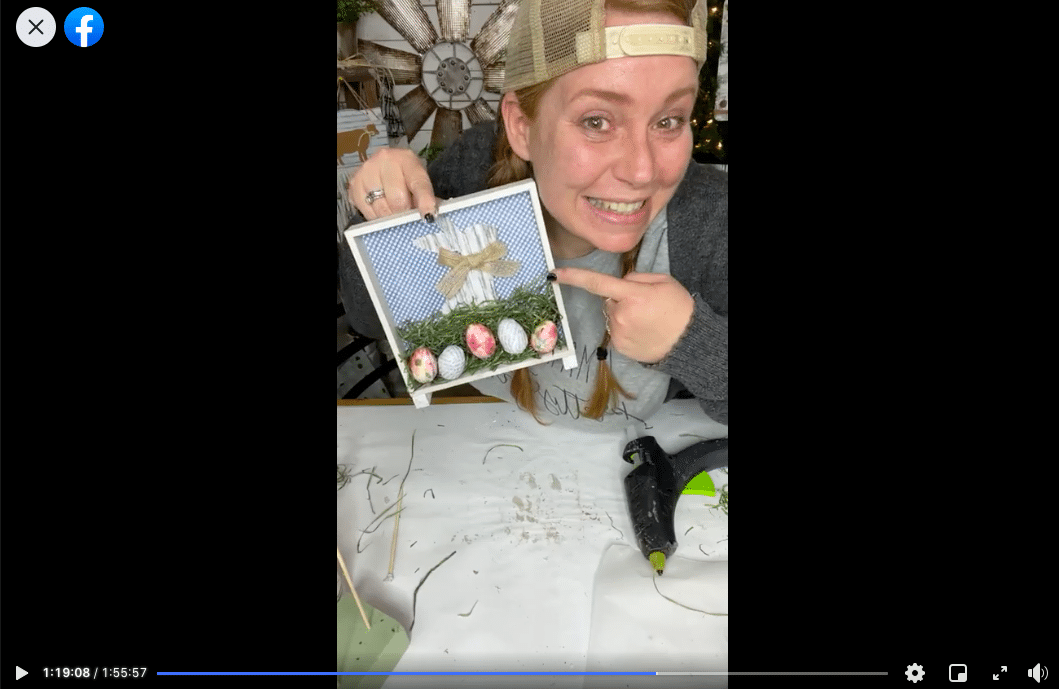 For this project, I will be using these items but you can substitute where you want.
"As an Amazon Associate, I earn from qualifying purchases."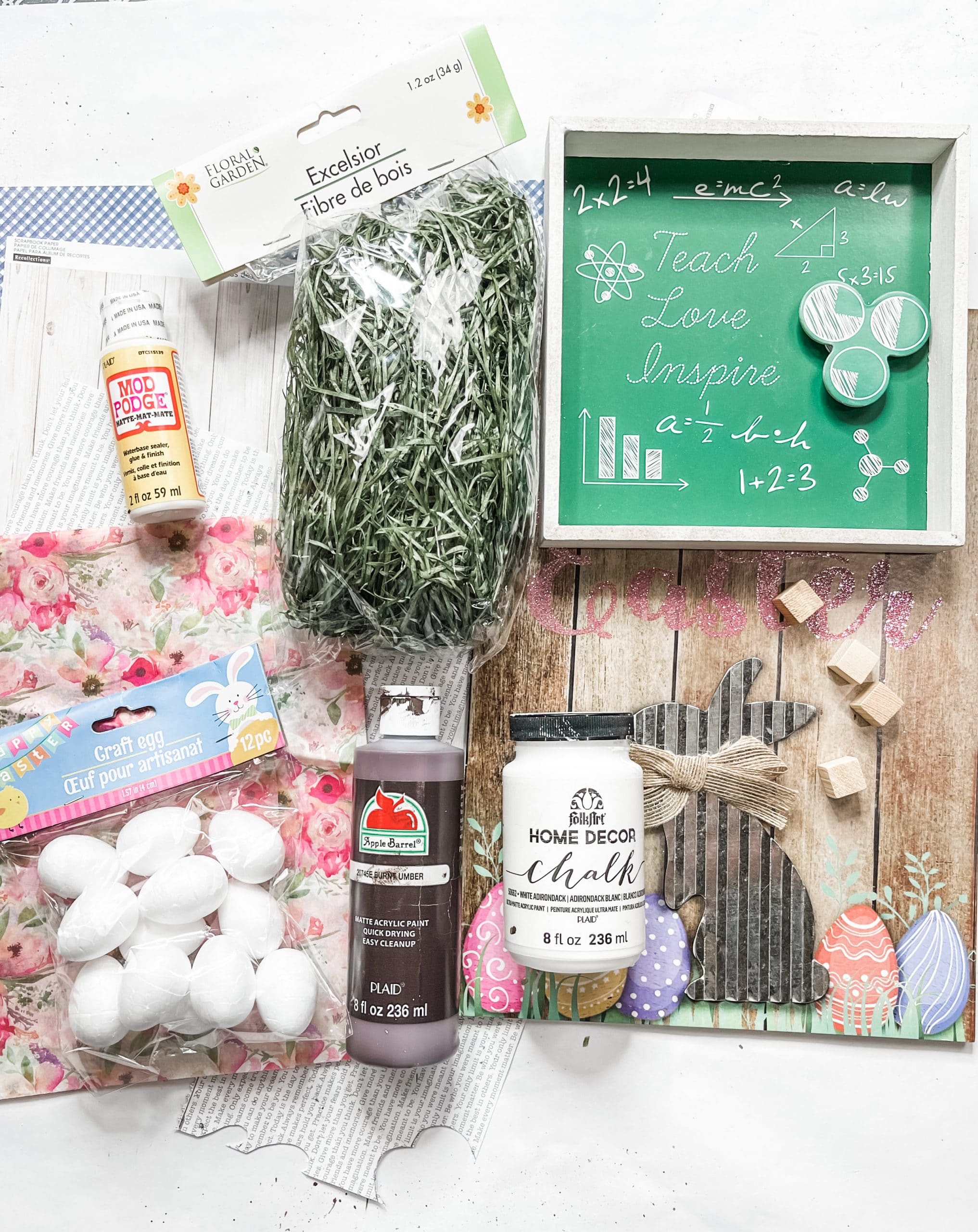 How to make DIY Dollar Tree Easter Decor with Decoupaged Eggs
Alright, y'all, step one of making this adorable Easter decor DIY is to decorate your Dollar Tree sign box. The sign box that I used had some paper pieces inside of it, so I had to remove those. Then, I cut a piece of scrapbook paper to fit inside the sign box.
Once you have your scrapbook paper ready, apply a coat of Mod Podge to the inside of your sign box and carefully place the scrapbook paper onto it. You want to avoid creating any wrinkles or creases, but if they form, you can use a piece of plastic saran wrap to smooth them out.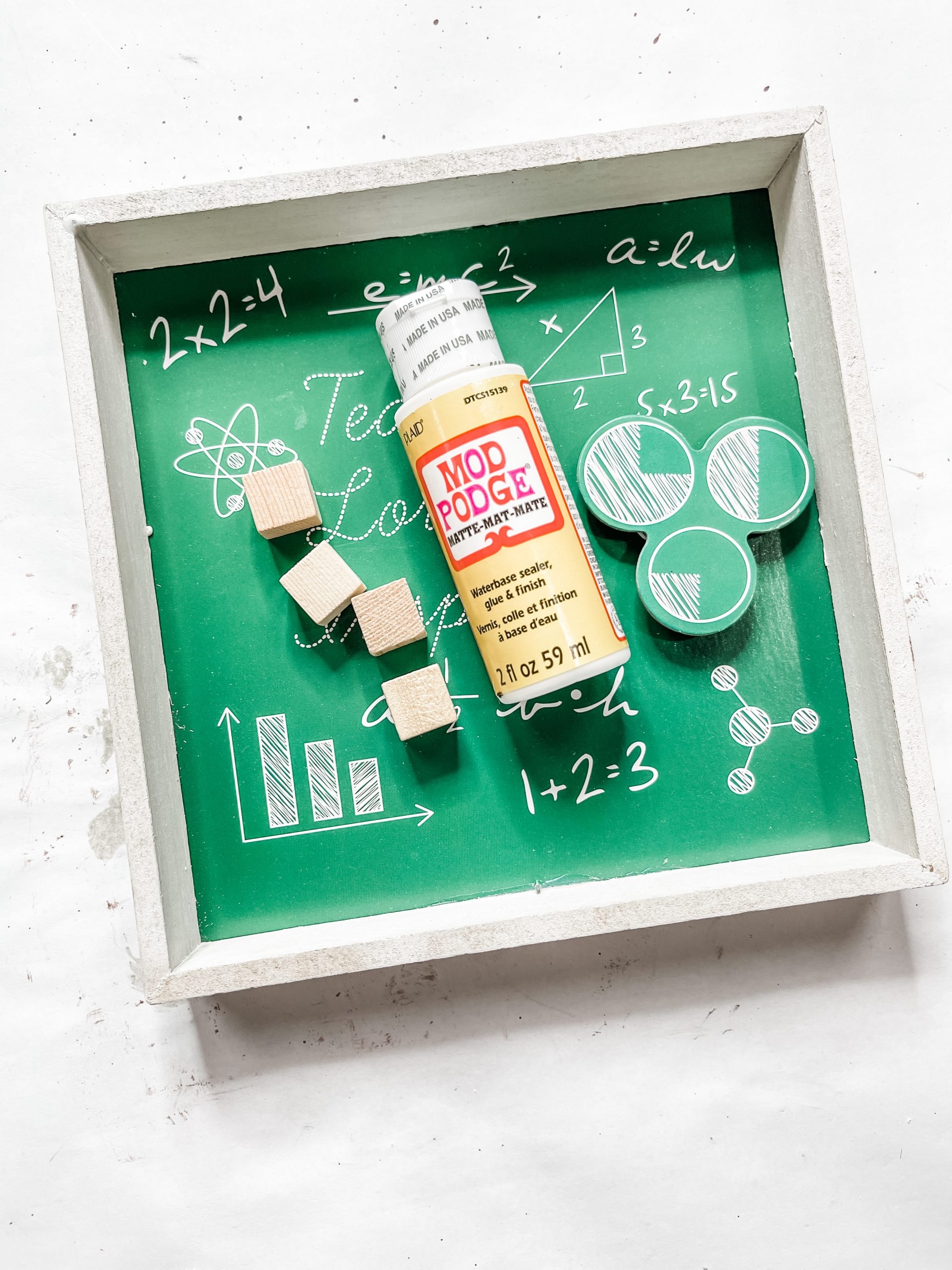 Set your decoupaged sign box to the side and get ready for the fun part – decoupaging the Dollar Tree craft eggs! I used 5 eggs, but you can use as many or as few as you want.
Decoupaged Easter Eggs
First, I poured Mod Podge into a small mixing bowl and pushed the eggs onto wood skewers. Then, I dipped the eggs in the Mod Podge and used a paintbrush to brush off the excess and spread the Mod Podge across the egg.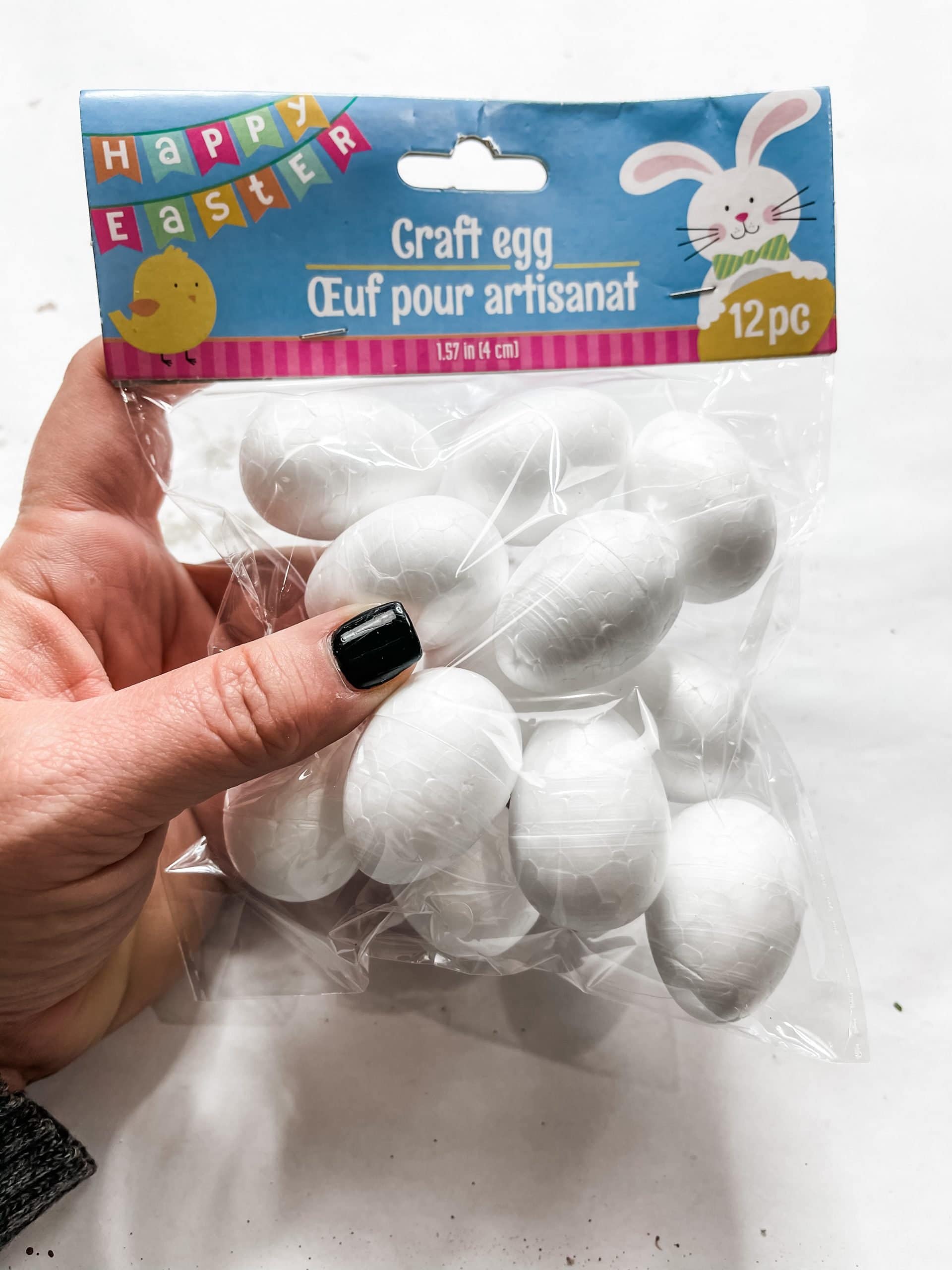 Once the egg was completely coated with Mod Podge, I pressed a piece of tissue paper onto the egg until the paper was secured on the egg.I used patterns for my eggs to give them a bit of variety but you can use however many patterns you want for your recreation of this adorable Easter DIY.
The first pattern was floral tissue paper. The second was a typewriter pattern scrapbook paper from Hobby Lobby! To make the scrapbook paper work for this project, I first cut it into small strips. Then, I dipped the paper strips in water before I pressed the paper onto the Mod Podge on the craft eggs.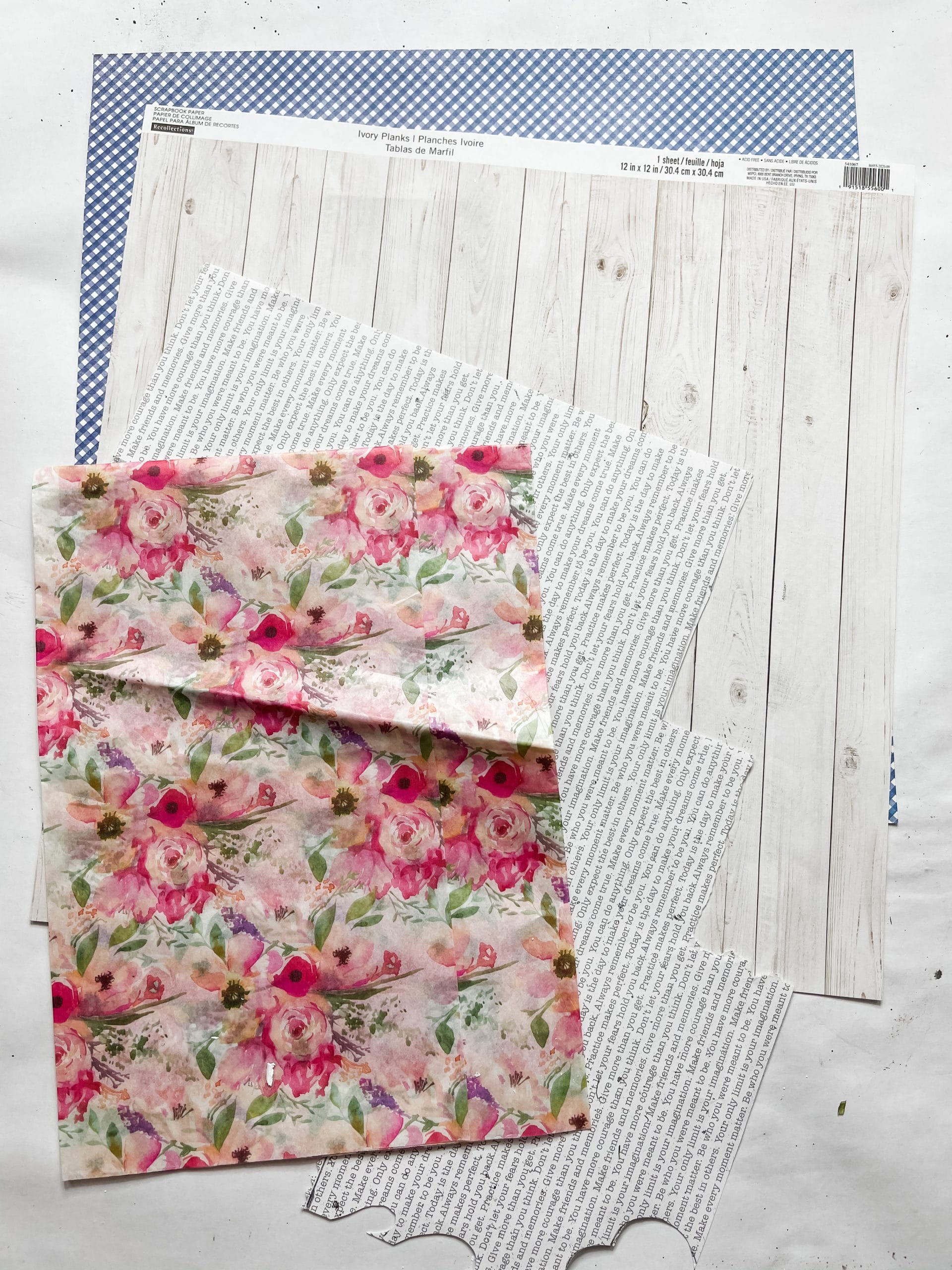 To allow my eggs to dry, I pushed the skewers into a block of floral foam and set them to the side while I continued working on the sign box. The next step of decorating the sign box is adding the metal bunny.
I pulled that bunny off a Dollar Tree Easter sign, but if you find one somewhere else, feel free to use that one instead! I pulled the little burlap bow off the bunny's neck, then painted my metal bunny white with Folkart Chalk Paint.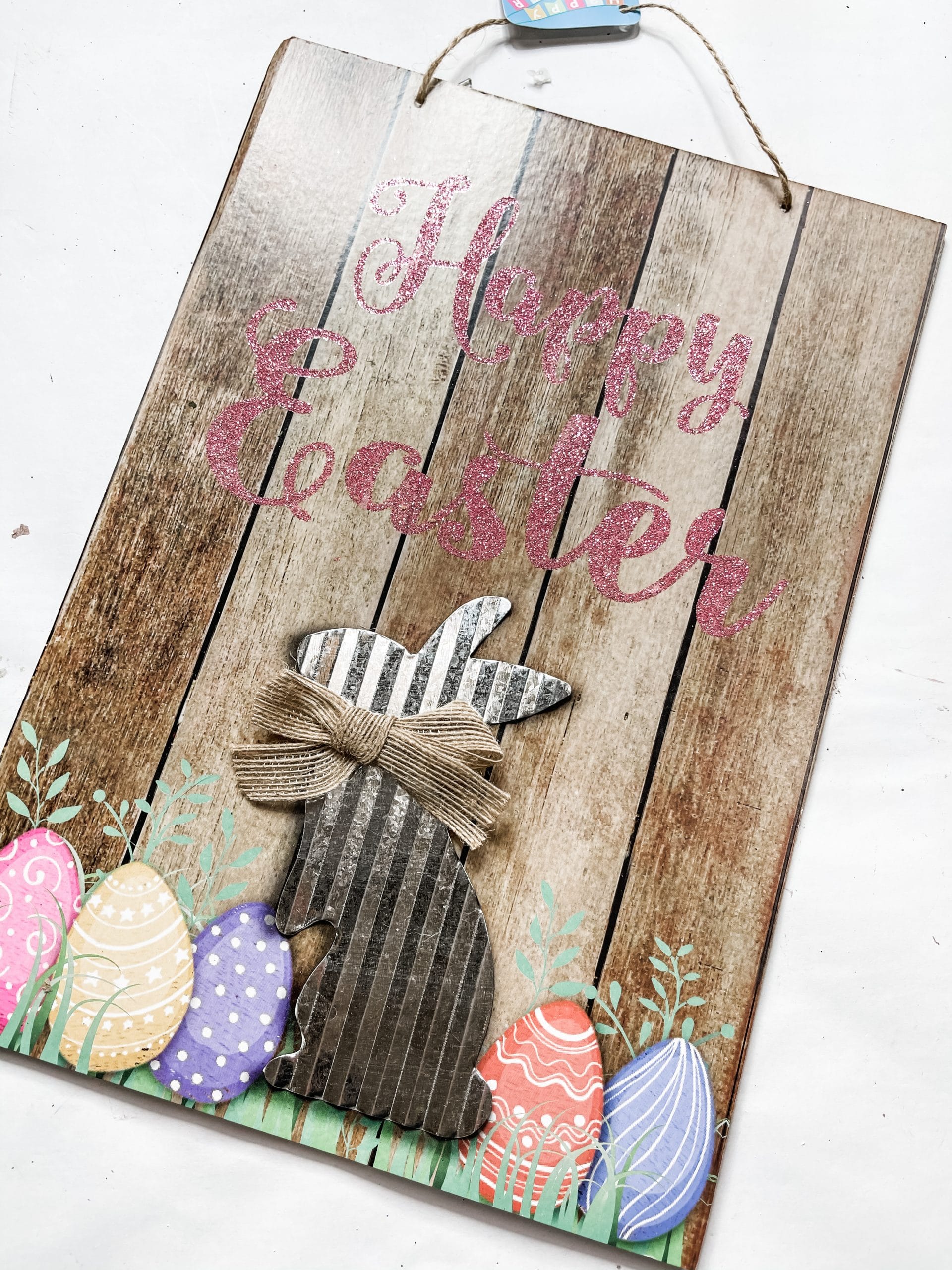 Once the white paint had dried, I went back over the ridges of the metal with Apple Barrel Burnt Umber Acrylic Paint. This creates an aged finish for the metal, but you have to keep a light hand with the brown paint.
If you add too much brown paint, you can dab back over it with a wet wipe to blend it out and pick up the excess paint. Allow the brown paint to dry, then hot glue the little bow back onto the bunny's neck.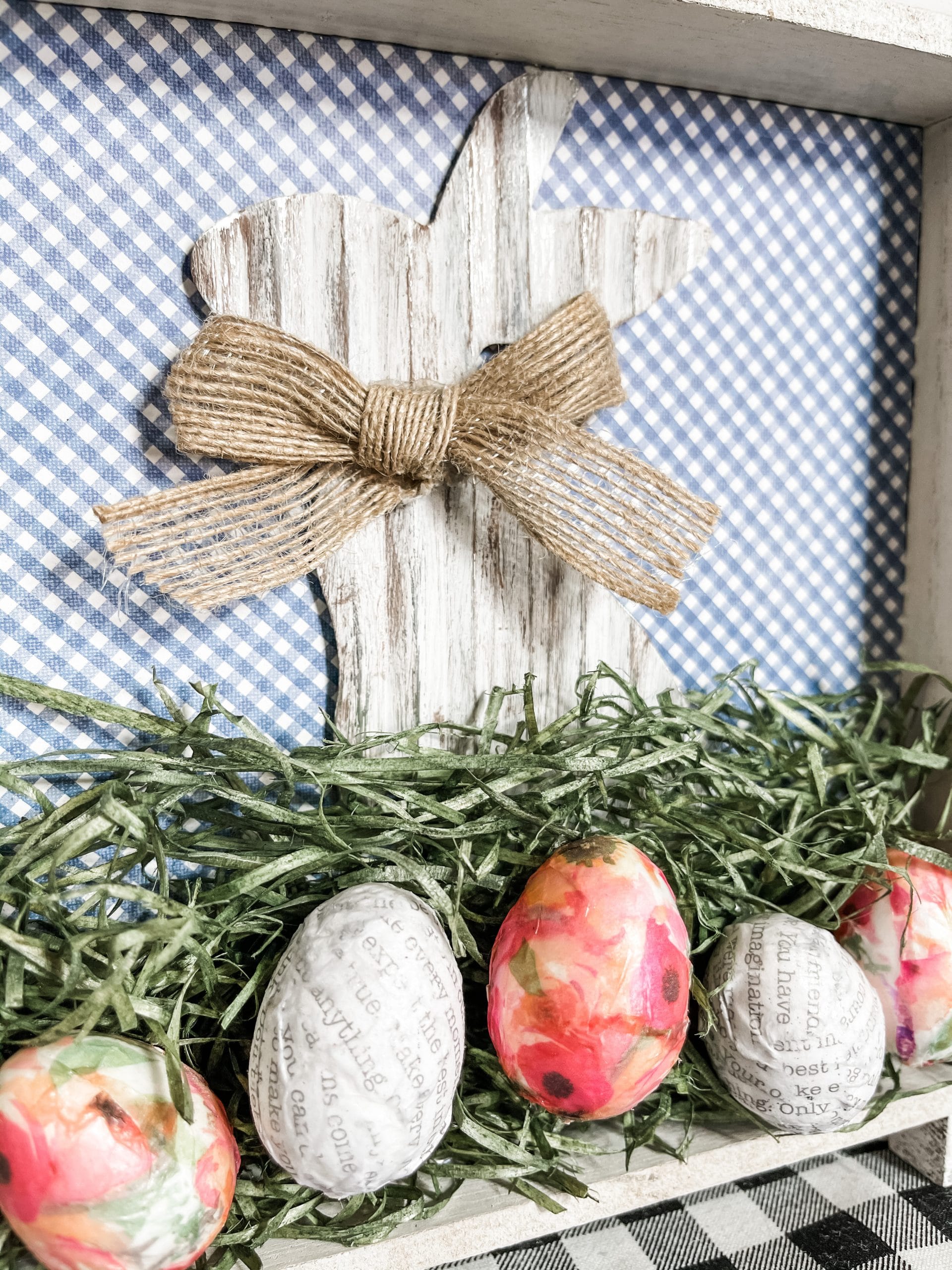 How to stain wood
Next, I stained 4 wood craft cubes with Apple Barrel Burnt Umber Acrylic Paint. To do this, I dabbed a wet wipe in the brown paint, then used the wet wipe to spread the paint across all the sides of the wood cubes. Once they were dry, I went back and painted them white.
Allow them to dry completely (I used my heat gun to speed up the drying process), and hot glue them to the bottom of your sign box. These are the little feet of your sign box.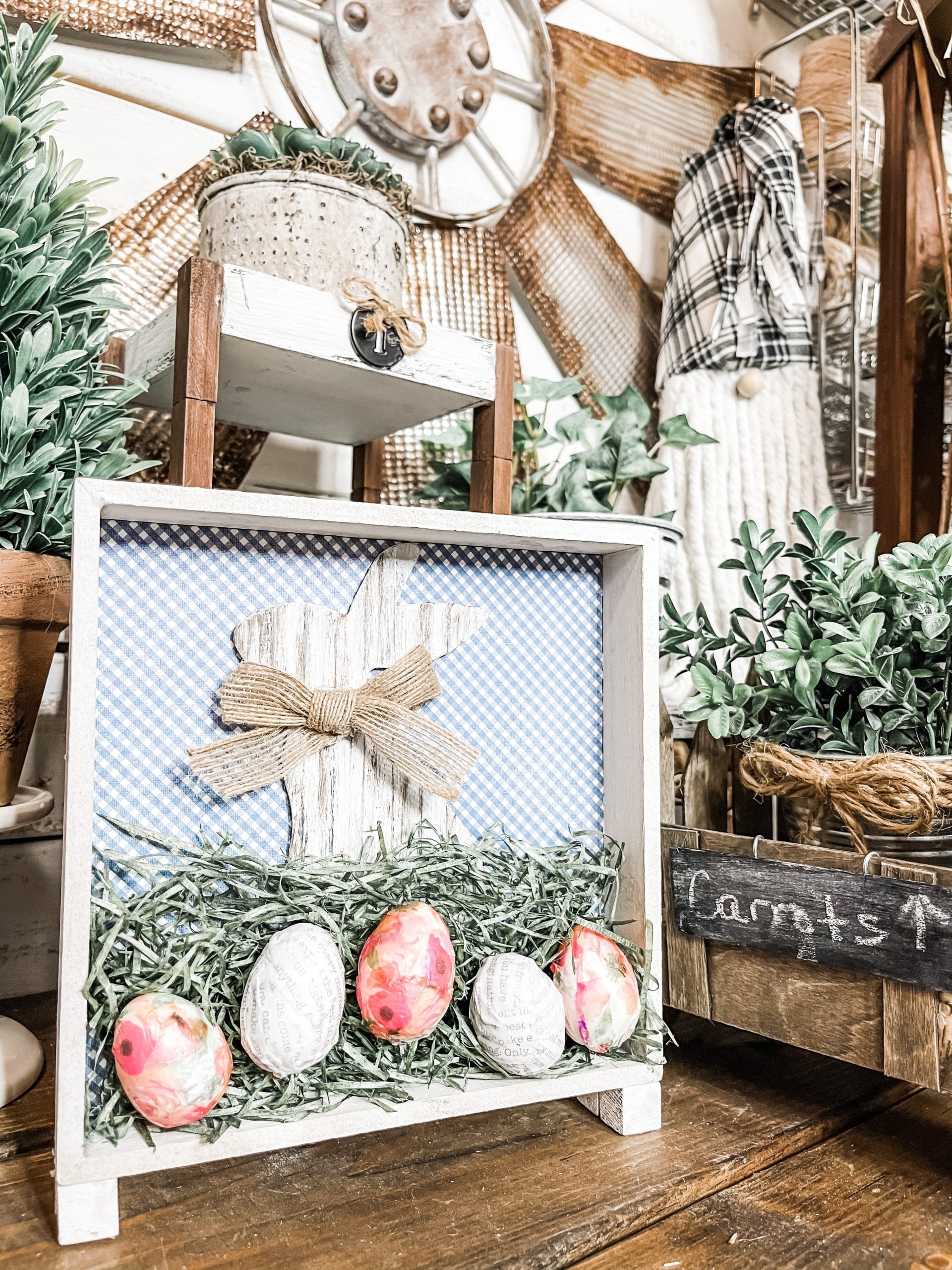 At this point, your decoupaged eggs should be dry. Cut the skewer at the bottom of the egg and trim off any excess paper. Now, you're ready to start putting all the pieces of this DIY project together!
First, hot glue the metal bunny to the inside of your sign box. Then, hot glue the Dollar Tree excelsior at the bottom of the sign. Get the excelsior as securely attached to the sign as you can without making it clumpy from the hot glue.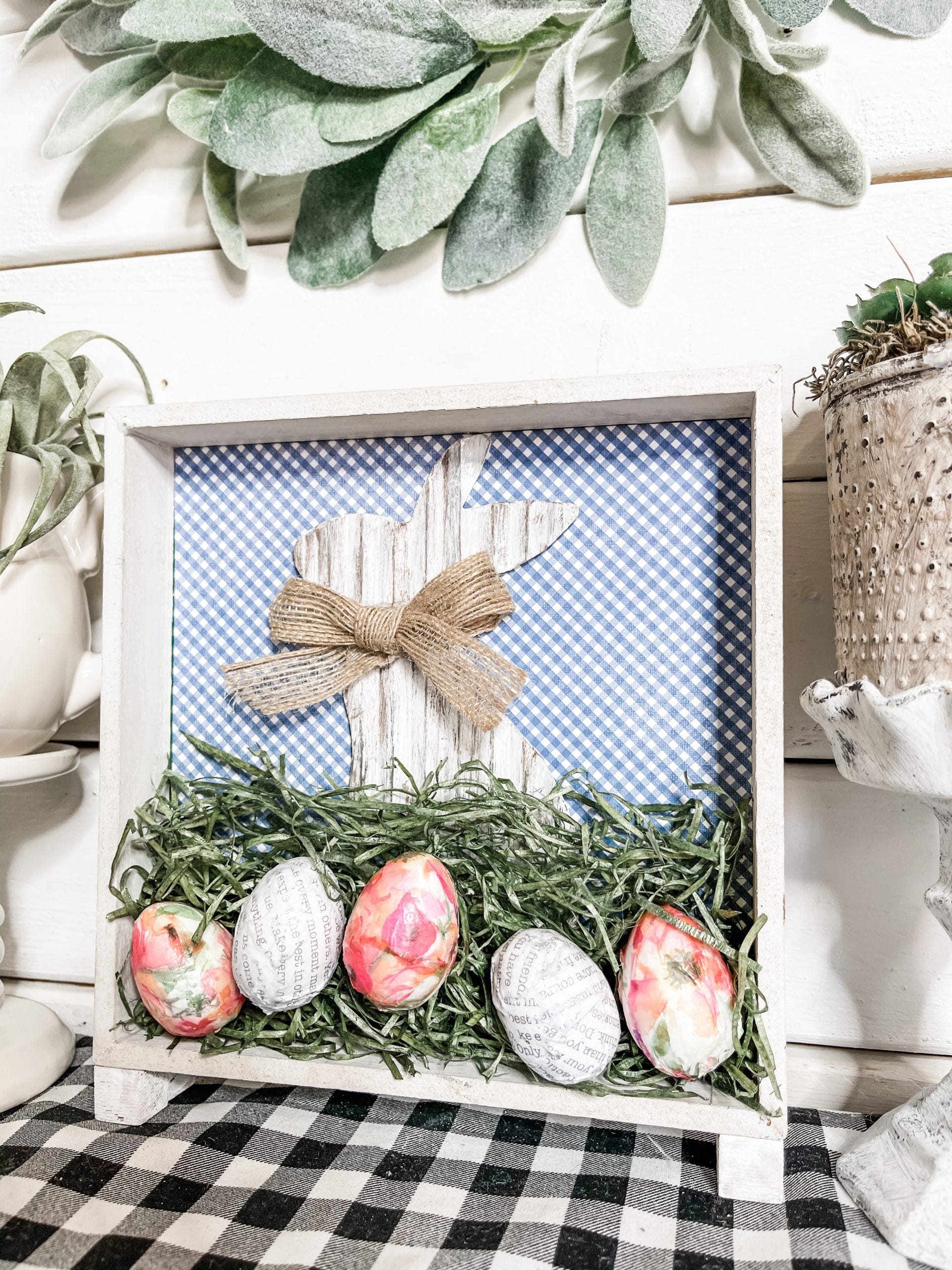 Once the excelsior is in place, you're going to hot glue your decoupaged eggs on top of it, and you're all done making a super cute DIY Dollar Tree Easter decor with decoupaged eggs!
I hope you enjoyed this DIY Dollar Tree Easter Decor with Decoupaged Eggs as much as I did and decide to make one for yourself! I would love to see how yours turns out!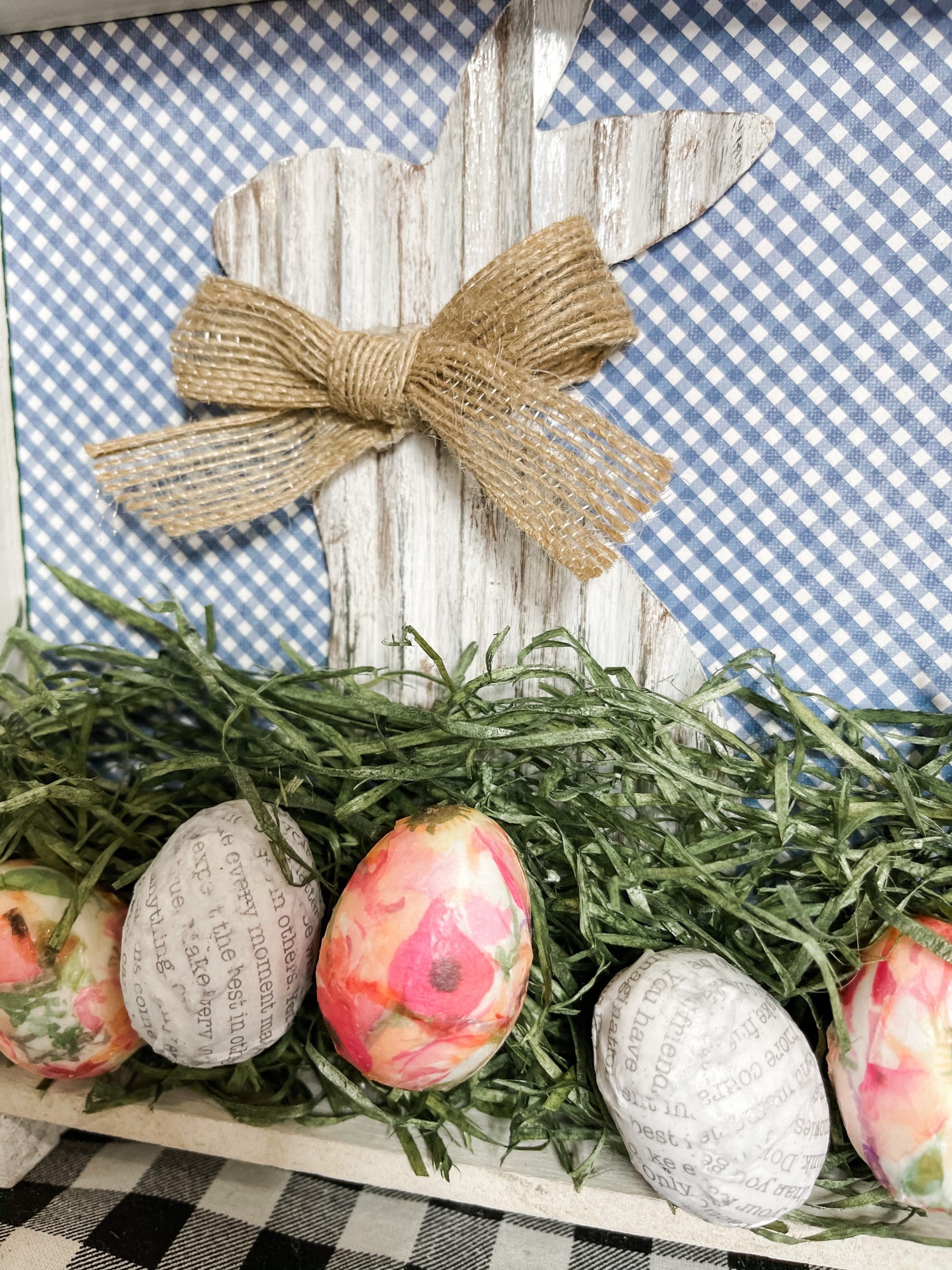 You should totally join my FREE Facebook group called On A Budget Crafts! It is a judgment-free community for DIY crafters to show off their projects and ideas.
Thanks for stopping by! XOXO Amber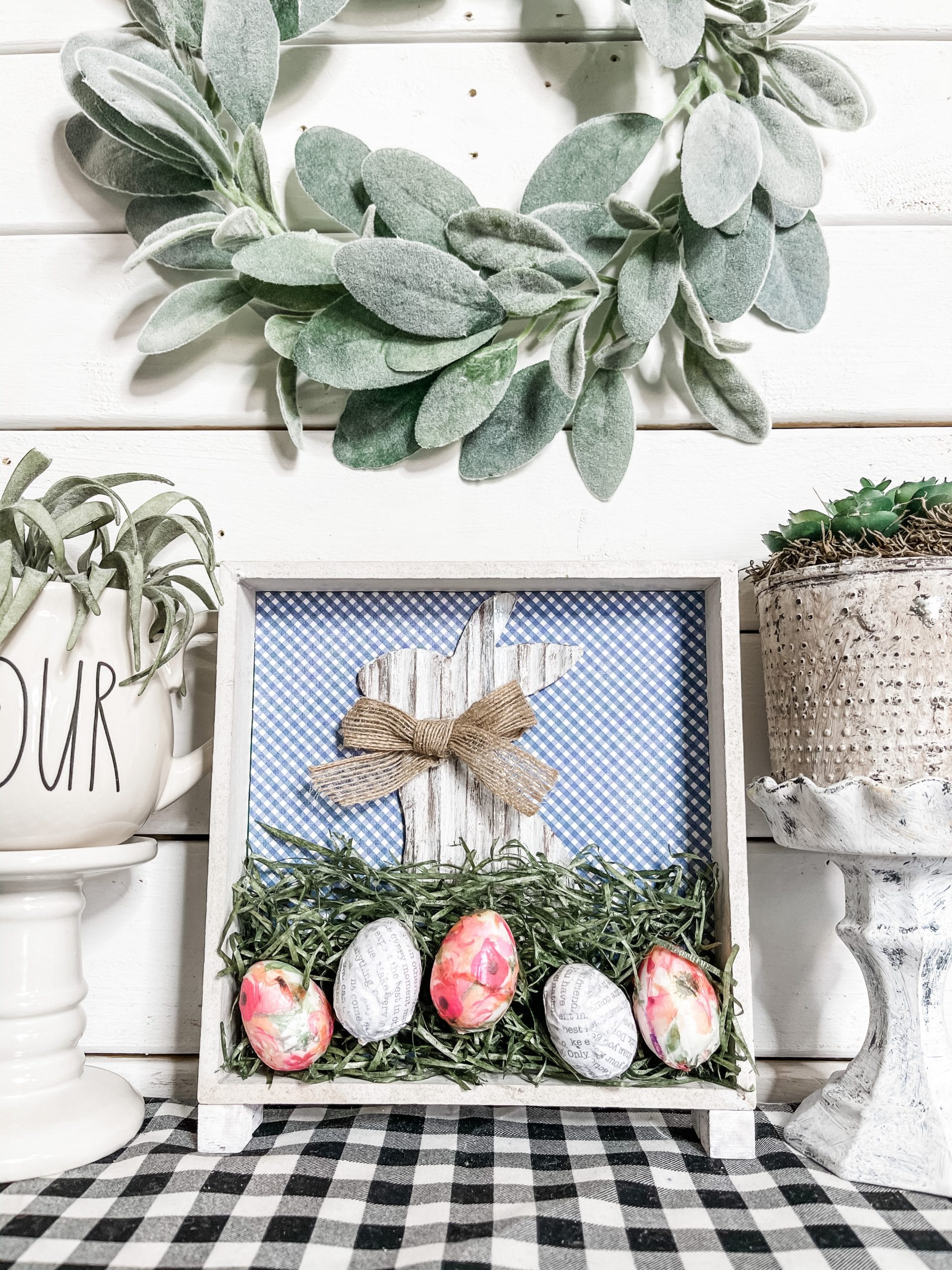 You can also shop my ENTIRE AMAZON Favorites shop just click here! It's packed full of all the things I use and love. Here is the supply list I highly recommend every creative have on hand!!
Would you also pin my blog for later and get on my newsletter alerts? I would love to have you join my #craftycrew.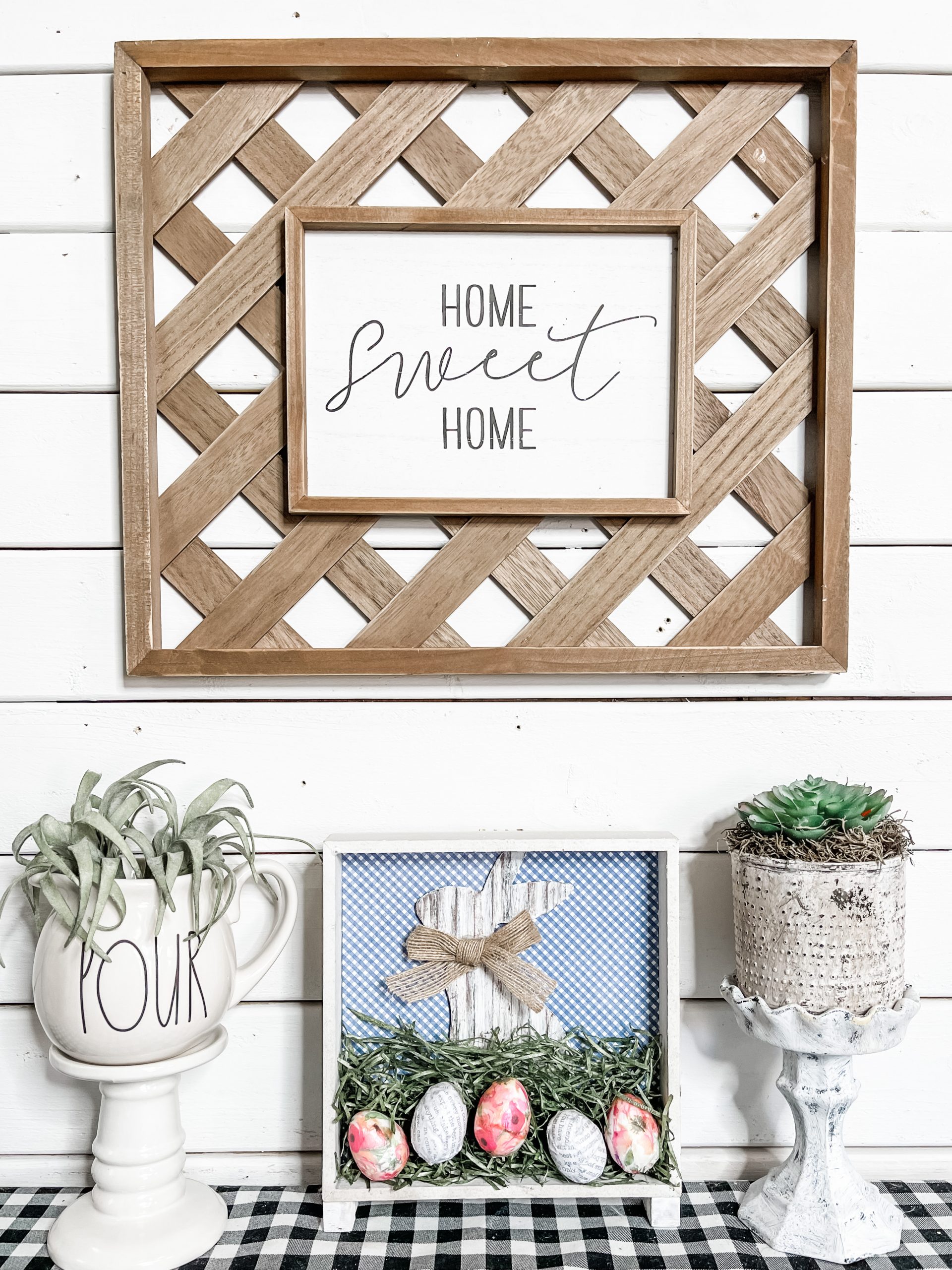 Inspired? Leave me a comment below! I love hearing from my readers!

Join my free "ON A BUDGET CRAFTS" Facebook group!