DIY Metal Jack-O-Lantern Sign
I know Halloween decor isn't for everyone, but come on! Look at this DIY Metal Jack-O-Lantern Sign! How can you not be in the spooky mood when you look at this??
Even if you don't like the painted metal jack-o-lantern, you have to love the chippy background! It's perfect for any season and decor style!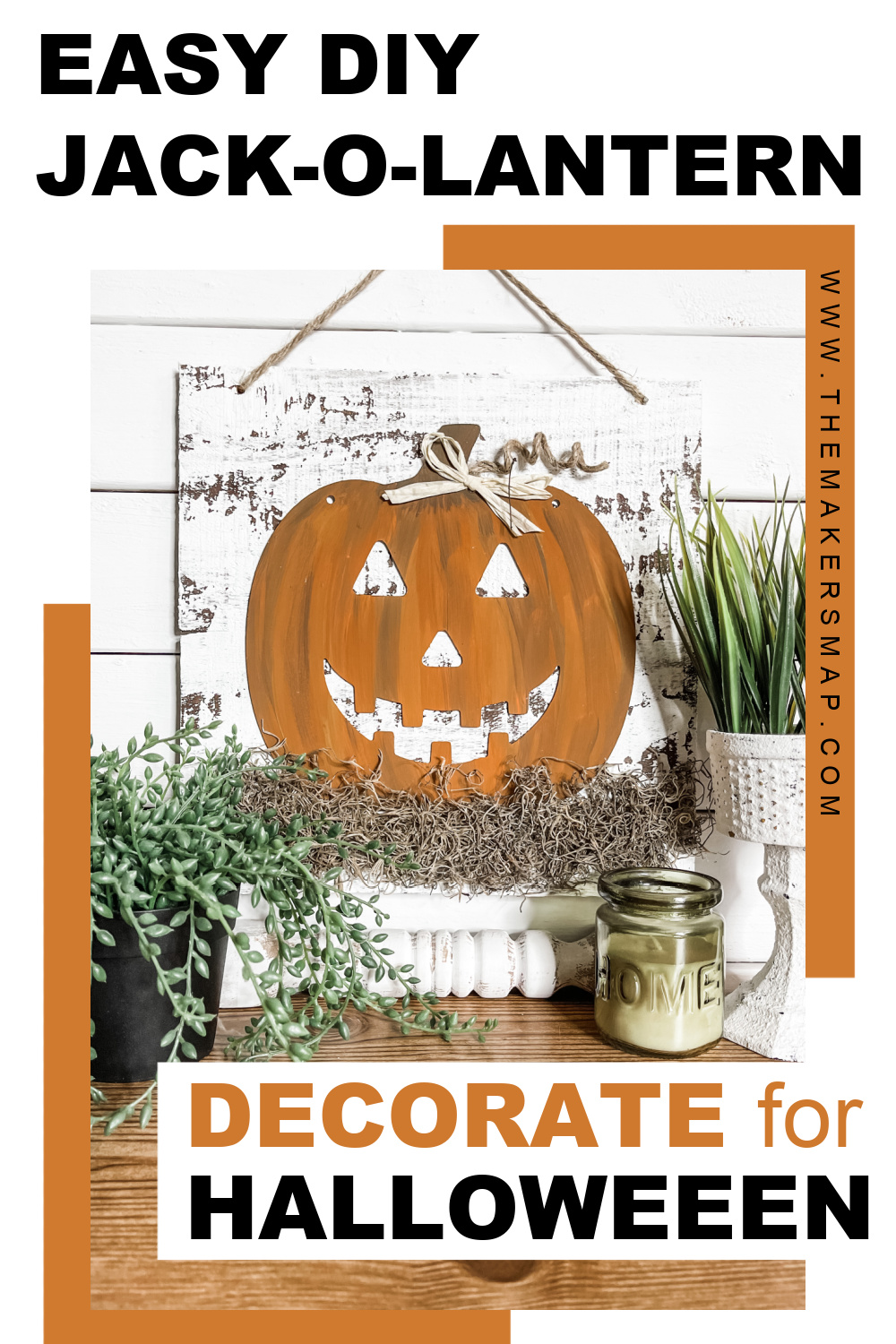 How to Make a DIY Metal Jack-O-Lantern Sign
I started this project by removing the stickers from the Dollar Tree rectangle pieces of wood and sanding them with a sanding sponge.
Then, to secure them together and make the surface for this jack-o-lantern sign, I placed them side by side and hot glued three Giant craft sticks across the back of the wood pieces.
Once they're secured together, spray the wood pieces with water (I use a continuous mist spray bottle from Amazon) and pour brown paint directly on the surface.
Use a wet baby wipe to spread the paint across the front of the wood pieces. Add more paint and water as needed to get the entire front and edges covered.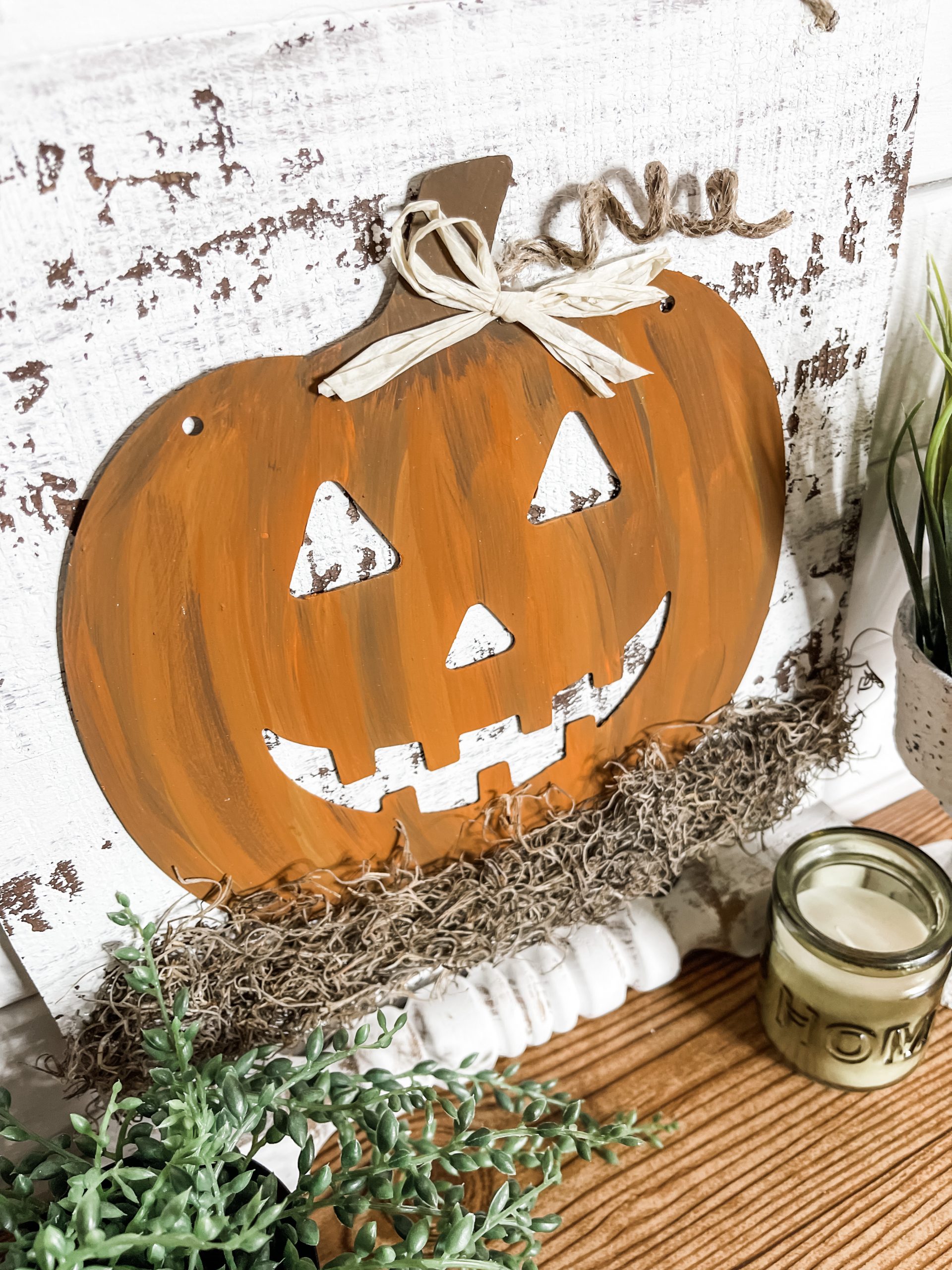 I went back over the surface with a clean wet wipe to remove any excess paint from the wood and used my heat gun to quickly dry the paint.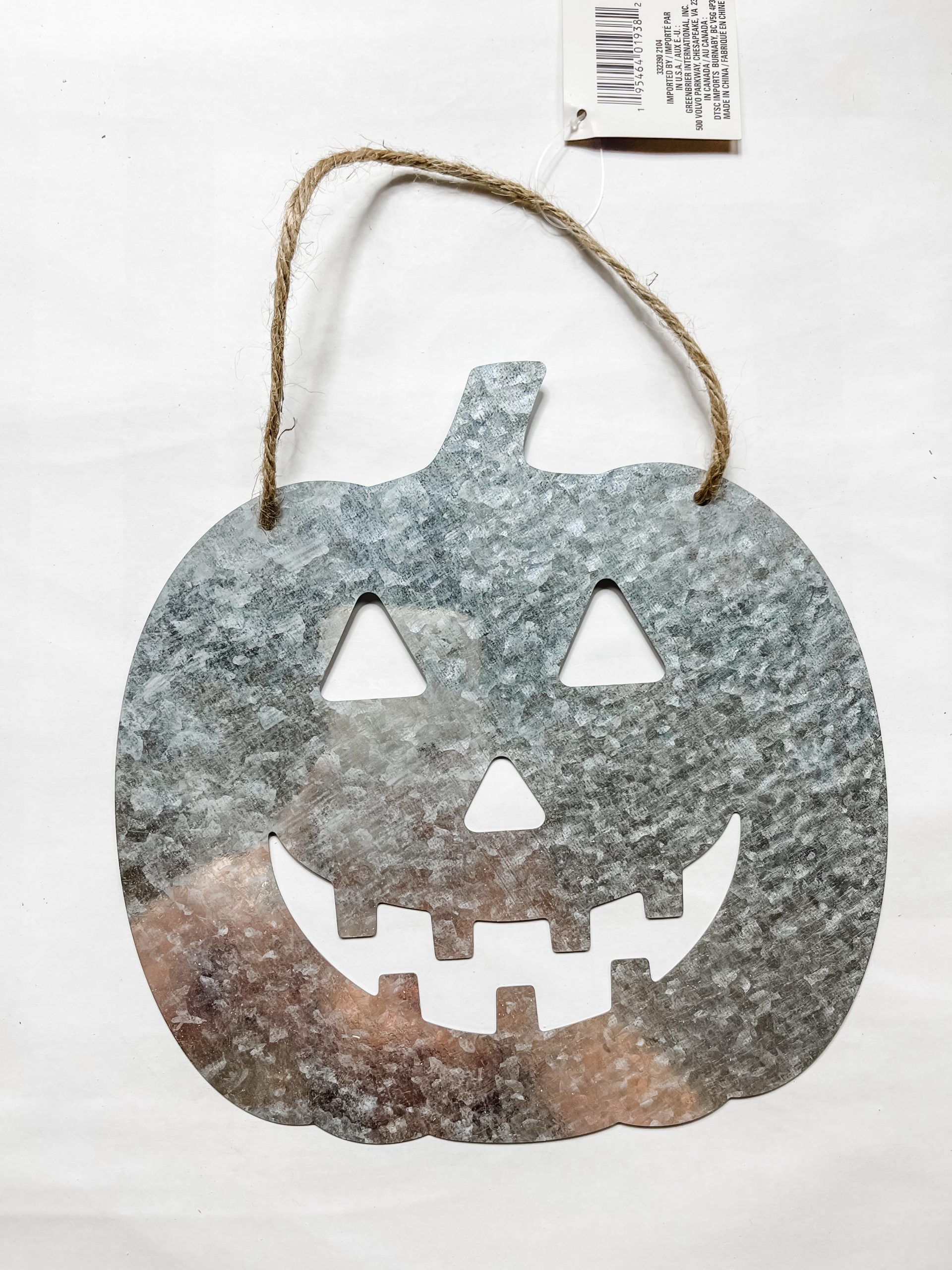 Paint your metal jack-o-lantern!
Now it's time to work on the Dollar Tree metal jack-o-lantern! Remove the twine hanger and lightly sand the front of the metal pumpkin.
Then, apply a coat of Mod Podge to the front of the jack-o-lantern and let it dry. I poured a bit of all my paint colors onto a piece of wax paper so I could start painting my jack-o-lantern!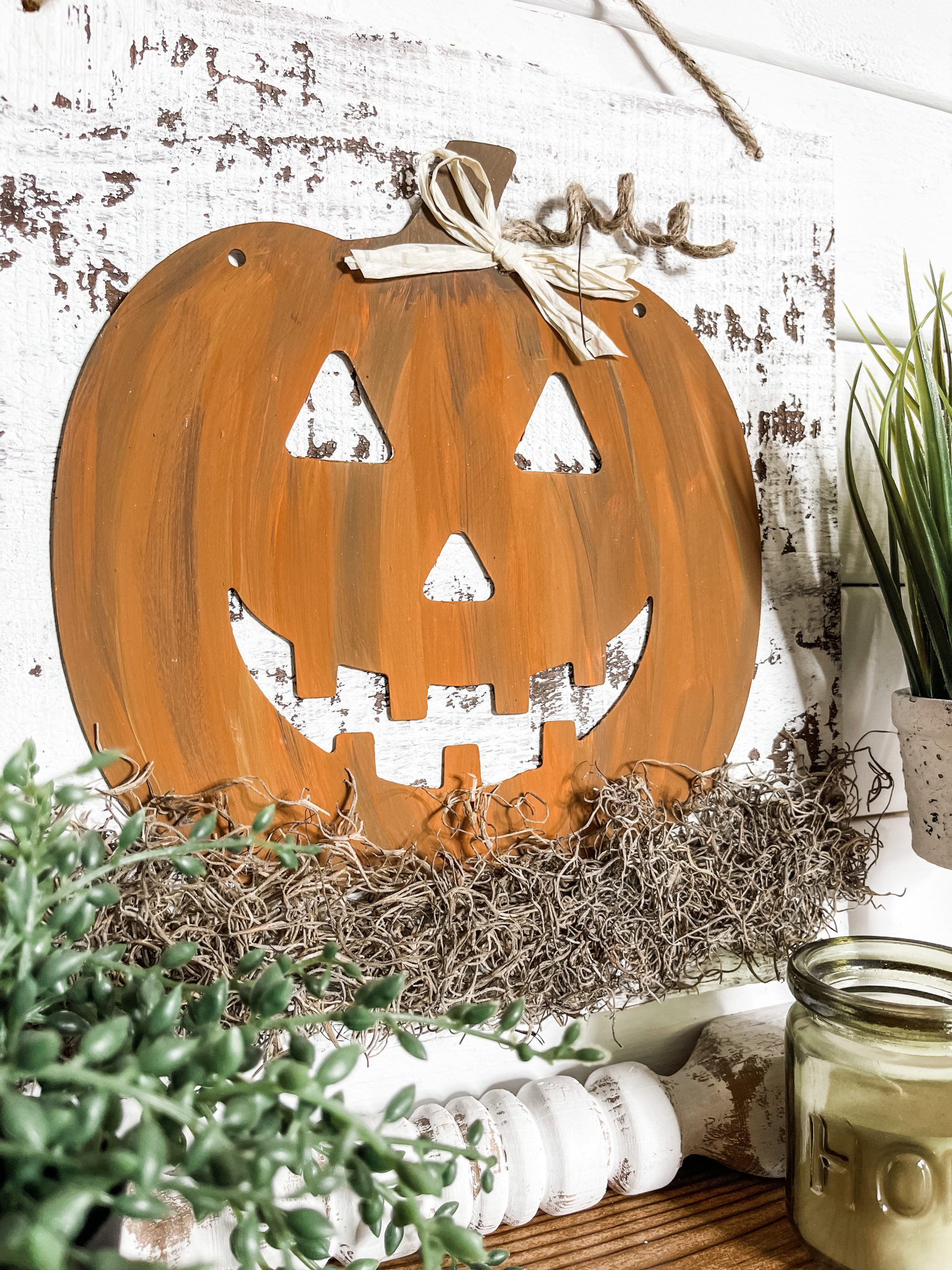 Watch the Facebook tutorial video to see exactly how I got the perfect finish on my metal jack-o-lantern! Skip ahead to the 34-minute mark to see me paint it.
Next, I used a giant craft stick to spread white paint across the wood sign surface. Because the wood has ridges, I got an effortless distressed finish on my sign!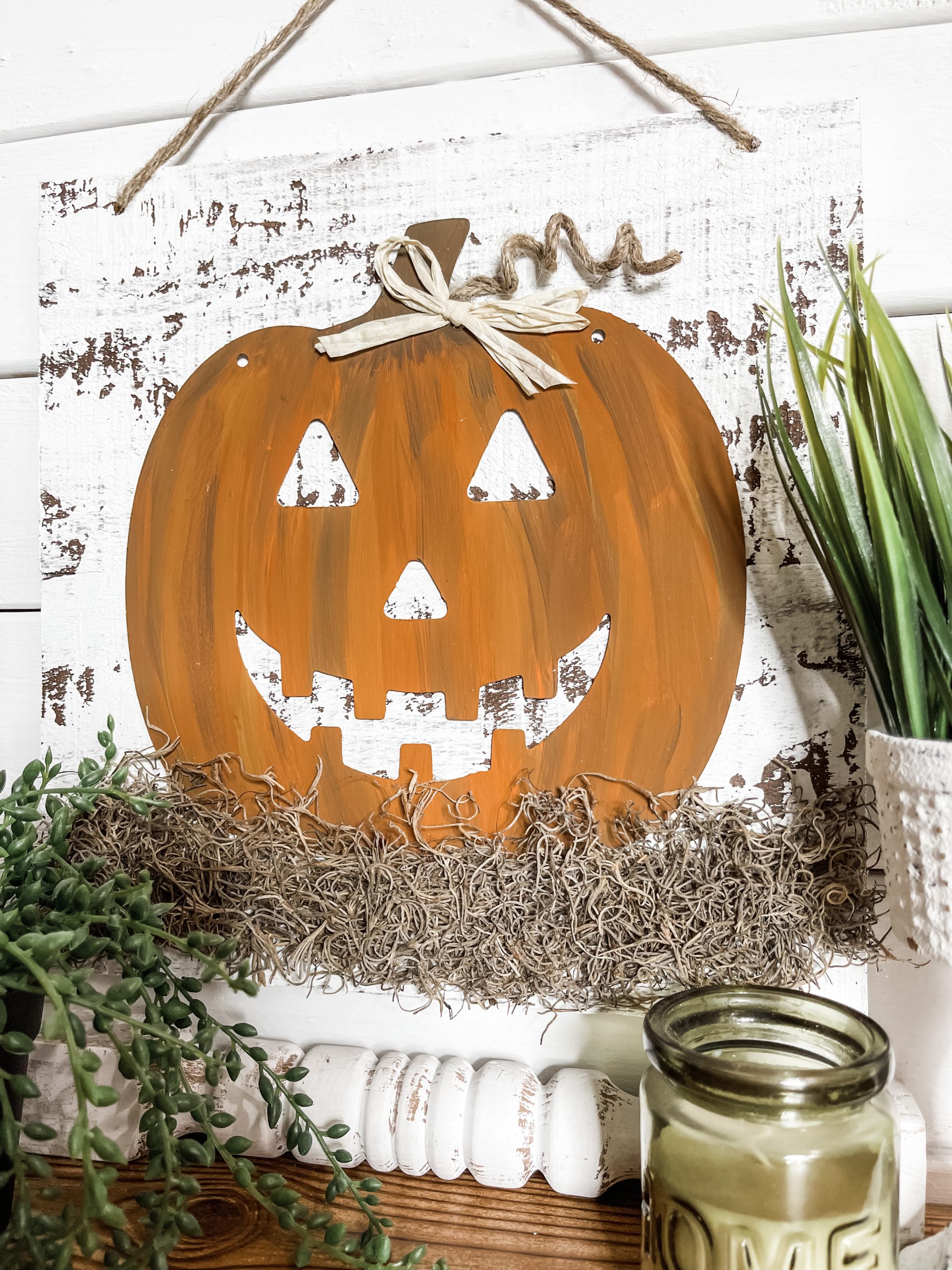 Bring it all together!
Let the paint dry. Then, wrap the Dollar Tree wired jute cord around a pen/pencil/wood dowel to create a long curled piece. Hot glue it at the base of the stem of the jack-o-lantern.
Now, drill two holes near the corners on one side of your surface. Push the twine hanger from the pumpkin through those holes and secure it in place.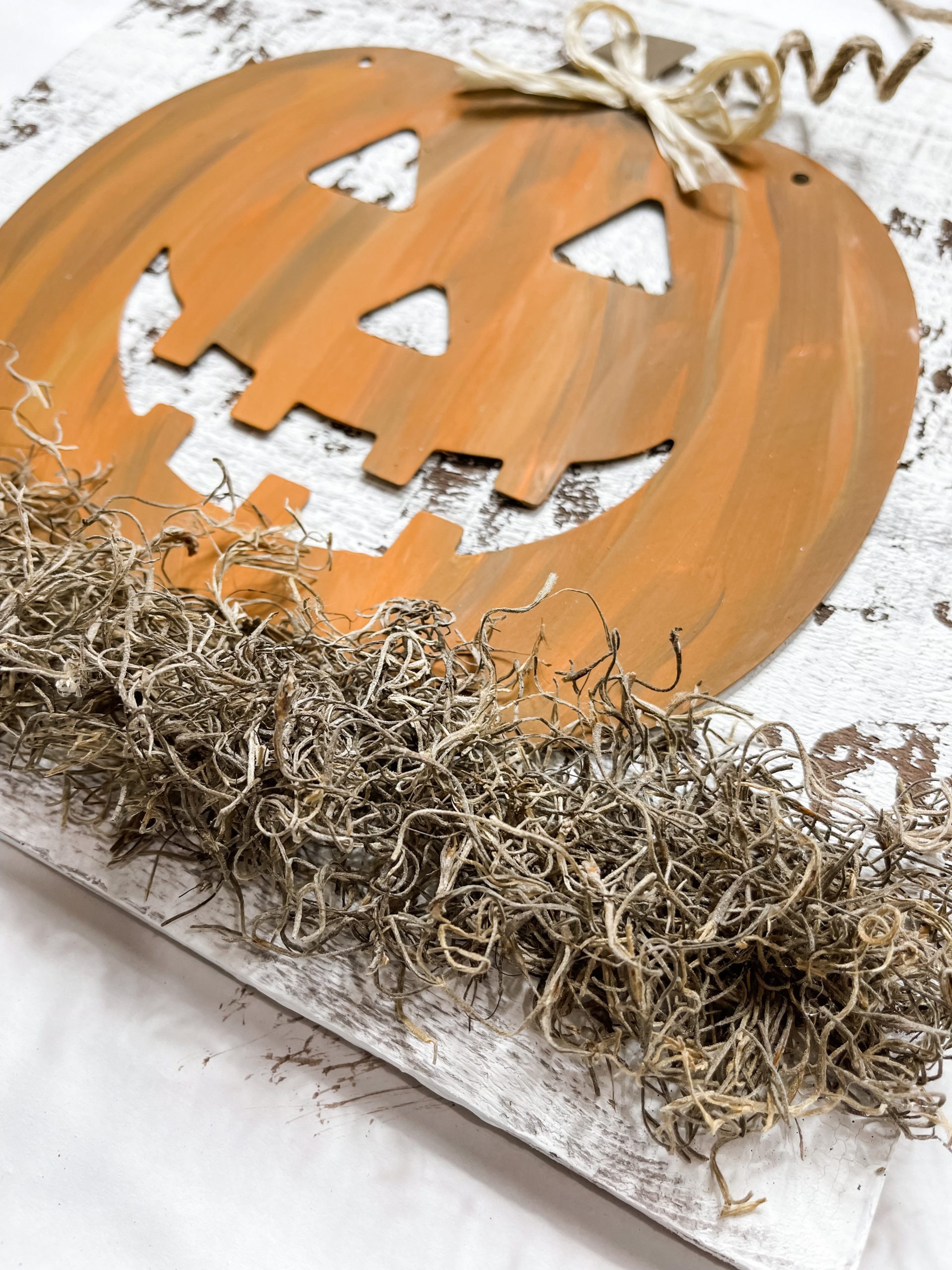 Hot glue the painted metal jack-o-lantern to the middle of the wood surface, and hot glue Spanish moss across the bottom of the sign just below the jack-o-lantern.
Lastly, tie a little bow out of some raffia and hot glue it at the base of the jack-o-lantern's stem! Once all the glue is dry, you're ready to decorate for Fall or Halloween!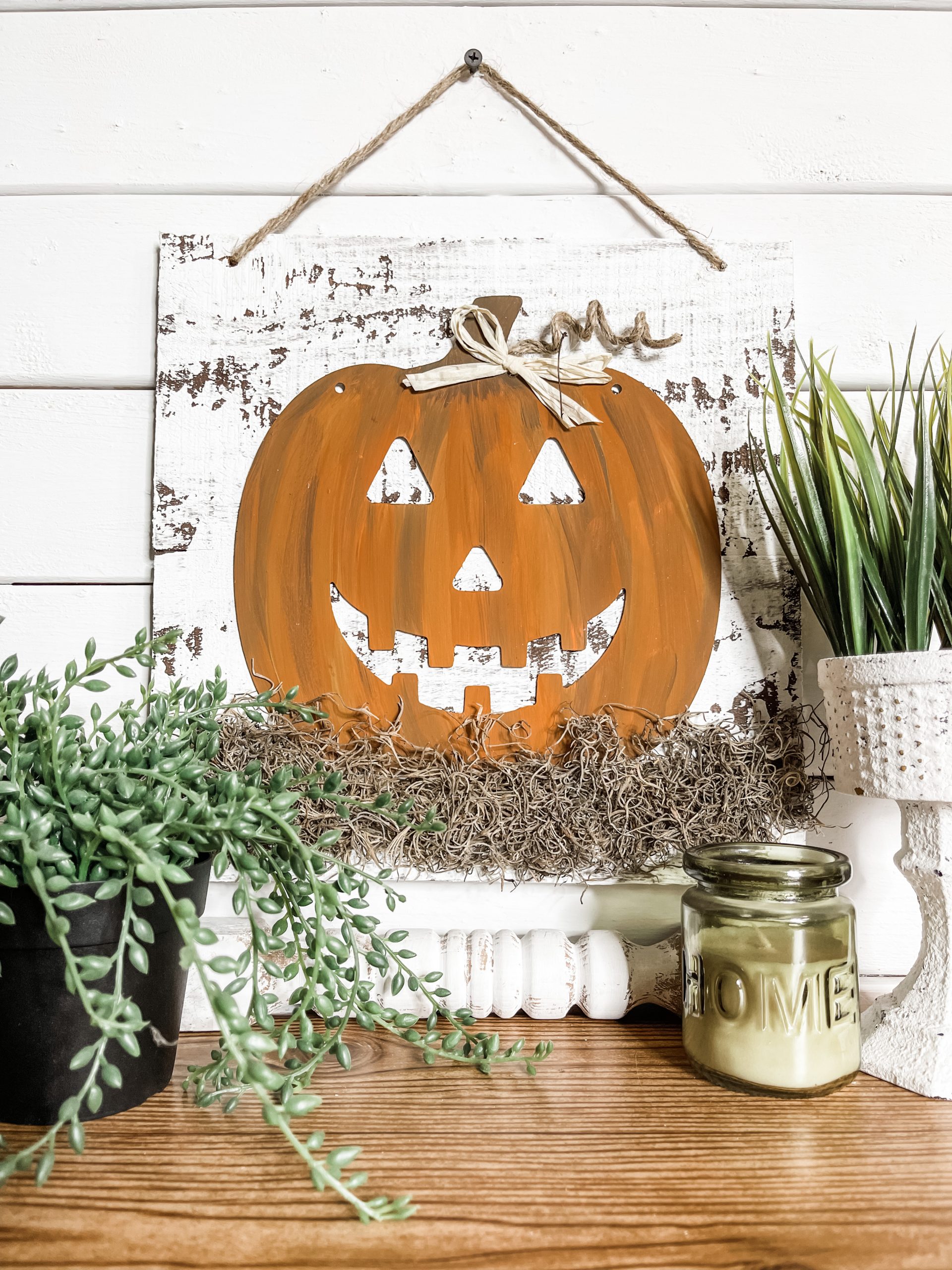 I hope you enjoyed this DIY Jack-O-Lantern Flameless Candle as much as I did and decide to make it for yourself! If you do, I would love to see how yours turns out!
Watch the DIY tutorial video
I recorded how to make this adorable DIY Metal Jack-O-Lantern Sign during a LIVE video on my Facebook page.
If you want to see the DIY process, craft along, or just join in on the fun conversations, you can watch the DIY tutorial replay on Facebook!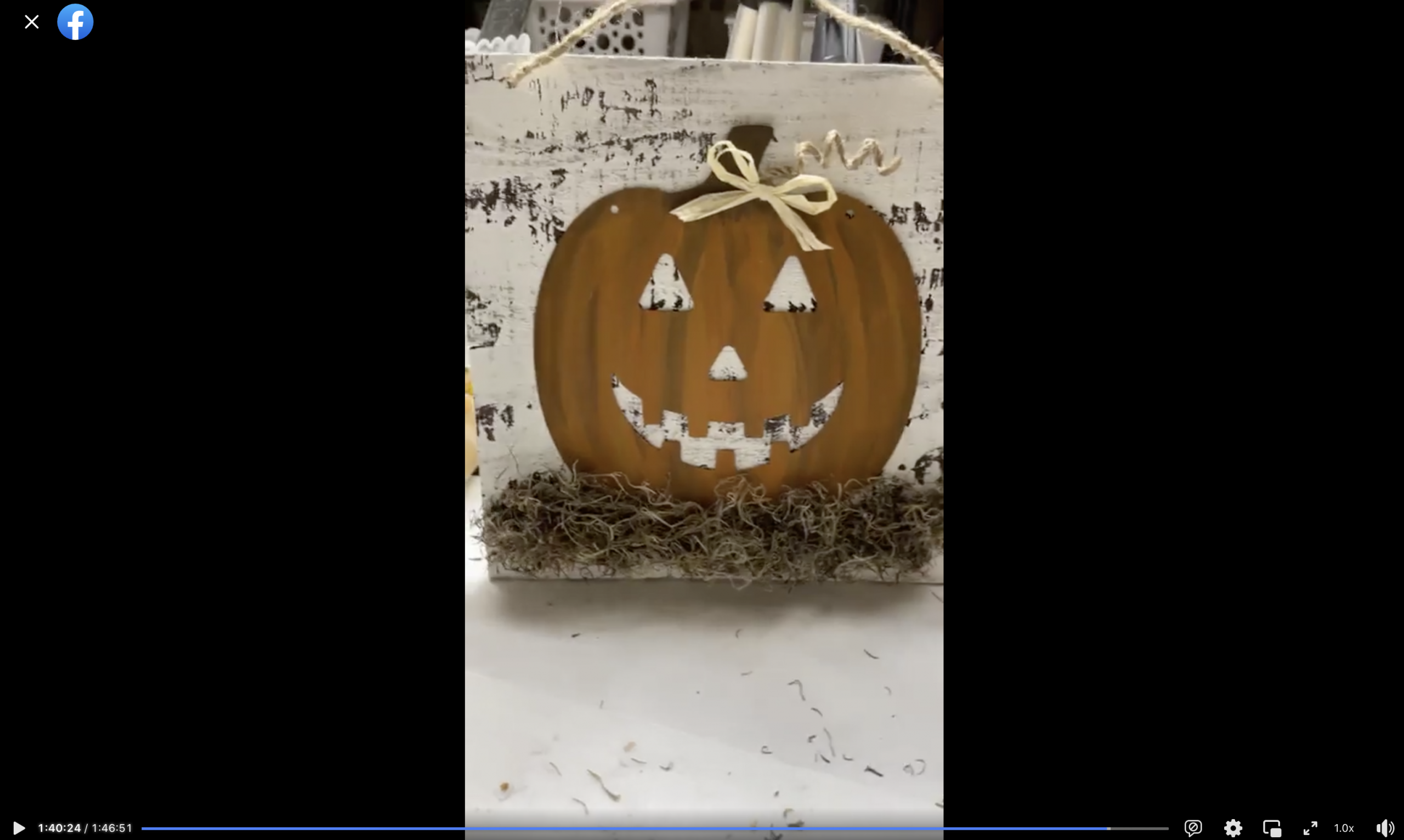 For this project, I will be using these items, but you can substitute where you want.
"As an Amazon Associate, I earn from qualifying purchases."
Dollar Tree Jack-O'-Lantern Sign
Dollar Tree Spanish Moss
Giant Craft Sticks
Dollar Tree Ecualyptus
Dollar Tree Jute Cord
Mod Podge
Dollar Tree Wood rectanlge pieces
Dollar Tree Raffia
Apple Barrel Golden Sunset Acrylic Paint
Apple Barrel Burnt Umber Acrylic Paint
Craftsmart Pure Pumpkin Acrylic Paint
Craftsmart Mustard Yellow Acrylic Paint
Waverly White Chalk Paint
Waverly Pumpkin Chalk Paint
Pencil/Pen/Dowel (or something with a similar shape)
Drill/Drill bit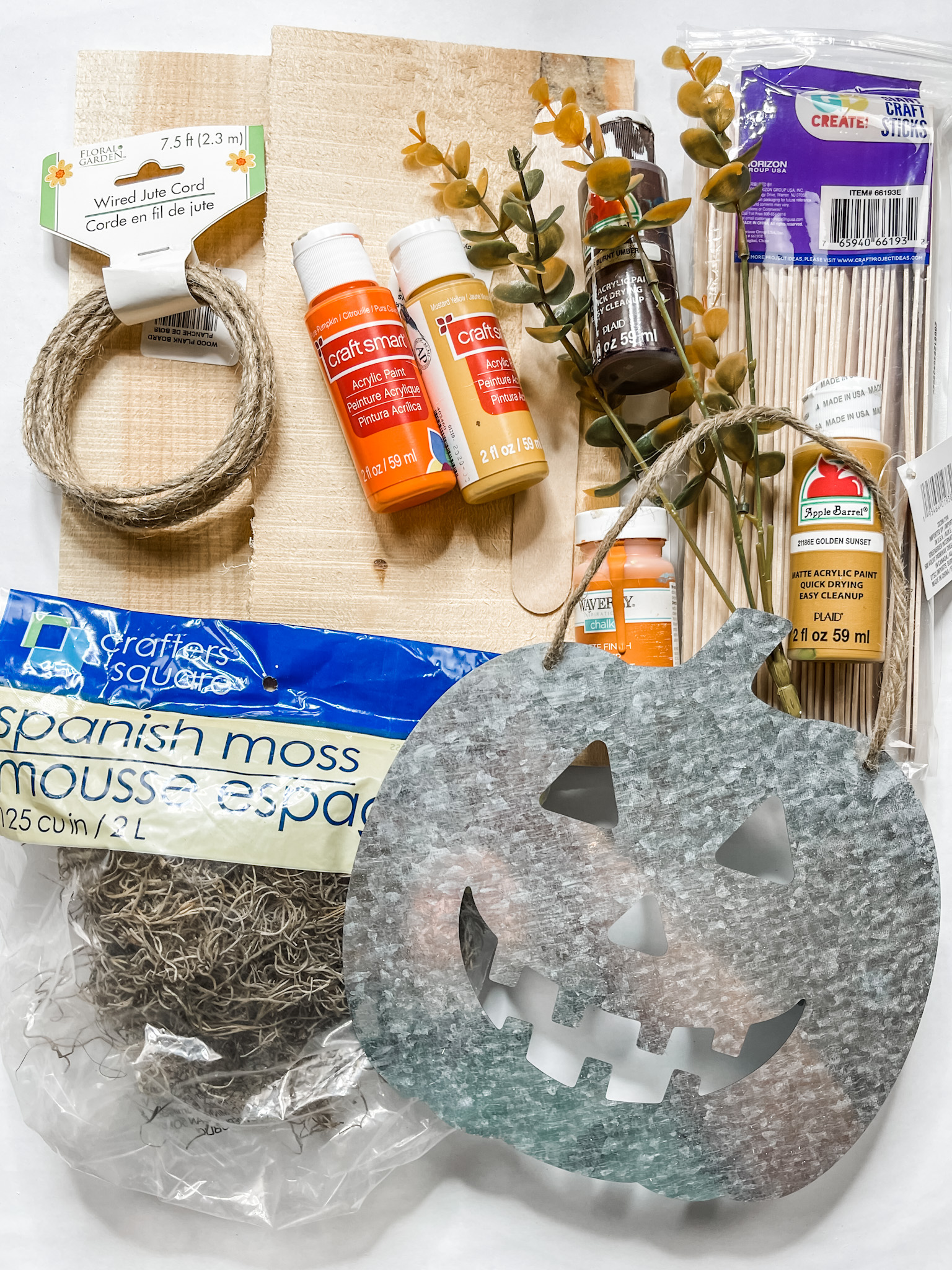 You should totally join my FREE Facebook group called On A Budget Crafts! It is a judgment-free community for DIY crafters to show off their projects and ideas.
If you loved this DIY Metal Jack-O-Lantern Sign, you might also like these DIY ideas!
Thanks for stopping by! XOXO Amber
You can also shop my ENTIRE AMAZON Favorites shop just click here! It's packed full of all the things I use and love. Here is the supply list I highly recommend every creative have on hand!!
Would you also pin my blog for later and get on my newsletter alerts? I would love to have you join my #craftycrew.
I email alerts about new blogs like this DIY Metal Jack-O-Lantern Sign so you're always up to date on fun, new DIY ideas!
Inspired? Leave me a comment below! I love hearing from my readers!