DIY Fall Harvest Pumpkin Sign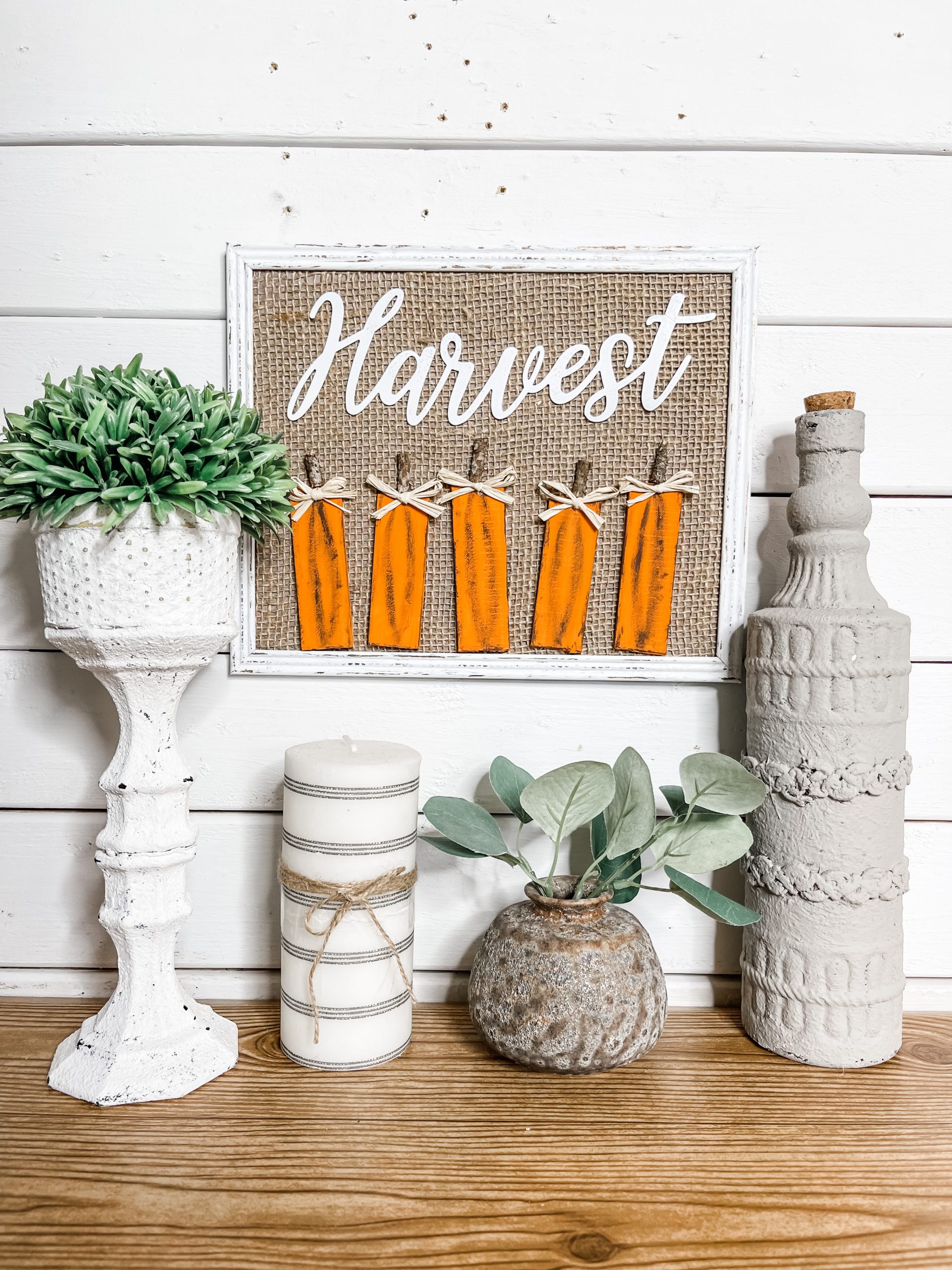 As you know, I am always looking for new DIY decor ideas, and this DIY Fall Harvest Pumpkin Sign is the product of some late-night Pinsperation! (Gotta love Pinterest!)
This was such a fun project to make and it has such a classic, rustic Fall feeling that I just couldn't ignore!
Watch the DIY tutorial video
I recorded how to make this adorable DIY Fall Harvest Pumpkin Sign during a LIVE video on my Facebook page.
If you want to see the DIY process, craft along, or just join in on the fun conversations, you can watch the DIY tutorial replay on Facebook!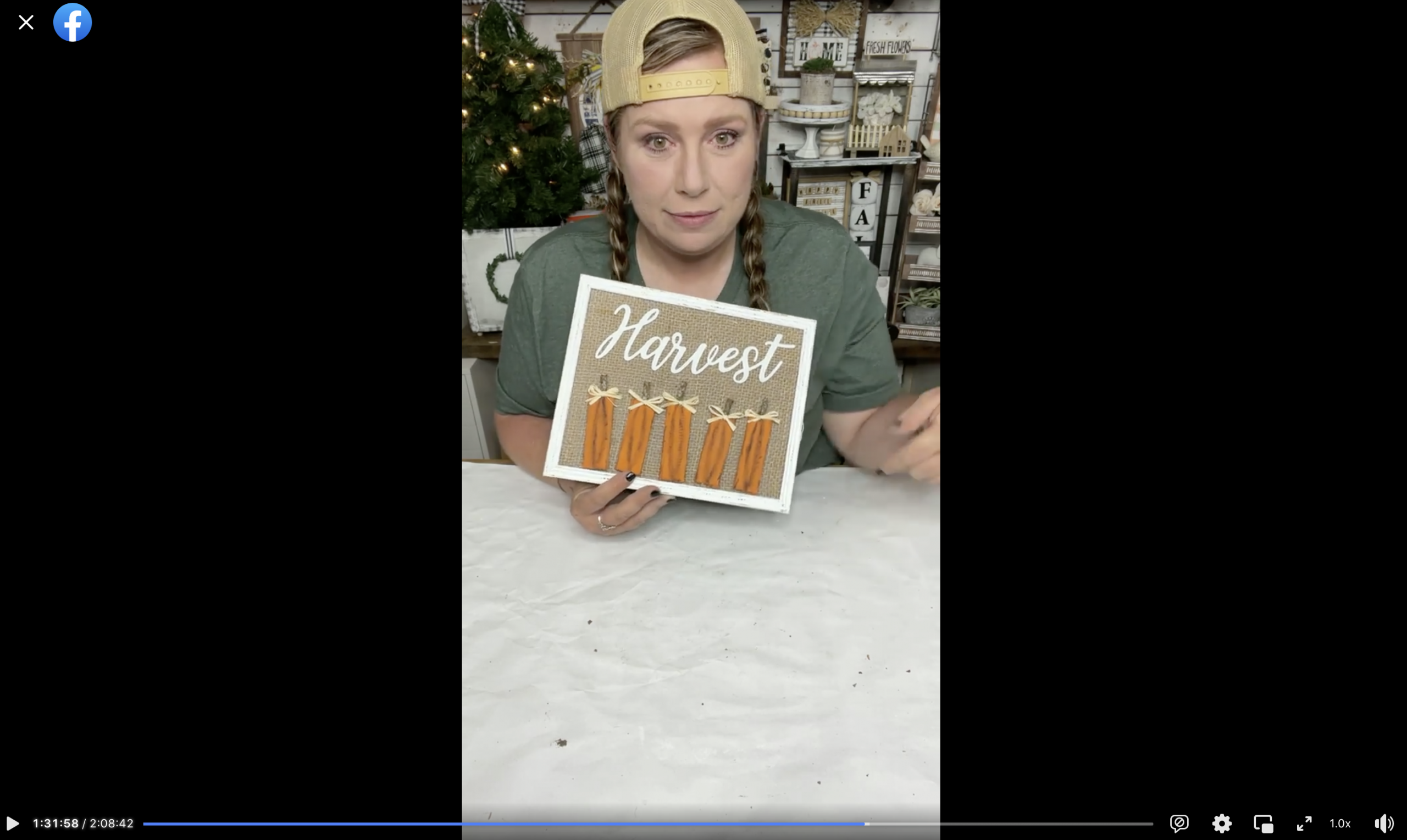 For this project, I will be using these items, but you can substitute where you want.
"As an Amazon Associate, I earn from qualifying purchases."
Dollar Tree Metal Harvest Lettering
Dollar Tree Picture Frame
Paint Mixing Sticks
Dollar Tree Raffia
A stick
Apple Barrel Burnt Umber Acrylic Paint
Rustoleum White Spray Paint
Waverly Orange Chalk Paint
Waverly White Chalk Paint
Aviation Snips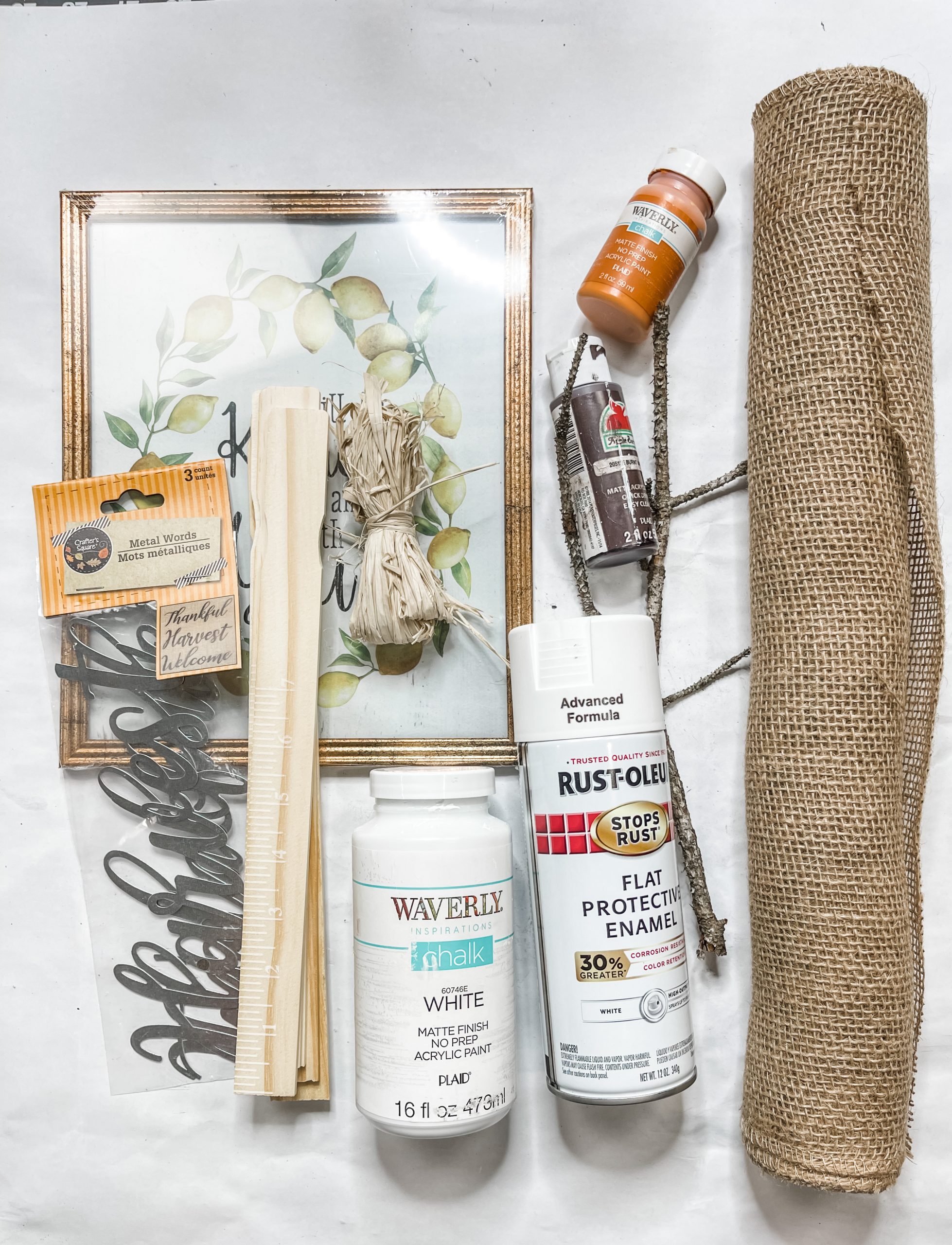 How to Make a DIY Fall Harvest Pumpkin Sign
I started this project by removing the glass insert and cardboard backing from the picture frame and hot glued the glass to the cardboard.
Then, I mixed brown and white paint to make a very light brown paint and painted the glass with the mixture.
Once the paint was completely dry (I used my heat gun to speed up the drying process) I hot glued the burlap on top of the glass.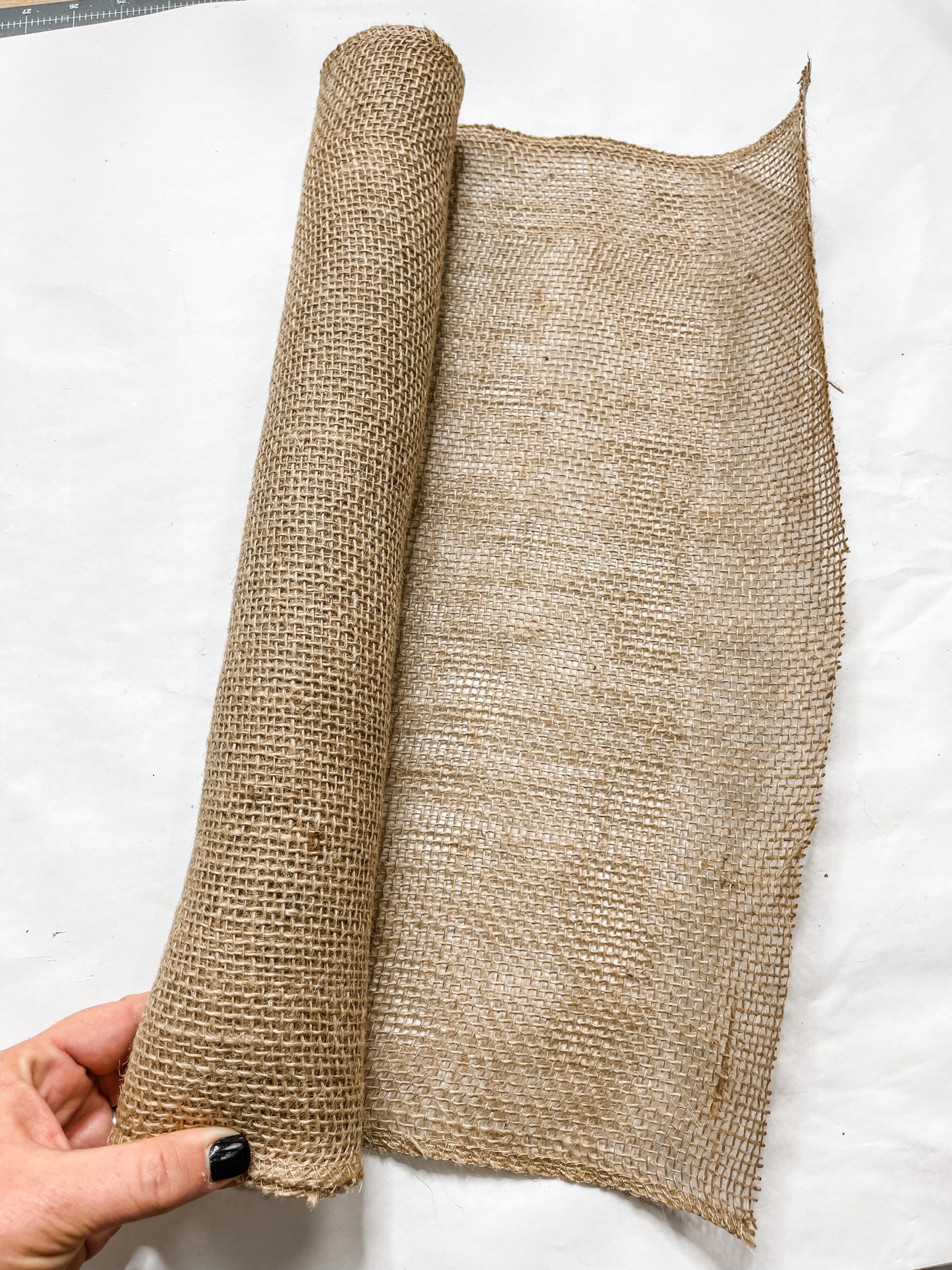 Make sure the glue is dry and the burlap is secured to the glass, then trim the excess burlap from around the glass with a pair of scissors.
Next, I painted the frame with Waverly white chalk paint and used my heat gun to quickly dry the paint. If you don't have a heat gun, you can use a hairdryer in the low-cool setting.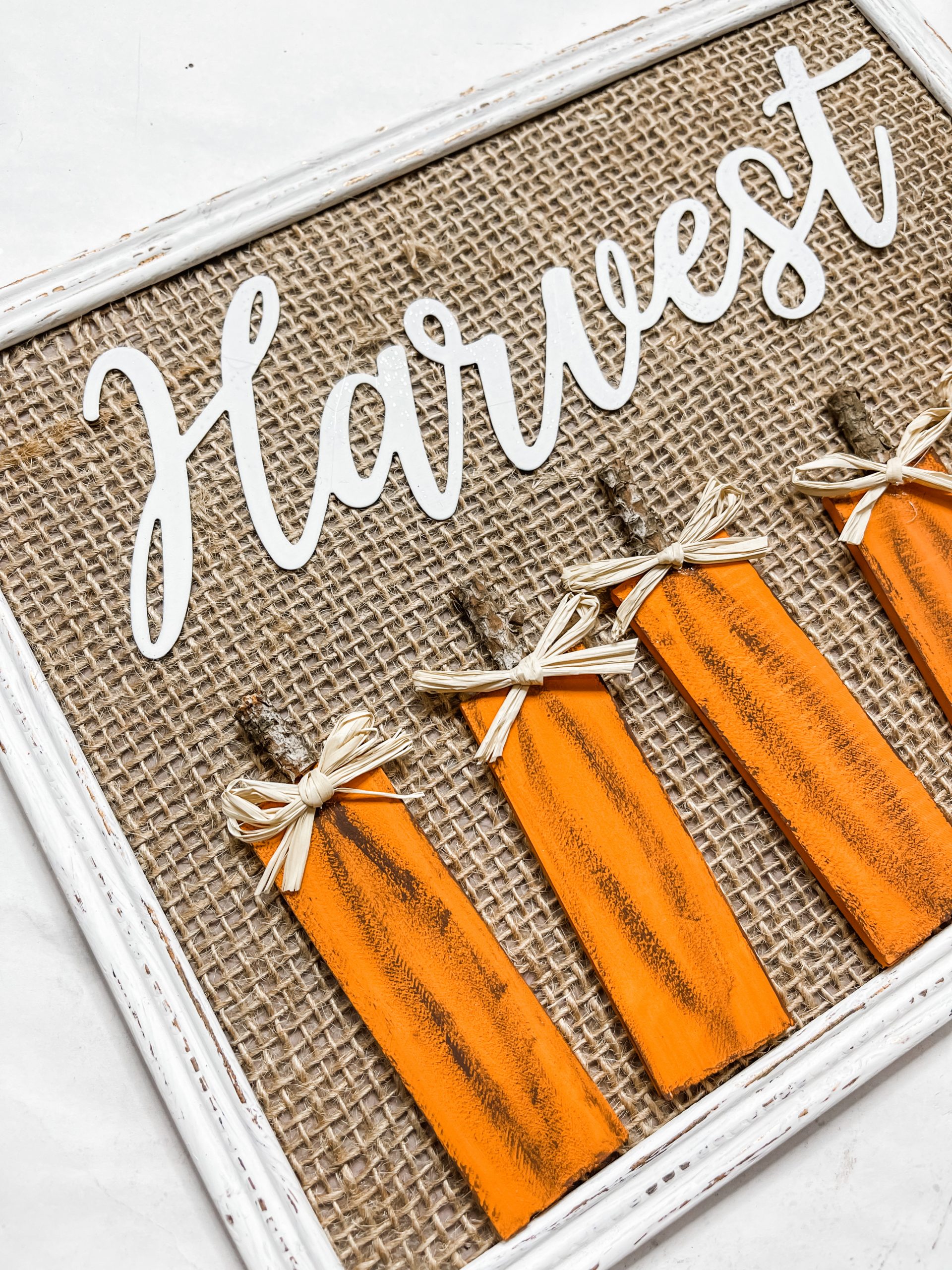 Once the paint was dry, I used a sanding sponge to lightly distress the paint on the picture frame and placed the glass and backing back into the frame.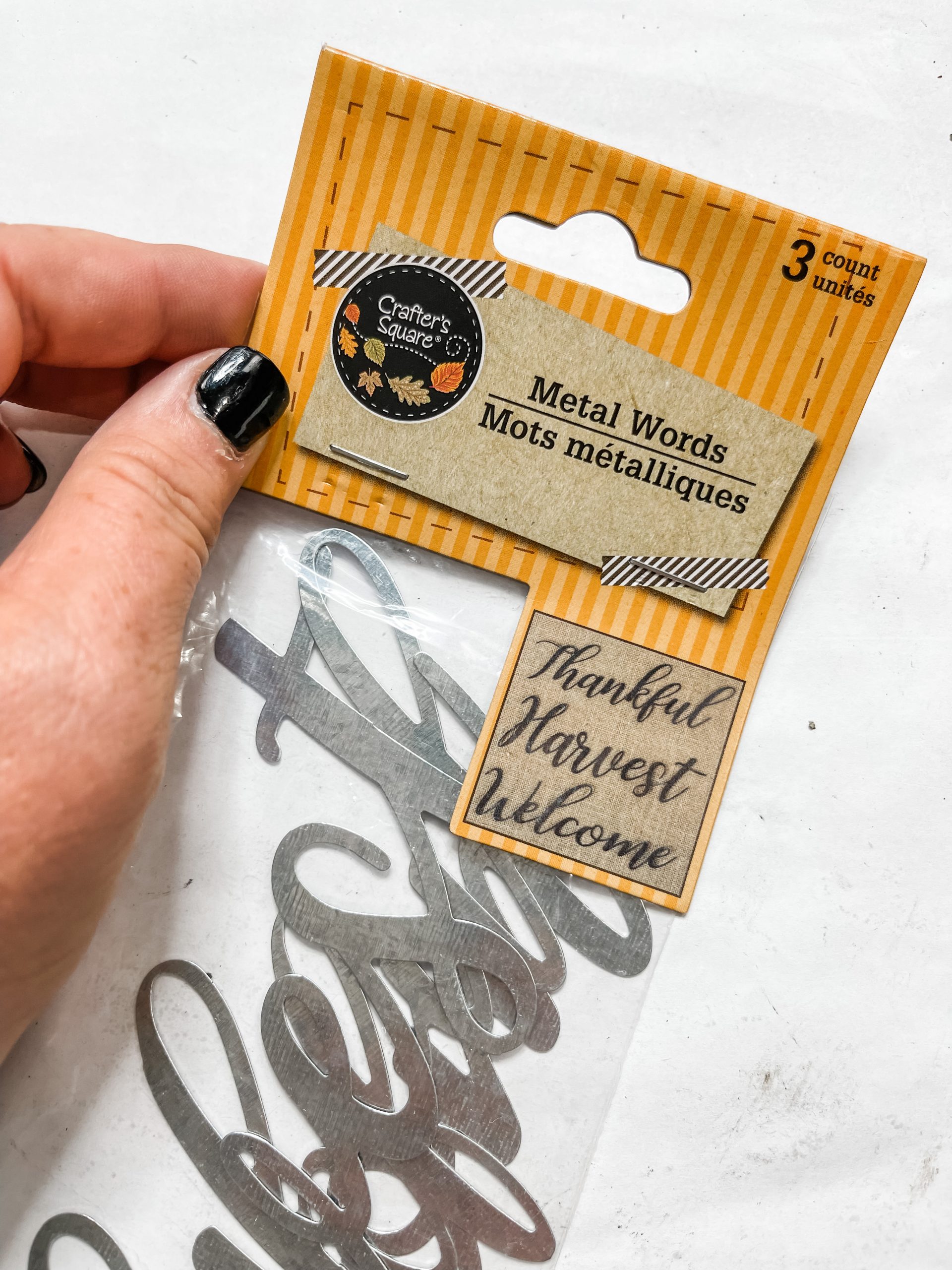 For this next step, I probably should have gone outside, but I didn't. I laid a piece of wax paper on my craft table and spray painted the Dollar Tree metal harvest lettering with white paint.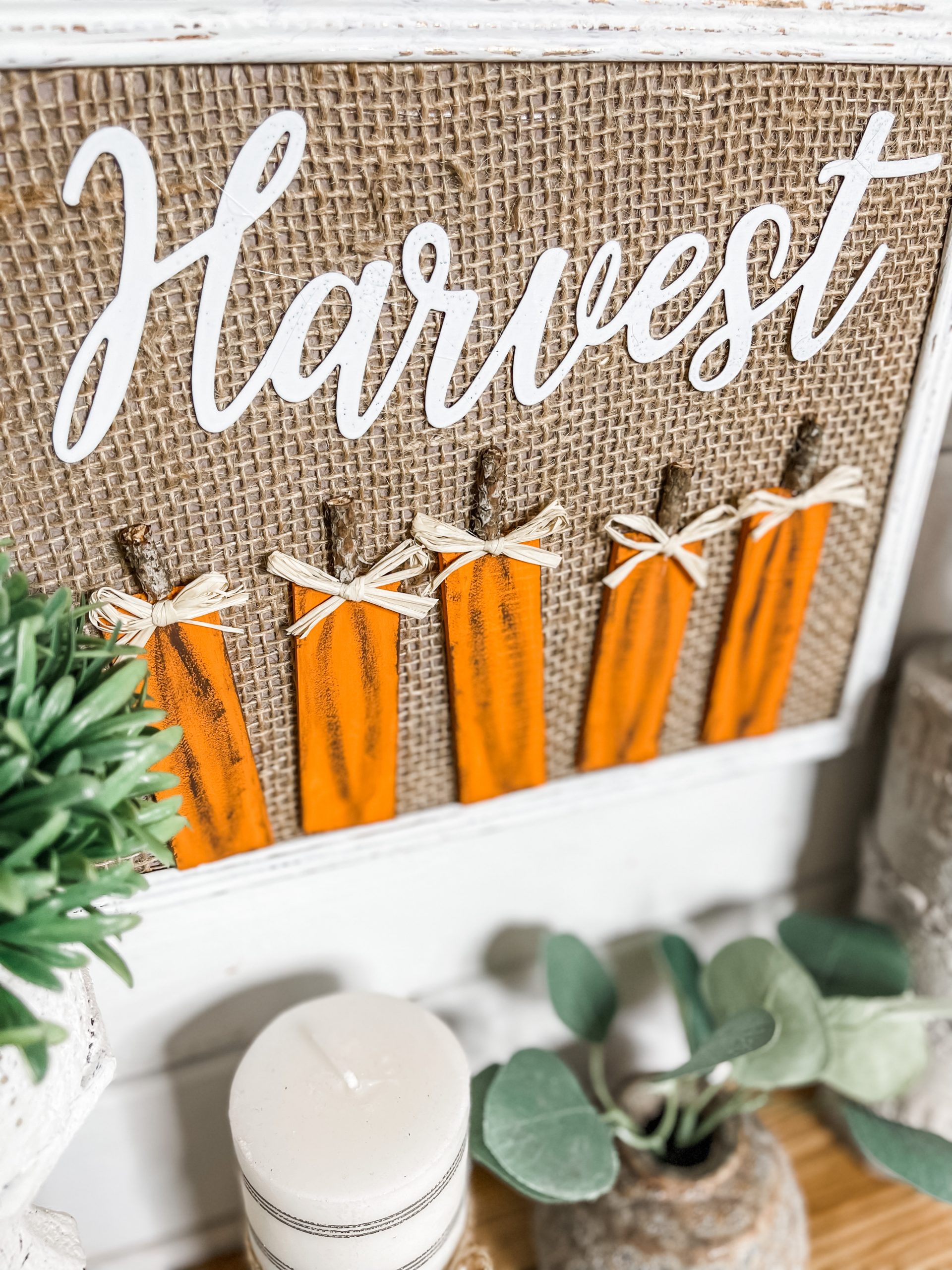 How to make paint stick pumpkins
First, you need to dry place the metal harvest lettering on your picture frame so you can measure how large you want your pumpkins to be.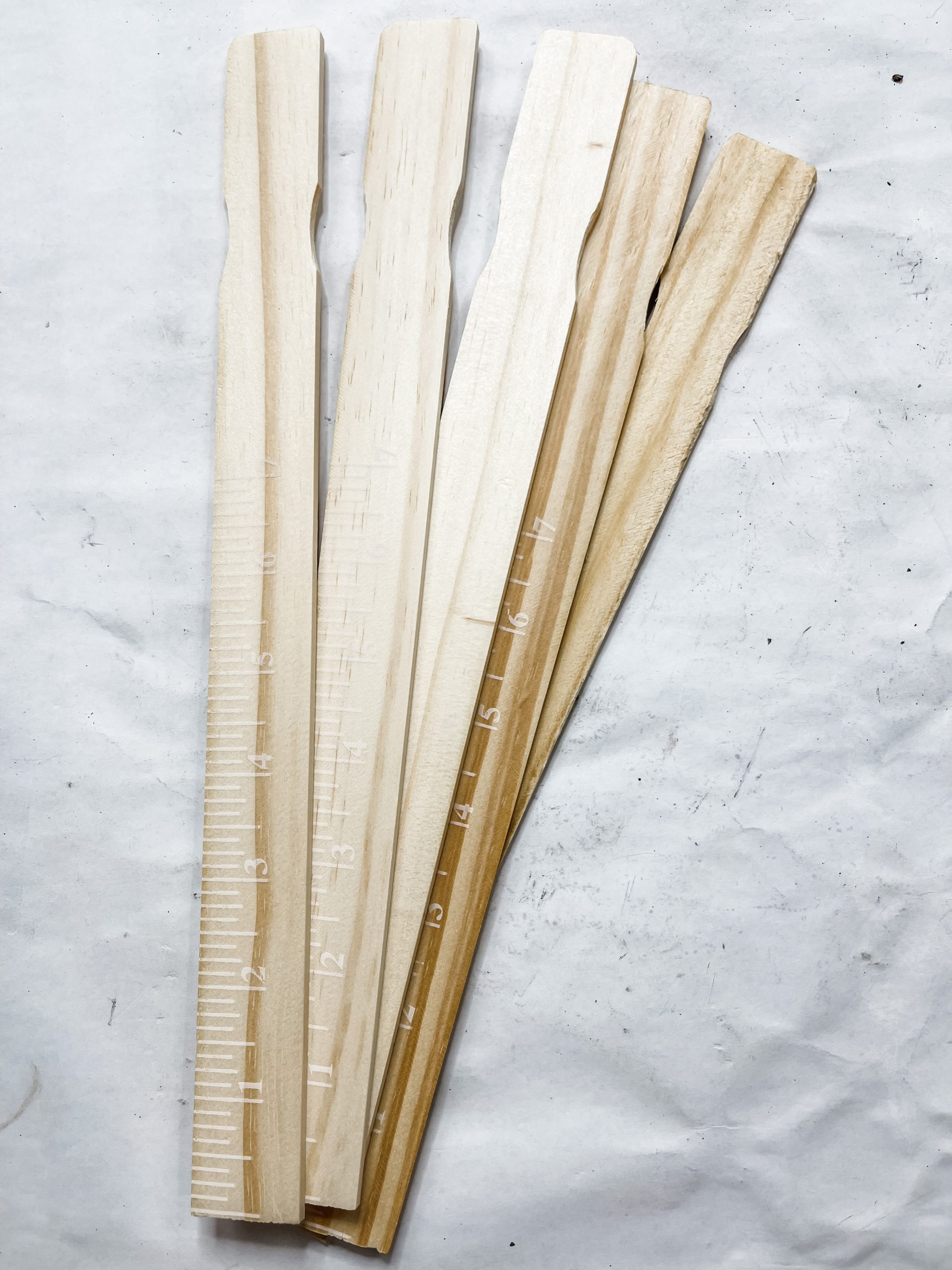 Then, cut 5 pieces of the paint mixing sticks to be your pumpkins! Paint each of the paint stick pieces with Waverly orange chalk paint.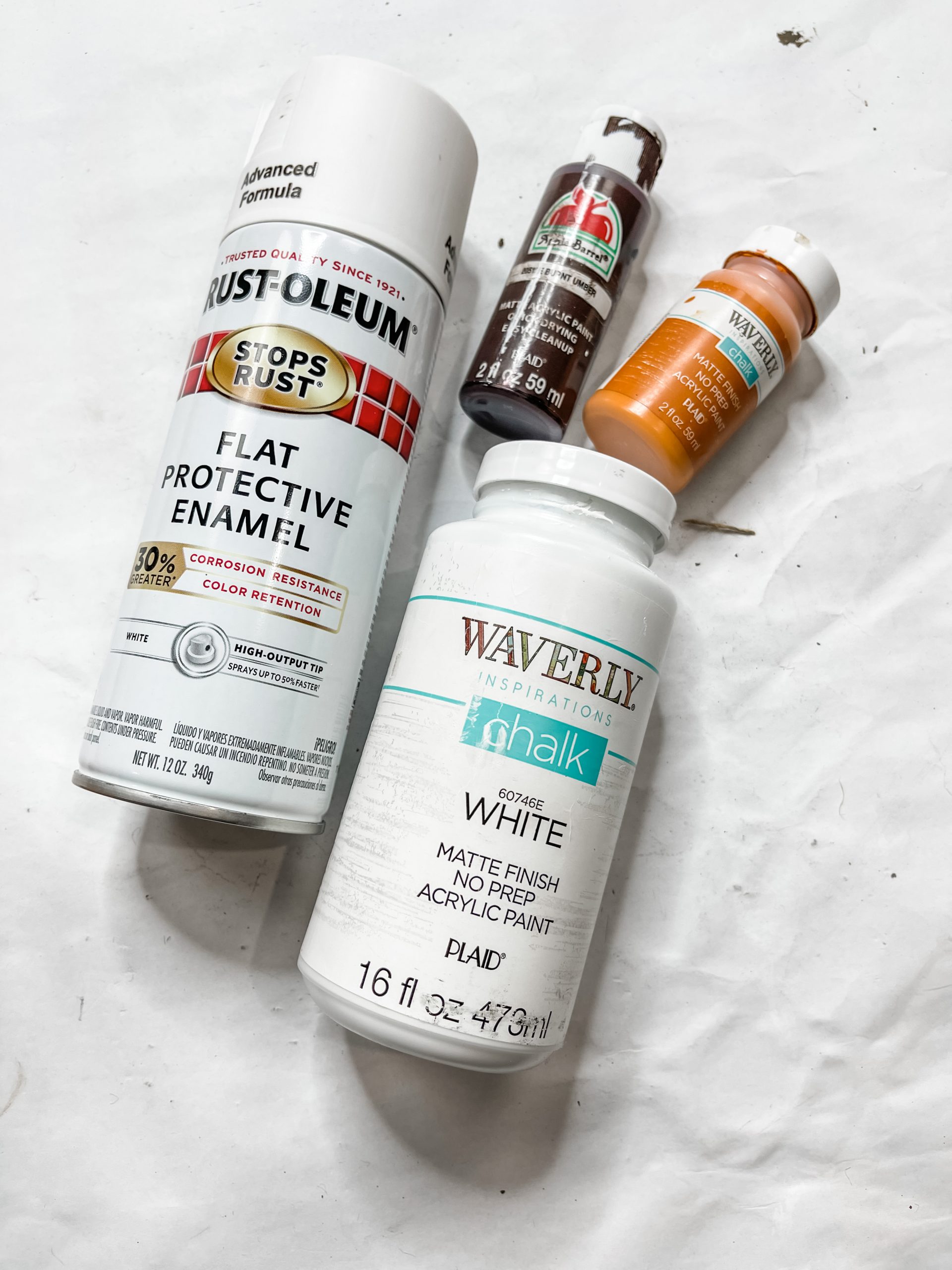 Paint the sides of the paint sticks as well, then let the paint dry. Cut 5 small pieces of your stick to be the stems for each of your pumpkins.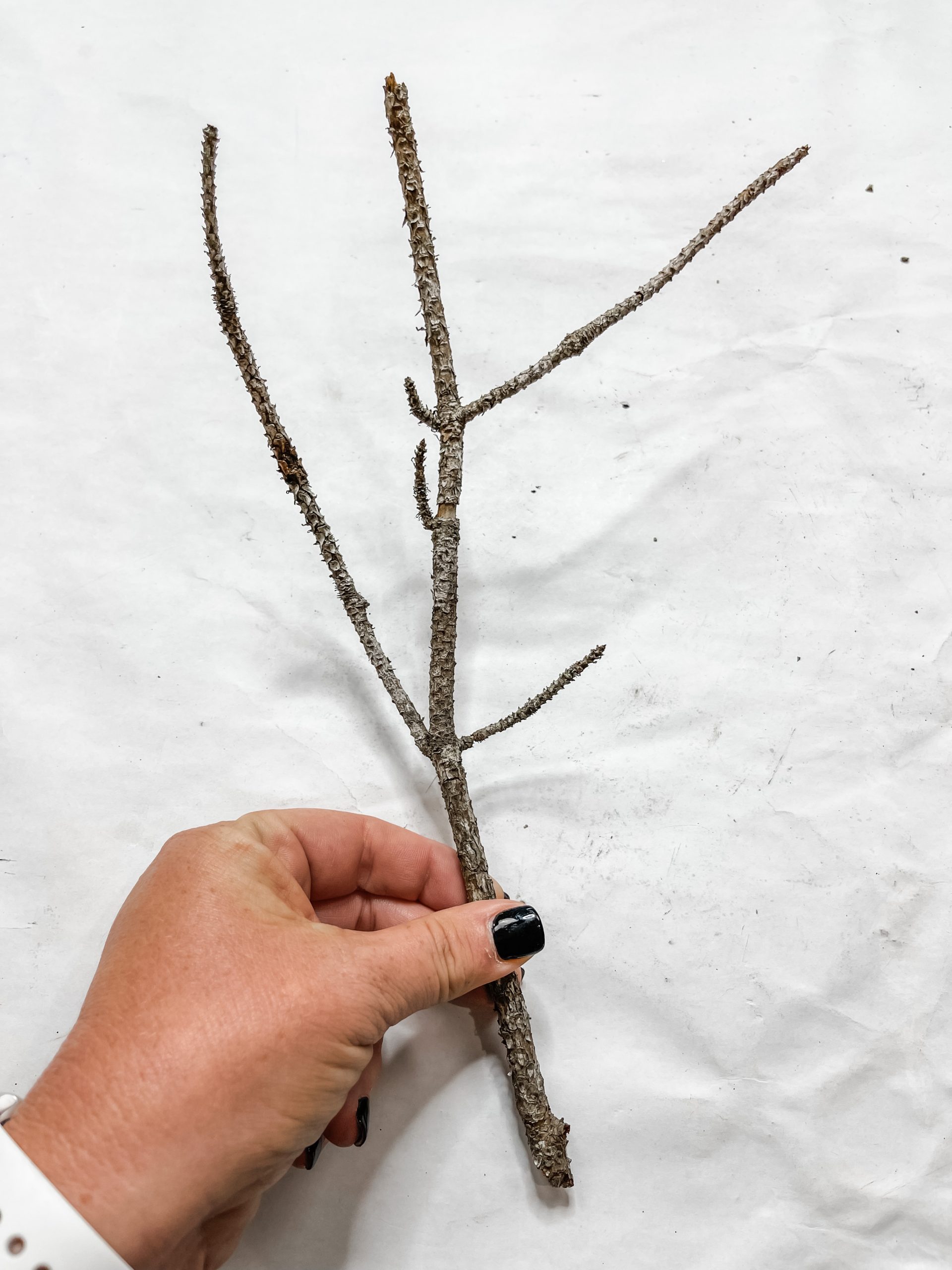 Then, tied 5 little bows out of raffia to go at the base of each of the pumpkin stems. Before I brought everything together, I added some detailing to the pumpkins.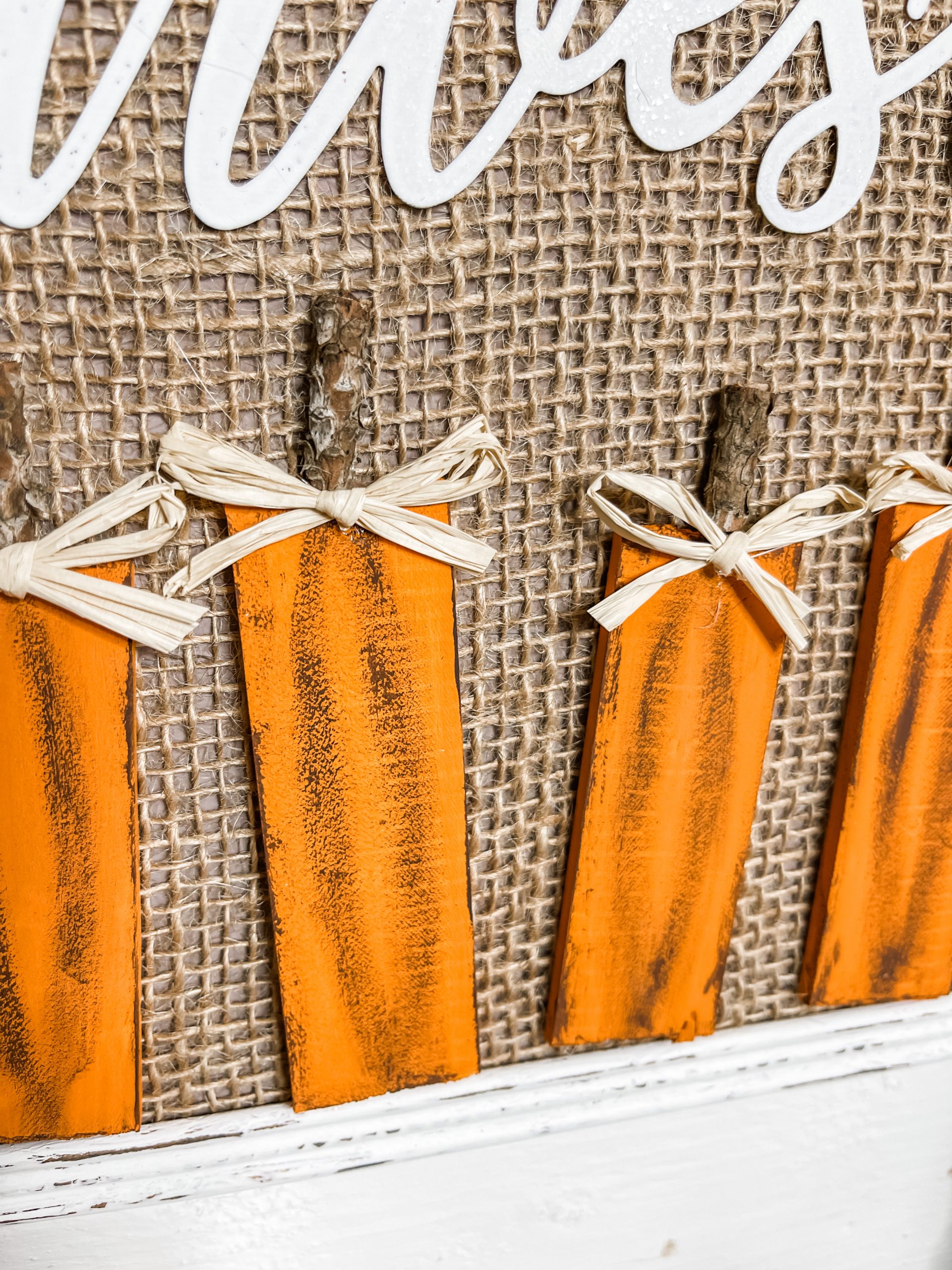 I used a small it of brown paint and a fine tip paintbrush to lightly paint limes onto the pumpkins and add the detailing and dimension of the pumpkins.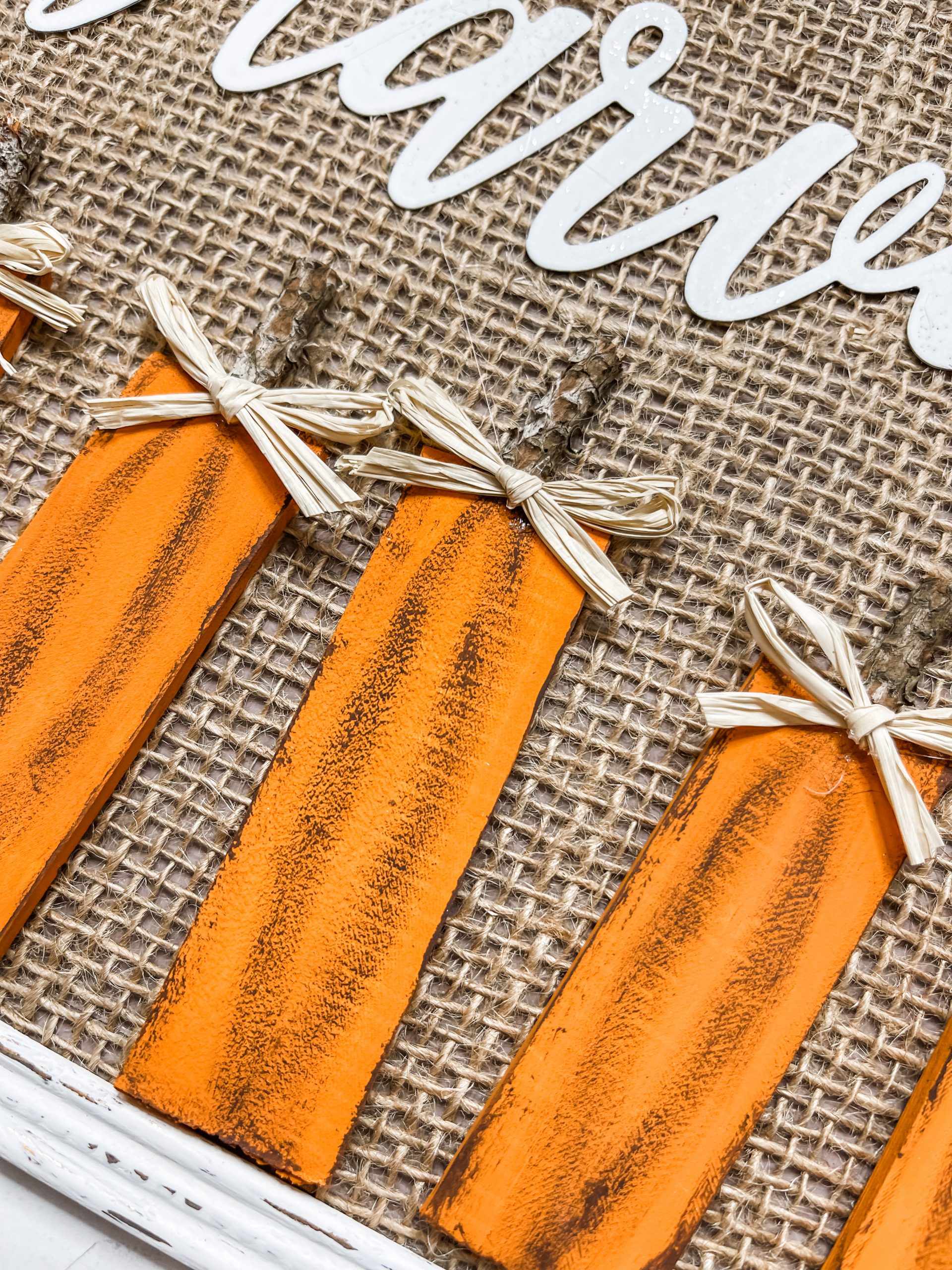 Finally, I hot glued everything in place on the picture frame and hot glued two giant craft sticks across the back of the frame so I could hang this adorable fall sign on my wall!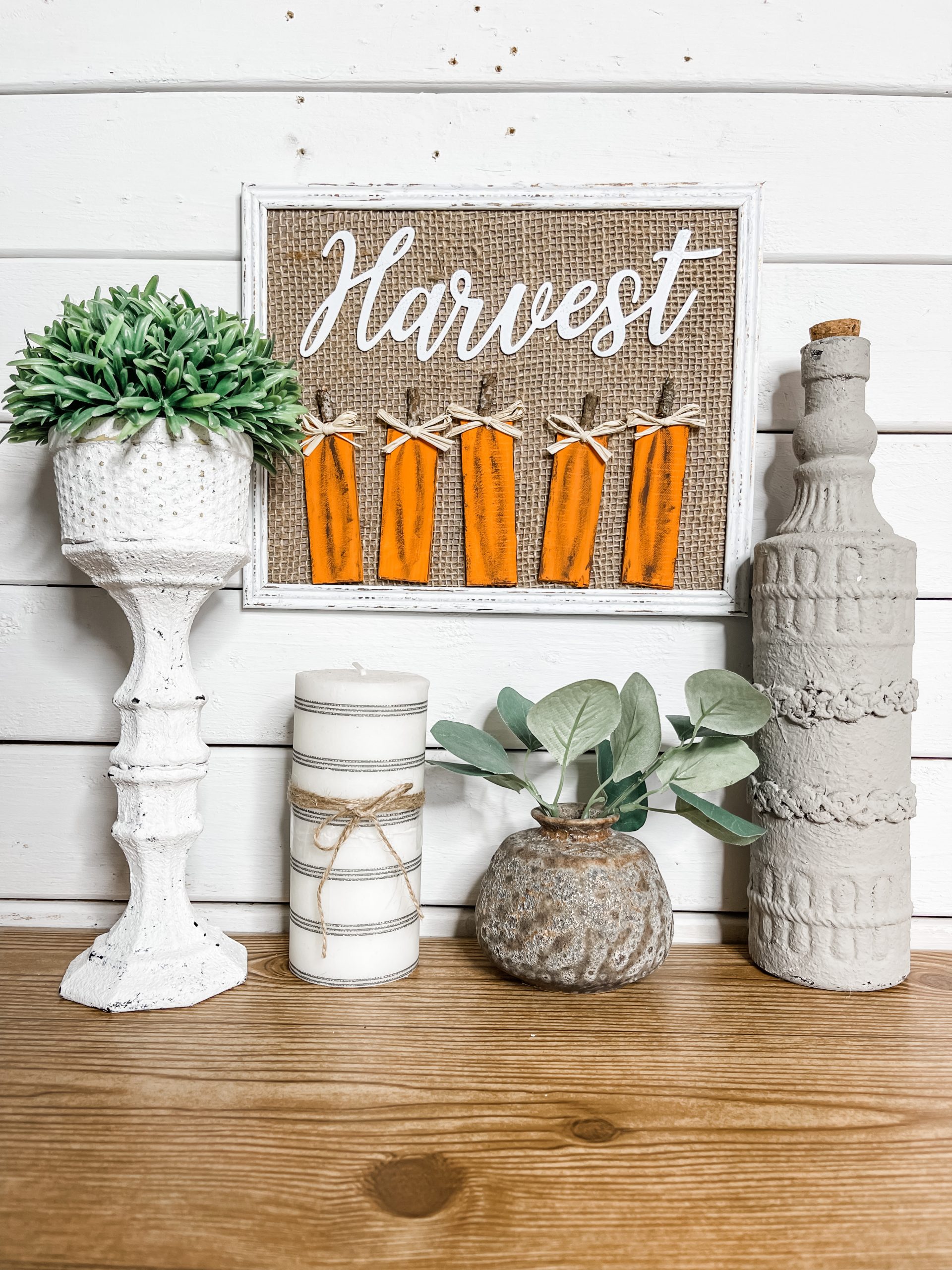 I hope you enjoyed this DIY Fall Harvest Pumpkin Sign as much as I did and decide to make it for yourself! If you do, I would love to see how yours turns out!
You should totally join my FREE Facebook group called On A Budget Crafts! It is a judgment-free community for DIY crafters to show off their projects and ideas.
If you loved this DIY Fall Harvest Pumpkin Sign, you might also like these DIY ideas!
Thanks for stopping by! XOXO Amber
You can also shop my ENTIRE AMAZON Favorites shop just click here! It's packed full of all the things I use and love. Here is the supply list I highly recommend every creative have on hand!!
Would you also pin my blog for later and get on my newsletter alerts? I would love to have you join my #craftycrew.
I email alerts about new blogs like this DIY Fall Harvest Pumpkin Sign so you're always up to date on fun, new DIY ideas!
Inspired? Leave me a comment below! I love hearing from my readers!

Join my free "ON A BUDGET CRAFTS" Facebook group!