DIY You're My Person Sign

Are you a Grey's Anatomy fan? If so, I think you're going to love this DIY You're My Person Sign! I love taking Dollar Tree supplies and turning them into adorable DIY home decor just like this project.
If you don't know this Grey's Anatomy reference, no worries! You can change the scrabble tile phrase to anything you want it to be.
This DIY craft is a super simple one, but as an extra resource for you, I recorded the process during a LIVE video on my Facebook page.
If you want to see the DIY process, craft along, or just join in on the fun conversations, you can watch the replay video on Facebook!
For this project, I will be using these items but you can substitute where you want.
"As an Amazon Associate, I earn from qualifying purchases."

Let's get started
Alright, let's get to what you came here for! Even though I recorded this DIY project during a LIVE video, there is one step I did off-camera, and that is I removed the plastic garland from the Dollar Tree plastic heart wreath form.
This is a very easy step. All you have to do is unwind the plastic garland from the wreath form until you have it completely removed.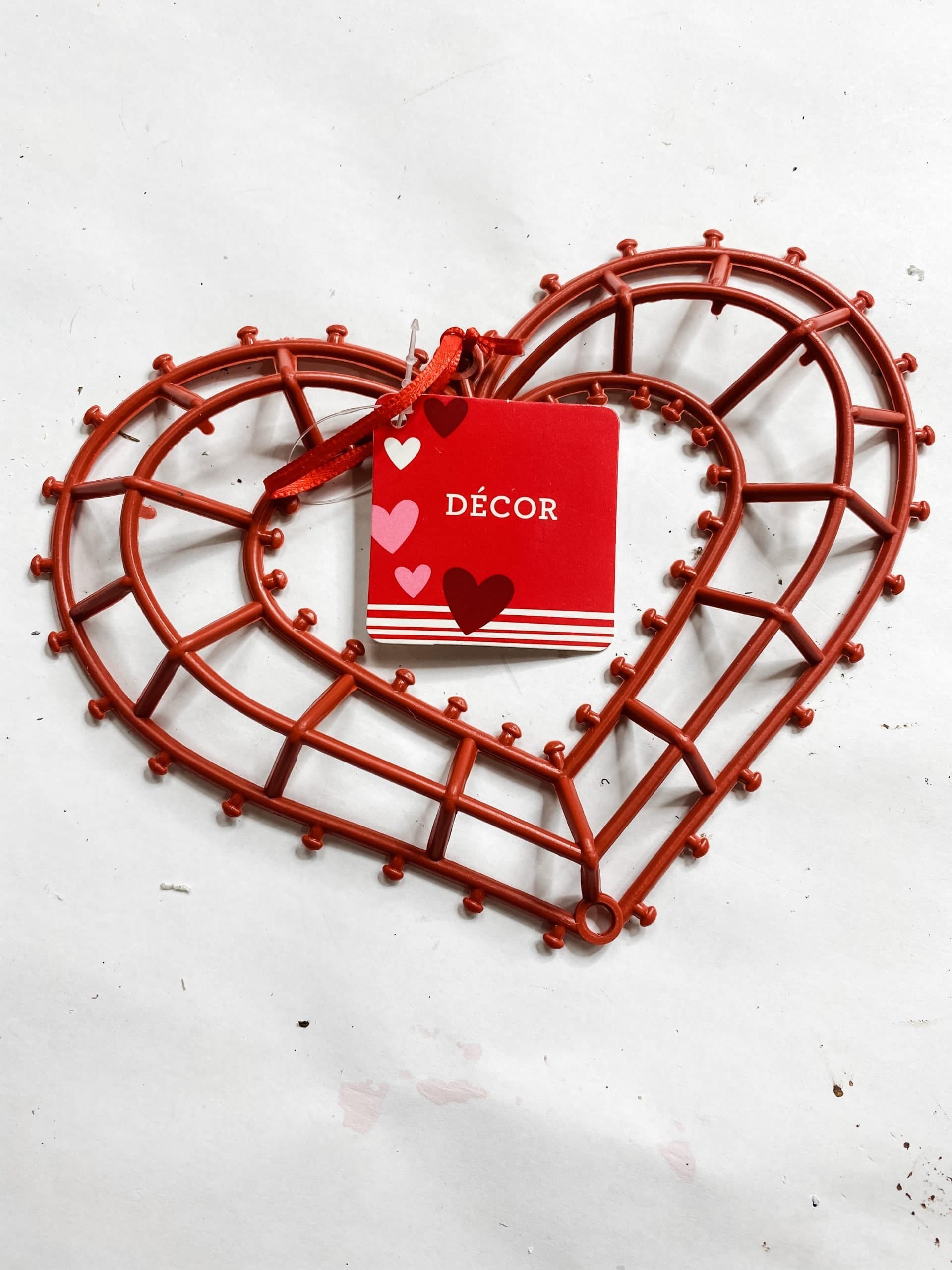 Once you have the plastic garland removed, you have to remove the little pegs from the inner and outer edges of the Dollar Tree heart. I just used a pair of scissors to cut them off.
Dollar Tree Mophead
Next, you're going to need the Dollar Tree mophead. For this DIY project, I would recommend using the grey and white microfiber mophead because it is one single strand.
The white mophead has several strands that would make this DIY more difficult.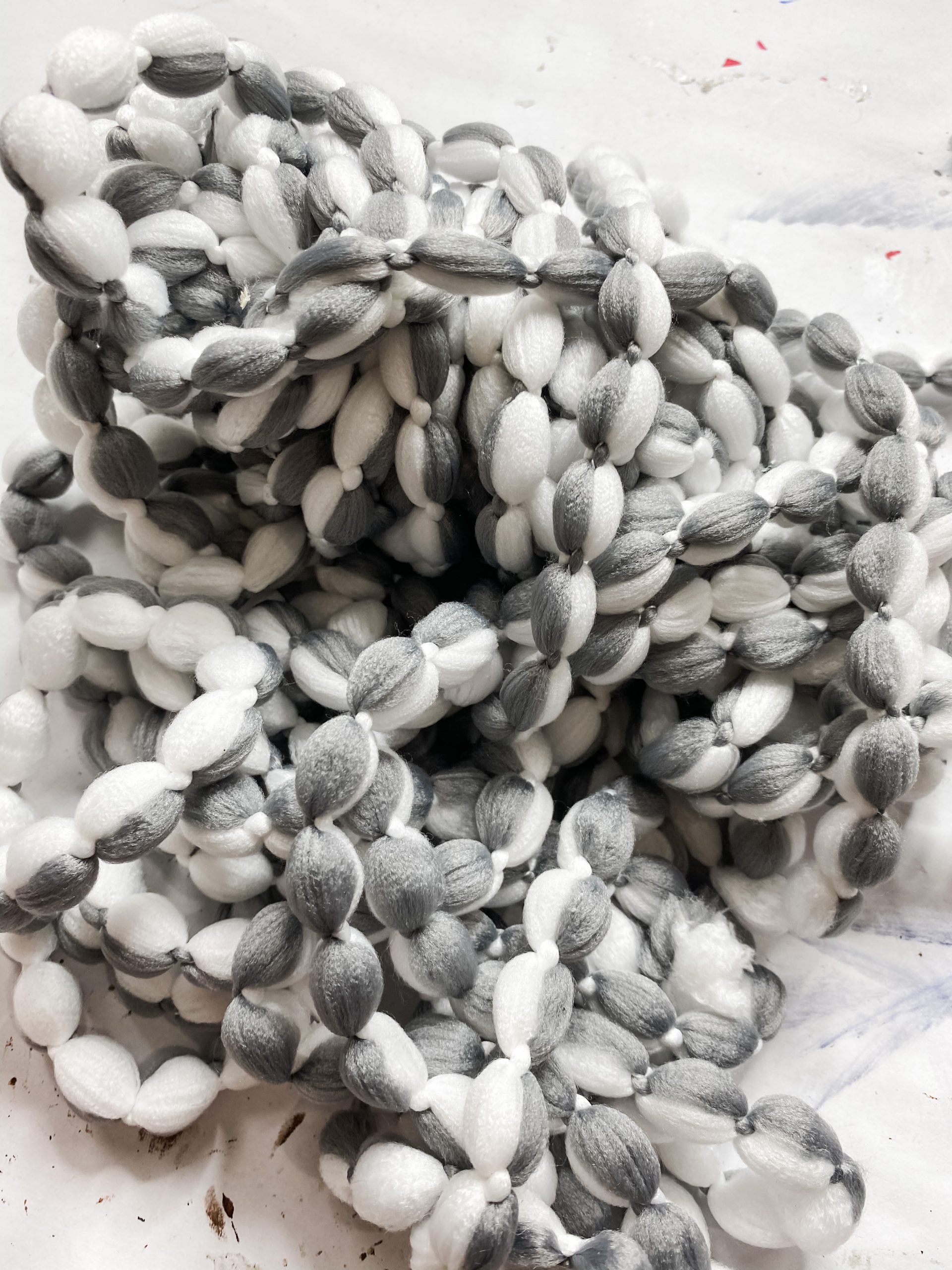 Now that you have the mop string ready, wrap it around the Dollar Tree heart wreath form. Make sure you wrap it tightly and close together so you don't see the bright red peeking through.
As you wrap the string, hot glue it in place to keep it from moving or separating. This will make your job a lot easier!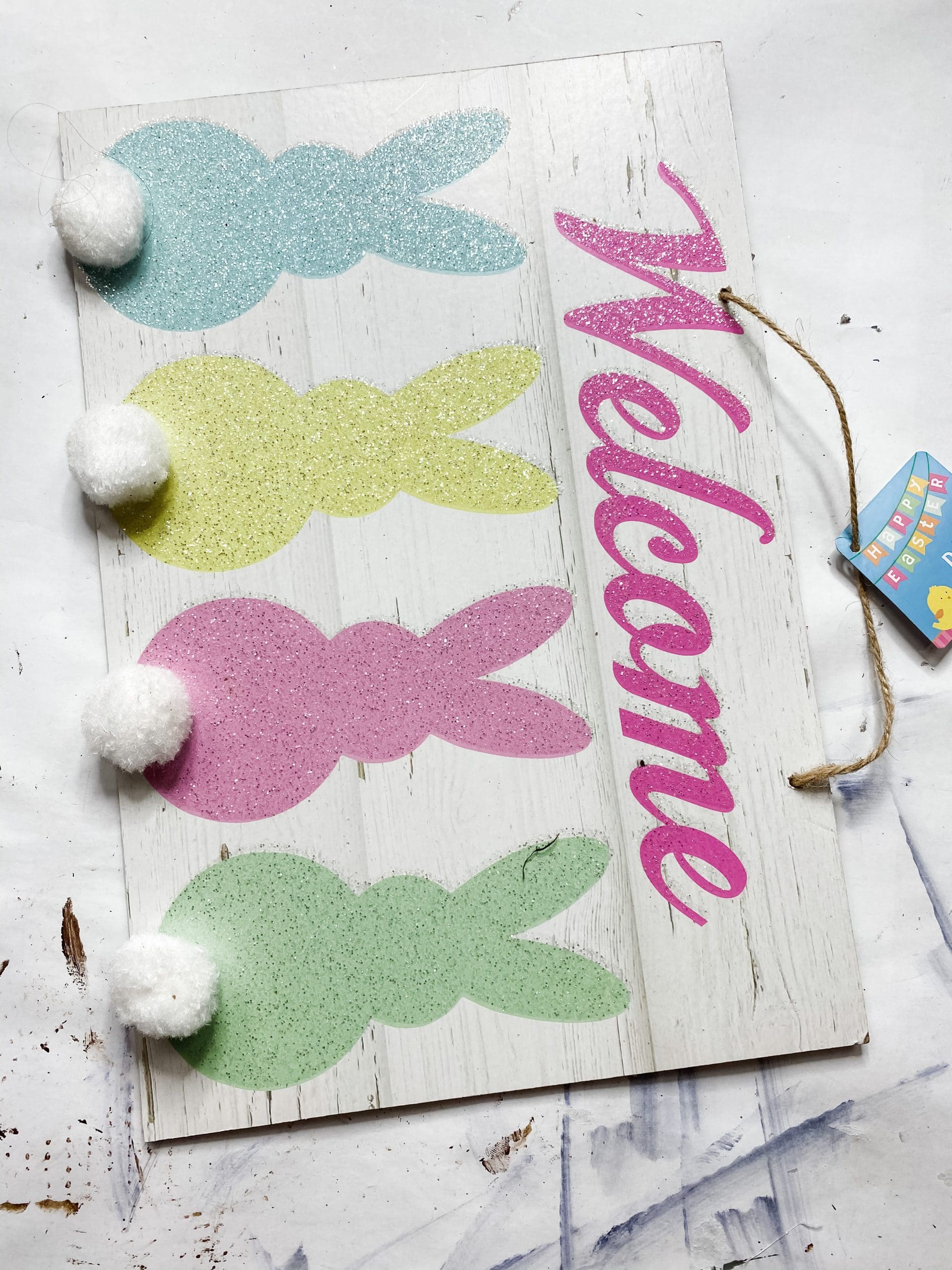 You can set the mop string-wrapped heart to the side for now. Next, we are going to work on the Dollar Tree Easter sign board.
The great thing I love about Dollar Tree signs is that you can use them any time of the year regardless of the design!
To use this Easter sign for this DIY decor, you have to remove the little white pom poms. They're only glued on, so you just have to pull them off.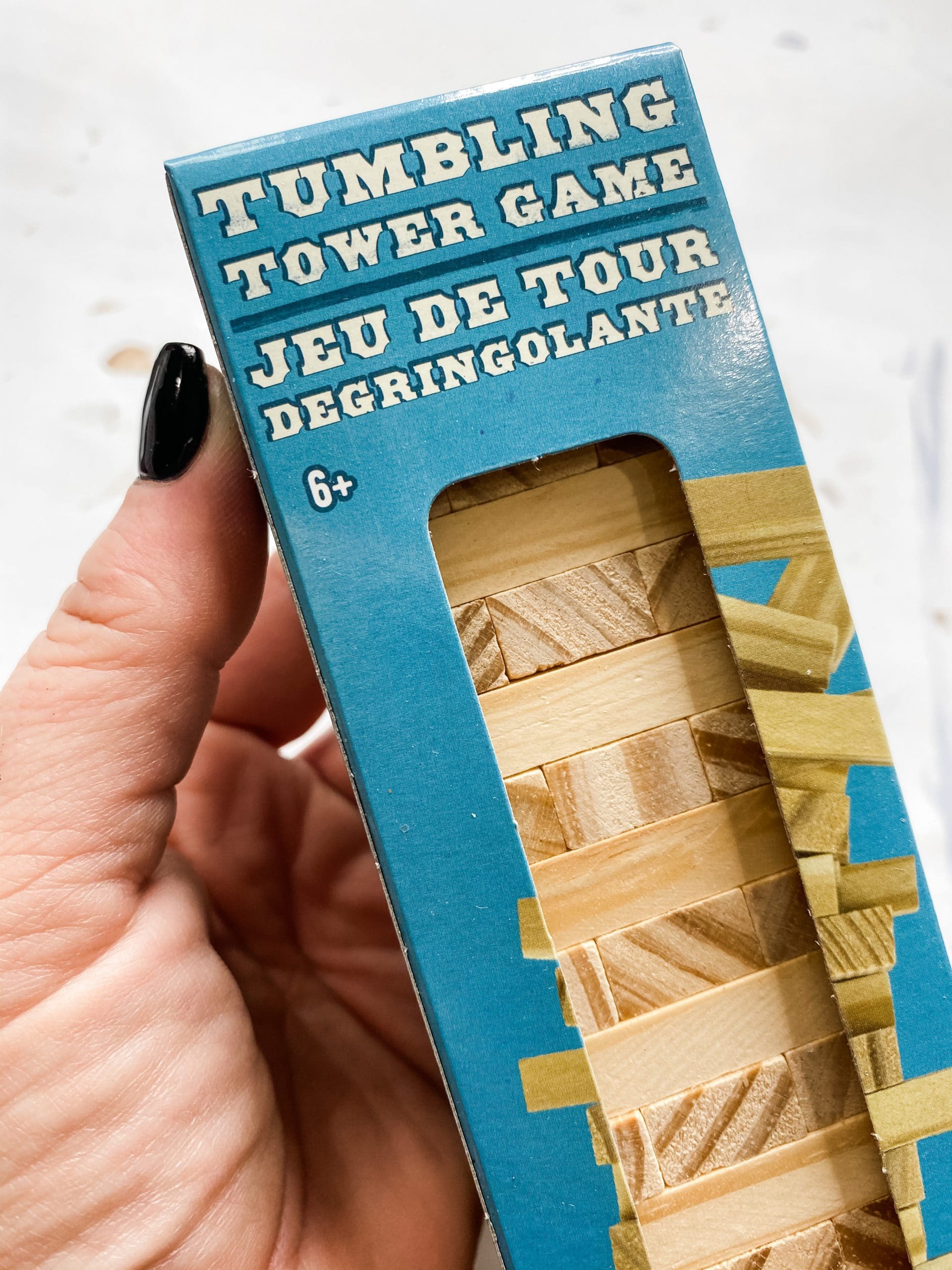 Dollar Tree Tumbling Tower Blocks
To make the frame for this adorable, Grey's Anatomy-inspired DIY Valentine's Day decor, I used Dollar Tree Tumbling Tower blocks and Apple Barrel Pewter Grey Acrylic Paint.
Start by laying out the blocks you'll need to cover the edges of the Dollar Tree sign. It took me 22 Tumbling Tower blocks to make my frame. (7 for each long side and 4 for each short side)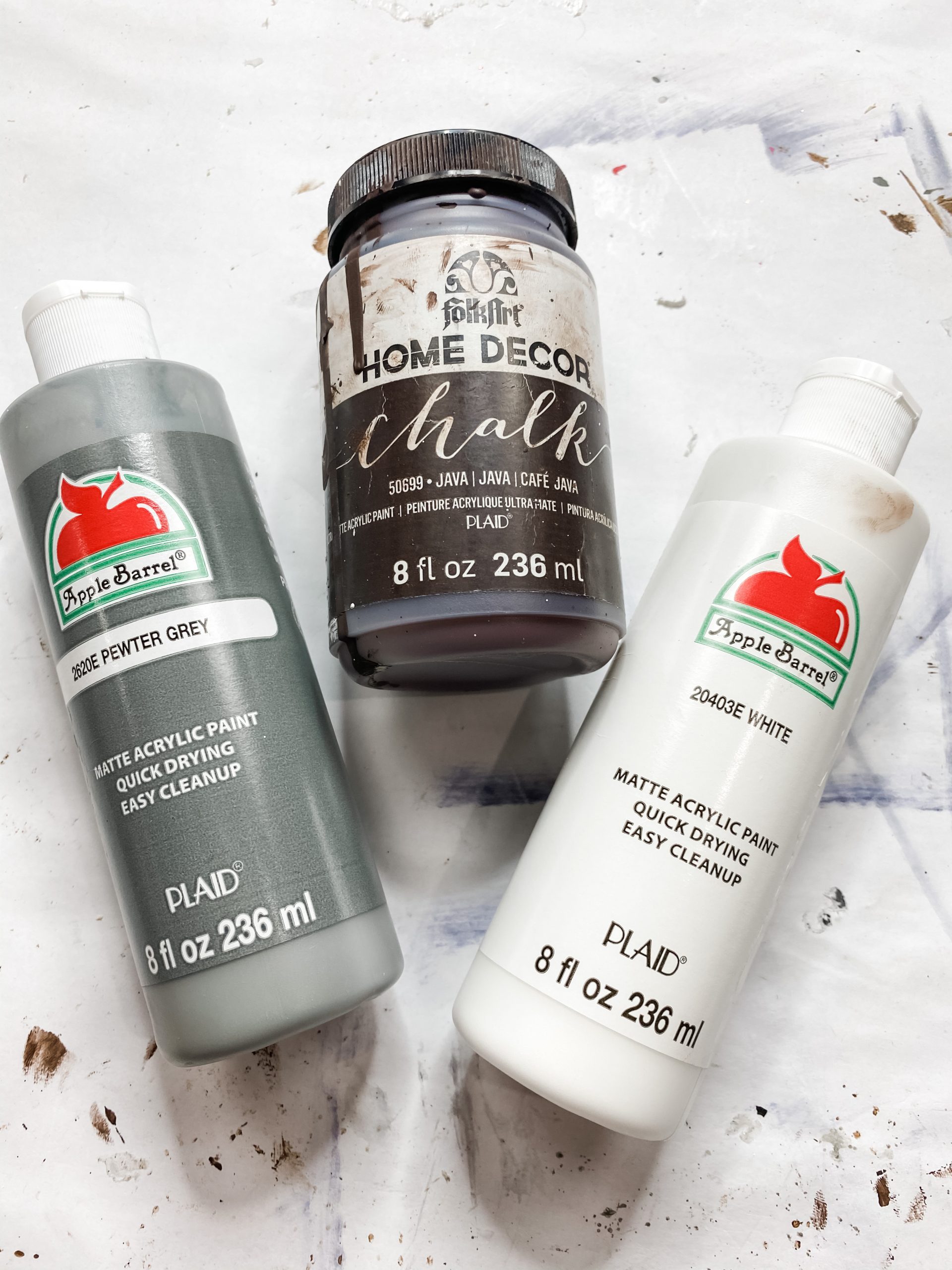 Before you stain the blocks, go ahead and hot glue them into the 4 strips (2 strips of 7 blocks and 2 strips of 4 blocks). I used my Surebonder hot glue gun for this!
Once the hot glue has dried and the blocks are secured together, it's time to stain! To do this, pour the Apple Barrel Pewter Grey Acrylic Paint directly onto the wood and use a wet wipe to spread it across all sides of the strips.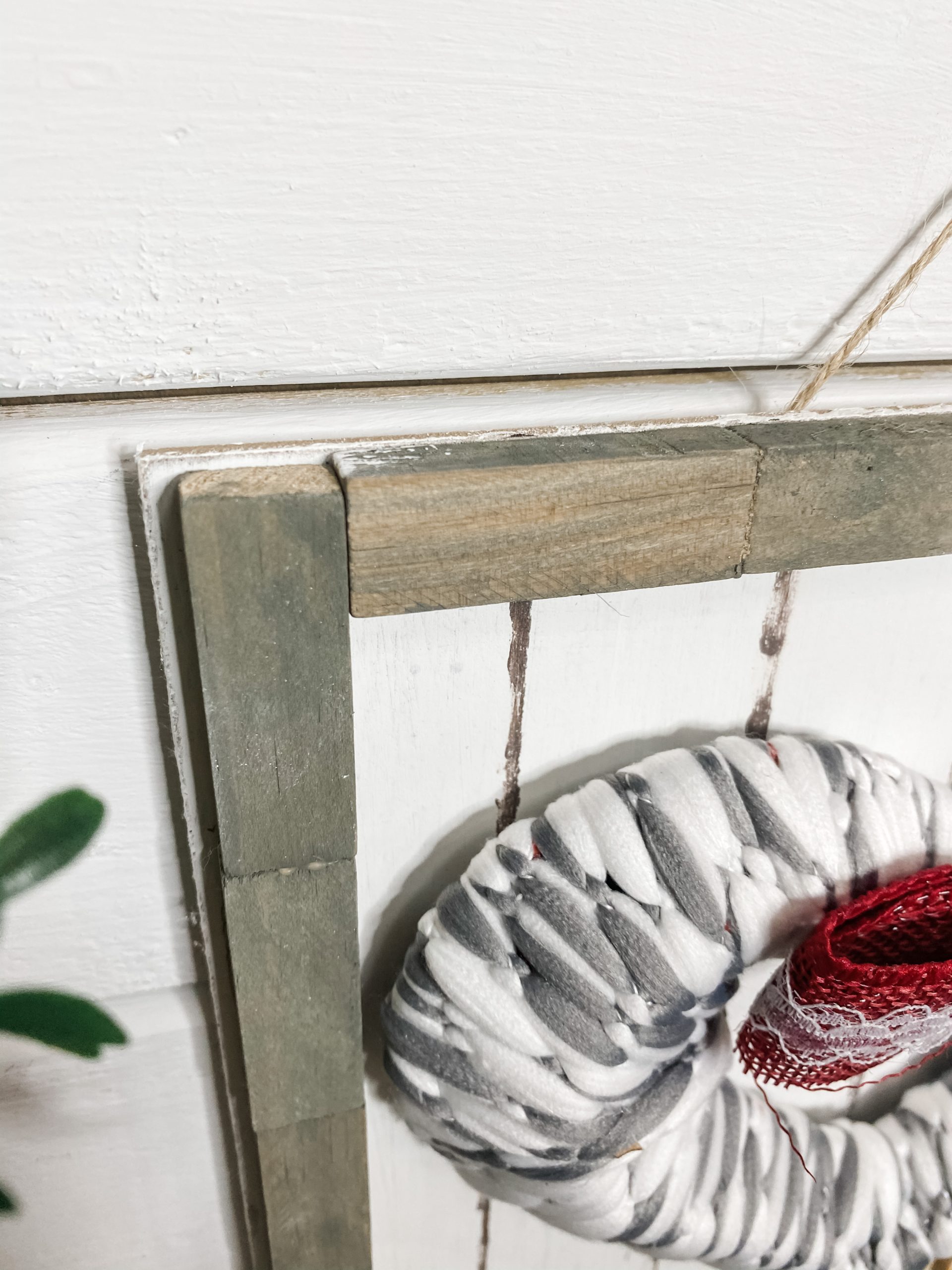 This is going to give you the perfect washed, stained finish for your DIY wood frame! Go ahead and set the stained Tumbling Tower blocks to the side for now, and grab the Dollar Tree sign.
You're going to paint the back of the sign board with Apple Barrel White Acrylic Paint. While the board is still wet, spray it with water then brush perpendicular to the direction you originally applied the paint. Keep going until you have good coverage.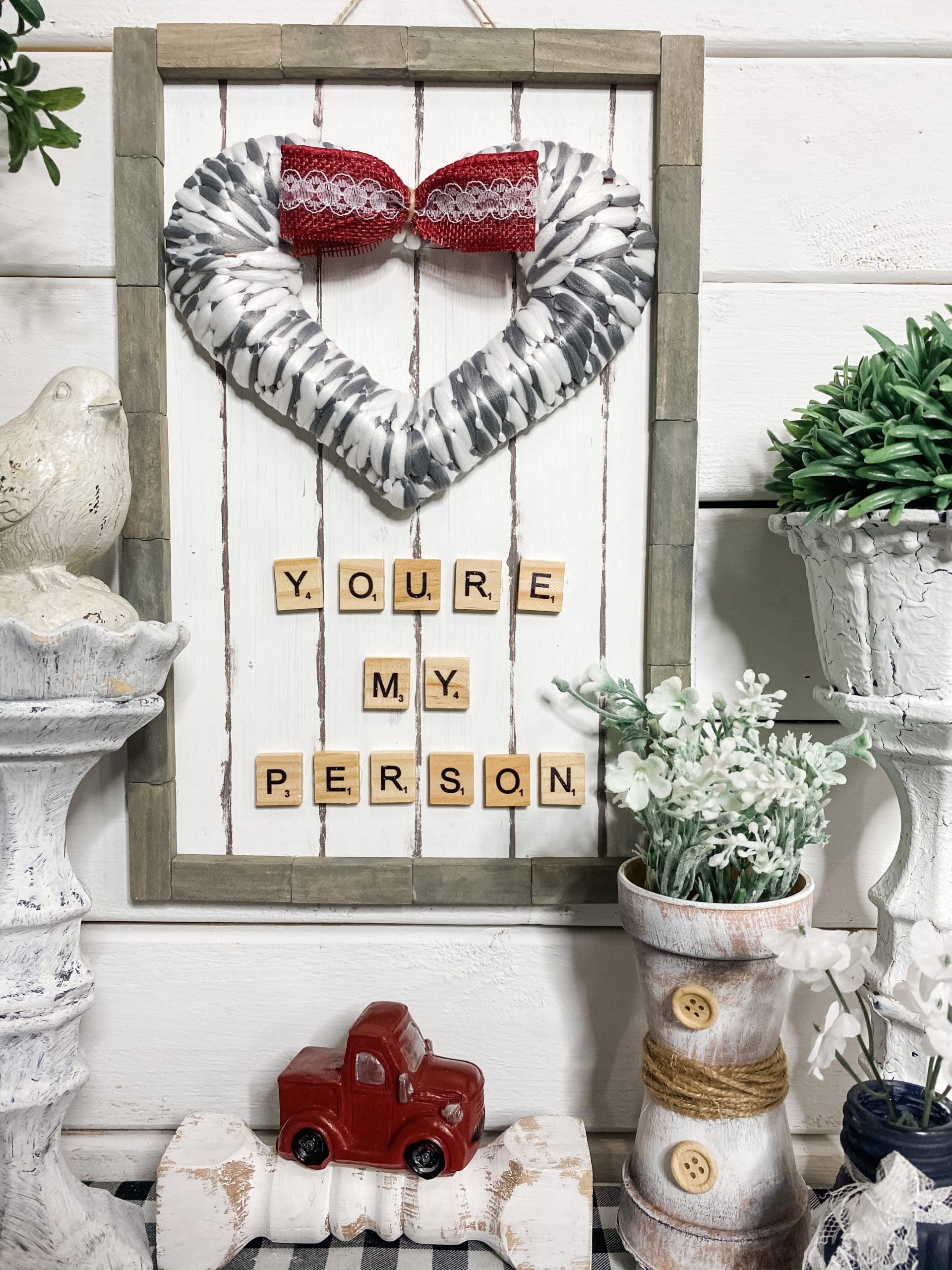 Faux Shiplap
Once your white paint has dried (I used my heat gun to speed up the drying process), it is time to add your faux shiplap. To do this, I used a ruler, an artist's brush, and Folkart Java Chalk Paint.
Place the ruler vertically onto the sign board and lightly brush the brown paint against the edge of the ruler. Keeping a light hand will give you an effortless shiplap finish.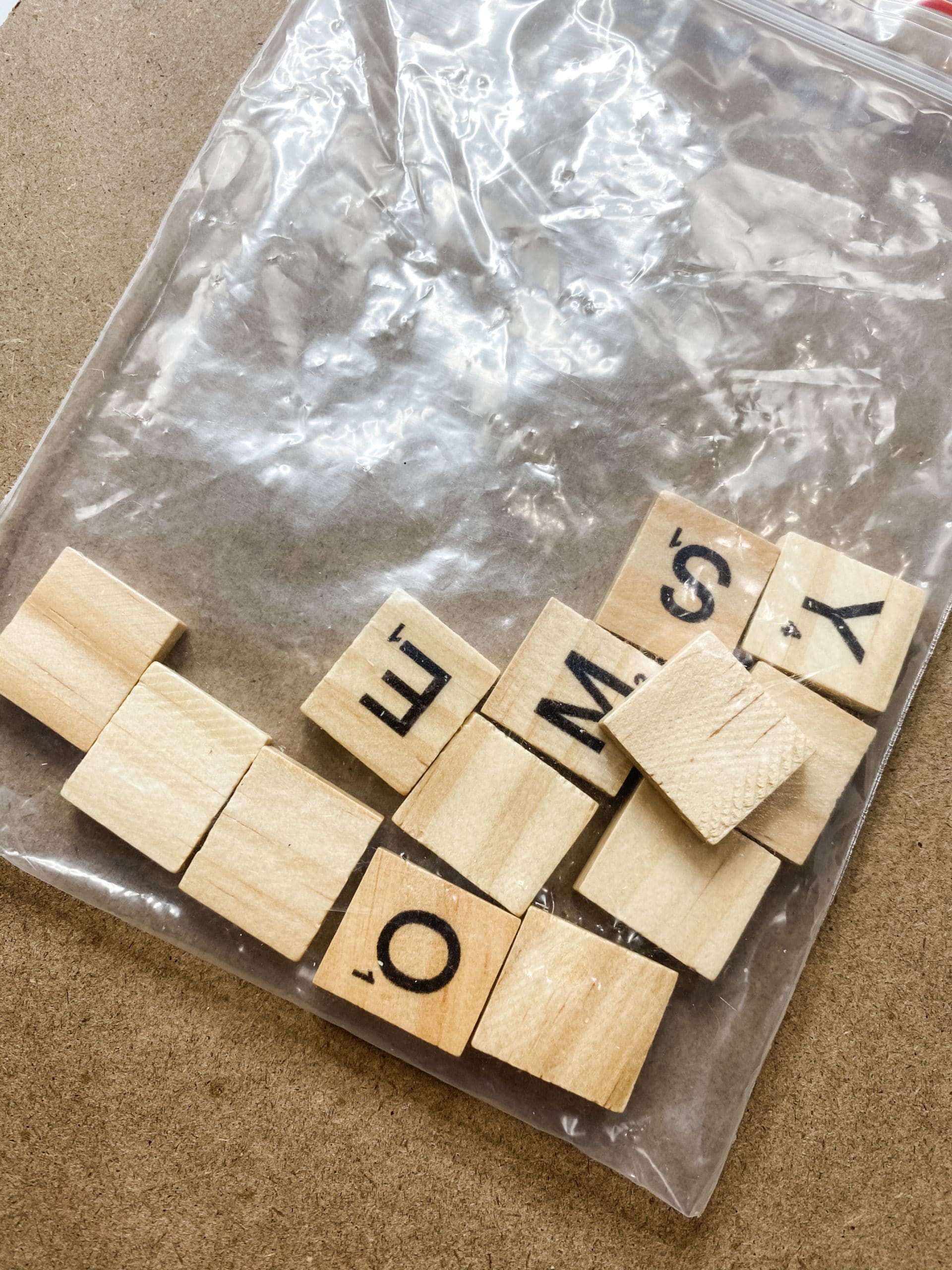 Bring it all together
Allow the shiplap lines to dry, then hot glue the stained Tumbling Tower blocks frame onto the sign. Then, get your scrabble letters that are going to go onto the bottom half of the sign.
I decided to make my sign say "You're my person" but you can make your sign say whatever you want it to!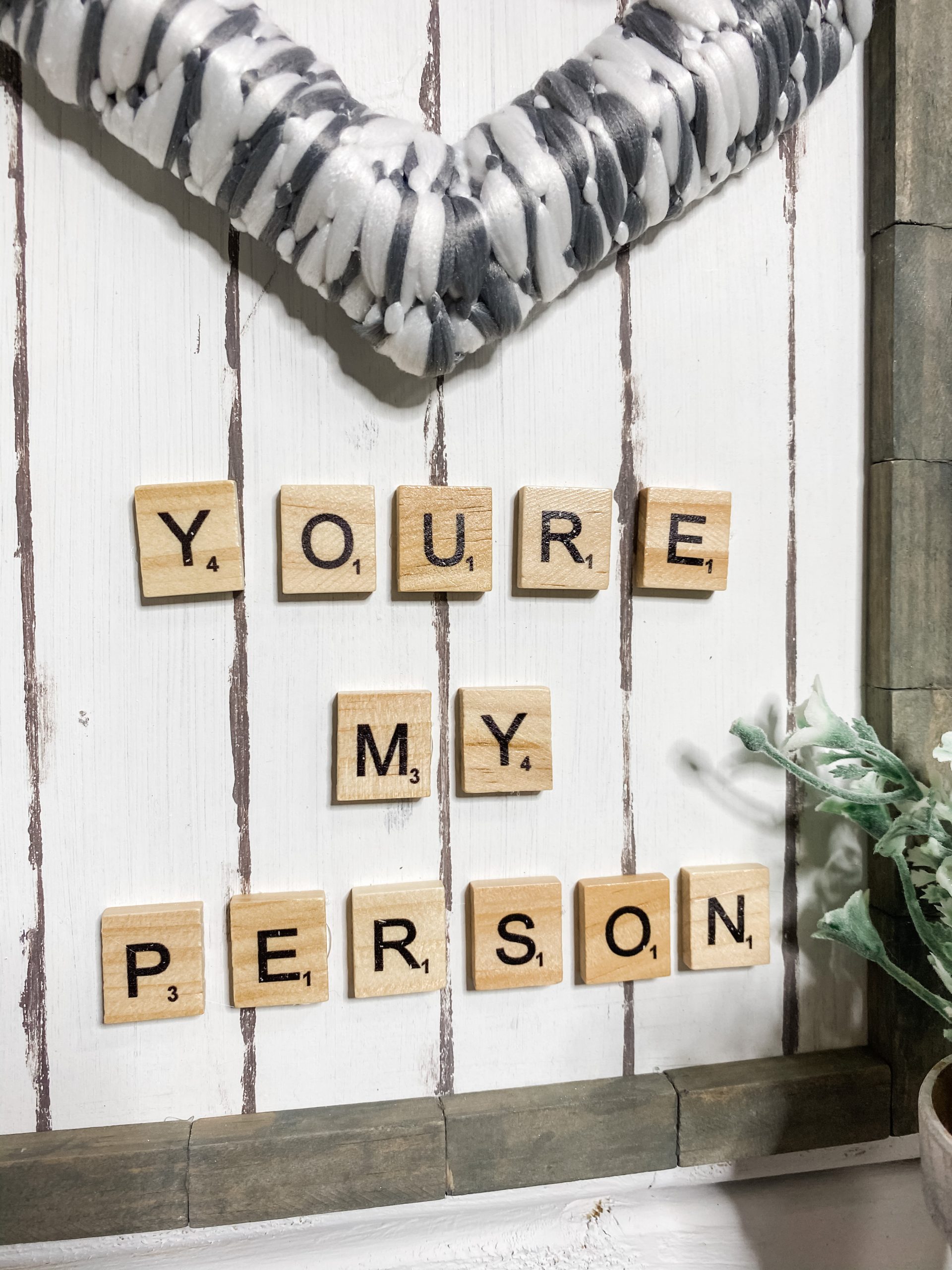 Then, hot glue the mop string heart above the scrabble letters. After you have the mop string heart attached, it is time. to make the bow! For this, I used a wide red ribbon and some Dollar Tree white lace ribbon.
I cut a strip of the red ribbon off the spool, then cut that strip in half longways. I then hot glued the white lace ribbon onto the middle of the red ribbon, rolled it into a loose circle, pushed the center, secured it with a piece of jute twine, and hot glued it down.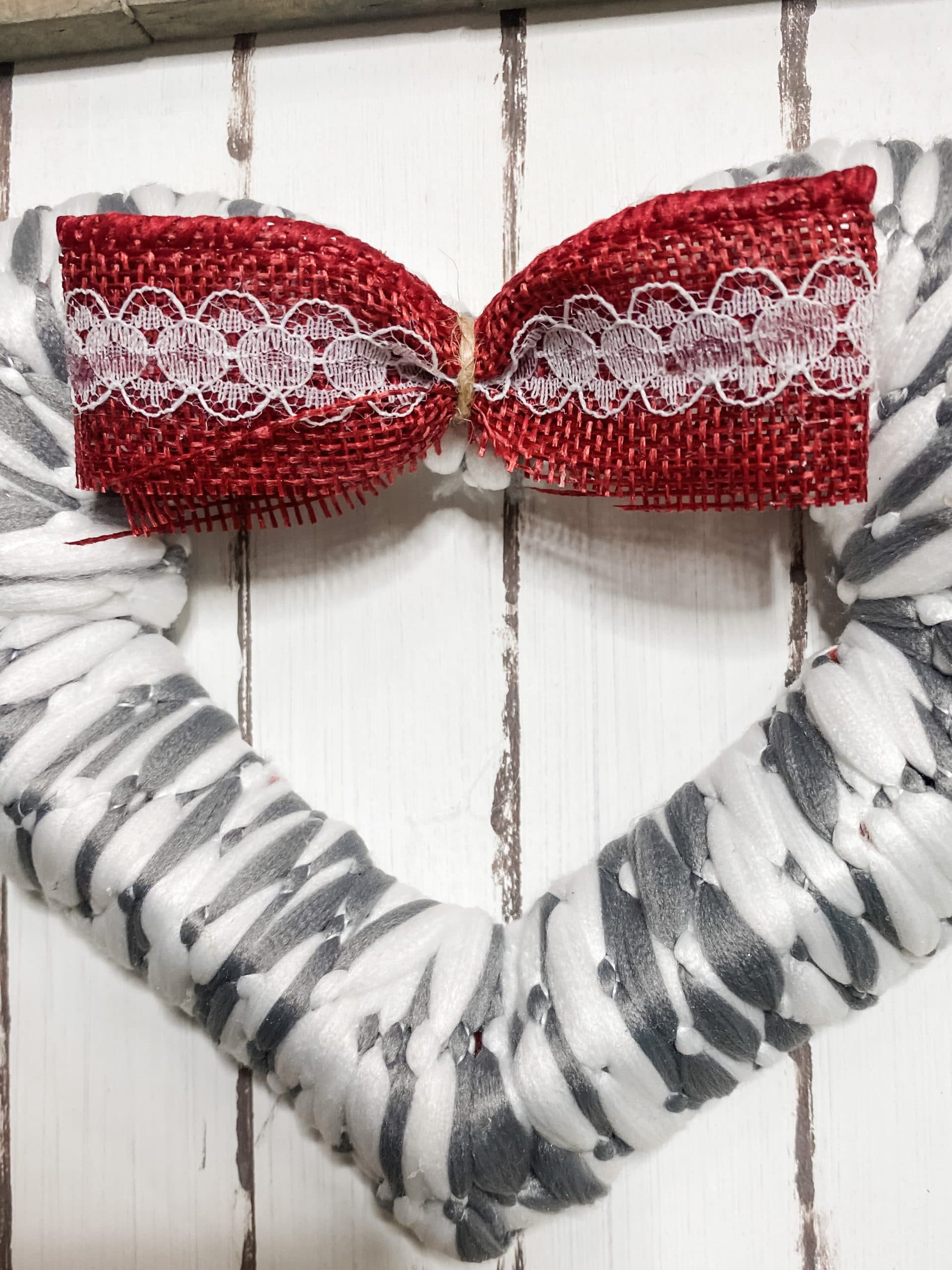 The last step of making this adorable Valentine's Day decor is to add your hanger! I went for a simple hanger for this DIY and just used a single piece of jute twine.
Cut a piece the length you want your hanger to be and hot glue the ends to the back of the Dollar Tree sign. Let the hot glue dry, and you're all done!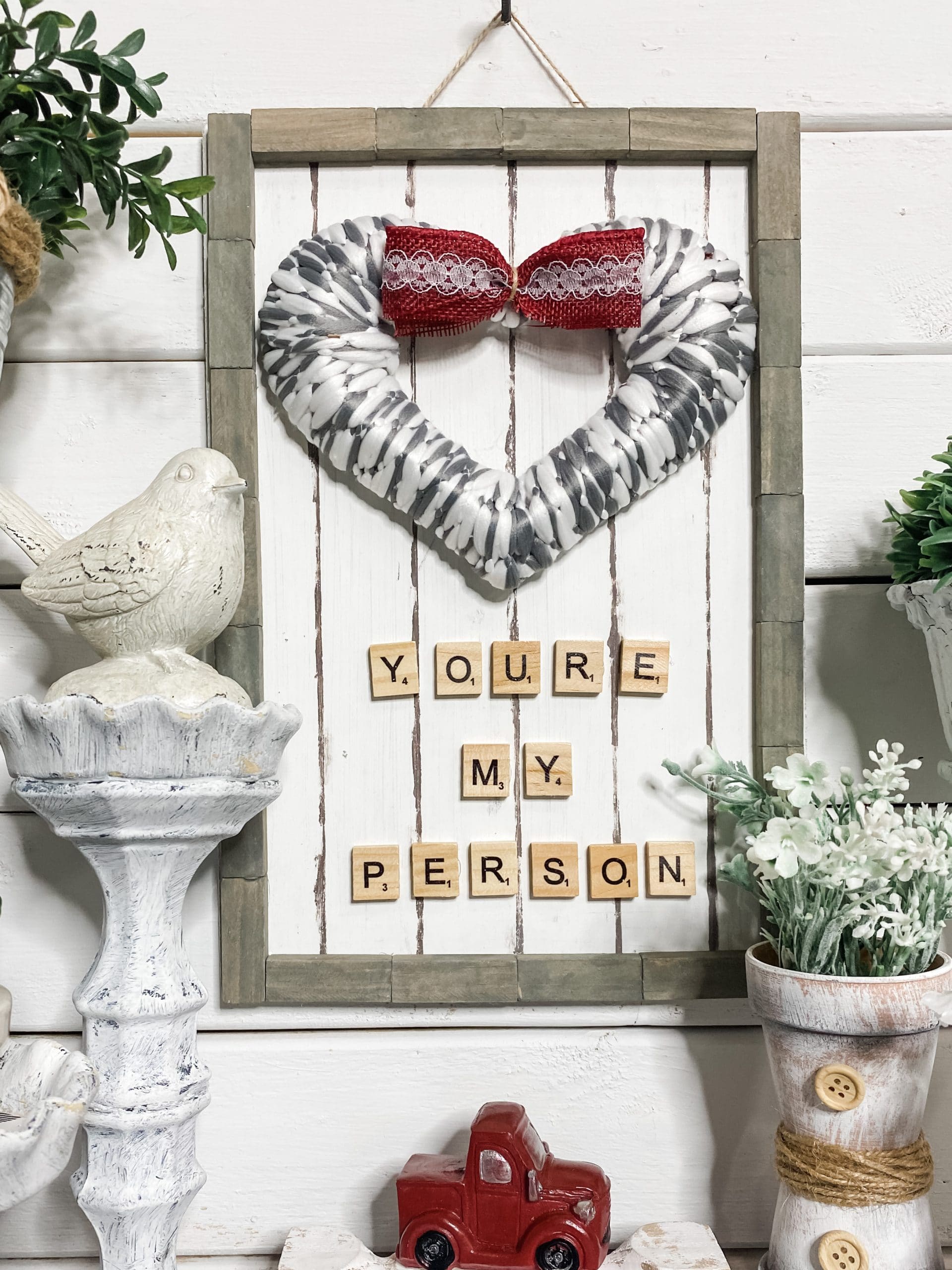 I hope you enjoyed this DIY You're My Person Sign as much as I did and decide to make one for yourself! I would love to see how yours turns out!
You should totally join my FREE Facebook group called On A Budget Crafts! It is a judgment-free community for DIY crafters to show off their projects and ideas.
Thanks for stopping by! XOXO Amber
You can also shop my ENTIRE AMAZON Favorites shop just click here! It's packed full of all the things I use and love. Here is the supply list I highly recommend every creative have on hand!!
Would you also pin my blog for later and get on my newsletter alerts? I would love to have you join my #craftycrew.
Inspired? Leave me a comment below! I love hearing from my readers!

Join my free "ON A BUDGET CRAFTS" Facebook group!