Chalk Painted Hutch and China Cabinet Ideas
Chalk Painted Hutch and China Cabinet Ideas
If you have noticed chalk painted furniture has been trending for years and years. I get asked all the time for examples, recommendations, or ideas about painted furniture. In particular, I am asked for Chalk Painted Hutch and China Cabinet Ideas or suggestions. I always say "GO LOOK ON PINTEREST"!
Pinterest is my go-to for inspiration. There are thousands of images with examples of things I am looking for from other people who have done something that I might want to see ahead of time before I do it myself.
(Can I tell you that right now numbers 43 and 17 are one of my favorites!)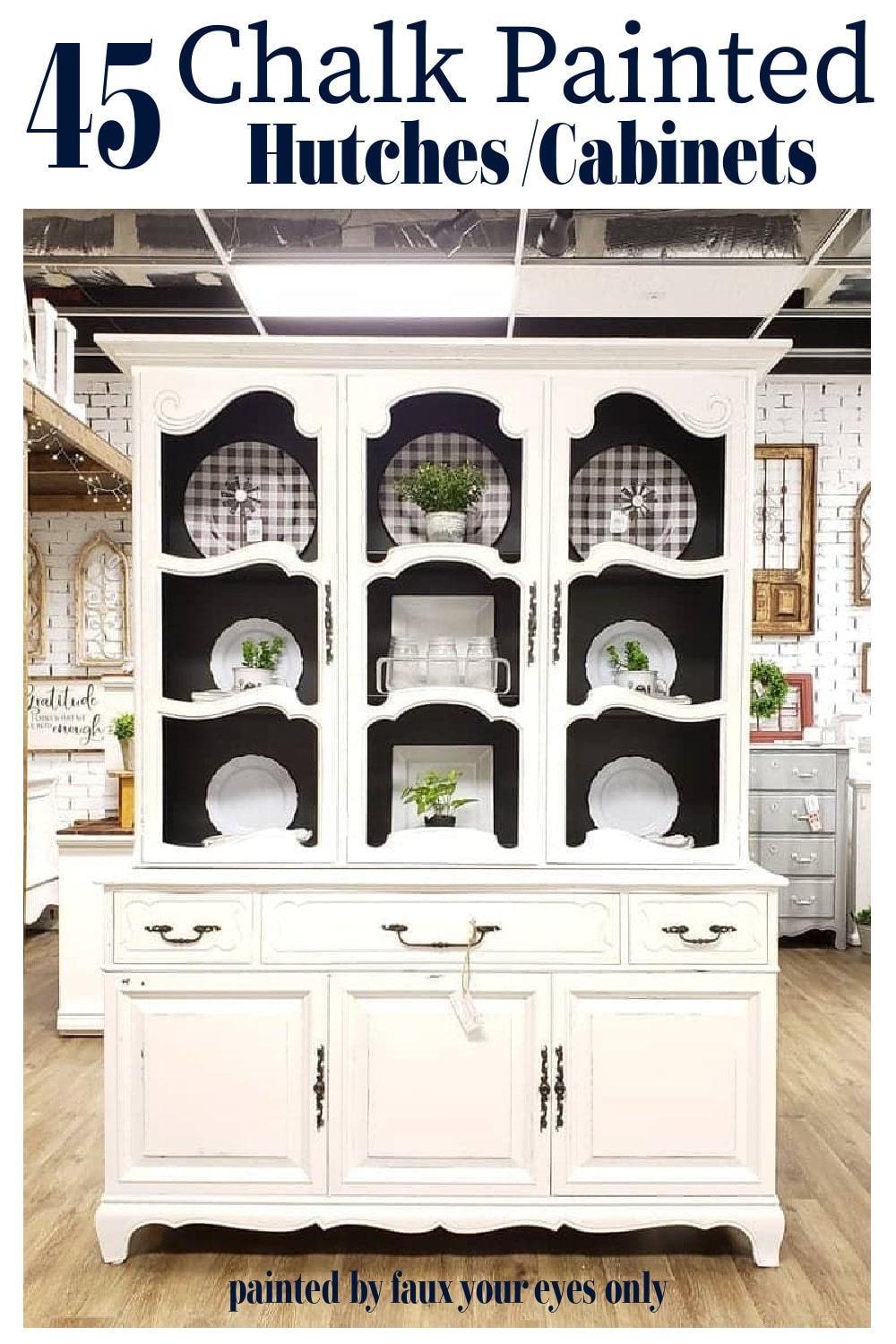 BE SURE TO PIN THESE ON PINTEREST!
If you wanted to learn how to paint furniture you should check out one of my older blog posts. How to get a boho paint finish.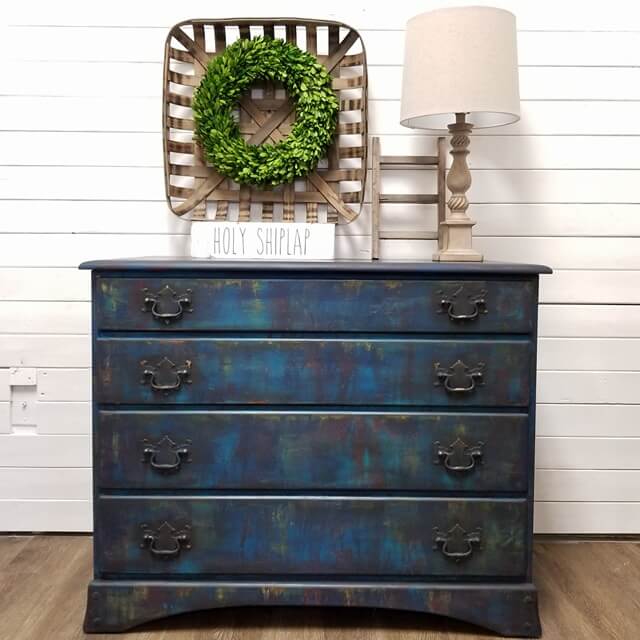 #1 Decorative scalloped top antique painted blue china cabinet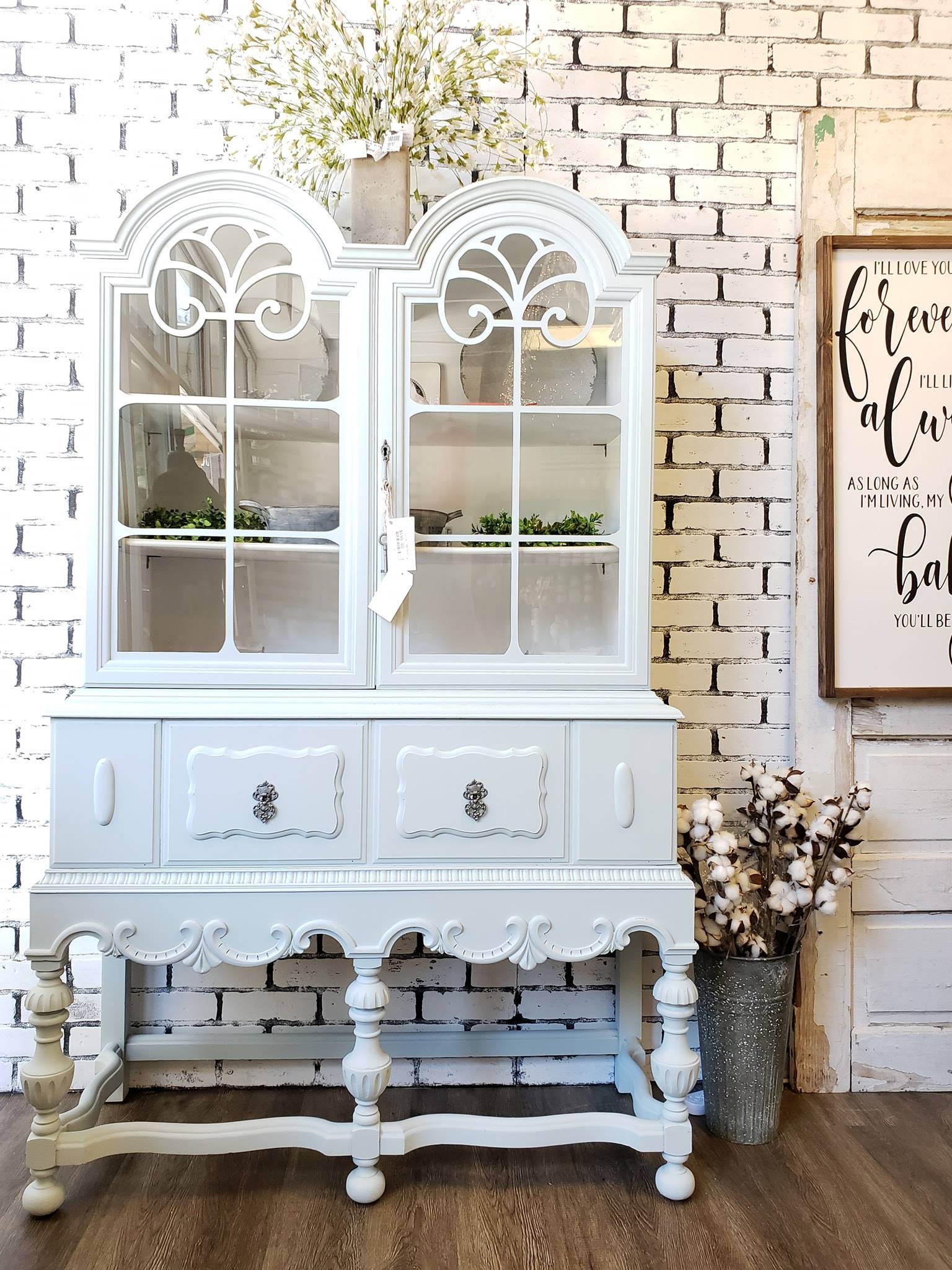 This post is not going to show you how to paint furniture or even break down all the details, I have a ton of photos of painted furniture from when I had my brick and mortar store that I figured, why not share with others.
They are not inspiring a single person stored on my phone! So, I will be putting together several posts grouping together painted furniture ideas and examples. Plus maybe some of the ways I staged my store might inspire you too with the decorations.
#2 Olive Green China cabinet with drop down drawer
I know my store had a very farmhouse-style feel but I encourage you to think outside the box. Just because it might be decorated in a shabby chic or farmhouse way does not mean that piece of furniture can not be used in a mid-century modern or rustic industrial home style.
#3 Mid Century Modern China cabinet painted black
This post is basically like a photo album. I will add details as I can remember them. Some of these pieces of furniture were painted by former vendors in my store.
I will note that also. I want to clarify I did not paint all of the pieces of furniture that I am going to share with you.
Most of the furniture was painted using DIXIE BELLE, DIY Paint, or paint we made ourselves.
#4 White French Provincial China Cabinet with black interior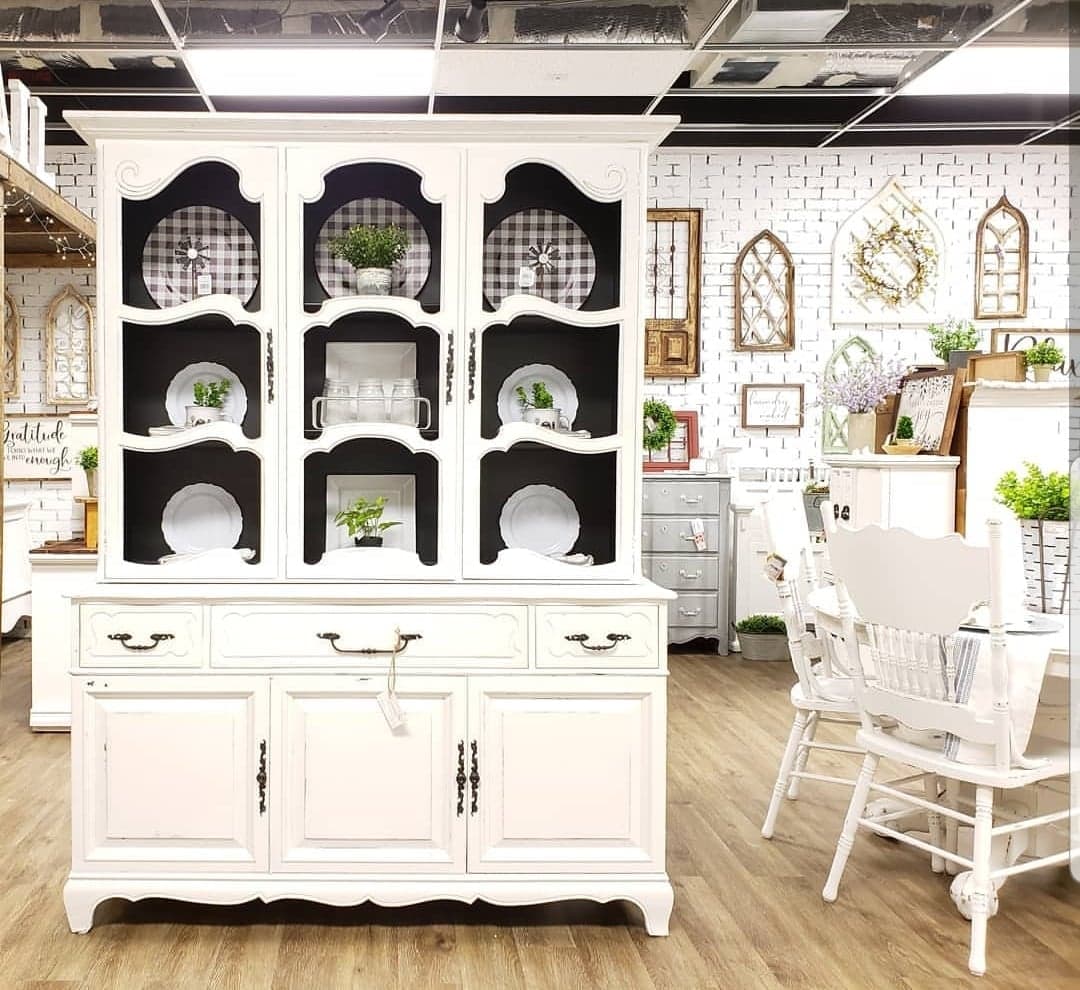 *Furniture and Home Decor shown in this blog post are not available for purchase. All items have been sold and are not available.
#5 Custom built farmhouse hutch stained wood and paint white
In this post, I am sharing examples of the chalk-painted hutch, chalk-painted china cabinets, chalk painted furniture to inspire you for your dining room areas.
PIN THIS ON PINTEREST
#6 Gorgeous China cabinet painted gray with white distressing
Before you paint your own furniture please do research and become familiar with how to paint furniture and how to care for painted furniture.
#7 Stunning white open china cabinet with glass shelves painted white
Chalk Painted Hutch and China Cabinet Ideas and Inspiration for any style home. Y
ou can certainly decorate your home with any color you like and add whatever decorations you want to enhance the look you are going for. These are some chalk-painted furniture ideas to inspire you.
#8 European style decorative china cabinet with tons of detail painted blue and distressed
#9 French provincial china cabinet painted white with antique wax distress
#10 Shabby chic open hutch with distressed shiplap
#11 Country chic hutch painted white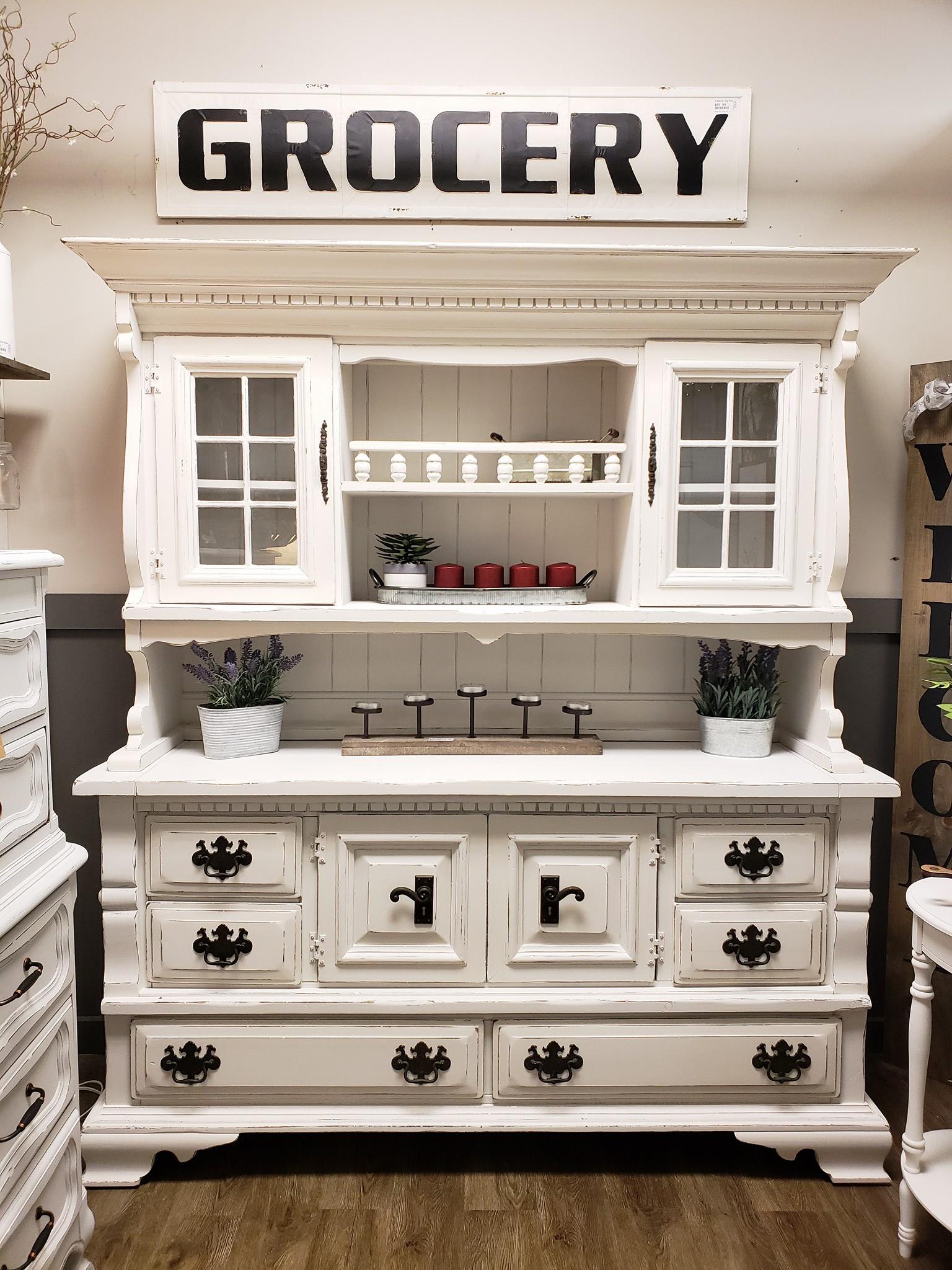 #12 Large China cabinet painted with glass shelves
#13 Small white farmhouse country style hutch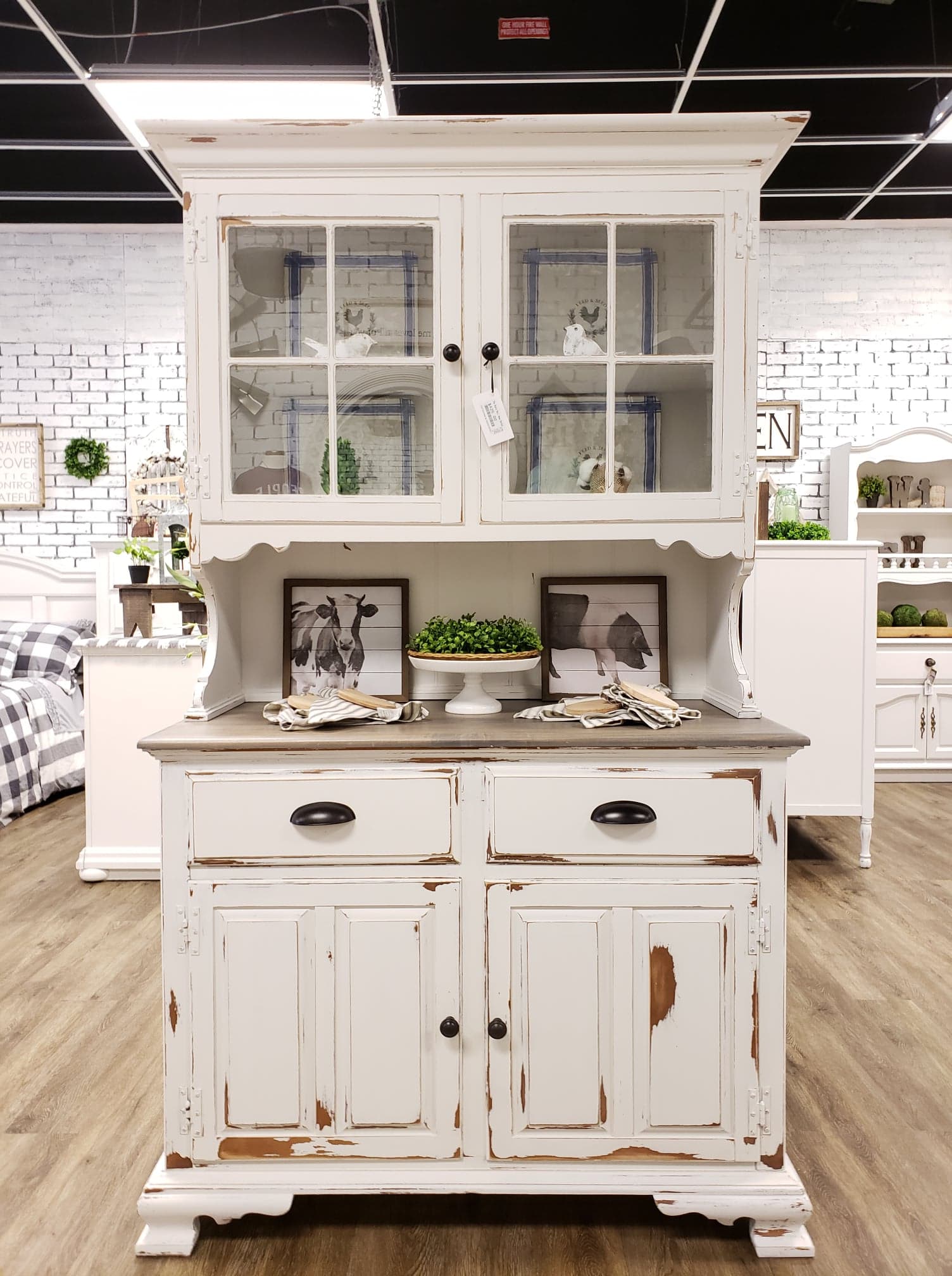 #14 Modern Farmhouse style hutch painted gray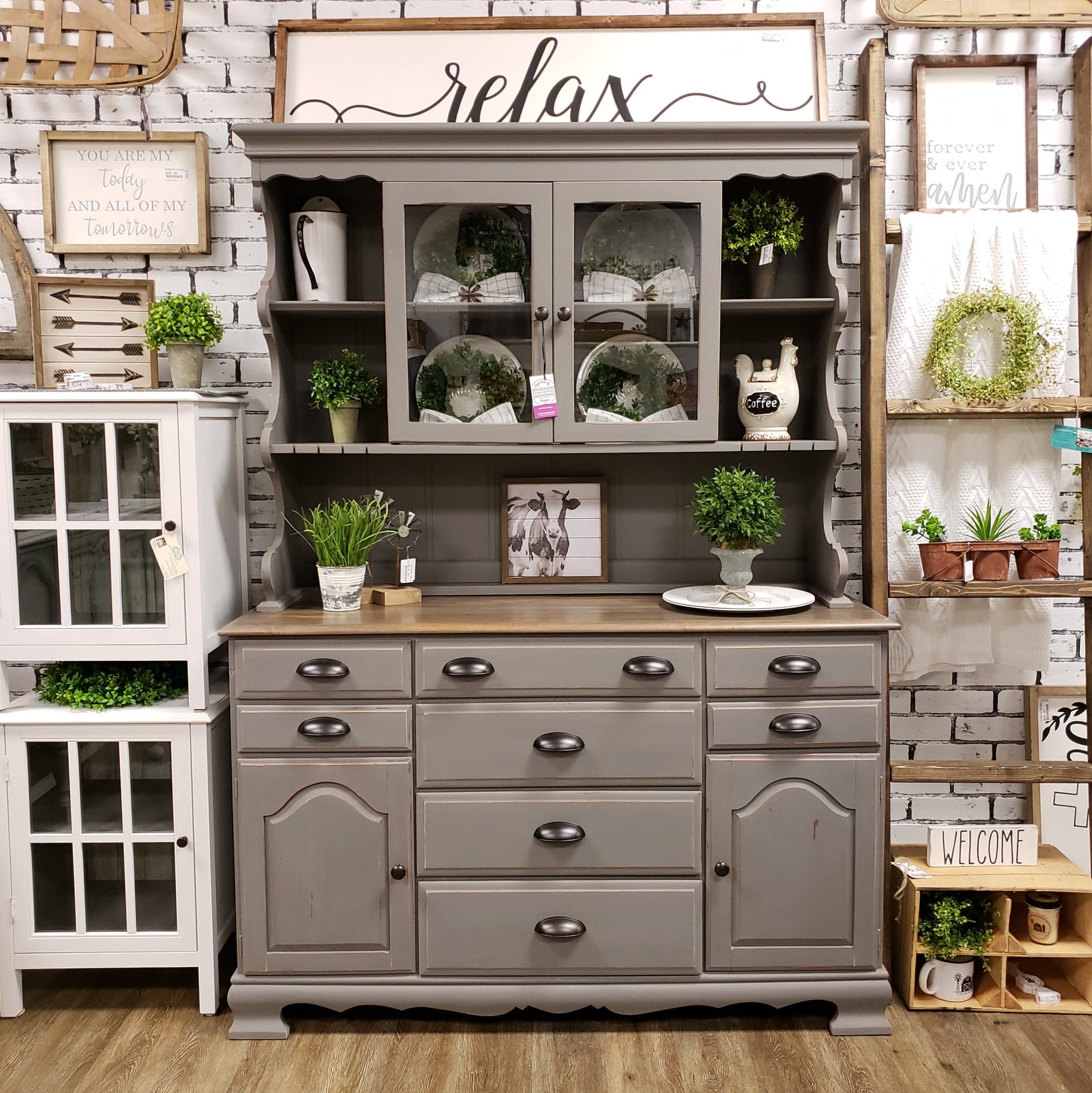 #15 French country Mid-century Modern White hutch with wallpaper back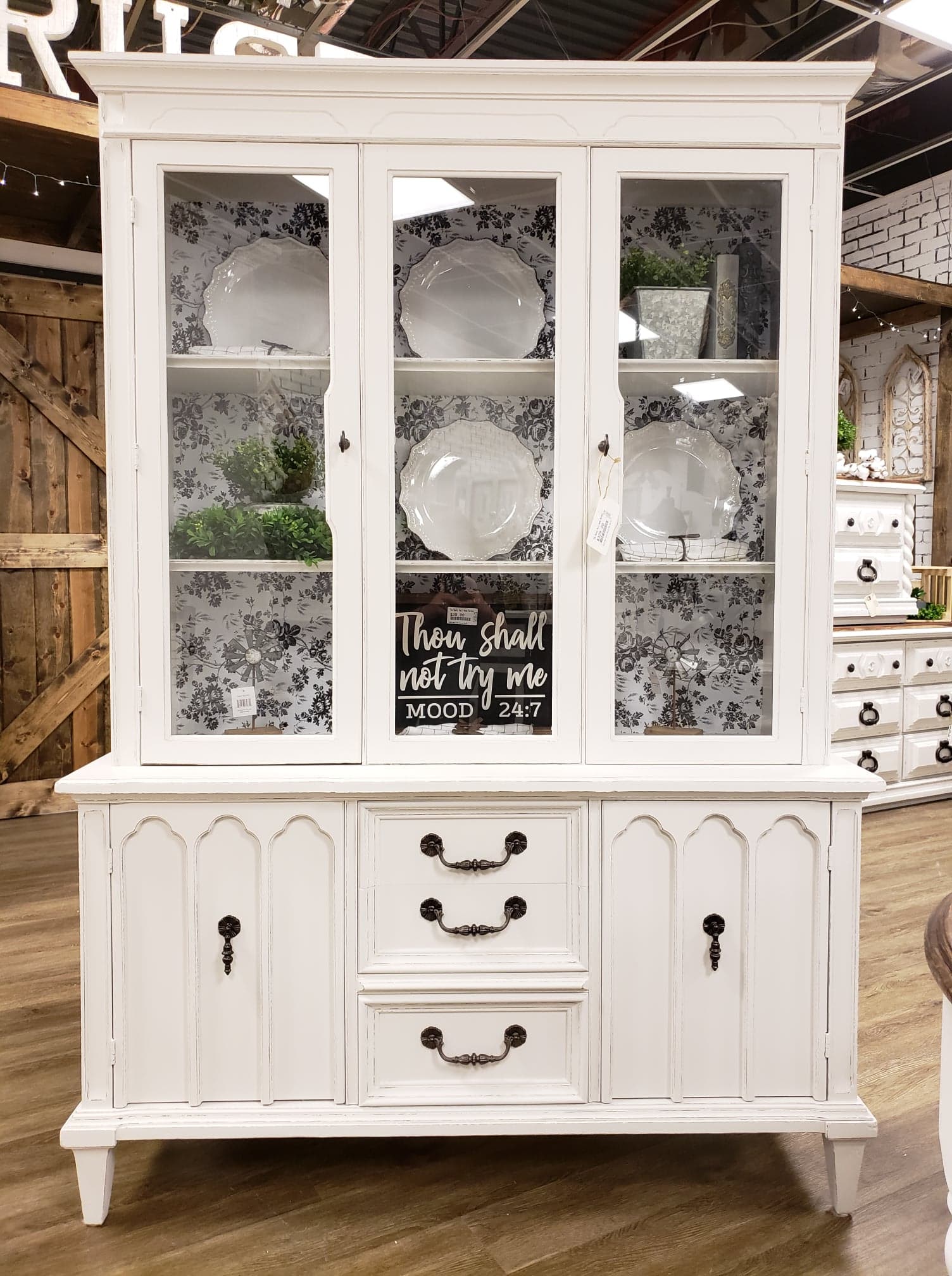 PIN THIS ON PINTEREST
#16 Large White arched china cabinet painted white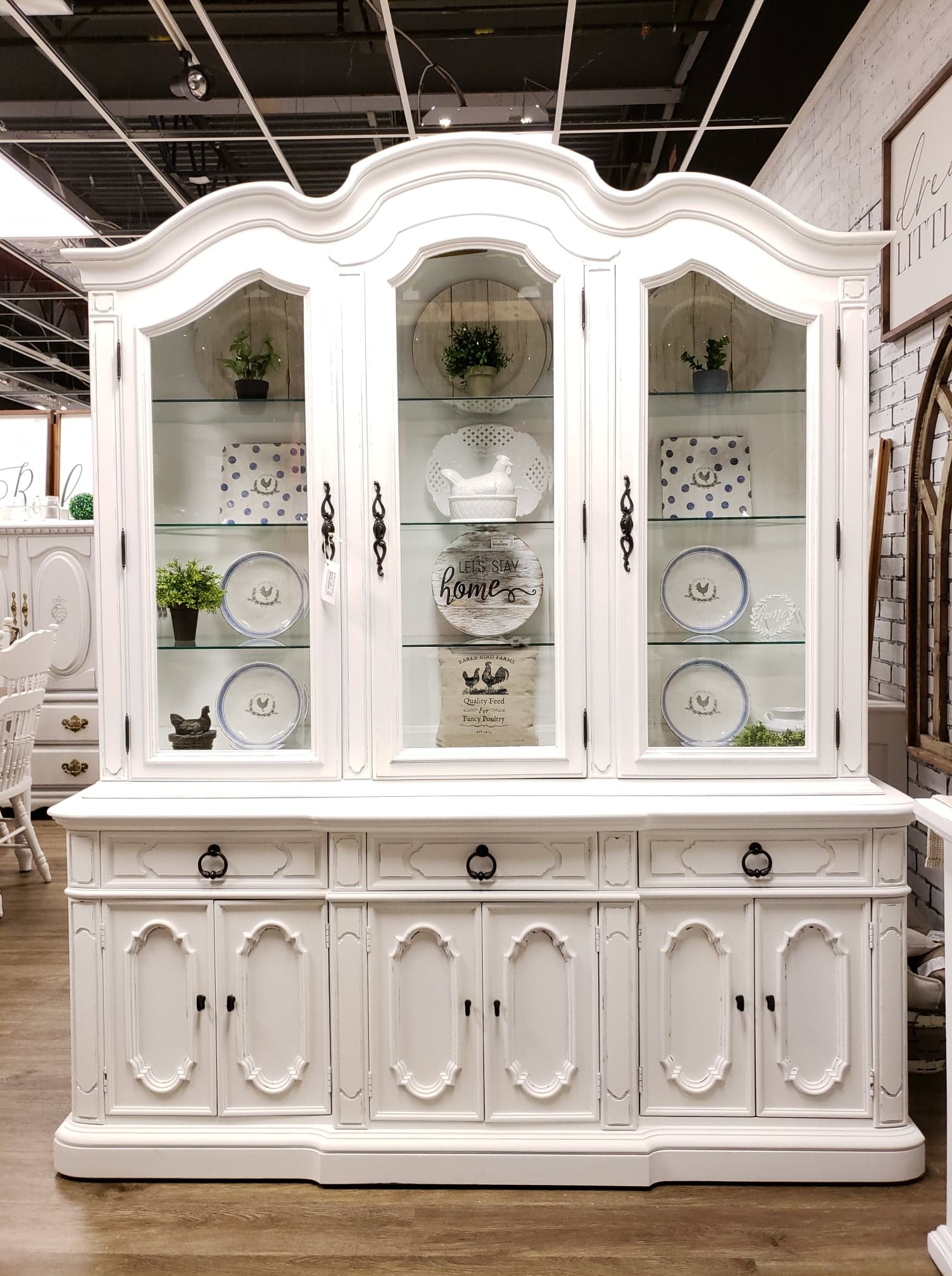 #17 Beautiful large white china cabinet with decorative doors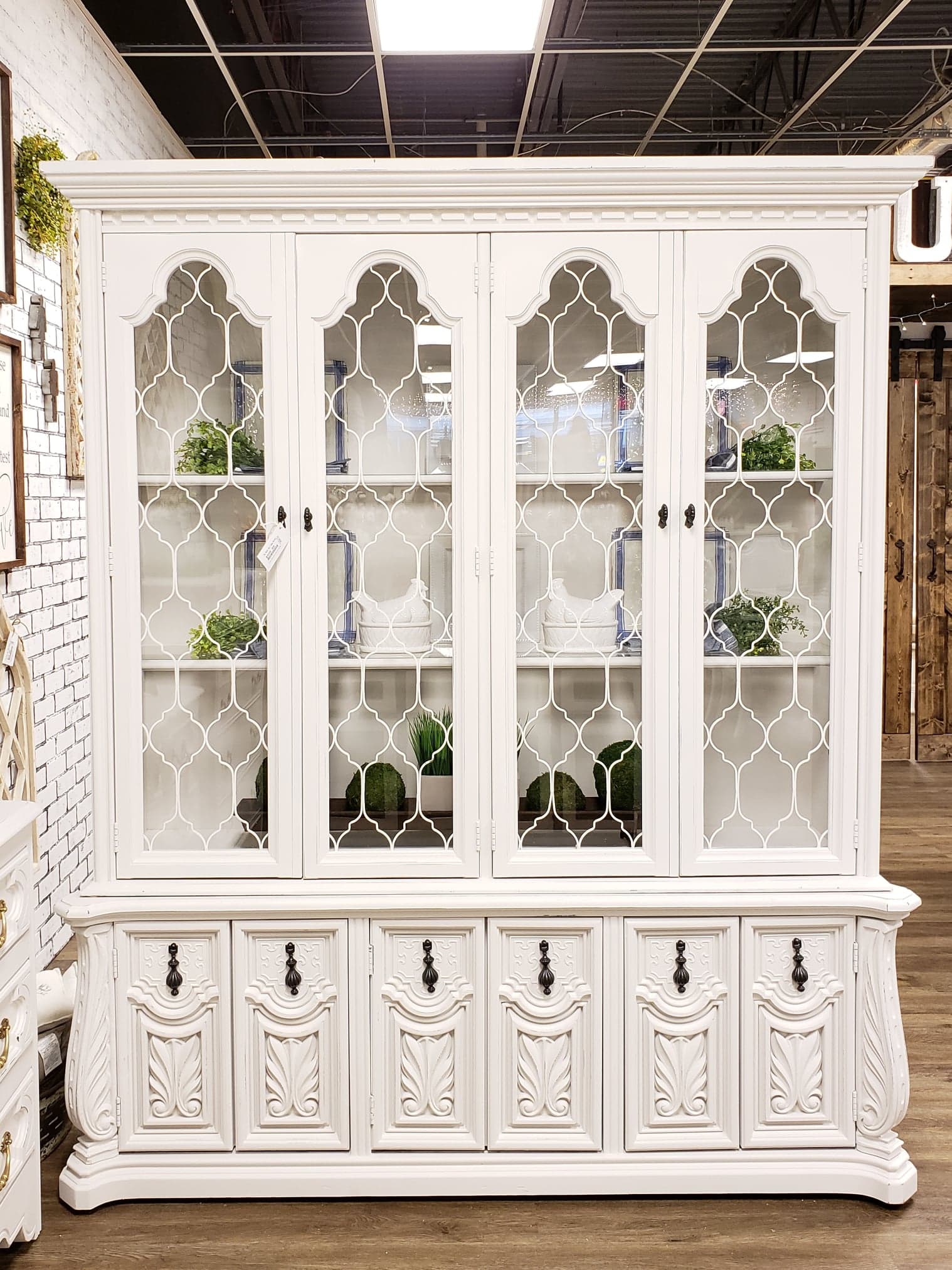 #18 Light blue distressed open farmhouse hutch with shutter doors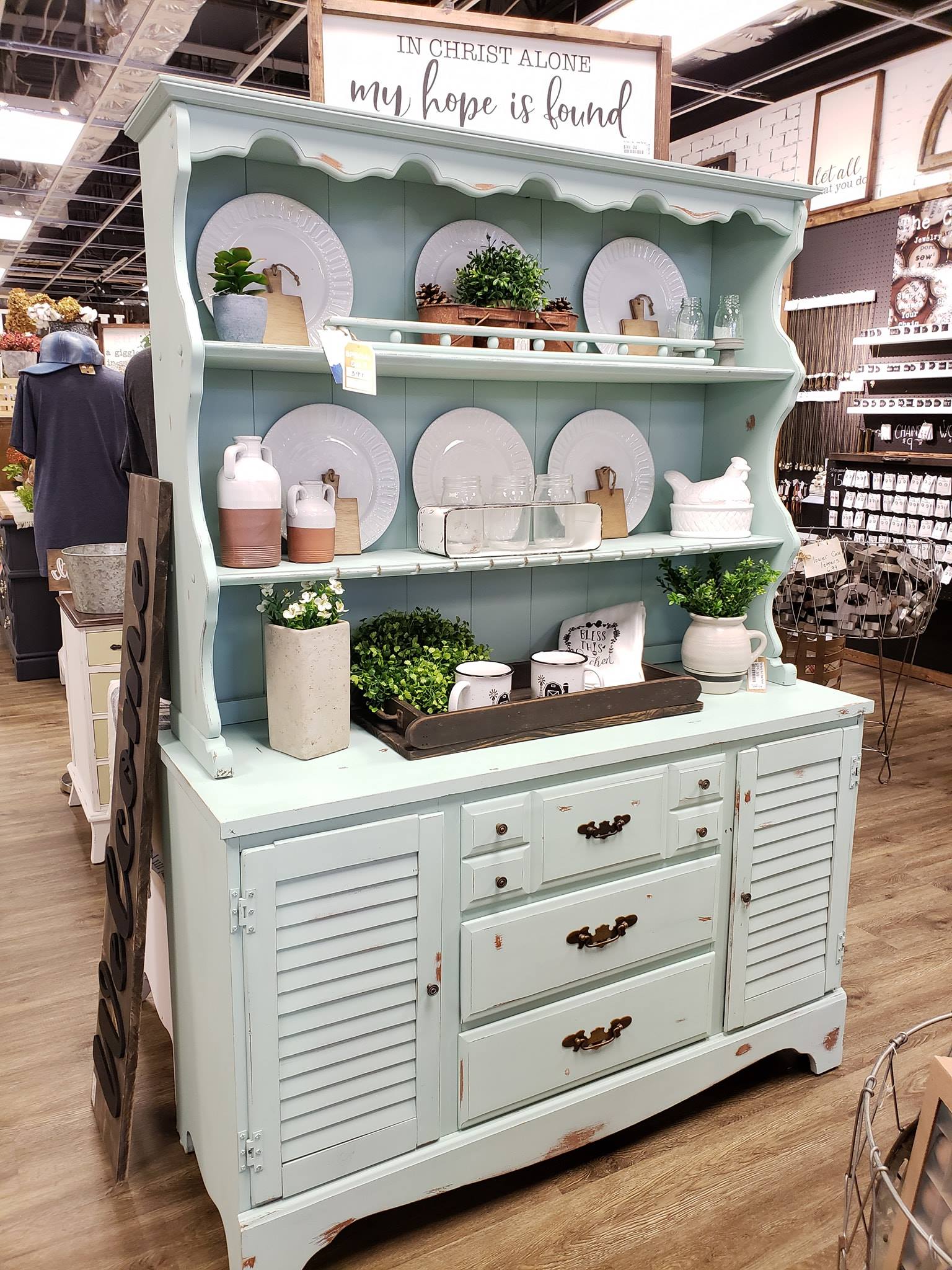 #19 French provincial hutch painted white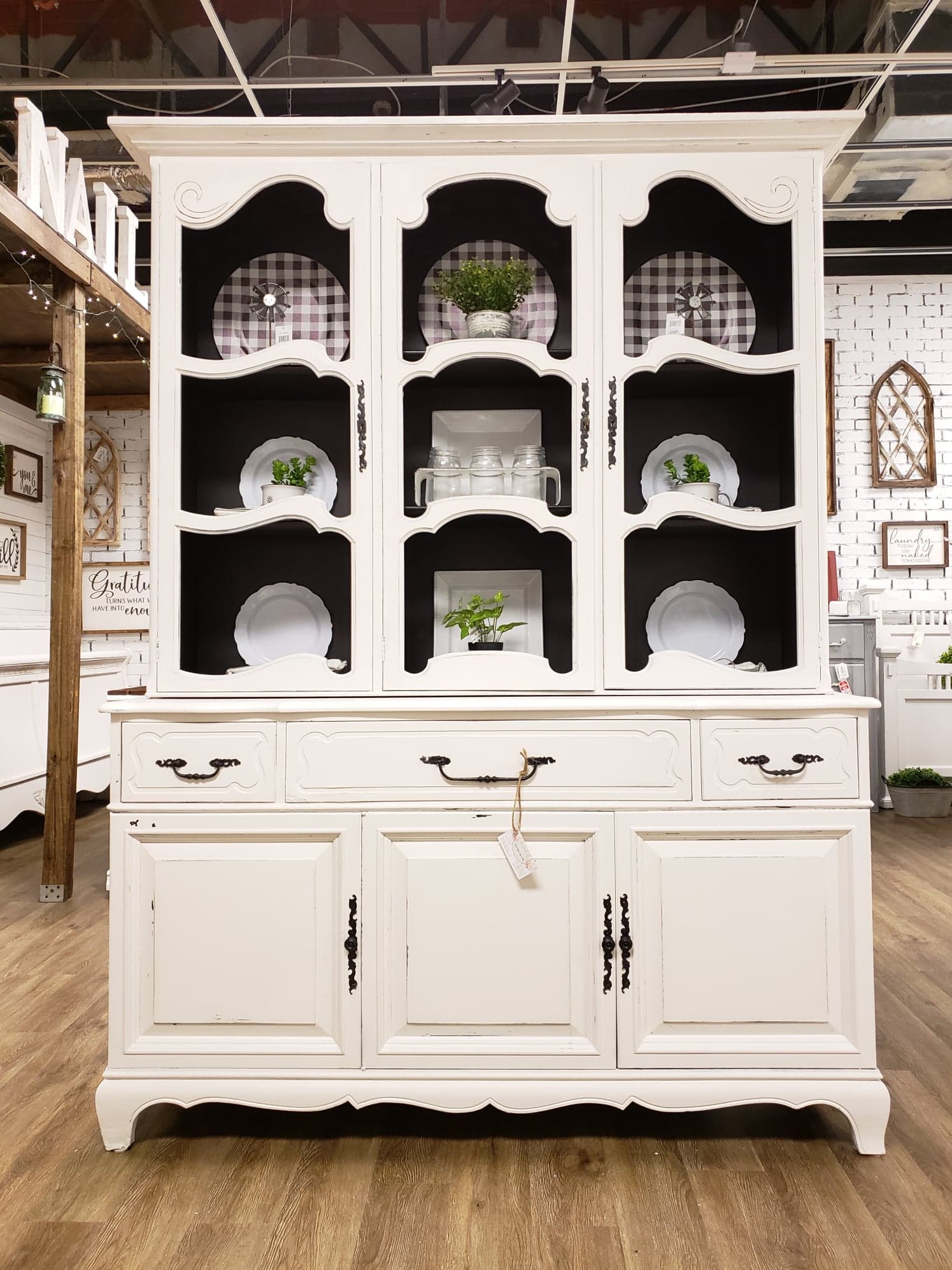 Chalk Painted Hutch and China Cabinet Ideas to inspire your home decorating journey
#20 French Provincial tall china cabinet painted blue
#21 French Provincial Style china cabinet painted white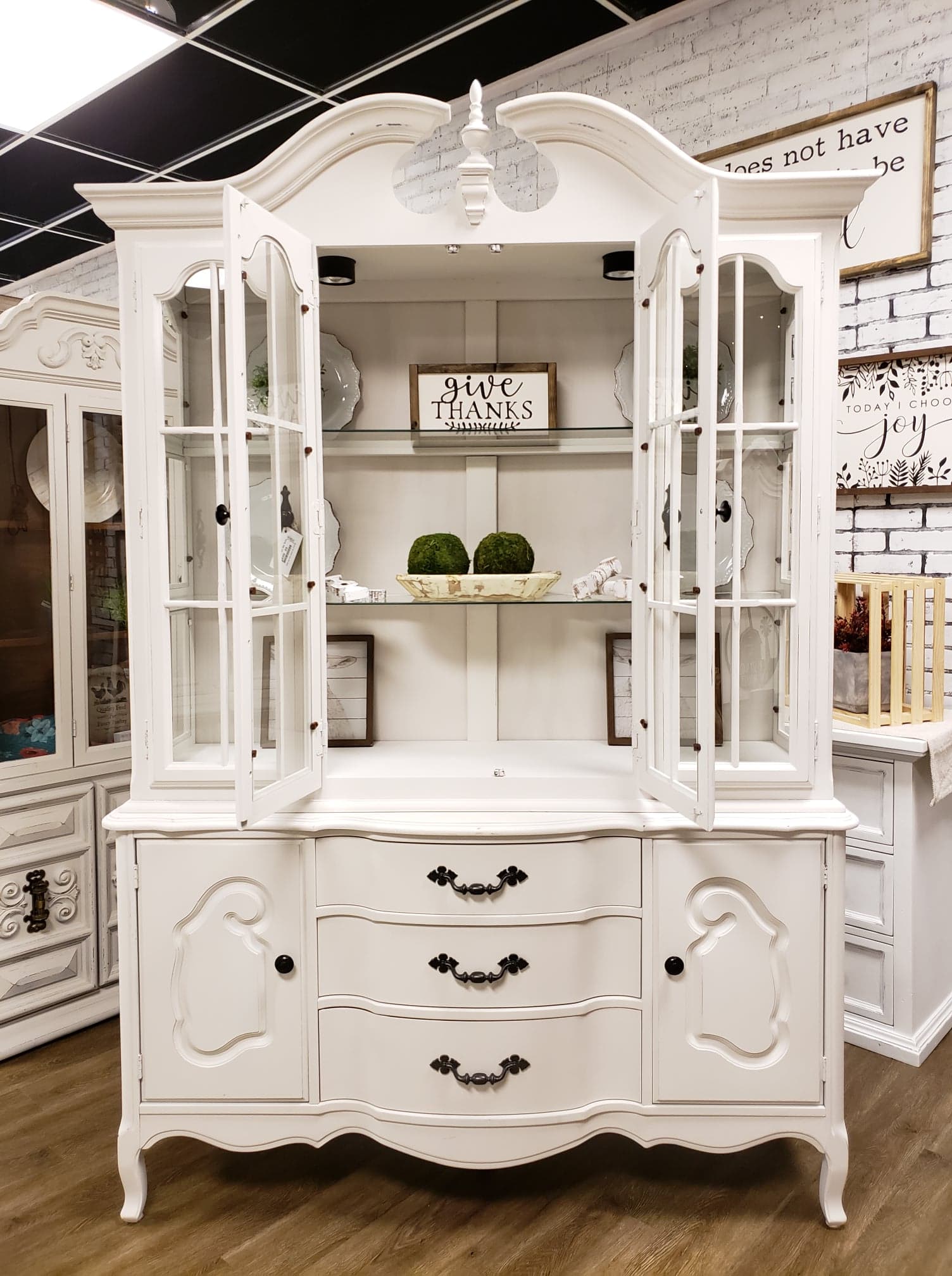 #22 French provincial china cabinet painted white with wood back
#23 Custom built open farmhouse hutch with barn doors
#24 French Provincial China cabinet painted white and distressed Farmhouse style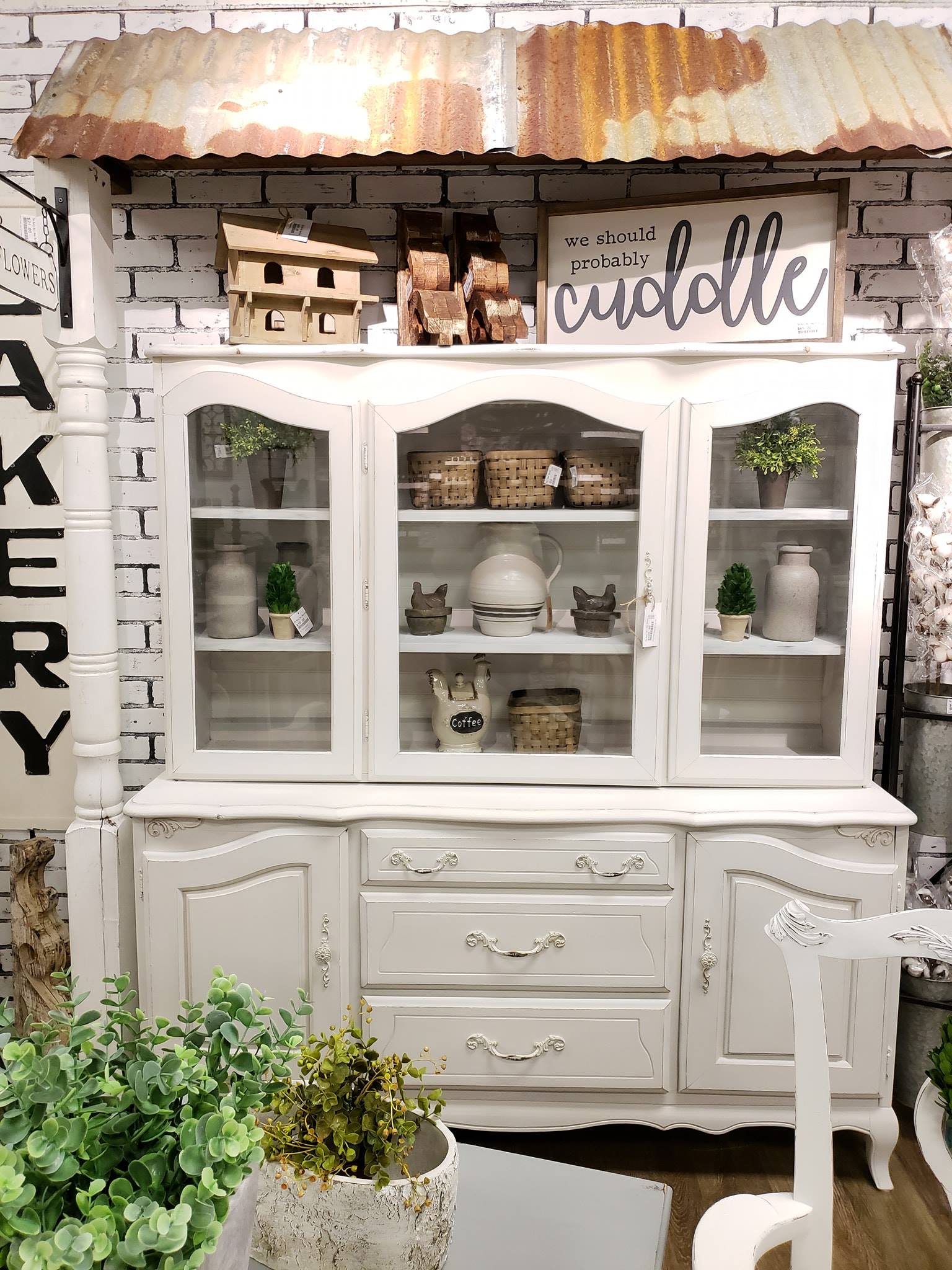 #25 Open farmhouse country hutch painted green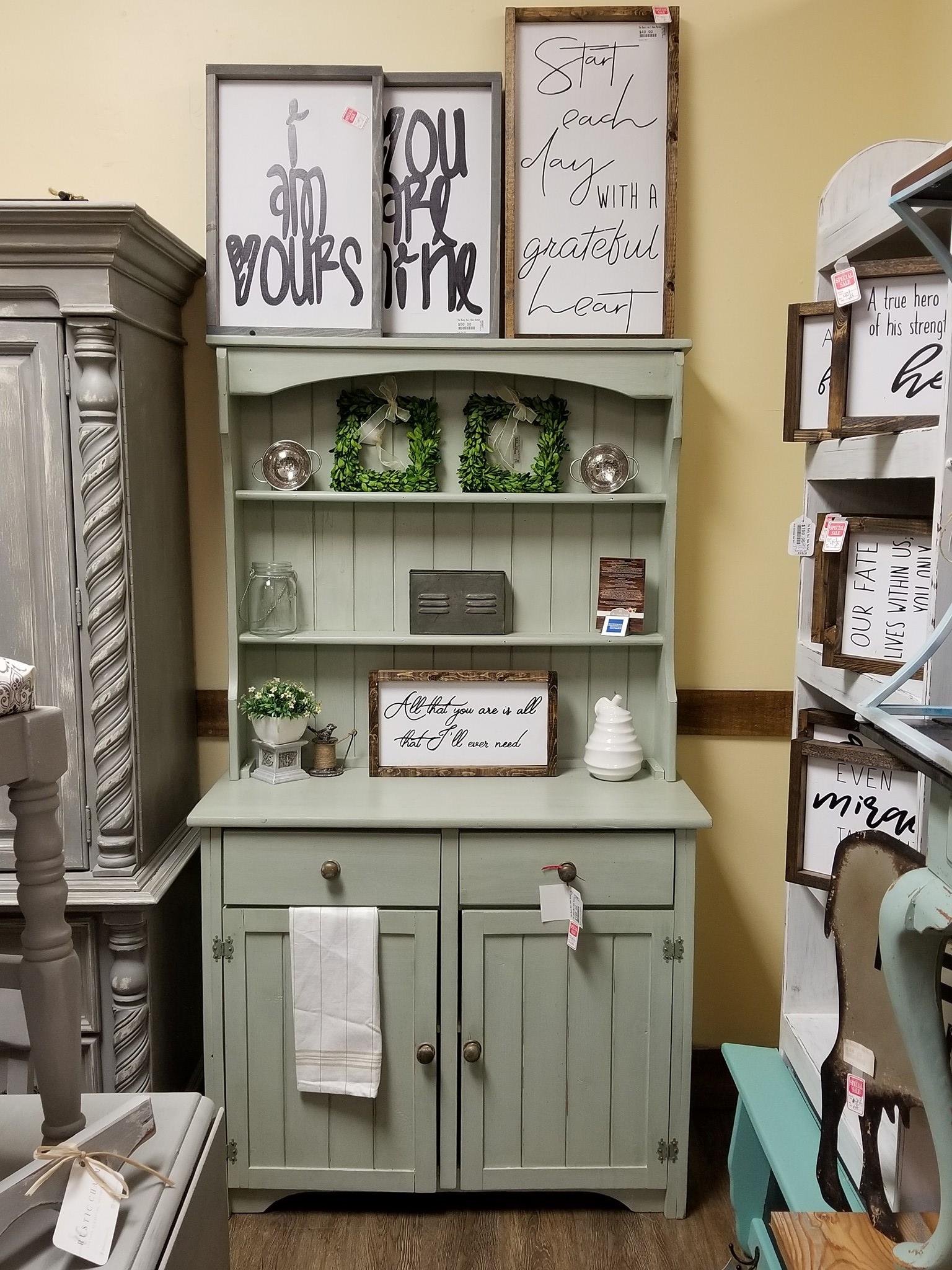 #26 Farmhouse hutch painted gray with doors removed
#27 1980s style hutch painted white and distressed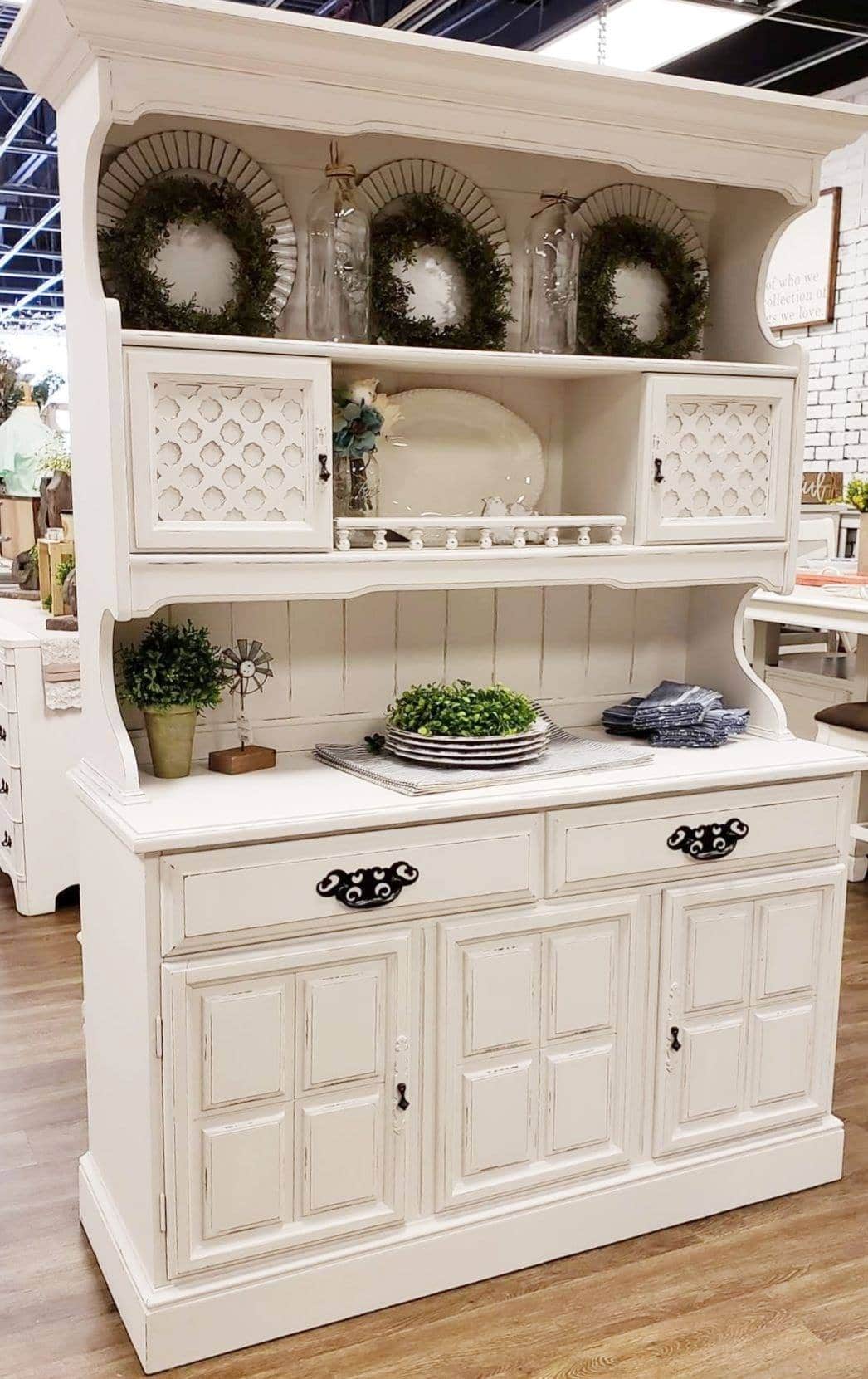 #28 Farmhouse hutch painted black with heavy distress
More Chalk Painted Hutch and China Cabinet Ideas
#28 Farmhouse hutch with glass doors painted white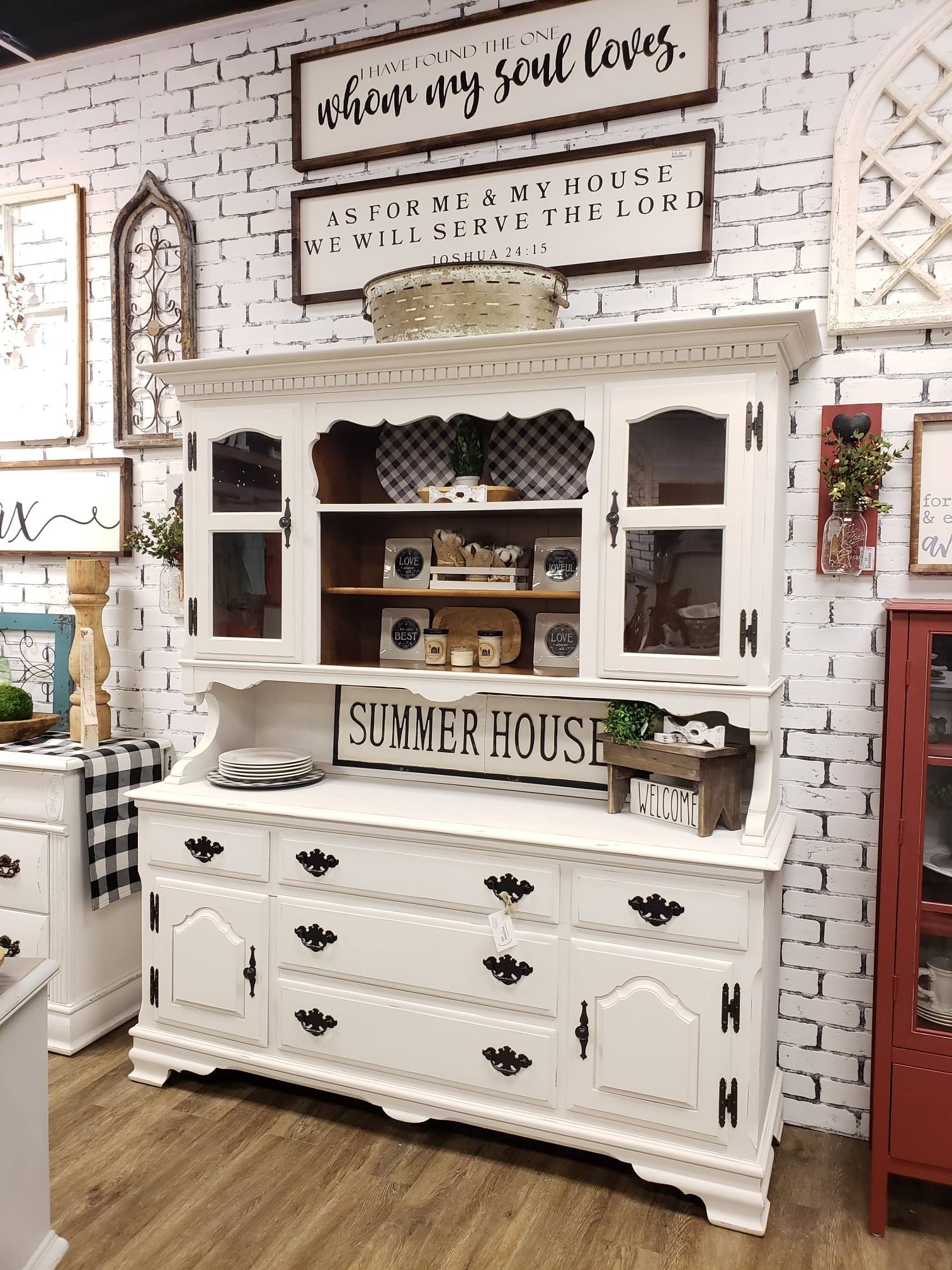 #29 Farmhouse Hutch painted barn red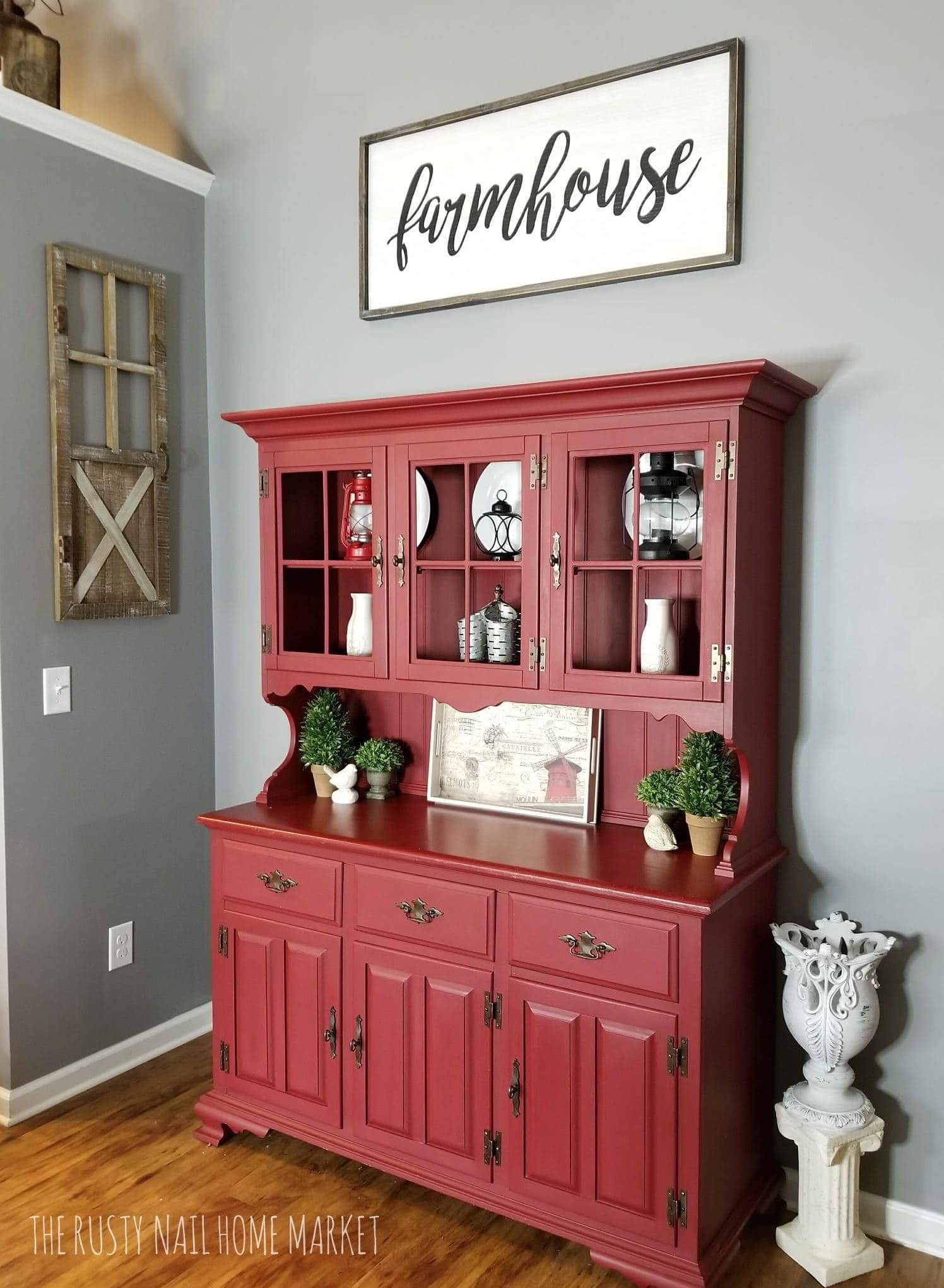 PIN THIS ON PINTEREST
#30 Open hutch painted white very farmhouse or Modern Farmhouse Style
#31 Farmhouse hutch painted white with chicken wire in the doors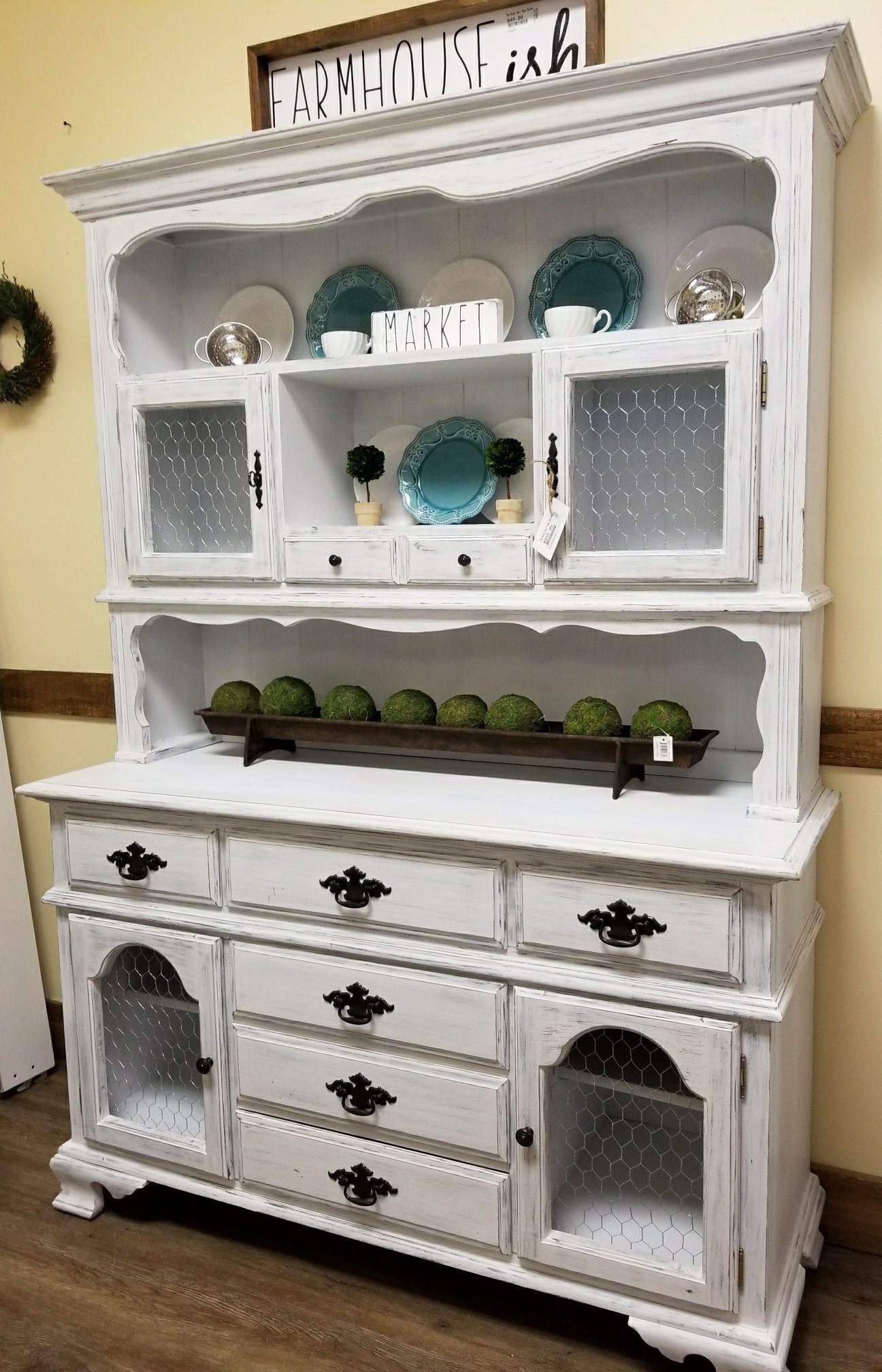 #32 Distressed white farmhouse hutch with mirror in the middle
#33 Decorative shabby chic hutch painted white and distressed
#34 White painted farmhouse hutch with glass doors and beadboard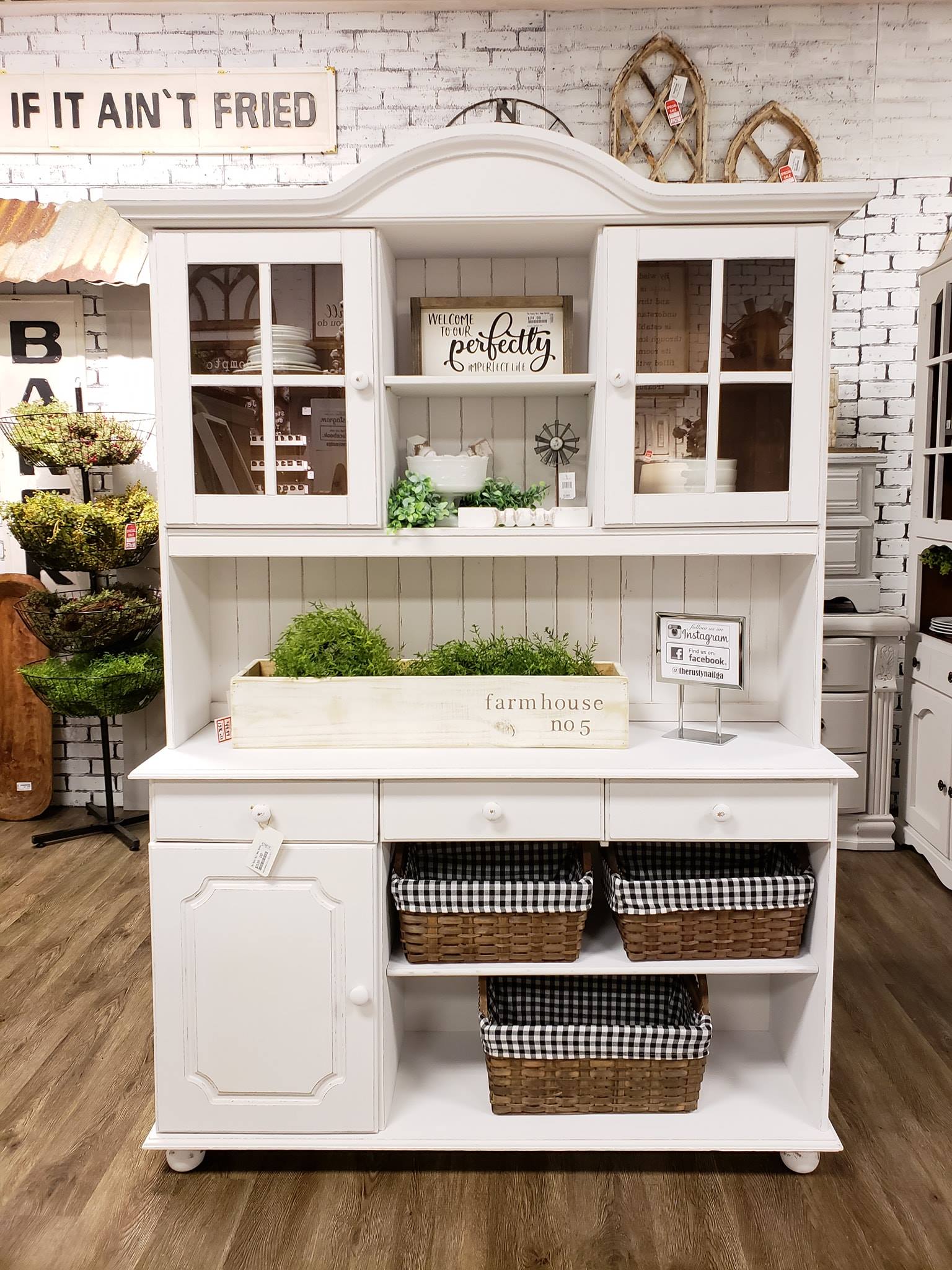 #35 Open farmhouse hutch with round top distressed shiplap
#36 White open hutch with drawers distressed details and trim
#37 Open hutch painted green with distressed shutter doors
#38 Tall French Provincial China Cabinet painted white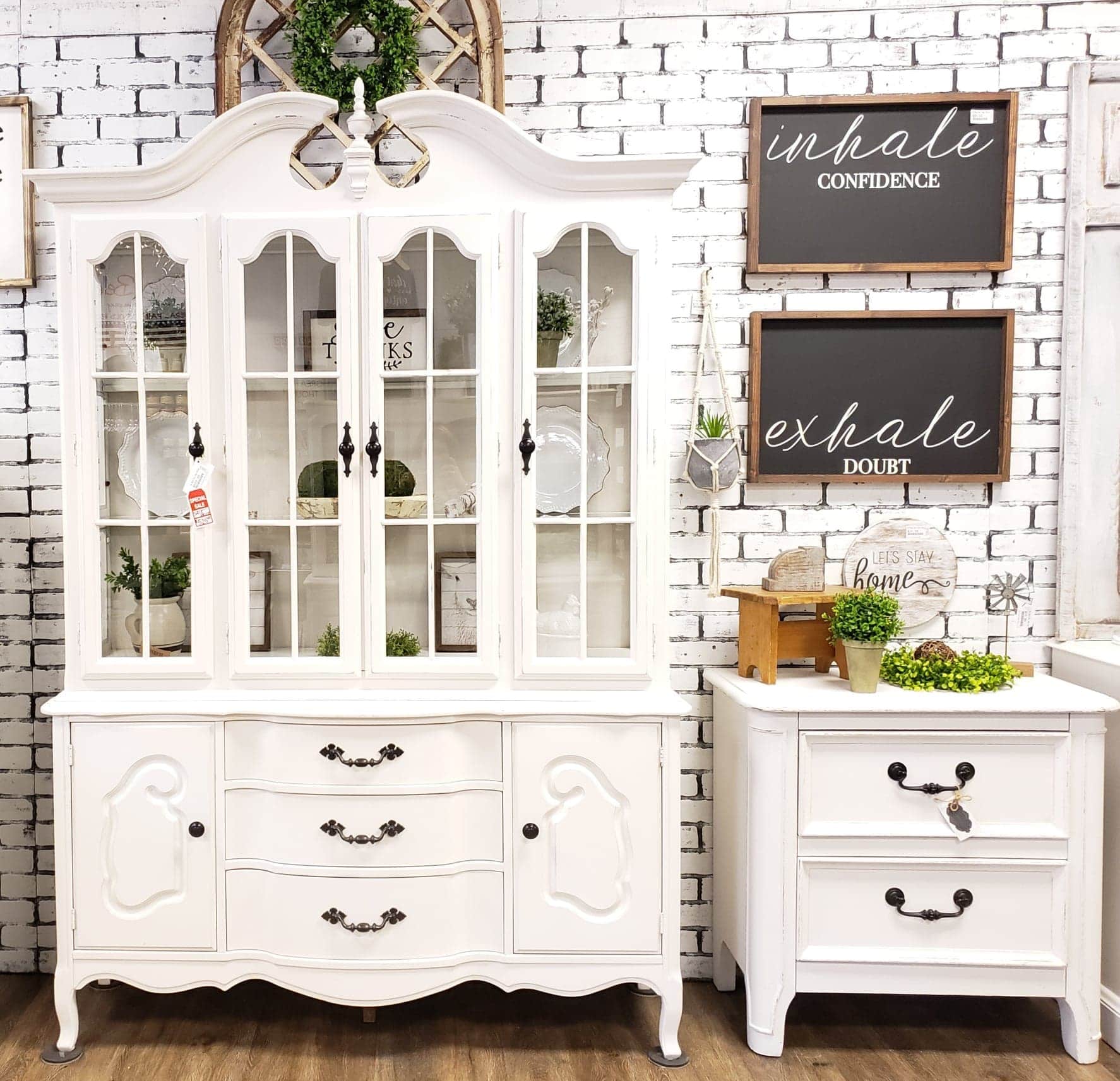 #39 Large white hutch with glass doors
#40 Country china cabinet painted black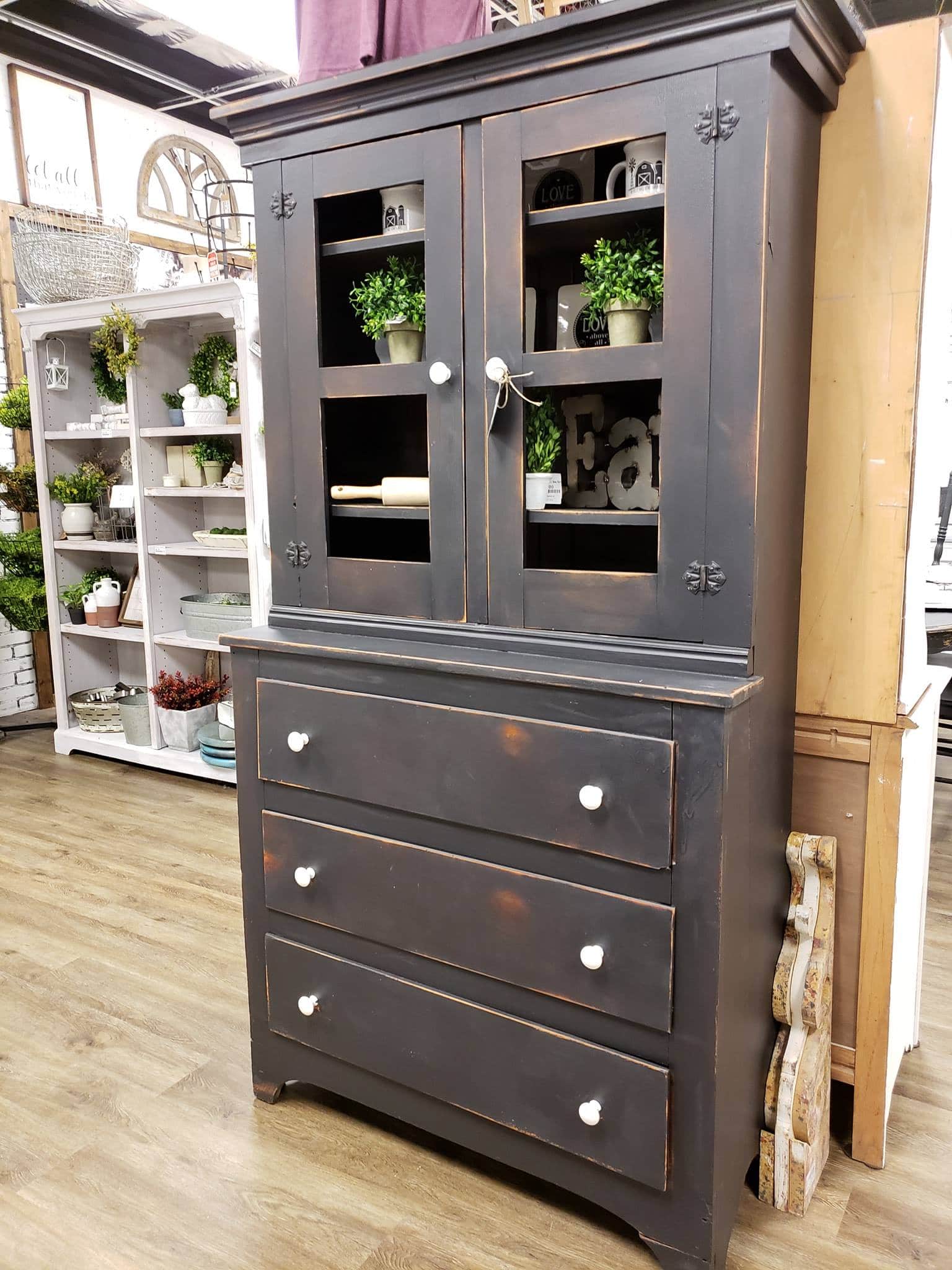 #41 Farmhouse Hutch with shutter doors painted white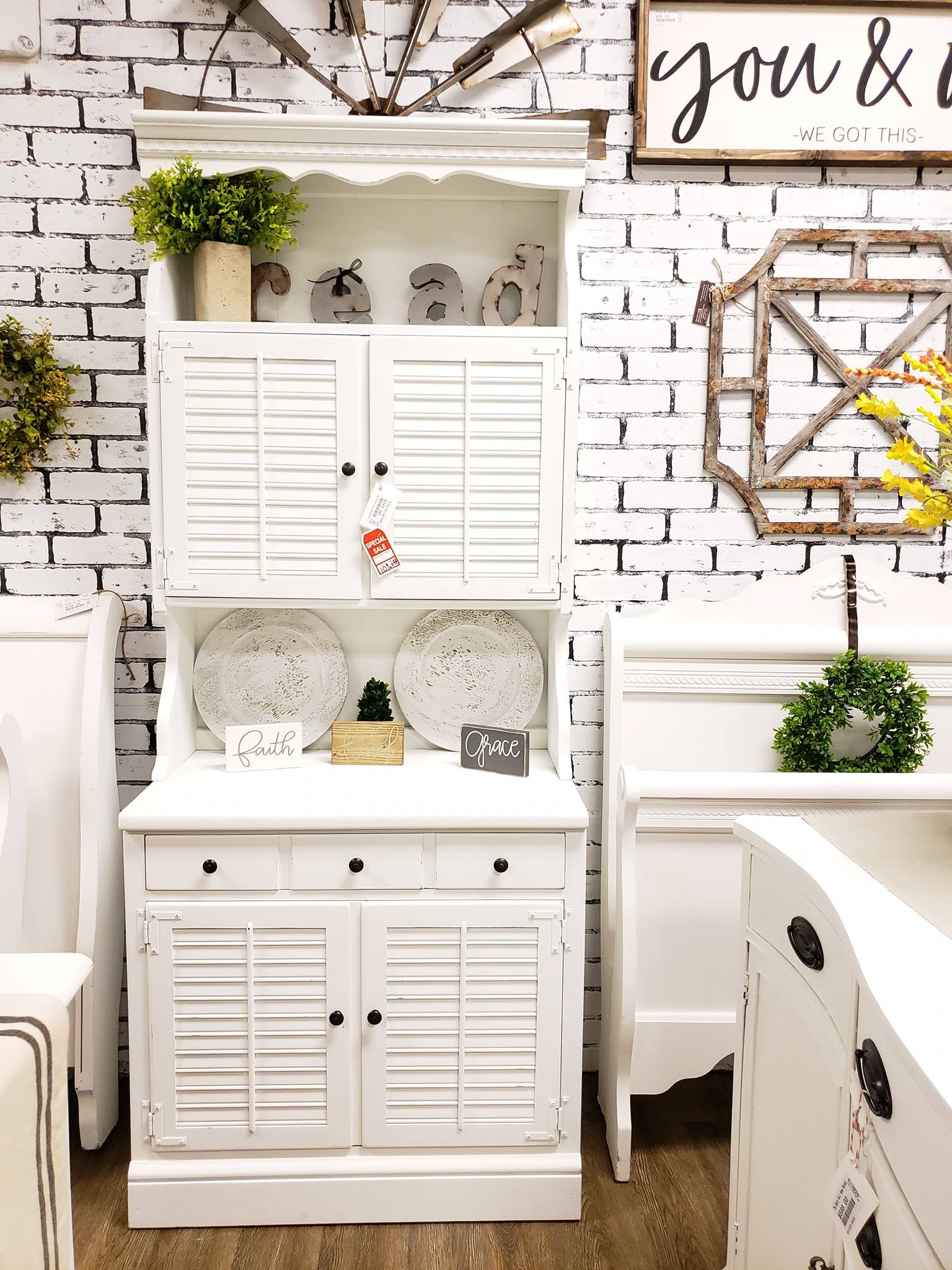 #42 White Open hutch with beadboard and cotton fabric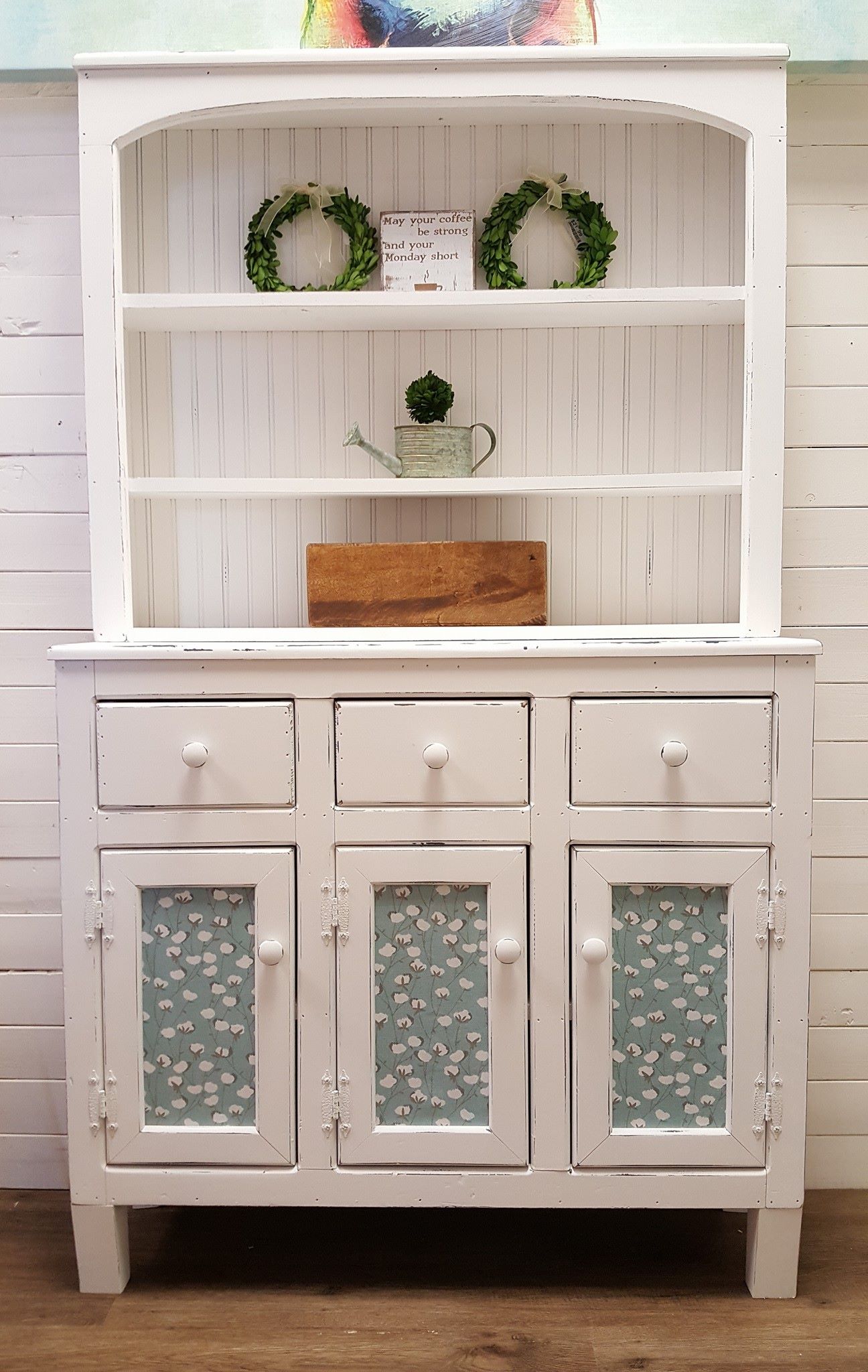 #43 Gorgeous farmhouse hutch with stained top
#44 Large Farmhouse Hutch with open bottom
#45 Navy blue corner china cabinet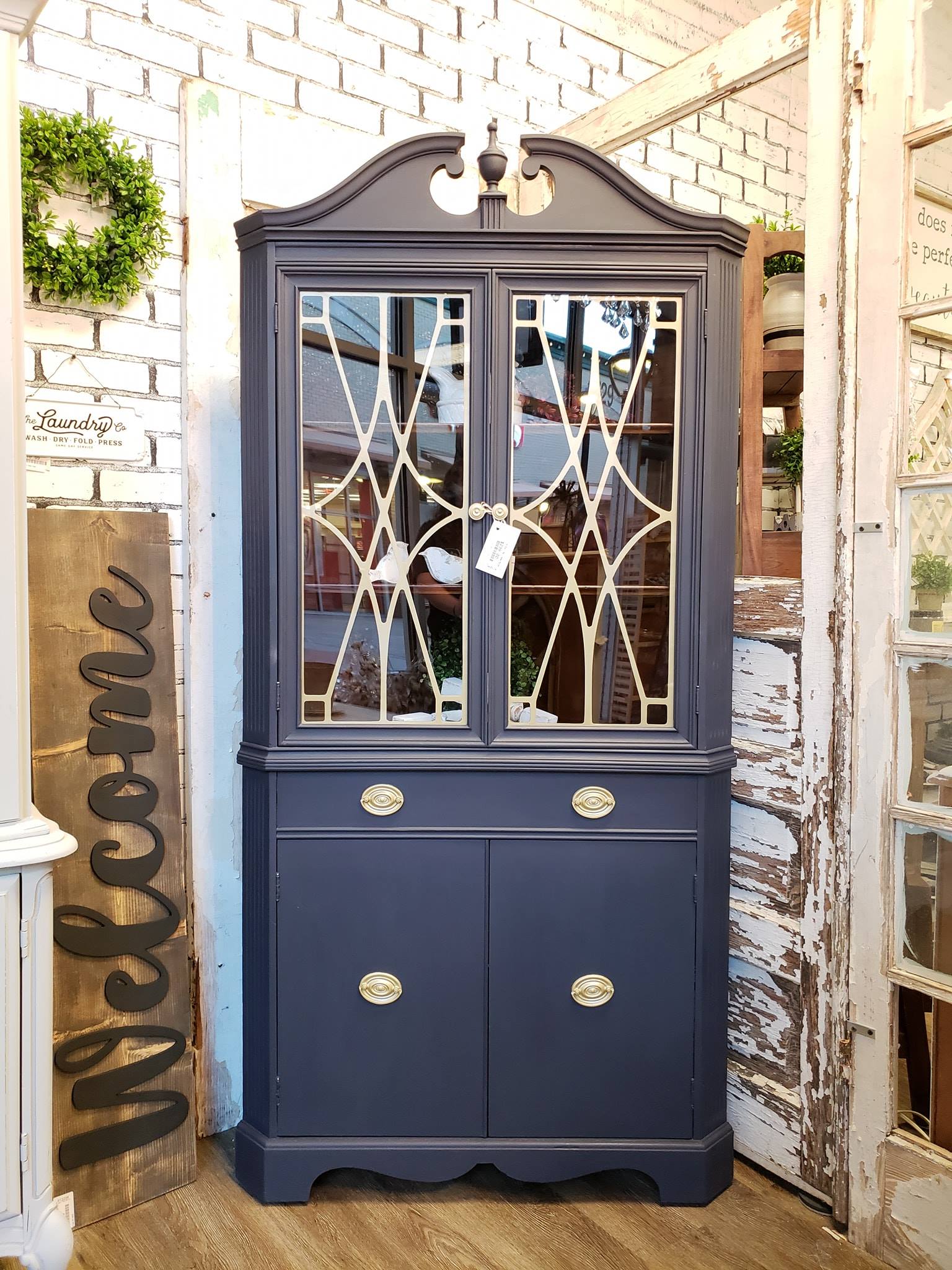 I hope that you found some inspiration, especially if you have an old china cabinet or hutch that's in need of a major revamp or a simple makeover!
I would love to know which one was your favorite and If you have a painted hutch or china cabinet you would like me to add to this post send them to us! We would love to share even more ideas!
Pin this for later!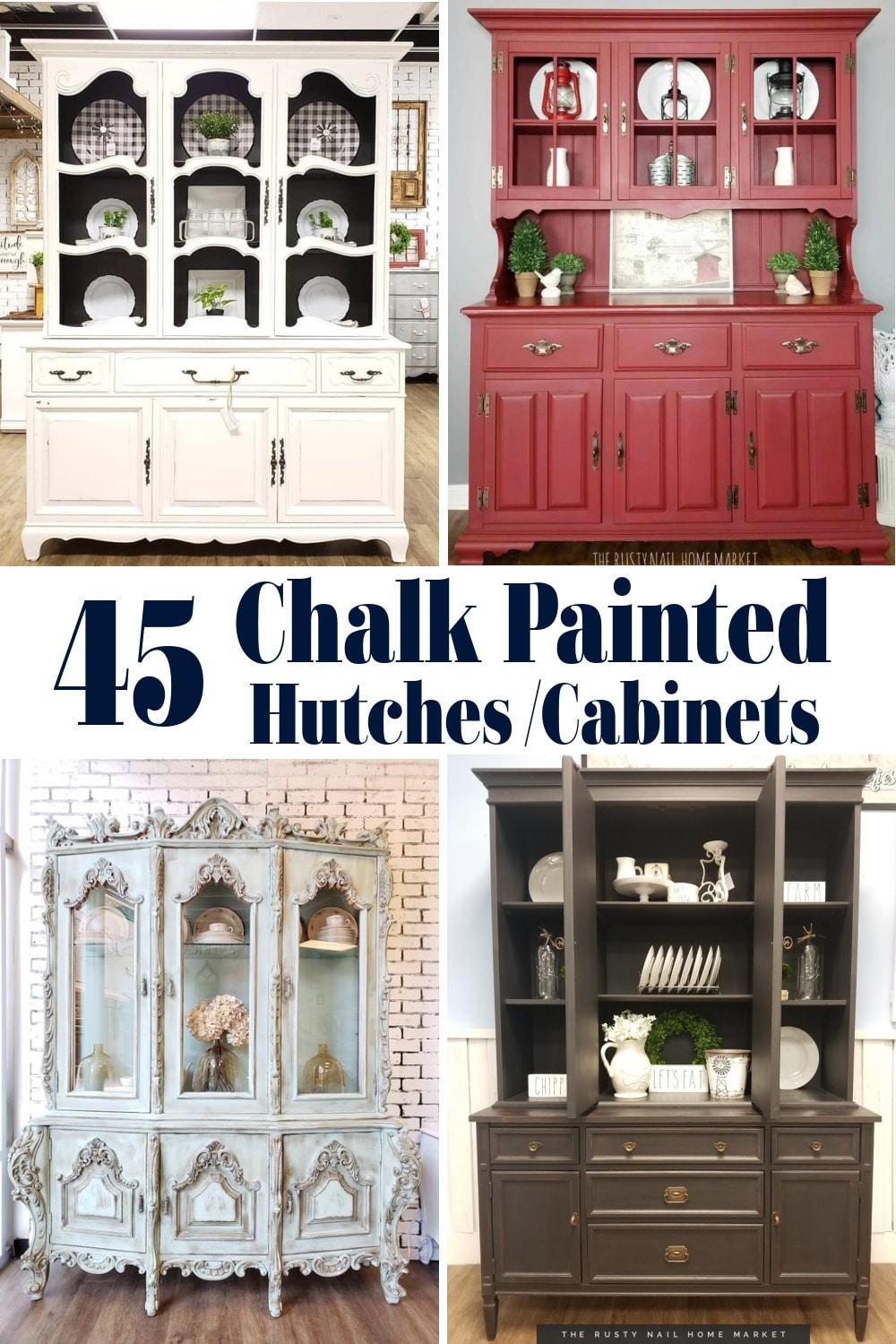 By the way, if you love decorating and DIYs, You should totally join my FREE Facebook group called On A Budget Crafts! It is a judgment-free community for DIY crafters to show off their projects and decorating ideas.
Thanks for stopping by! XOXO Amber
You can also shop my ENTIRE AMAZON Favorites shop just click here! It's packed full of all the things I use and love. Here is the supply list I highly recommend every creative have on hand!!
Would you also pin my blog for later and get on my newsletter alerts? I would love to have you join my #craftycrew.
Inspired? Leave me a comment below! I love hearing from my readers! Are you a blogger? Feel free to link back to this post and I will do the same!
PIN FOR LATER