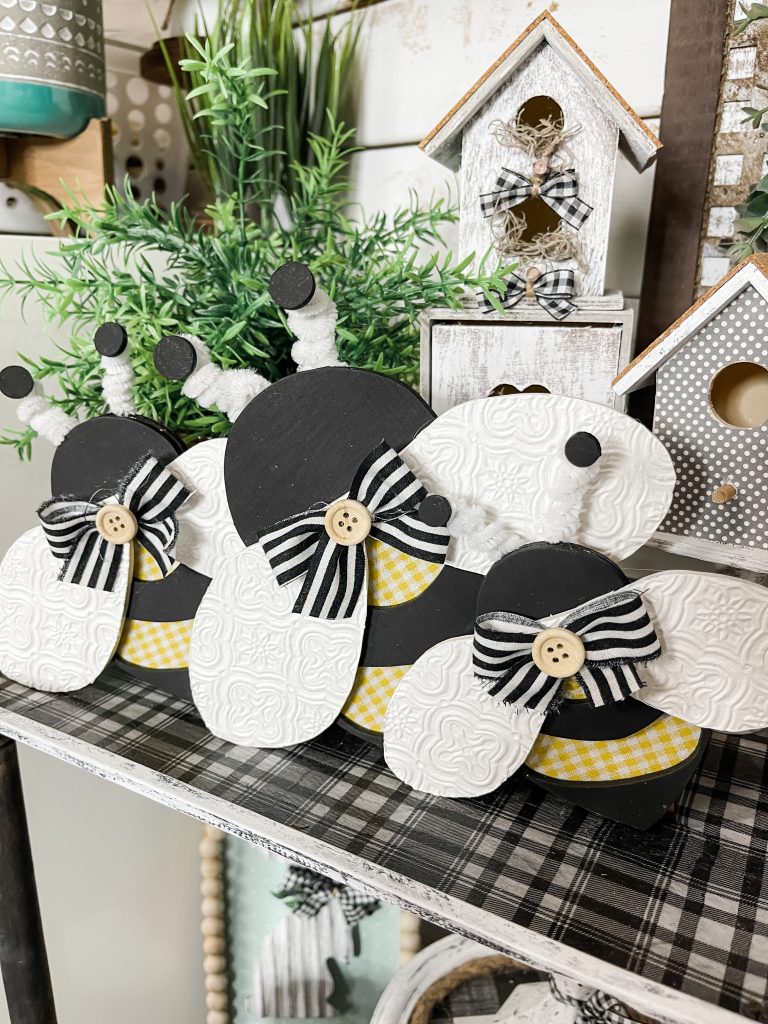 These bumblebees from my Bumblebee Craft Kit DIY are so stinking cute! I seriously can't take it! The kit comes as a trio so you get all three of the bees shown, and they're unfinished so you get to decorate them however you want to!
If you like to DIY, then you have to check out these craft kits! They are unfinished wood and unassembled so you get to completely customize and personalize them to your taste!
Check out the other craft kits available in my shop!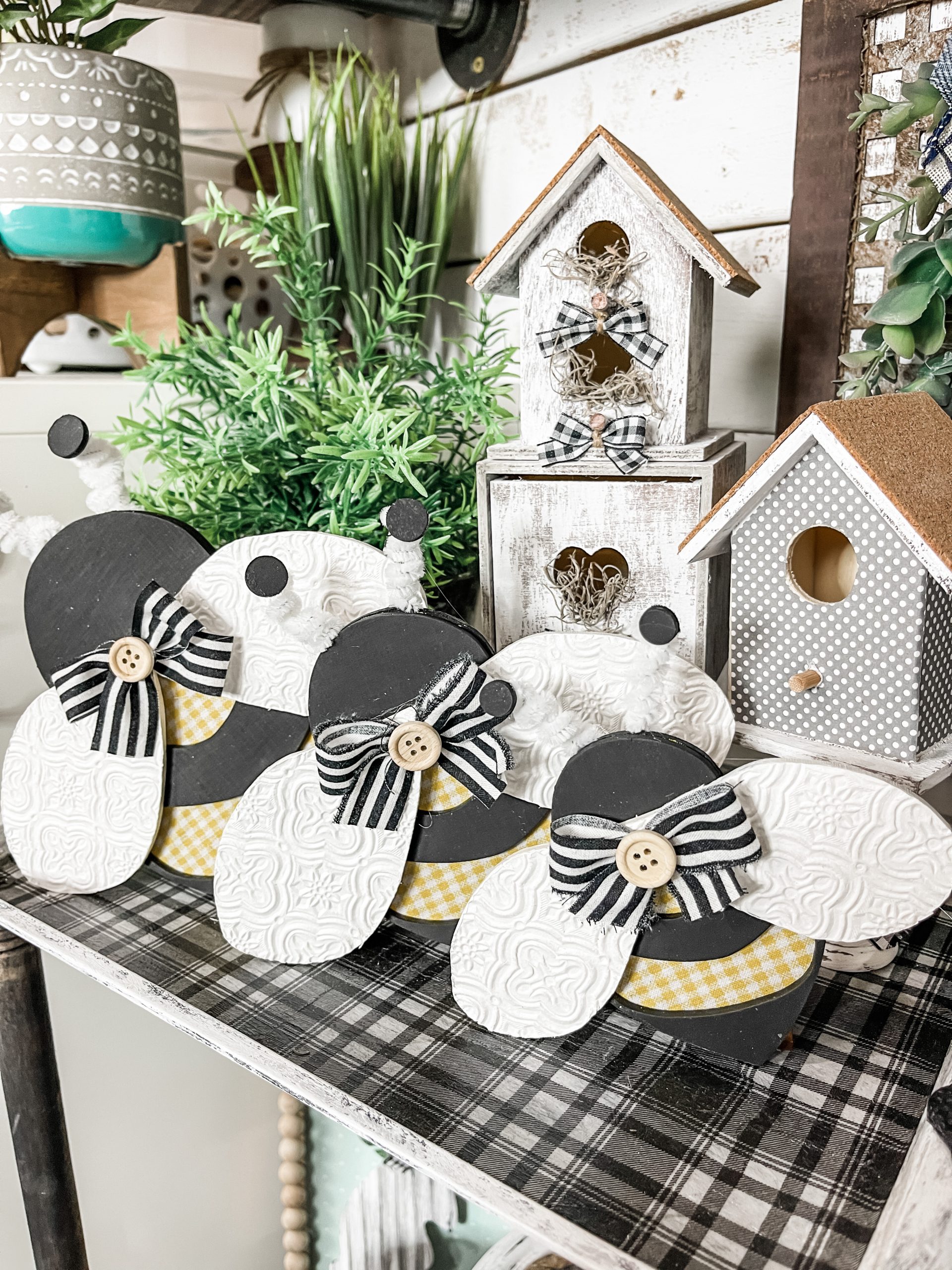 I shared how to make these adorable bumblebees during a LIVE video on my Facebook page.
If you want to see the DIY process, craft along, or just join in on the fun conversations, you can watch the DIY tutorial on Facebook!
For this project, I will be using these items but you can substitute where you want.
"As an Amazon Associate, I earn from qualifying purchases."
Embossed Scrapbook Paper
Black and White Striped Fabric
Yellow Gingham Fabric
Black Buffalo Check Ribbon
White Pipe Cleaners
Jute Twine
Small Buttons
DecoArt White Acrylic Paint
DecoArt Black Acrylic Paint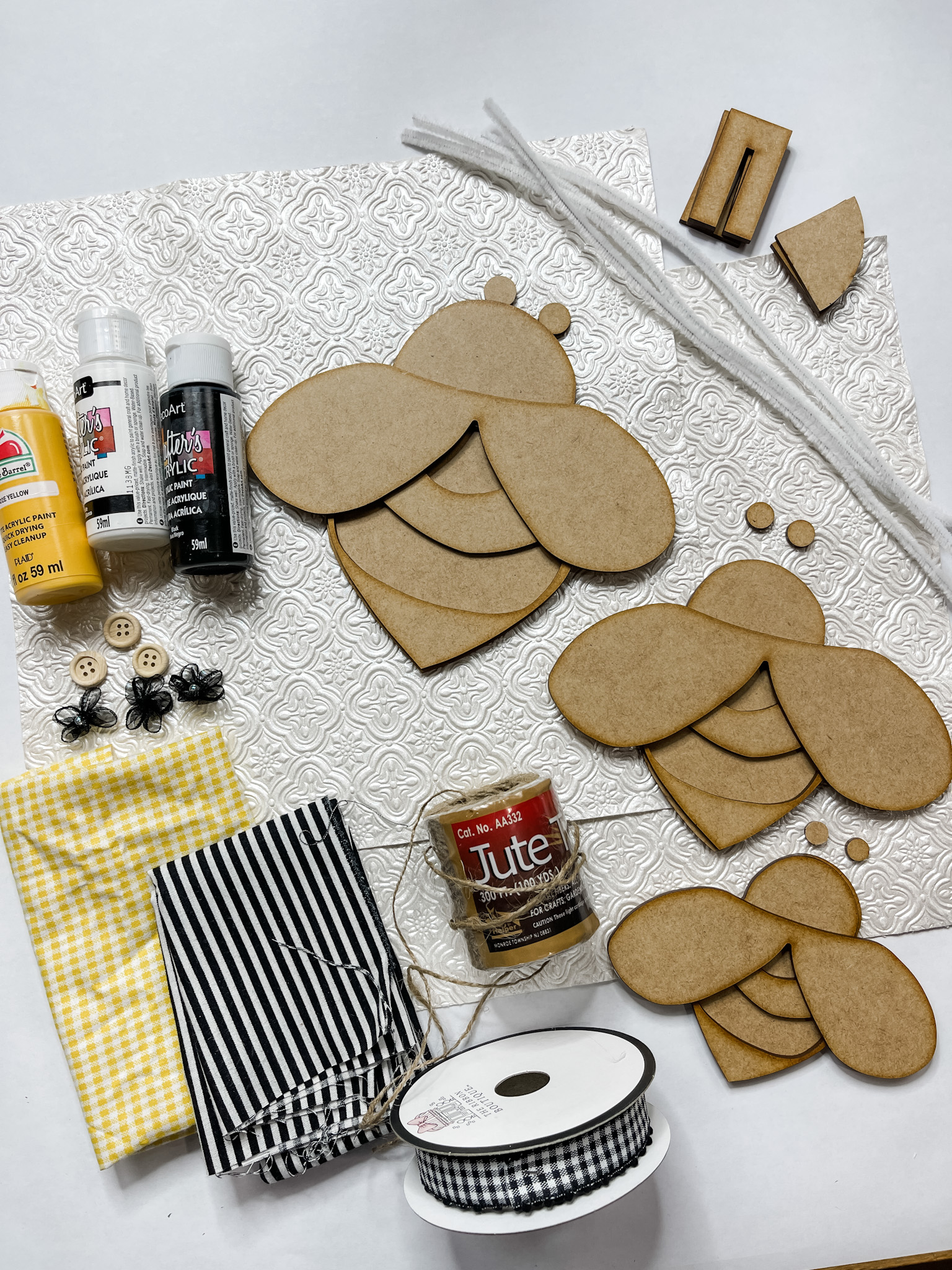 How to make a Bumblebee Craft Kit DIY
I started this bumblebee trio craft kit by tracing the shape of the bees' bodies on the yellow gingham fabric and then I cut the shapes out.
Apply a coat of Mod Podge to each of the bee bodies and press the fabric onto each one. Use a rolling pin to smooth out any wrinkles or bubbles and allow the Mod Podge to dry.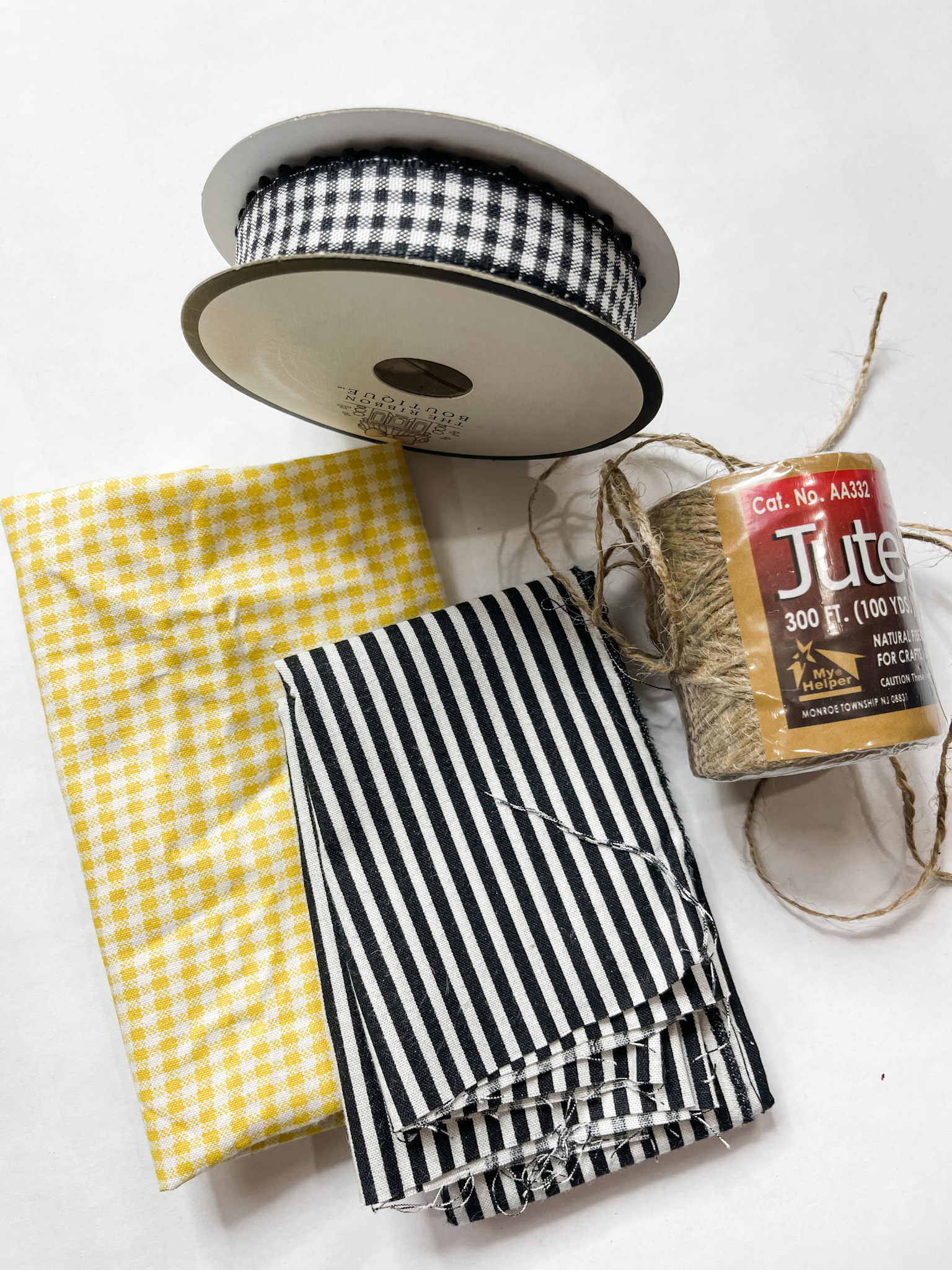 Trim any excess fabric from each of the bees with a pair of scissors. Then, trace each of the bees' wings on the embossed scrapbook paper.
Cut the wings out of the scrapbook paper, apply a coat of Mod Podge to the wooden wings, and place the scrapbook paper wings onto the Mod Podge.
Next, paint each of the bumblebee overlay pieces with black paint. Paint each of the circles for the bees with black paint as well.
Bring it all together
Allow all the paint and Mod Podge to dry on each piece of the bees, then glue the body pieces together for each bee from the bumblebee trio craft kit.
Paint the edges of the bees' bodies with black paint and the edges of the wings with white paint. Once the paint is dry, glue the wings onto each of the bees.
Cut three strips from the black and white fabric and tie them into three little bows – one for each of the bees. I used jute twine to secure each bow. Then I glued them onto the bees.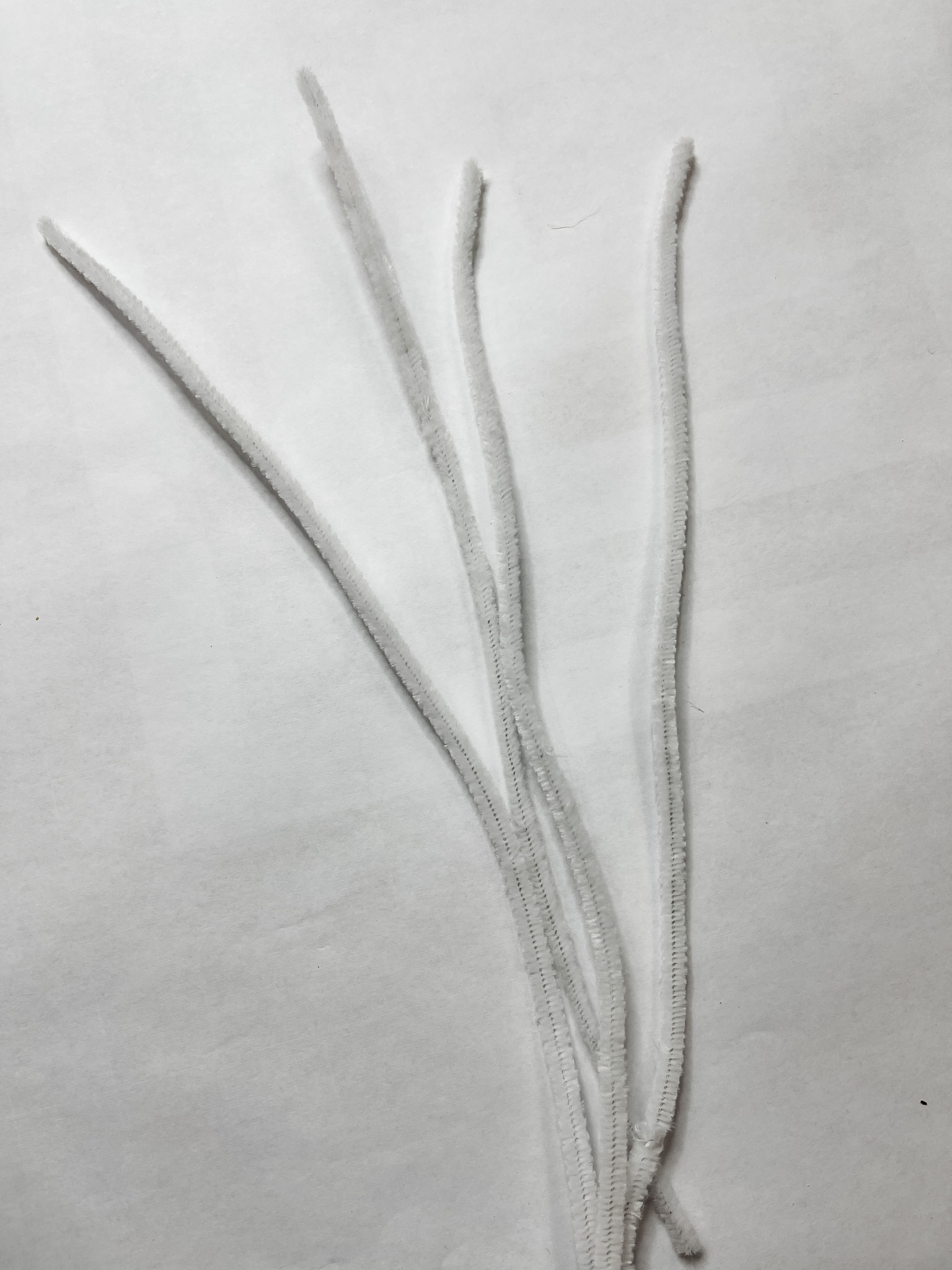 I glued a small button over the center of each bow. Next, I used white pipe cleaner as the bees' antennae and glued the black circle pieces on the ends of each pipe cleaner.
Lastly, I glued the stands to the back of the bees so they could stand up on their own!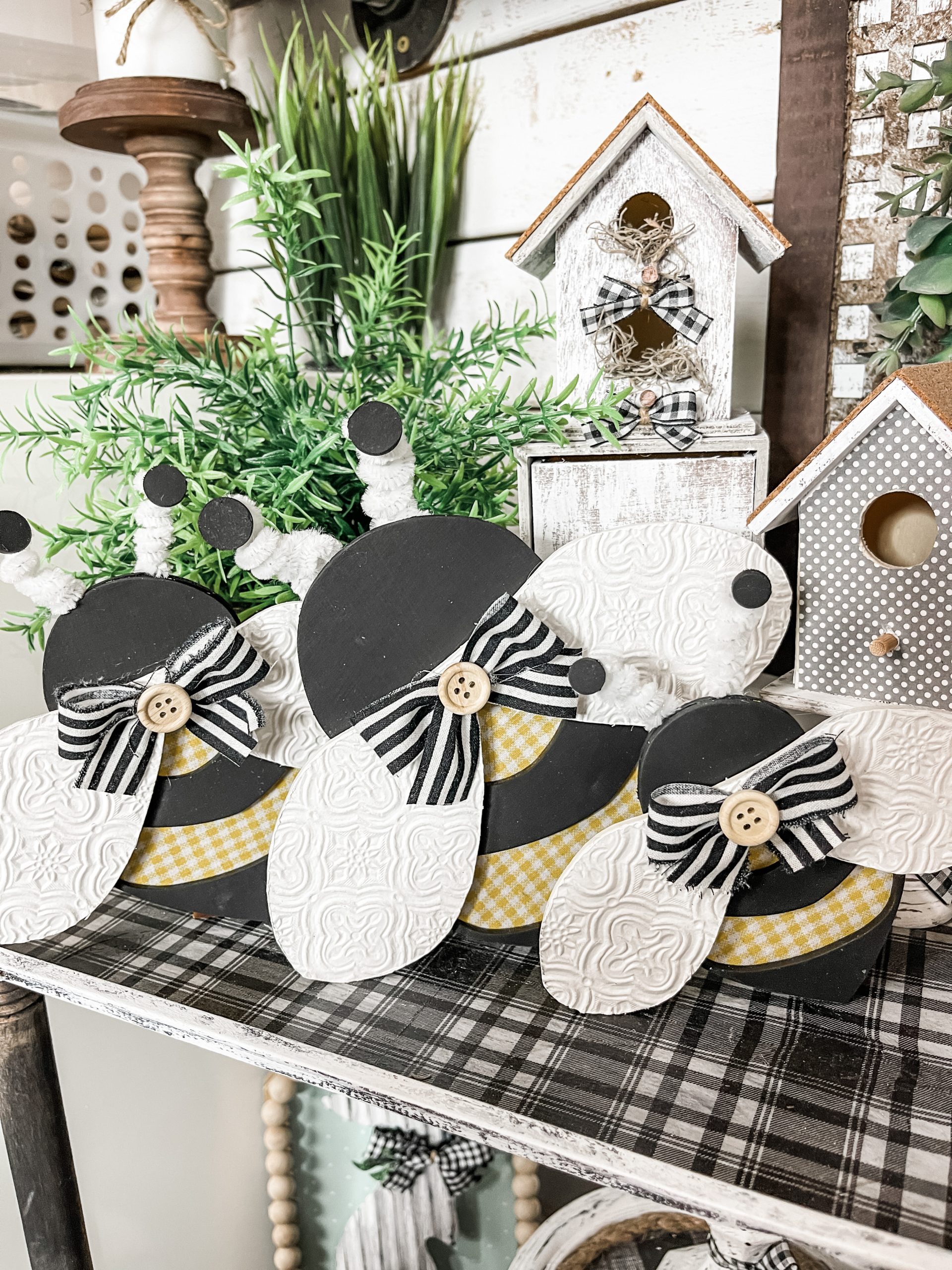 I hope you enjoyed this Bumblebee Craft Kit DIY as much as I did and decide to make one for yourself! I would love to see how yours turns out!
You should totally join my FREE Facebook group called On A Budget Crafts! It is a judgment-free community for DIY crafters to show off their projects and ideas.
If you loved this DIY you might also like these 3D tulips!
Thanks for stopping by! XOXO Amber
You can also shop my ENTIRE AMAZON Favorites shop just click here! It's packed full of all the things I use and love. Here is the supply list I highly recommend every creative have on hand!!
Would you also pin my blog for later and get on my newsletter alerts? I would love to have you join my #craftycrew.
Inspired? Leave me a comment below! I love hearing from my readers!

Join my free "ON A BUDGET CRAFTS" Facebook group!