FREE Sunflower Printable DIY Home Decor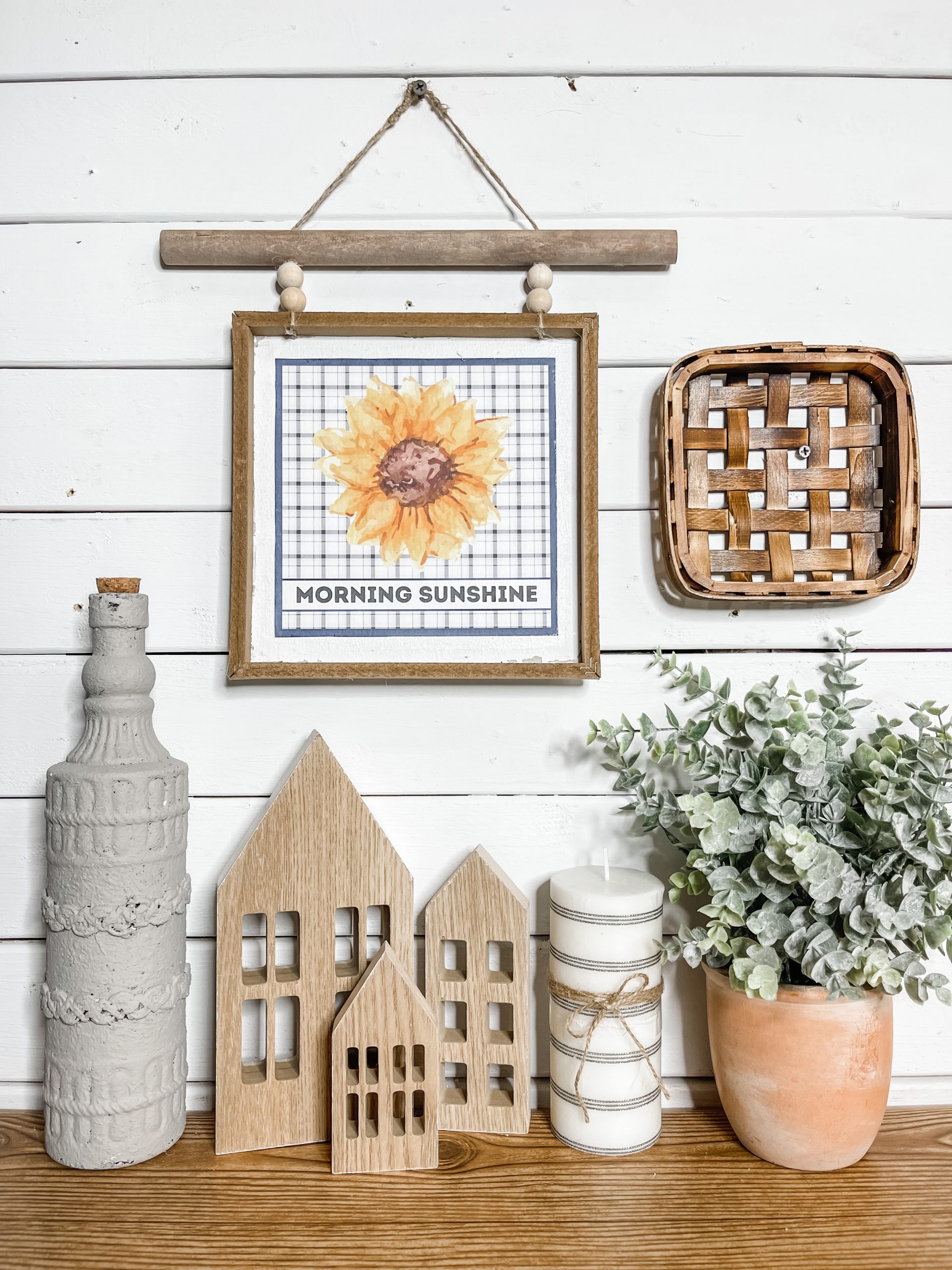 I had so much fun making this FREE Sunflower Printable DIY Home Decor! I might be biased because I designed the FREE morning sunshine printable myself, but I absolutely LOVE this DIY decor!
Watch the DIY tutorial
I shared the quick tutorial on how to make this adorable sunflower printable DIY home decor on Youtube along with 3 other Dollar Tree Fall DIY ideas!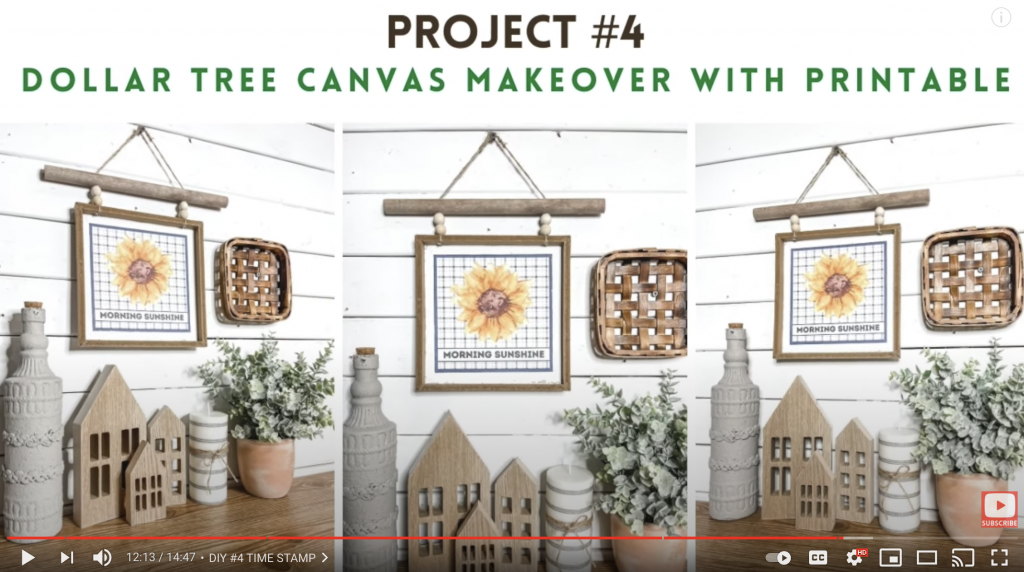 WATCH THE DIY TUTORIAL ON YOUTUBE
I recorded how to make this adorable FREE sunflower printable DIY home decor during a LIVE video on my Facebook page.
If you want to see the DIY process, craft along, or just join in on the fun conversations, you can watch the DIY tutorial replay!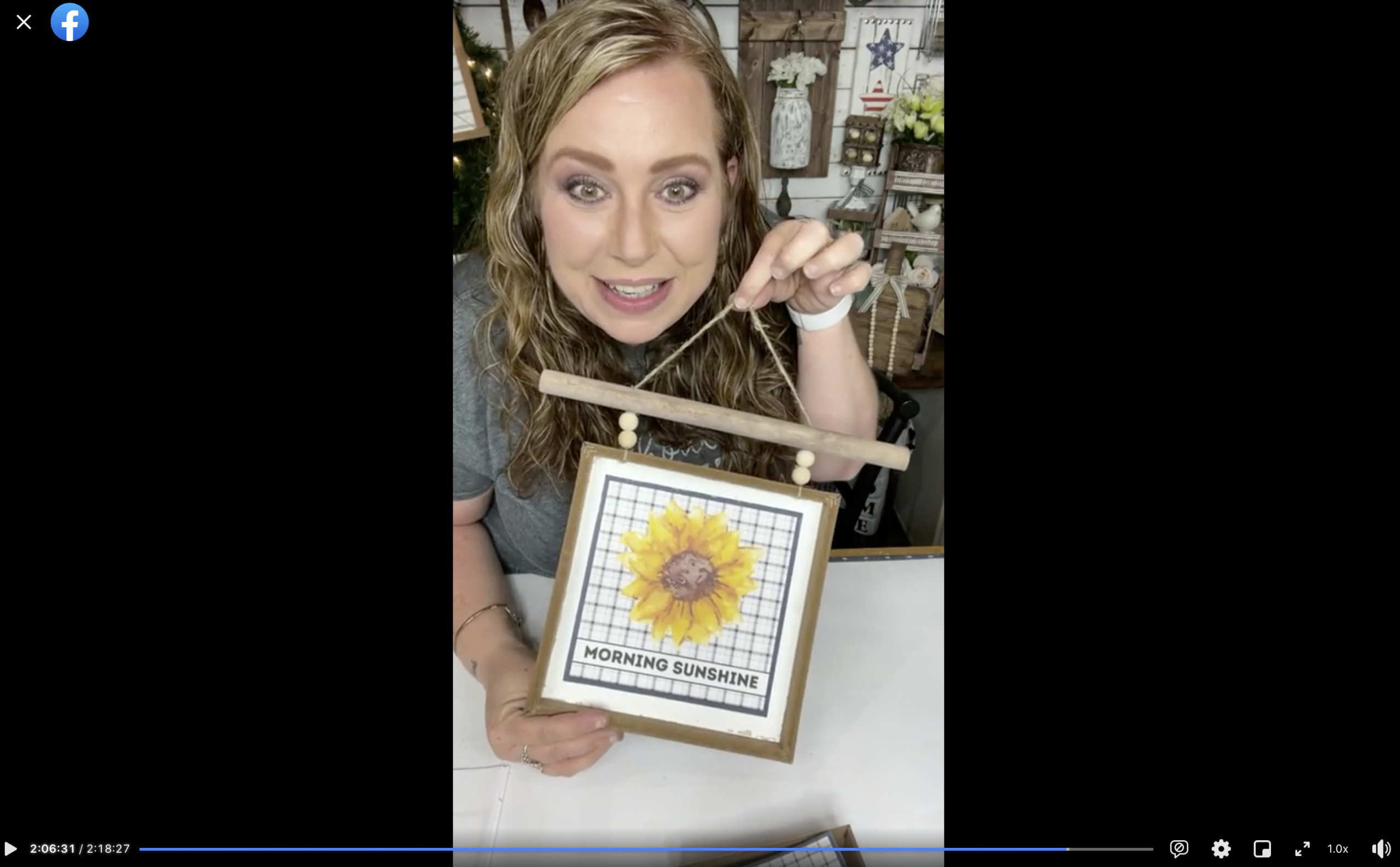 For this project, I will be using these items, but you can substitute where you want.
"As an Amazon Associate, I earn from qualifying purchases."
Dollar Tree 8×8 Canvas
Dollar Tree Nautical Rope
Wood Beads
Dollar Tree Sort, Wash, Fold Canvas
Jute Twine
Jumbo Wood Dowel
Mod Podge
Apple Barrel Snow White Acrylic Paint
Apple Barrel Chocolate Acrylic Paint
Scissors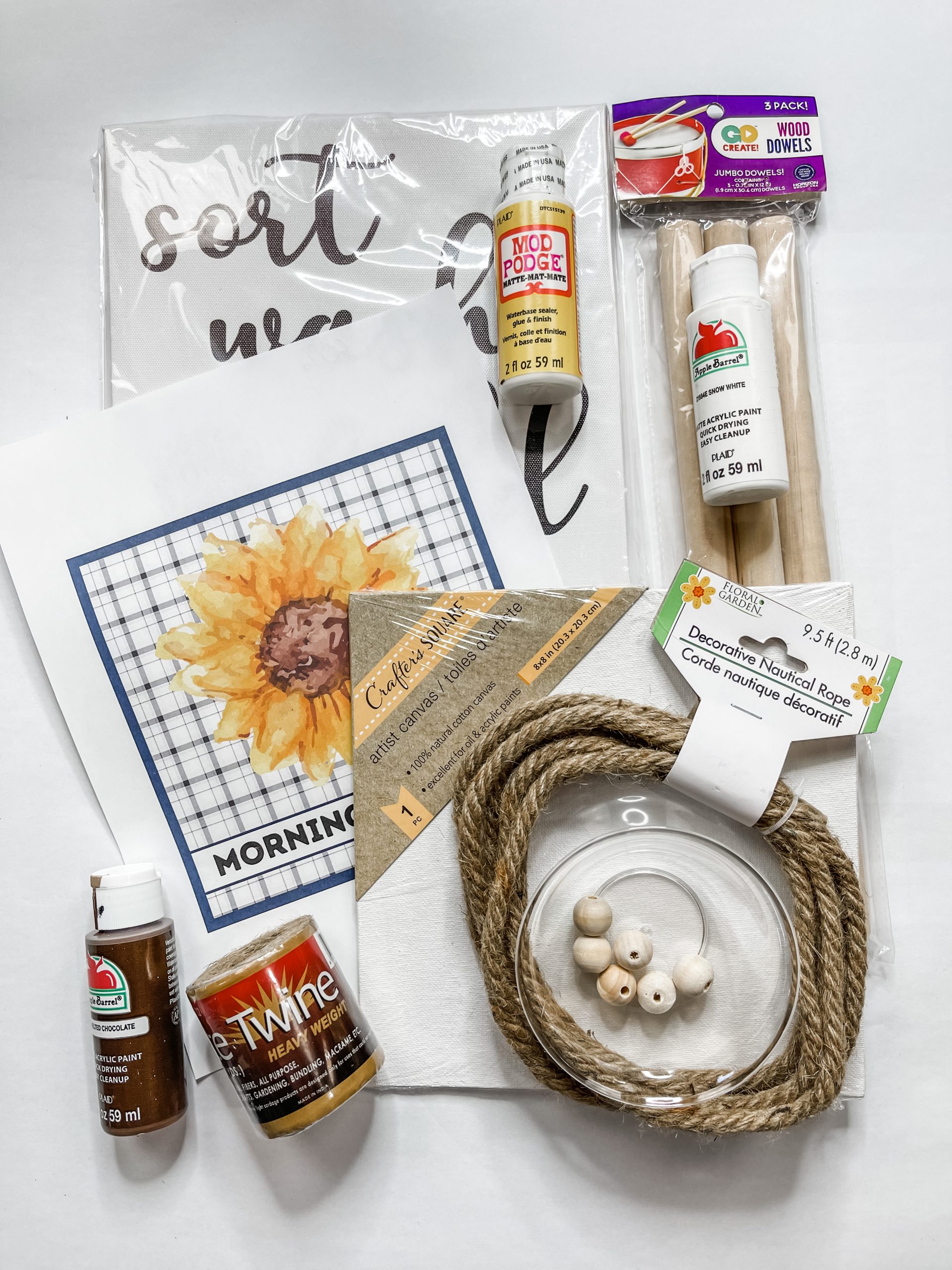 How to Make a Sunflower Printable DIY Home Decor
Remove the Dollar Tree sort, wash, fold canvas from its frame. I used a putty knife to pry the staples out the back of the frame.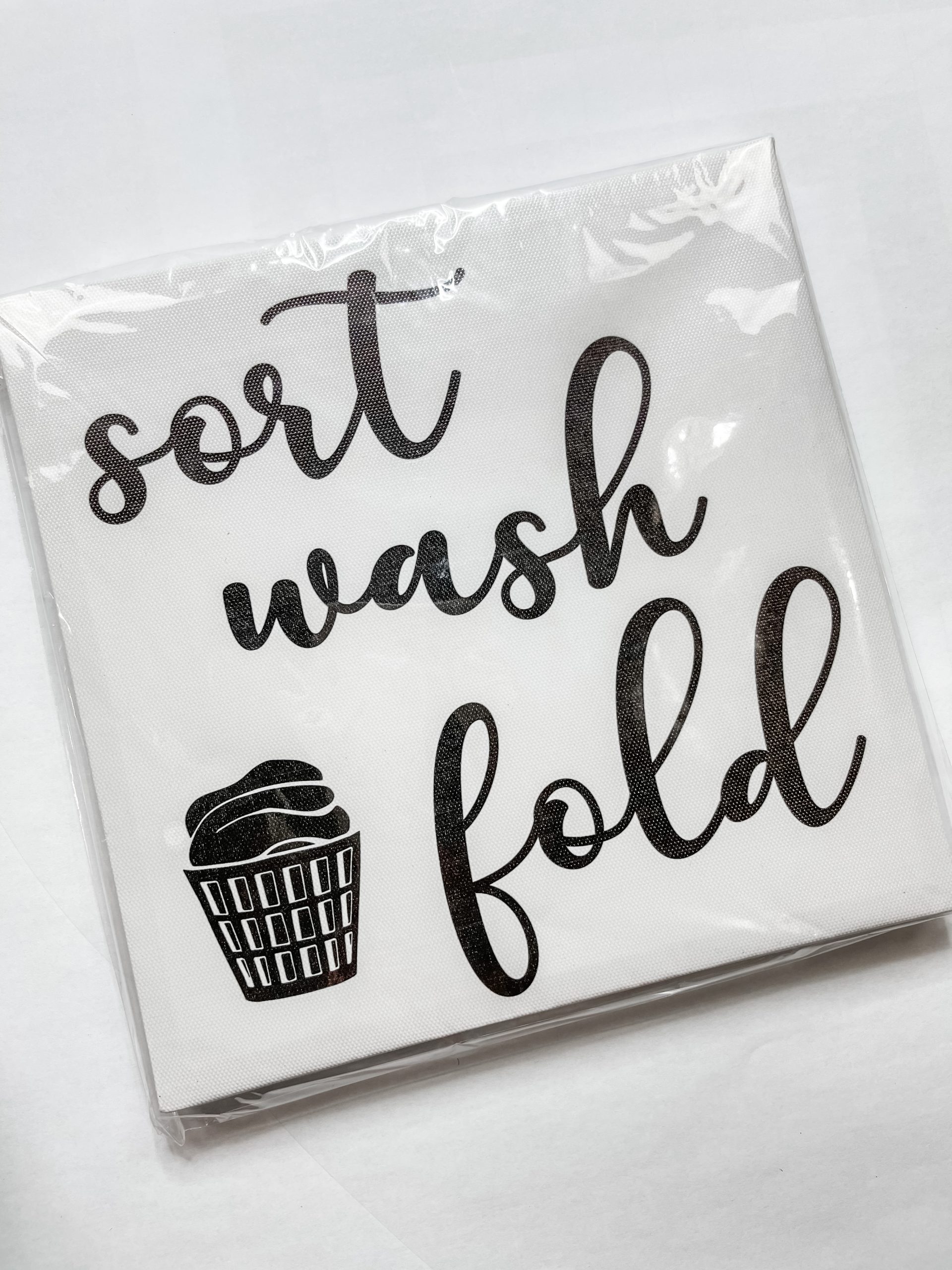 Next, print your FREE sunflower printable and cut out the design. Apply a coat of Mod Podge to the Dollar Tree 8×8 canvas and place the printable on the surface.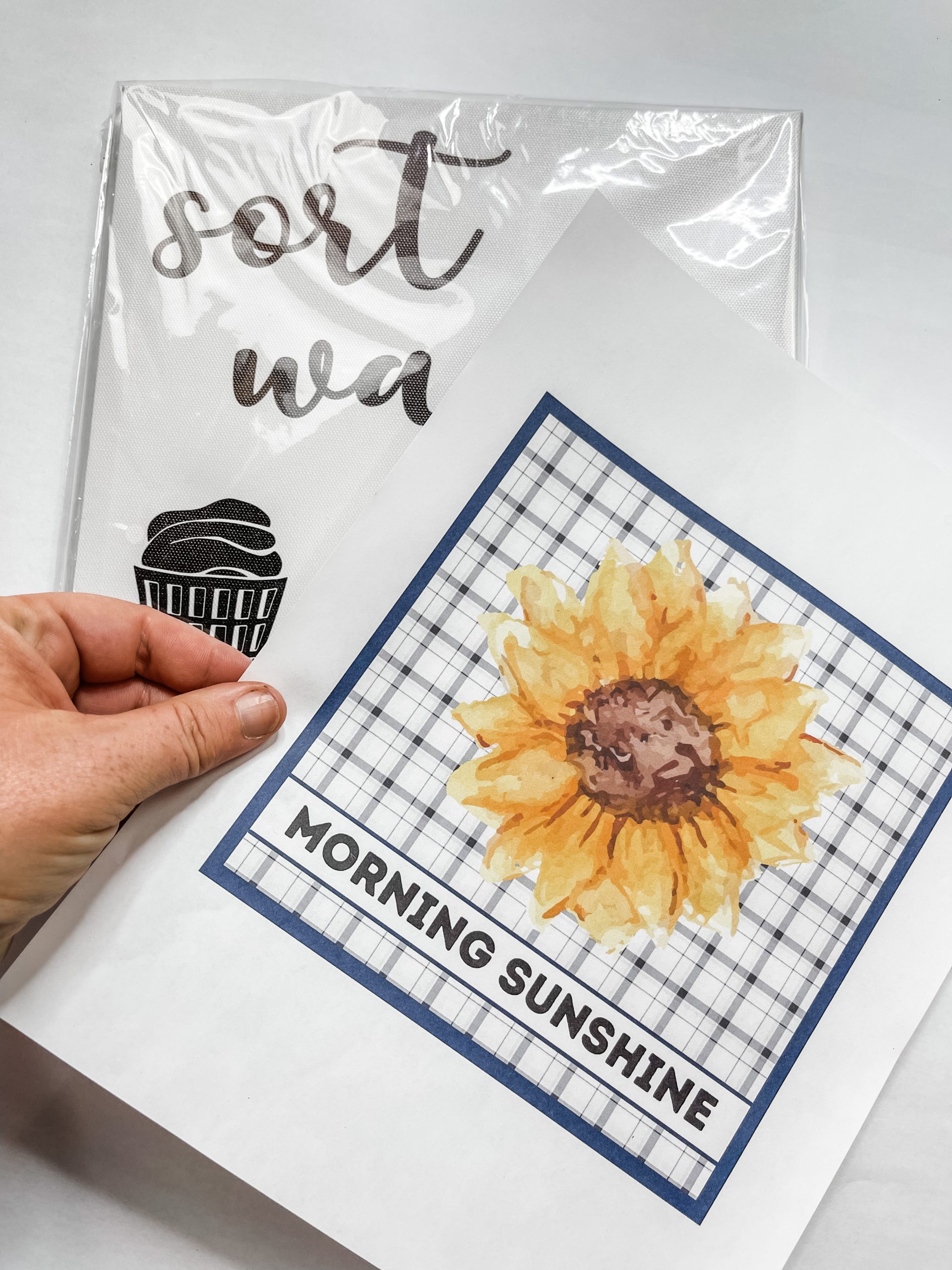 I put some plastic saran wrap over the printable and used a rolling pin to smooth out any wrinkles or bubbles in the sunflower printable.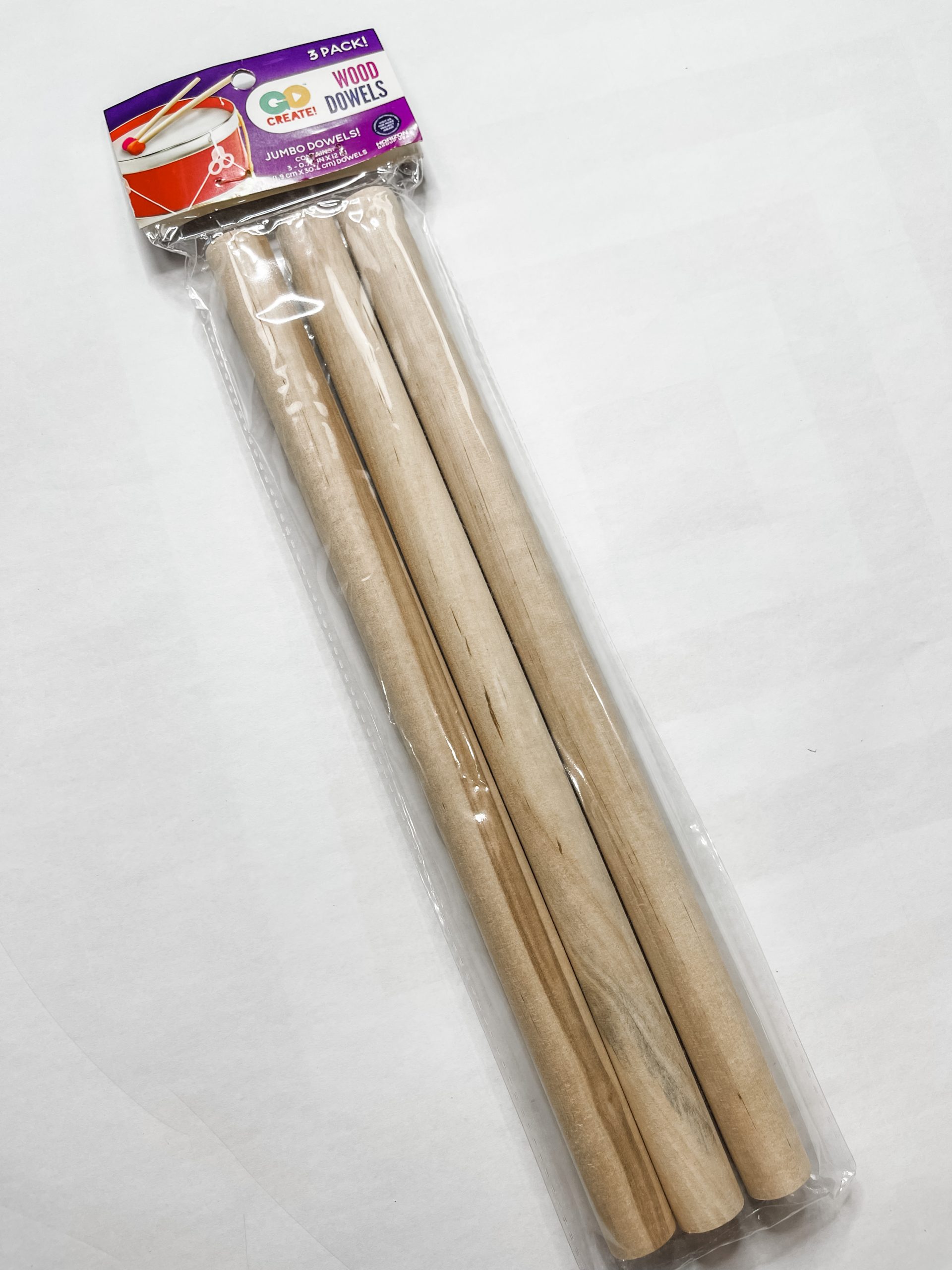 The next thing I did was stained the jumbo wood dowel with Apple Barrel Burnt Umber Acrylic Paint. To do that, mix some brown paint with a bit of water and use a wet wipe to spread it on the dowel.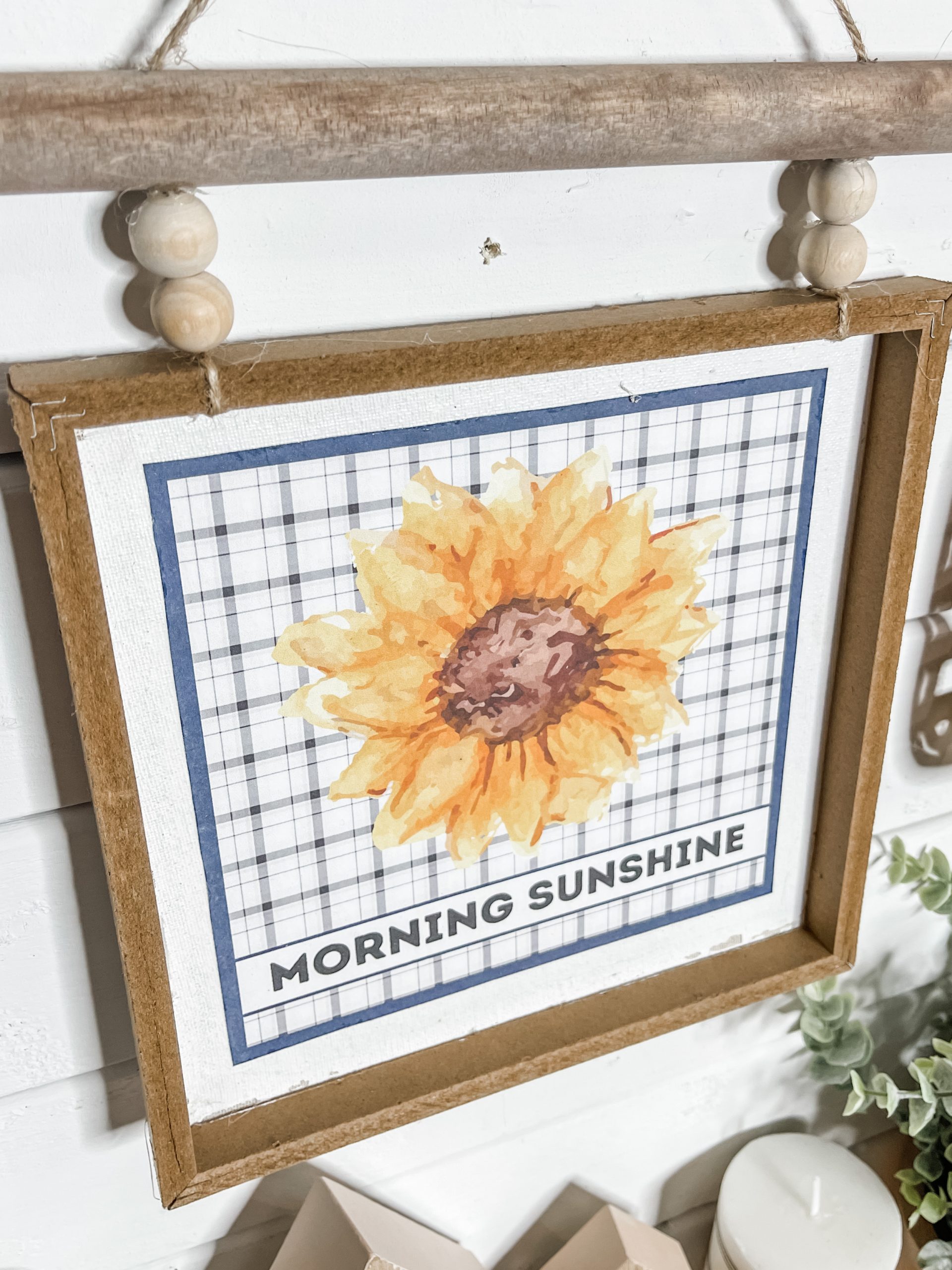 Make your DIY hanger
I looped two pieces of jute twine around the top of the canvas frame and slide two wood beads over the ends of the twine.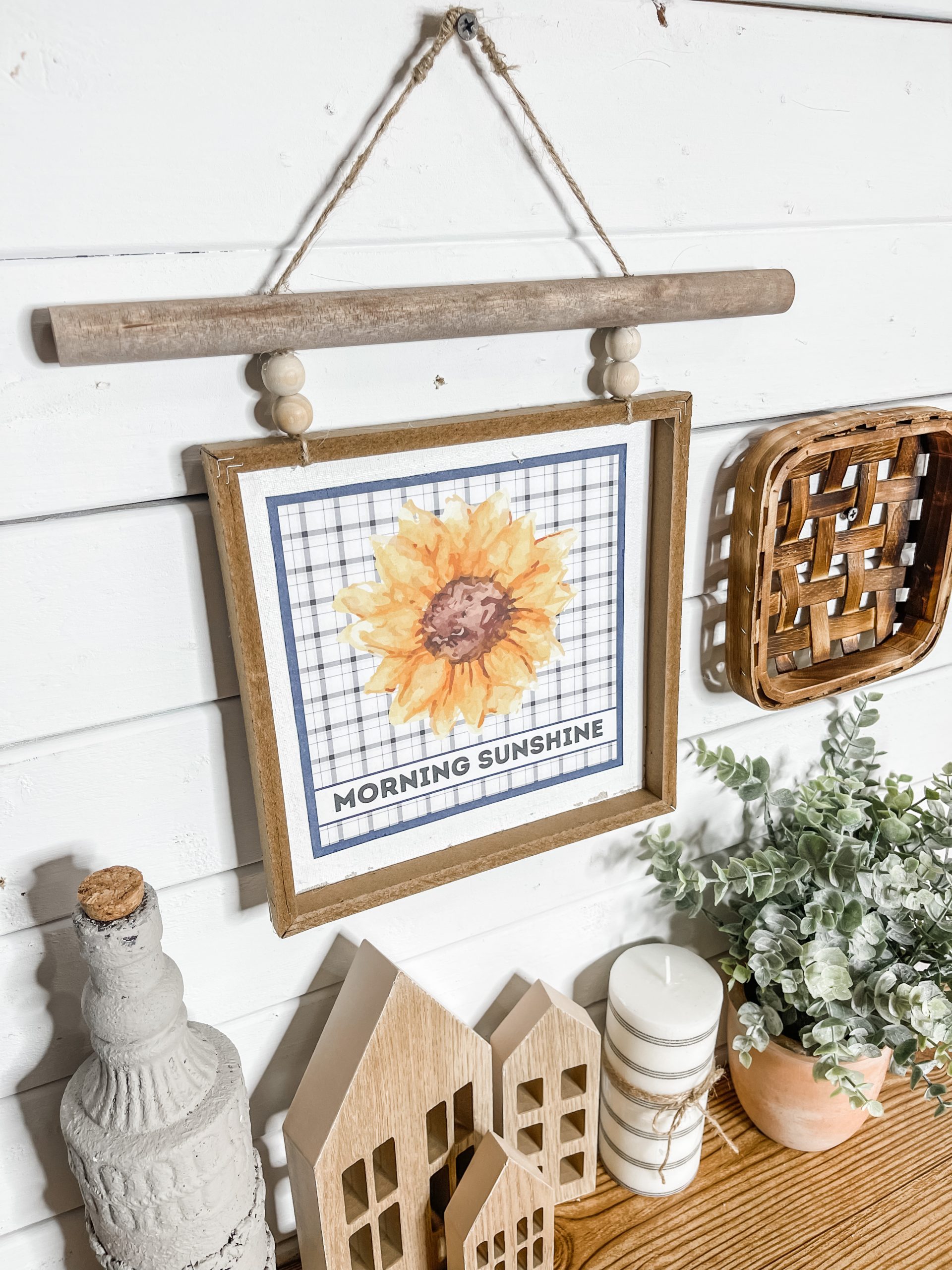 Tie the twine above the top beads. Then, hot glue the frame to the front of the decoupaged Dollar Tree canvas.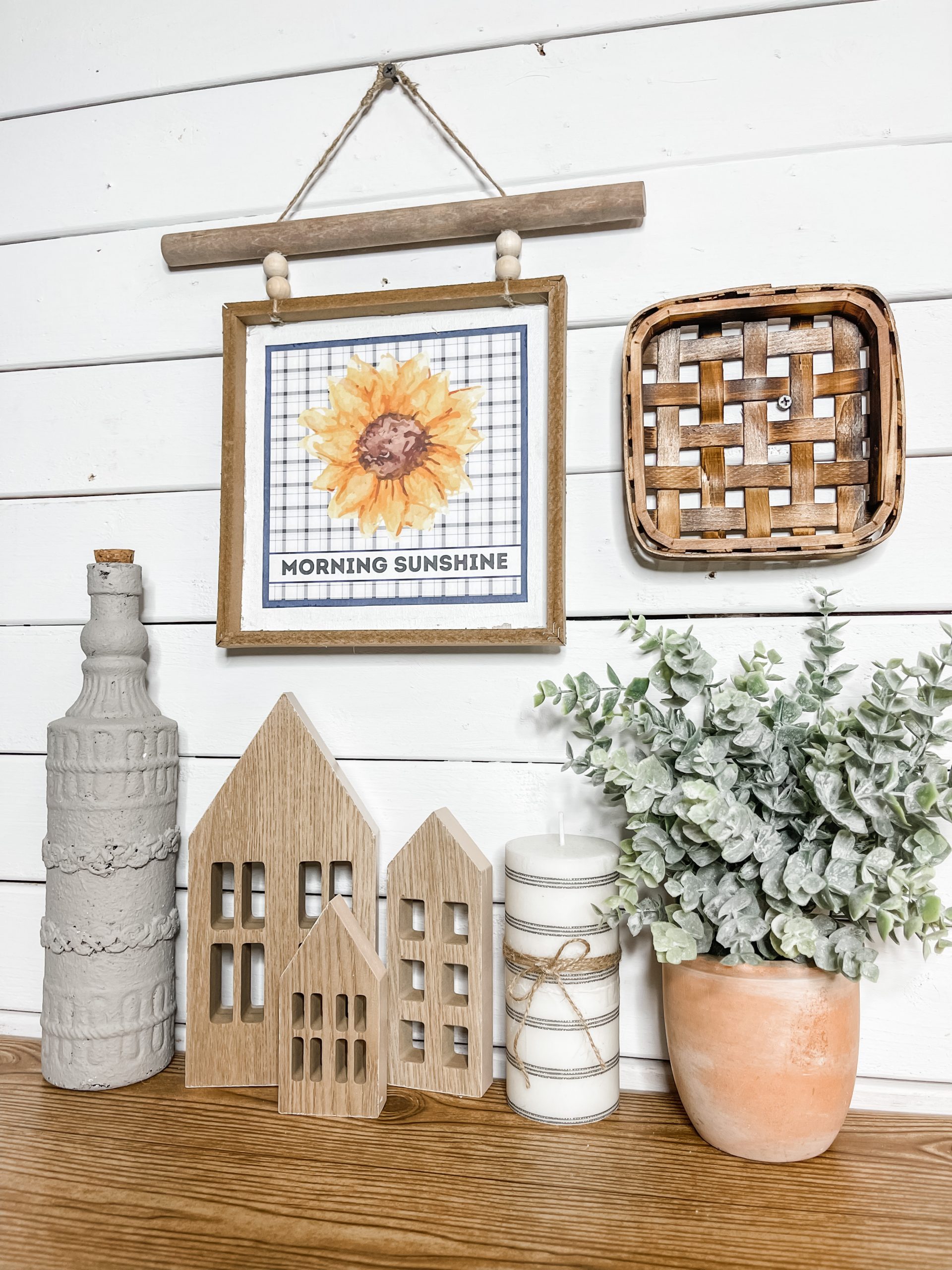 I marked on the jumbo dowel where the jute twine need to be, and drilled two holes through the dowel.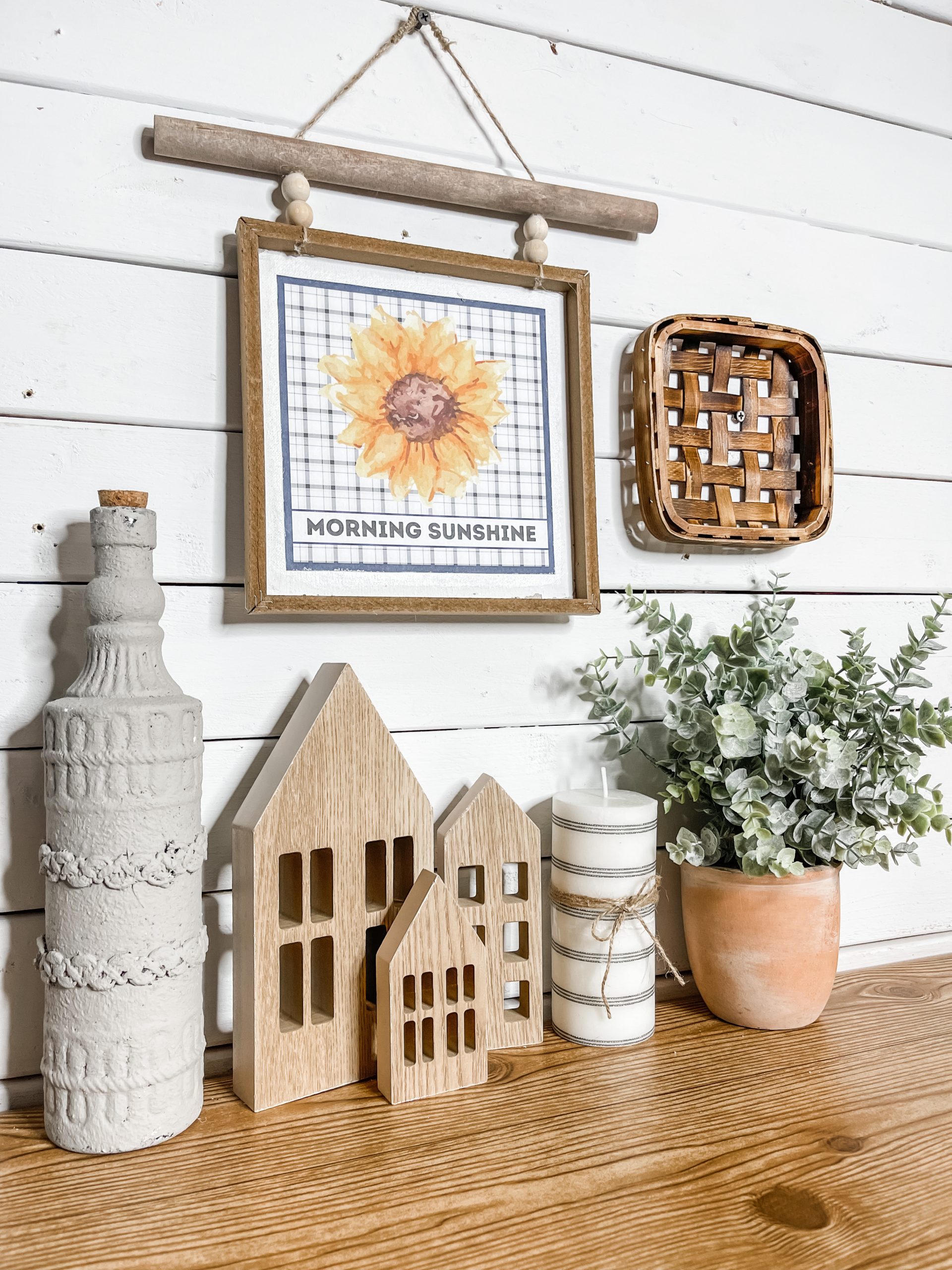 Push the twine through the holes and tie them together to make the hanger above the stained jumbo dowel.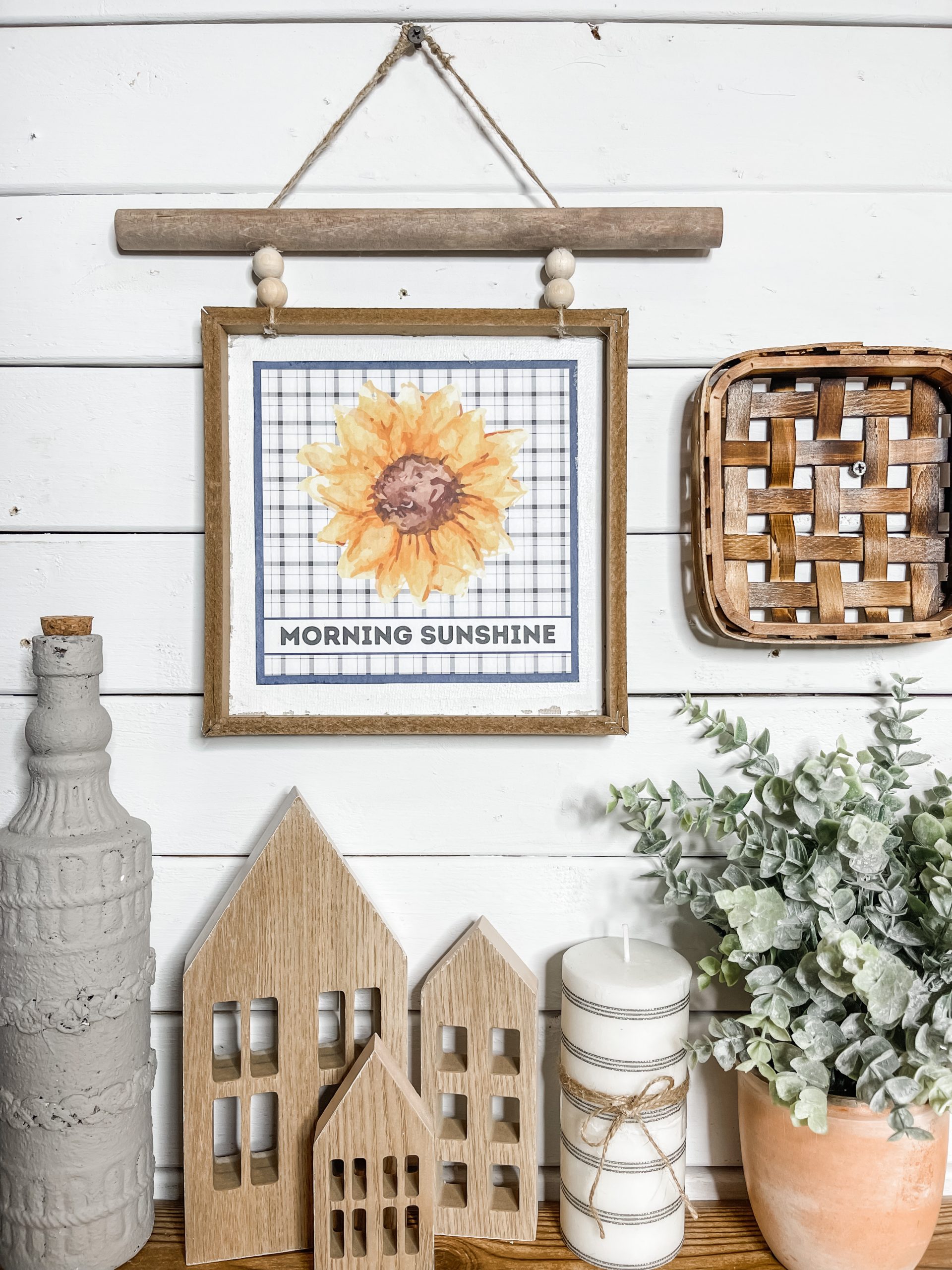 I hope you enjoyed this Sunflower Printable DIY Home Decor as much as I did and decide to make it for yourself! If you do, I would love to see how yours turns out!
You should totally join my FREE Facebook group called On A Budget Crafts! It is a judgment-free community for DIY crafters to show off their projects and ideas.
If you loved this DIY, you might also like these DIY ideas!
Thanks for stopping by! XOXO Amber
You can also shop my ENTIRE AMAZON Favorites shop just click here! It's packed full of all the things I use and love. Here is the supply list I highly recommend every creative have on hand!!
Would you also pin my blog for later and get on my newsletter alerts? I would love to have you join my #craftycrew.
I email alerts about new blogs like this DIY Farmhouse Shelf with Lemon Scrapbook Paper so you're always up to date on fun, new DIY ideas!
Inspired? Leave me a comment below! I love hearing from my readers!

Join my free "ON A BUDGET CRAFTS" Facebook group!