Faux Shiplap DIY Patriotic Decor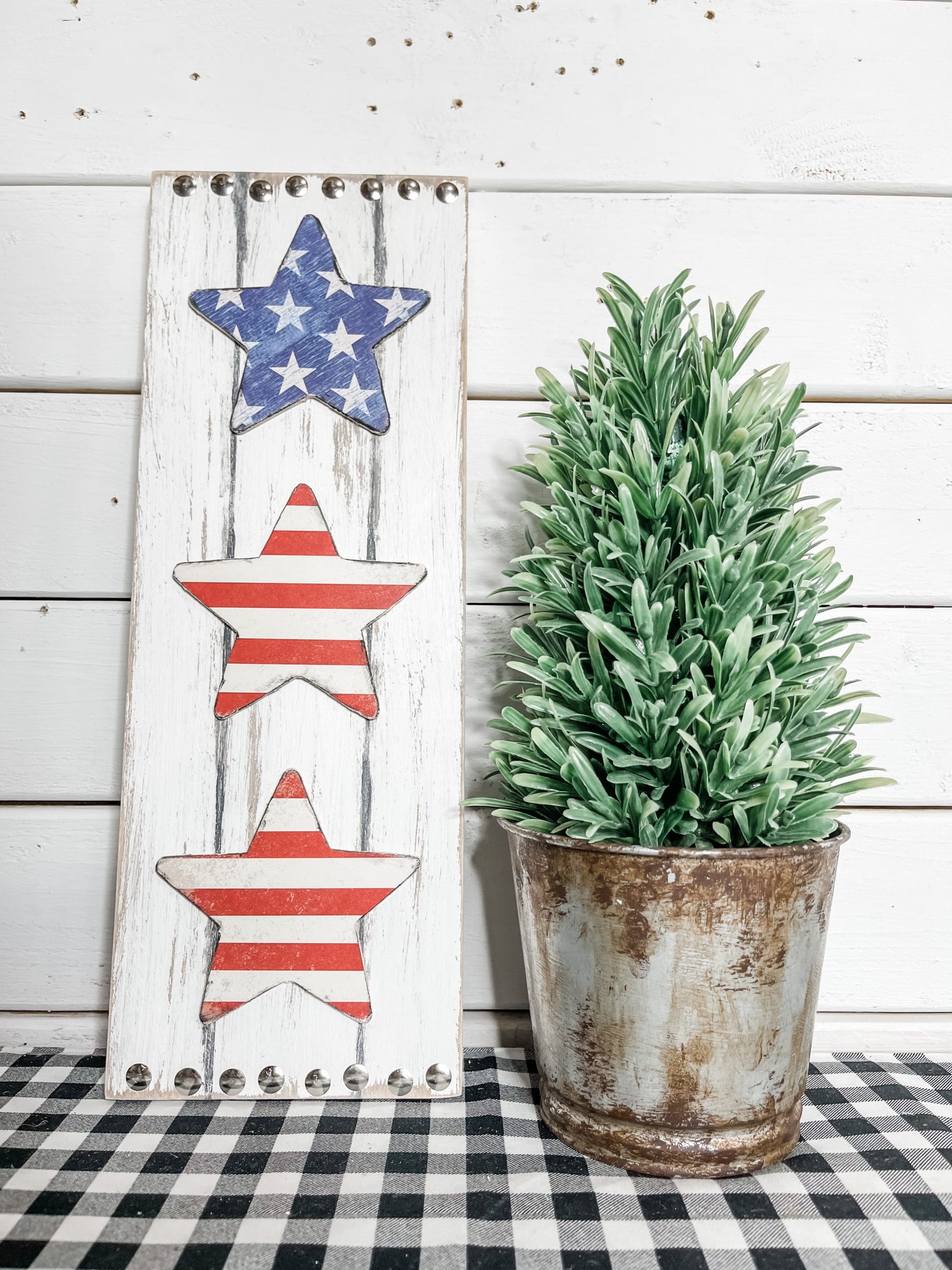 I am so excited to share this Faux Shiplap DIY Patriotic Decor with you! I think you're seriously going to love this because it is so easy and affordable to make!
Watch the DIY Tutorial
I recorded the how-to steps of making this Faux Shiplap DIY Patriotic Decor during a LIVE video on my Facebook page.
If you want to see the DIY process, craft along, or just join in on the fun conversations, you can watch the DIY tutorial replay!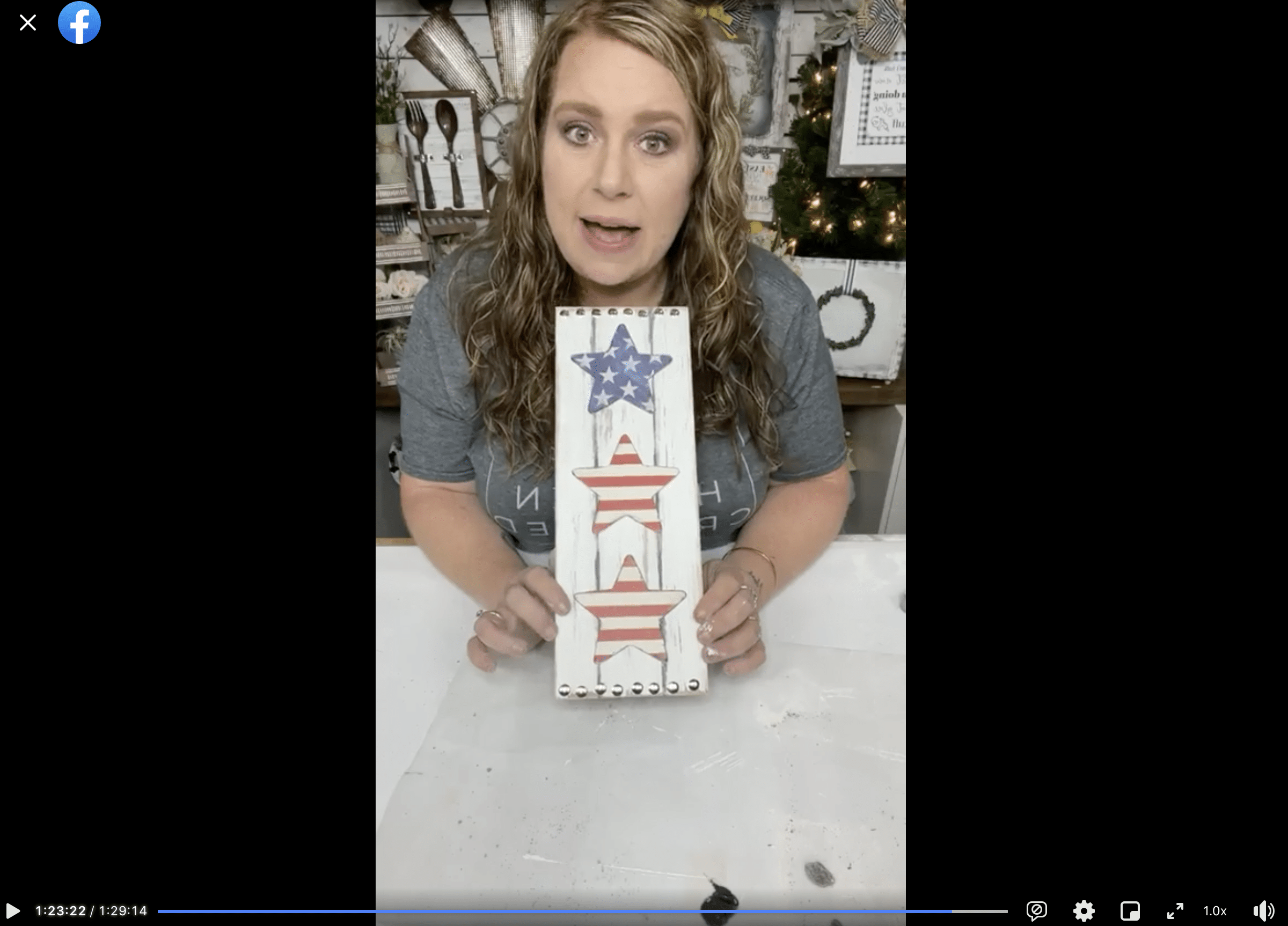 For this project, I will be using these items but you can substitute where you want.
"As an Amazon Associate, I earn from qualifying purchases."
Piece of wood (5x14in)
Red/White Striped Scrapbook Paper
Blue Scrapbook Paper with White Stars
Dollar Tree Wooden Stars
Popsicle Sticks
Dollar Tree Thumbtacks
Waverly Ink Chalk Paint
Waverly Antique Wax
Folkart White Chalk Paint
Mod Podge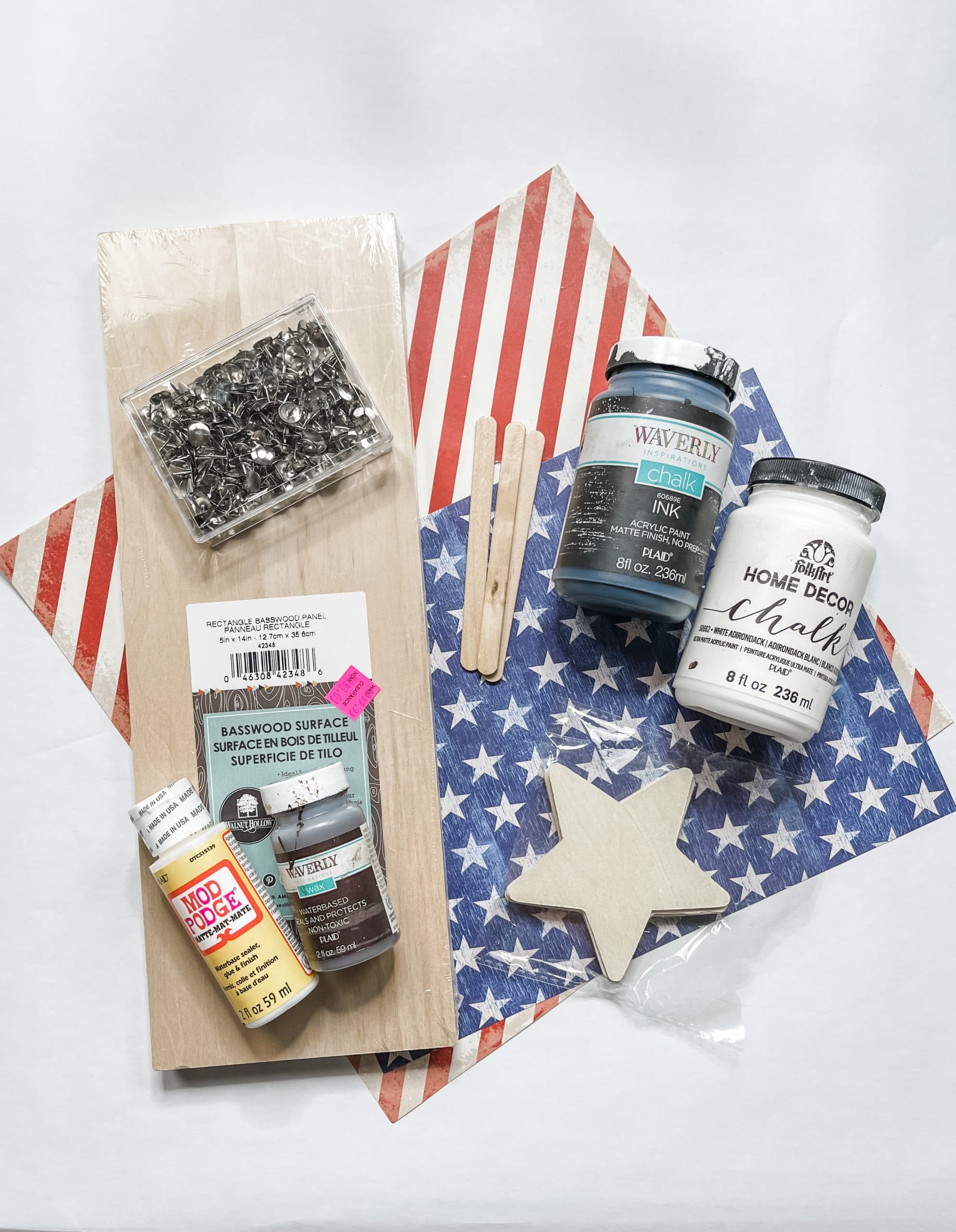 How to Make a Faux Shiplap DIY Patriotic Decor
The first thing I did for this Faux Shiplap DIY Patriotic Decor was lightly sand the piece of wood to make sure it was a smooth surface. Then, I used my Waverly Wax to stain the wood.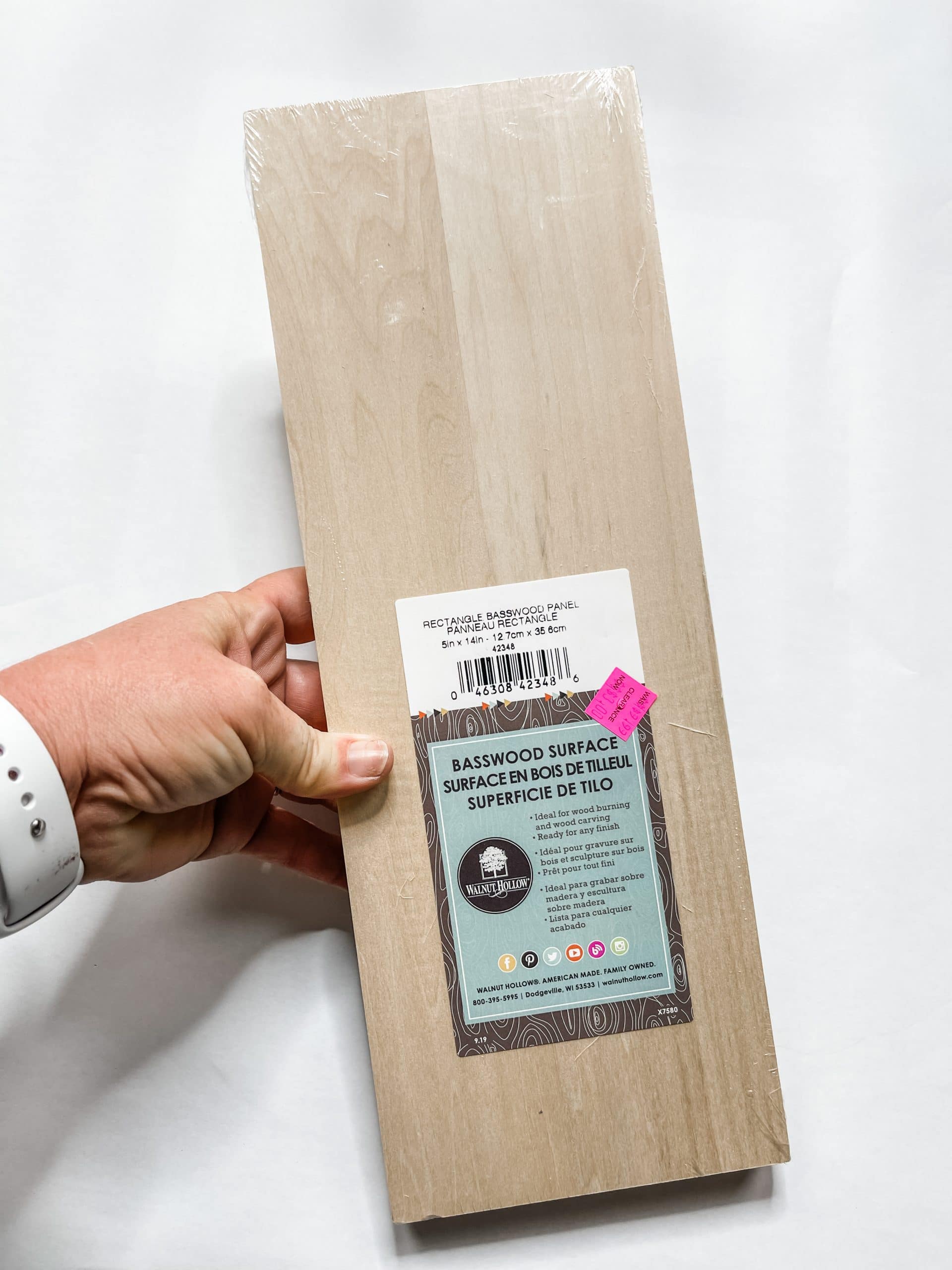 I sprayed the wood with water, then poured some of the wax onto the wood and used a wet wipe to spread the wax across the surface.
Stain the front and all four sides of the piece of wood, then allow it to dry. I used my heat gun to speed up the drying process.
Then, get your wooden stars ready to decoupage the patriotic scrapbook papers onto them.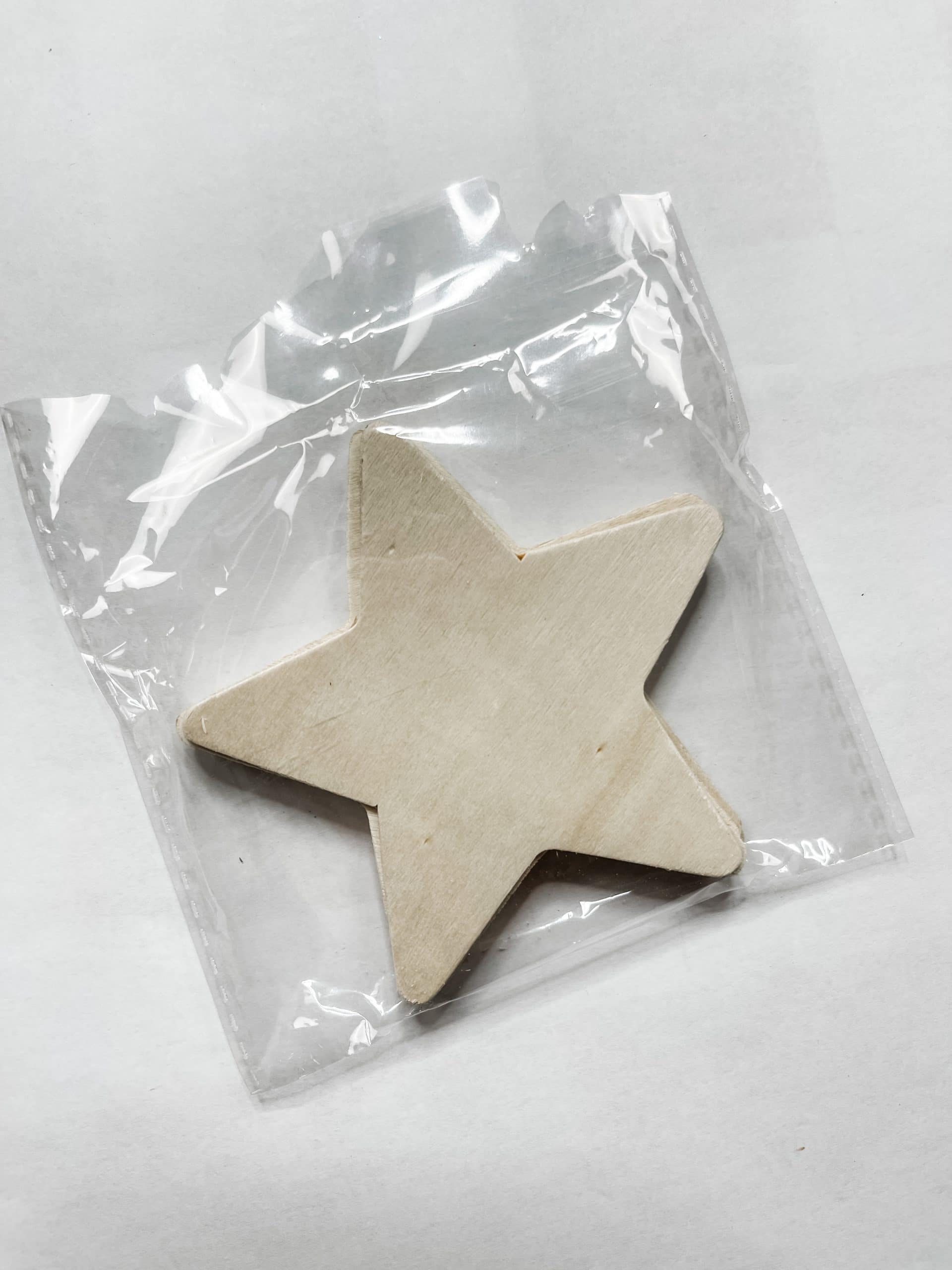 I used three for this Faux Shiplap DIY Patriotic Decor, so I decoupaged the star scrapbook paper on one star and the striped paper on the other two stars.
Apply a coat of Mod Podge the surface of a wooden star and press it onto the scrapbook paper. Once the Mod Podge is dry, remove the excess scrapbook paper.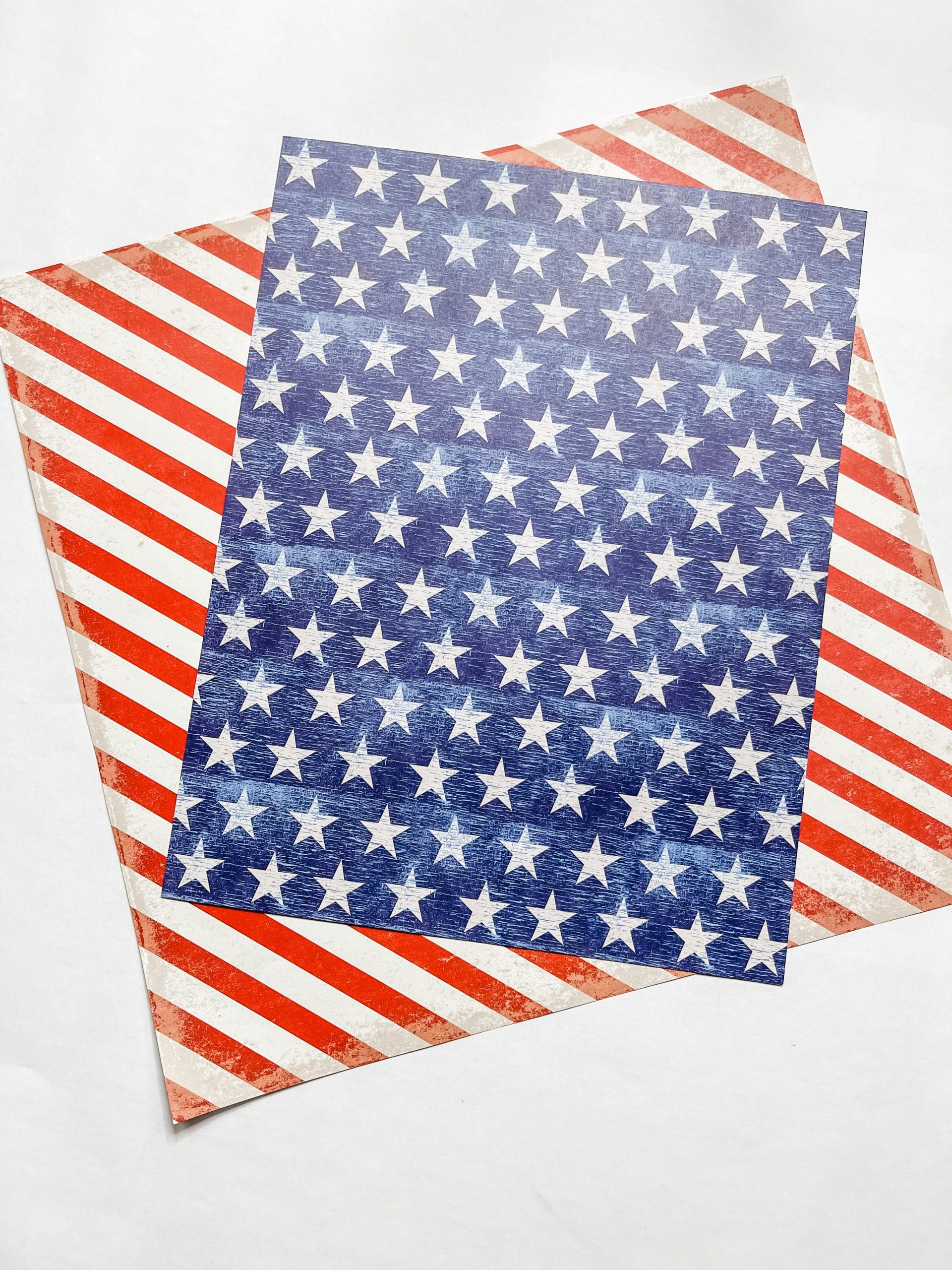 I like to use a sanding sponge and lightly sand the edges of the wood to trim the paper. You can also use an Exacto Knife to cut the excess away.
How to get a faux shiplap finish
If you didn't have a heat gun to dry the wood, make sure it is completely dry before you move on to these steps.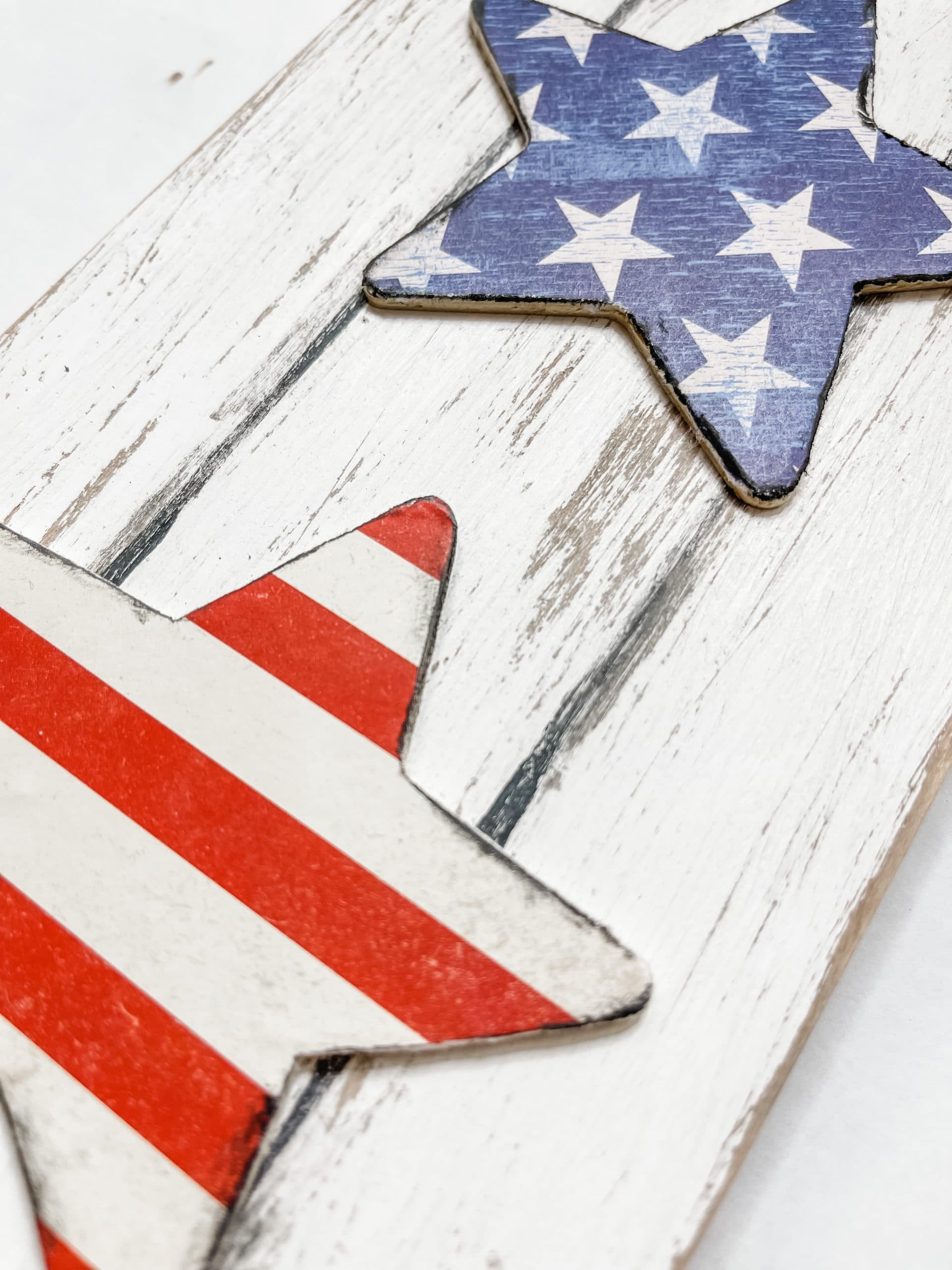 You're going to paint the stained surface of the wood with white paint. I used Folkart White Chalk Paint for this Faux Shiplap DIY Patriotic Decor.
Make sure to paint the sides of the wood as well, then let all the paint dry completely. Once it is all dry, go over the edges, corners, and front of the wood with a sanding sponge to distress it.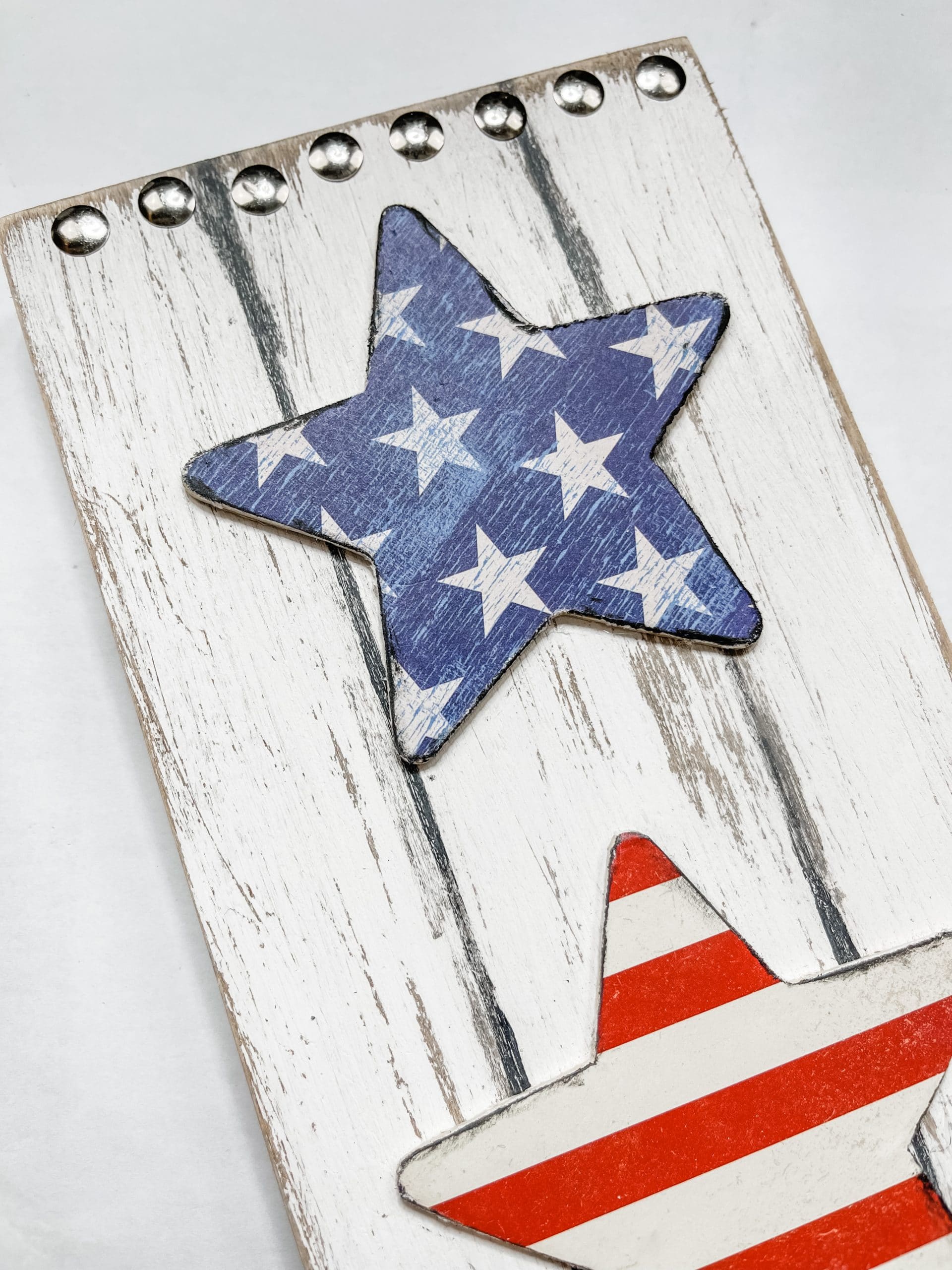 Next, you need something with a straight edge so you can paint straight lines for your faux shiplap finish. I used a paint stick to get the straight edge on my project.
Get a small amount of black paint (I used Waverly Ink Chalk Paint) on a fine tip paintbrush and drag it next to the straight edge to paint a line on the wood.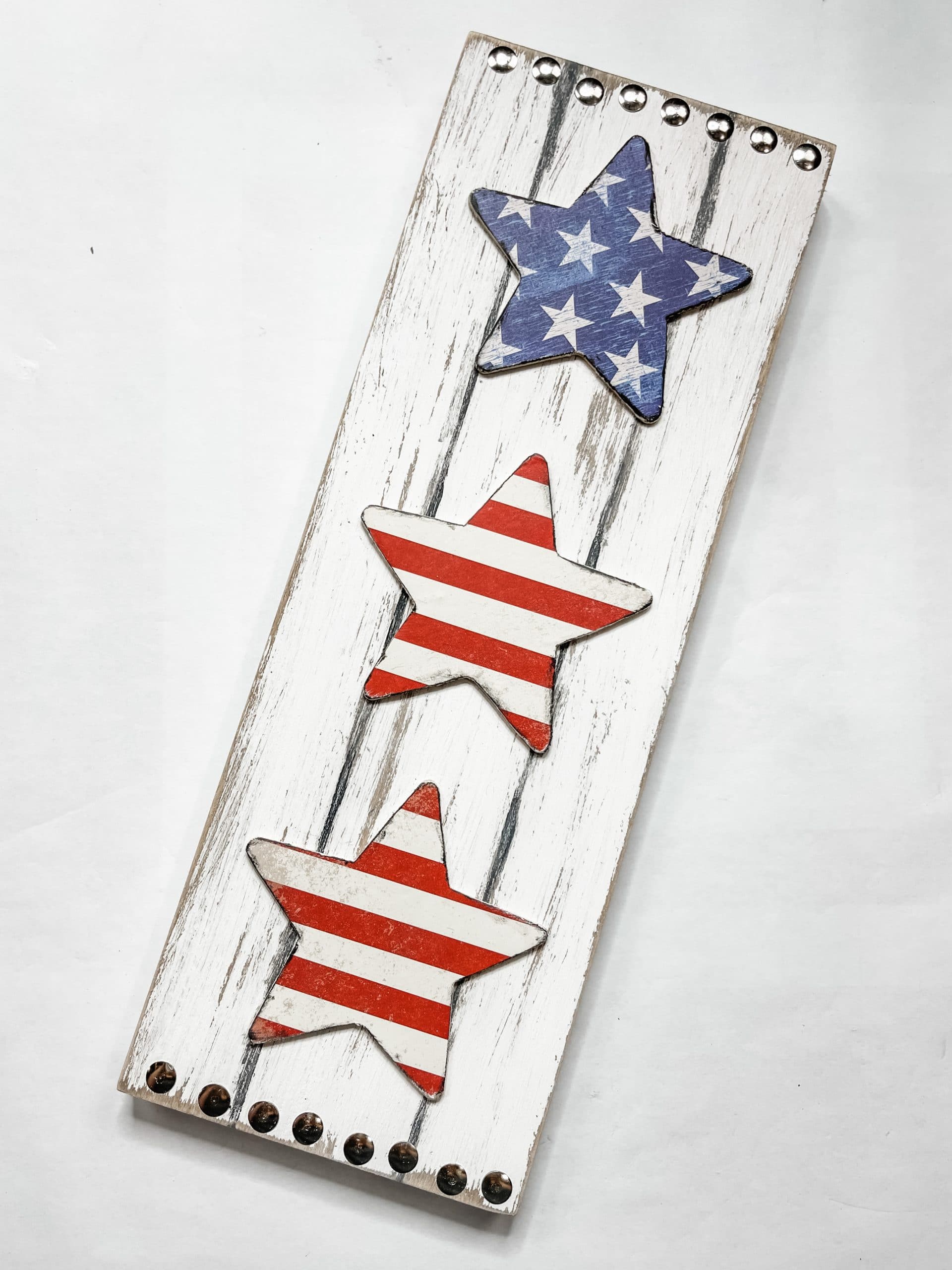 Then, go over the line with a bit of the Waverly Antique Wax. Feel free to smudge the line a bit to make the faux shiplap finish more realistic and aged.
Repeat for the number of "planks" you need for your Faux Shiplap DIY Patriotic Decor. Once the lines are dry, sand over the entire surface again with a sanding sponge.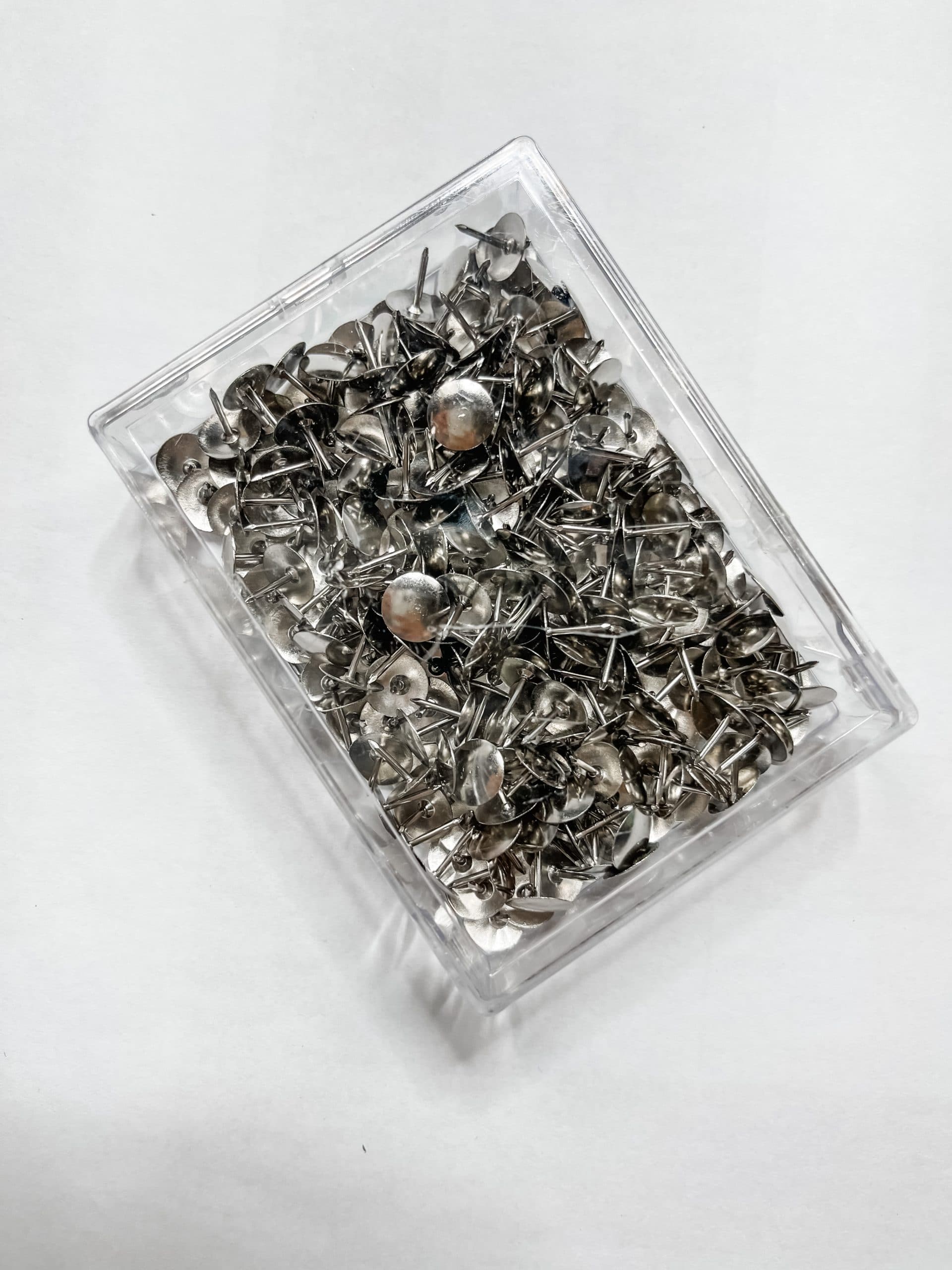 Bring it all together
Hot glue the three decoupaged stars to the front of your faux shiplap wood. Then, I hammered thumbtacks across the top and bottom of the wood.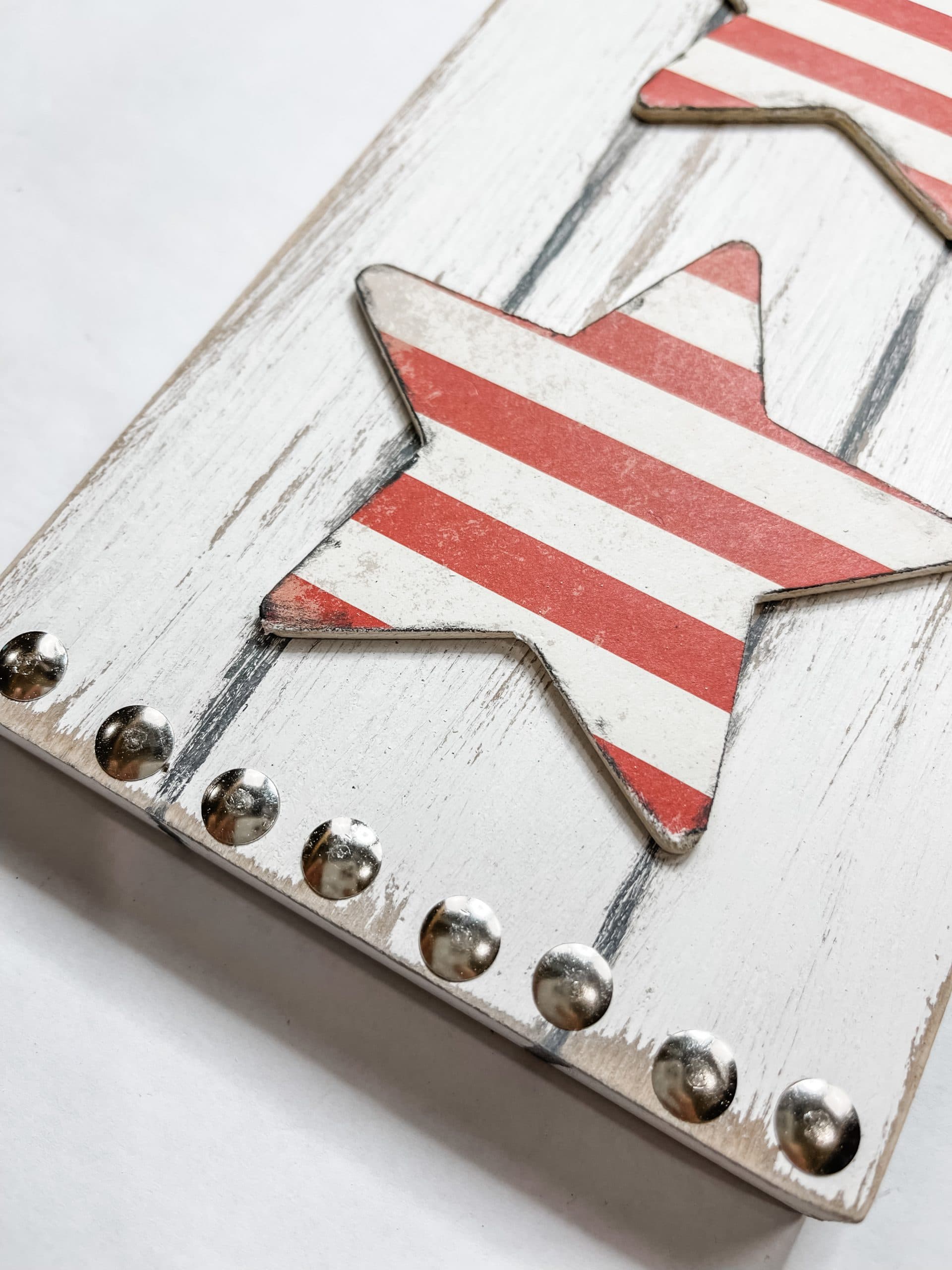 Next, I used a fine-tip paintbrush to lightly outline each of the stars with some black paint. Finally, I hot glued three popsicle sticks to the back of the wood to create a lip to hang this decor!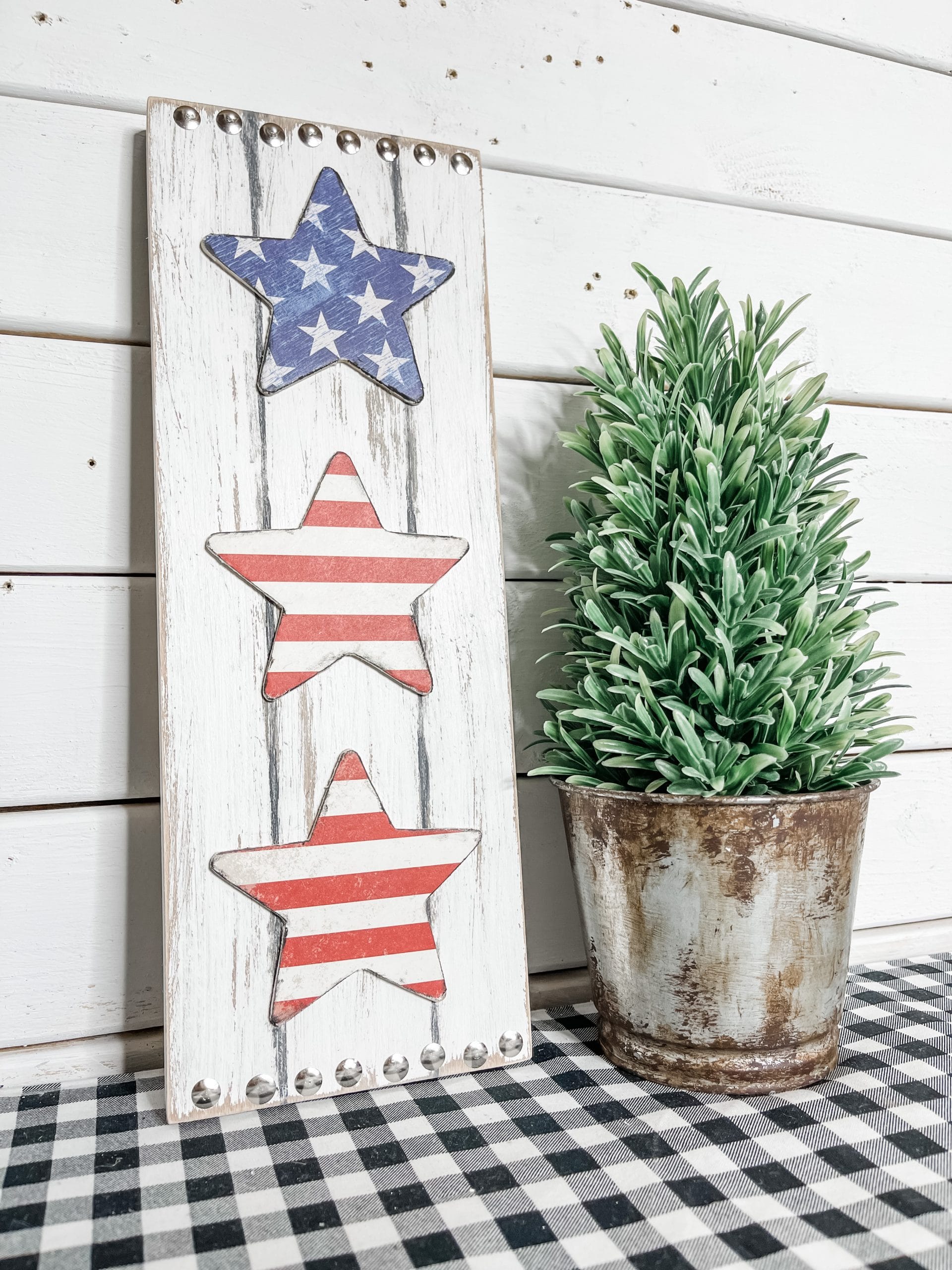 I hope you enjoyed this Faux Shiplap DIY Patriotic Decor as I did and decide to make it for yourself! If you do, I would love to see how yours turns out!
You should totally join my FREE Facebook group called On A Budget Crafts! It is a judgment-free community for DIY crafters to show off their projects and ideas.
Thanks for stopping by! XOXO Amber
You can also shop my ENTIRE AMAZON Favorites shop just click here! It's packed full of all the things I use and love. Here is the supply list I highly recommend every creative have on hand!!
Would you also pin my blog for later and get on my newsletter alerts? I would love to have you join my #craftycrew.
Inspired? Leave me a comment below! I love hearing from my readers!

Join my free "ON A BUDGET CRAFTS" Facebook group!