Dear _________
Can I start by saying what a whirlwind of a month May has been! Actually it's been extra crazy since Jan! (read along)
I recently announced that I was closing my brick and mortar location and shifting/rebranding my business to Amber Strong! Long story! I have shared several LIVE videos on my facebook page with all the updates through the process leading to the decision! I know we might not have spoken or connected in a while but I wanted to really write this out and explain what the heck has been going on! (the store windows are now blacked out)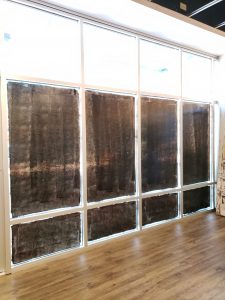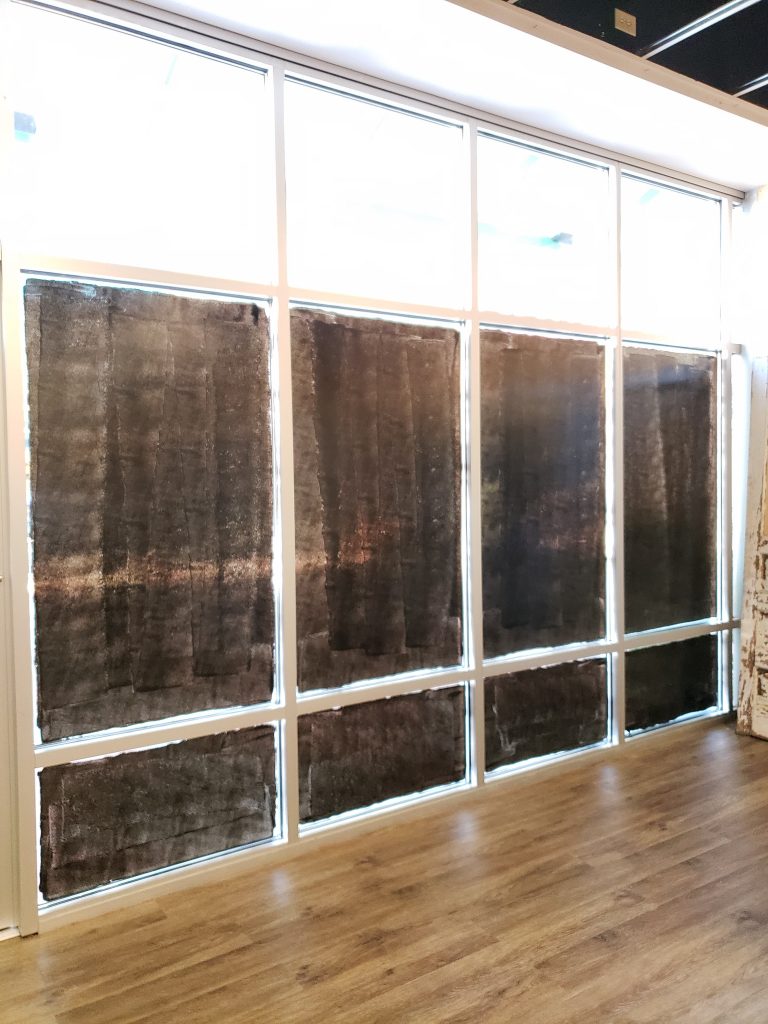 .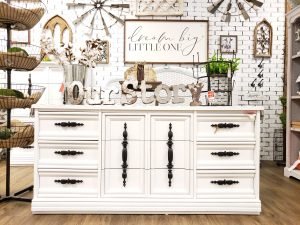 .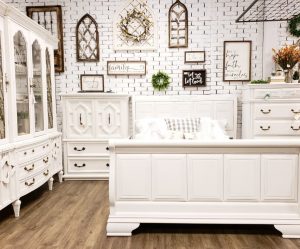 Can I be honest? I am so torn! Am I sad? Am I not sad? Can I be both? I know what you're thinking reading this. WHAT? You're closing?? Listen, I know. I actually feel both sad about it and not sad one bit! As a believer I know that God has great big things in store for me and my business! For a few years now I have not only operated a successful storefront but I have shown you #rustycrew how to create beautiful things and I have helped coach thousands of business owners both privately, through my masterclass and my recent course Business Next Level and my soon to open monthly coaching group! (more in a few). I got in this groove of what was the normal and what was comfortable and here it is out of left field….. SERIOUSLY, CLOSE UP SHOP! That came out of no where GOD!
So, before I elaborate anymore, you will see new page links here on my website and NEW SOCIAL MEDIA NAME happening on Facebook and Instagram! I have officially requested to change my social profiles. In the coming weeks you will see that rebranding take place. The new name on socials will be Amber Strong. I have rebranded my business to lead out as a creative influencer, business coach and motivational support for your everyday life as well, this website will serve as the hub for anything and everything that is to come!
Now that you are up to speed. I'll break this down further! I found myself asking where is this all going? I have prayed and prayed and asked God to guide me where he wants to use me to serve! Through many meetings, back and forth negotiations every door closed for my store. Not because we were not successful but location hurdles along with other things that just didn't make sense! How can a successful store close with no where to go? Listen, I know this to be true, what we think makes zero sense makes 100% sense to God! After all I did ask God to show up and open and close doors and make it very OBVIOUS where he wants to take me.
If I can be so transparent through this letter aka PUBLIC SERVICE ANNOUNCEMENT, I am a little scared! The fear is getting at me! The unknown! The imposter syndrome has crept in! WHAT WILL THIS ALL LOOK LIKE? Y'ALL! But, That is the enemy trying to distract me and take me down! But I am not that girl! I know this! I am smart, I have successfully educated thousands of business owners all while running my store. What is changing? No more store! I am no less smart or unable to execute teaching others what I have learned through my business journey and the countless courses and coaching I myself have had, because I won't have a storefront! Those are the lies the enemy is telling me! No more store, YOU'RE DONE WITH! NO, NO I am not! If the enemy is beating at you listen, it's not over for you either!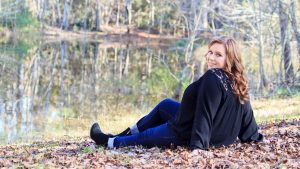 I teach "mostly" women in business to face the fear and believe they can! That there is a purpose for them! I know this and I believe this. Maybe you can relate to this. I have spent the past 7 years making and creating, operating booths, running a brick and mortar, helping other business owners on the side. It is hard to look forward and think no more creating? that is all I have known. I found myself saying, God makes no mistakes! He knows exactly what he is doing!
I can not walk on water but I imagine this as the same faith! Just having the faith to know that I could and actually doing it when I did have the faith! This is very much where I am right now! I am putting my faith in something that I have not done full time and I am having faith that the Lord will guide the path for me and open that door to use me to help as many as he see's fit! All I can say at this point is use me Lord to serve your people! THIS IS THE BEHIND THE SCENES LOOK AT WHAT THINGS LOOK LIKE WHEN YOU ARE MAKING A PIVOT! #REALLIFE
So, if you are reading this and you are my business friend I am exited to tell you that there are changes coming and there are new adventures on the horizon too! On June 10th 2019 the cart opens for my monthly coaching group #hobbytoceo Insider's club. YES, I am doing the BIG HARD AND SCARY thing!! This is my monthly coaching group where I show up and educate business owners how to build their business through weekly instructions. I am beyond excited for this, even though i am still scared, I am pushing onward!! I will also be dripping through the pipeline mini courses, meet ups and THE BIGGEST THING THAT I HAVE HAD ON MY HEART (a conference/retreat) Gosh I can not believe I just said that!  THAT RIGHT THERE WILL HAVE TO BE A TOTAL GOD THING! Because I am in no way the person to publicly speak! It's one thing to get on a video in a room alone and talk to my #rustycrew, it's another to be in the actual room with eyes I can actually see looking at me. Oh goodness, I have no clue how that would look but it has been lingering in my heart for a year now and I just have no clue how that would even happen with the above mentioned issues I have! But God can use anyone I suppose!
So can I clarify with you, my business is not out of business. It is just going to begin to look different on socials AKA Amber Strong! Pivots happen all the time. God walks us through things for seasons, he prepares us through those seasons for what is to come. Could I imagine waking up one day teaching other people business? creativity? marketing? tech stuff? HECK NO! I had to go through every step of that journey to get here. And the journey will continue!
Now that I have been extremely open and honest, (that's how I roll) Truth Teller right here! Let me tell you about #HOBBYTOCEO INSIDER'S CLUB Its going to be a coaching group like you have never seen! I am proud of the fact that I am a great educator! My teaching style has multiple facets! Visual, Textual, Audio, Graphics and detailed instruction. I am a different learner. I learn the way I teach! That is what I feel gives my teaching style the advantage. I am definitely a HOW TO educator! It is one thing to say do this, it is another when you explain how to do that thing! So trust in this, I will bring the fire and you will be armed with the tools and knowledge to successfully build, run and grow your business.
It is beyond time for me to step out and make a full on pivot! My social pages will look different, I will still share the inspirations, creative processes and BUSINESS and LIFE there! The social page name will change as well. Home Market makes no sense yet that is still my business legal operating name as an LLC. So in the back ground it will still be there. But don't be alarmed when you see the change to Amber Strong. It's all ok! 🙂
The group, I know what's it cost? Well I am a girl who likes affordable and I know all about the budget life! So I decided to come out the gate at an affordable monthly price of $39 month! A family of 4 spends more than that on one dinner! AMEN! But I know that there are some of you who want a deal! So I have 2 more options to get in! Yearly at $389 or as a LIFER! Yes, lifetime coaching with me in #hobbytoceo insider's club for just $999. Amazing right! I know!
So what is next? Well if you want on the wait list to know when the cart officially opens just go here to get the alert! If you want to join now you can do that too! (the cart is open) Our first coaching session will be Mid June! There is not unlimited spaces or time to join! The cart will close July 28th! (I am leaving it open longer for my launch but the cart will close up)
This was my open letter to you, a full public service announcement! But an invitation too! So, tell me what is holding you back? DM me on FB or to my inbox info@themakersmap.com! Let's talk about it! I know all too well the side of avoidance, lack of confidence, fear and inner sabotage!
But, I am excited for you to get in! I am! Because I know that I have been placed in this position to help others through educating what I have learned through the past decade! I hope to see your smiling faces inside the coaching group! It's going to be so good! I put together this chart below to help you identify where you might be right now, and where you want to go! I too use this path to success method in my own business. (btw, this is not the curriculum for the group its simply a tool for you to use to evaluate your path and what you might be experiencing and things you might think on) The Full Pathway to success will be found inside the coaching group resources area.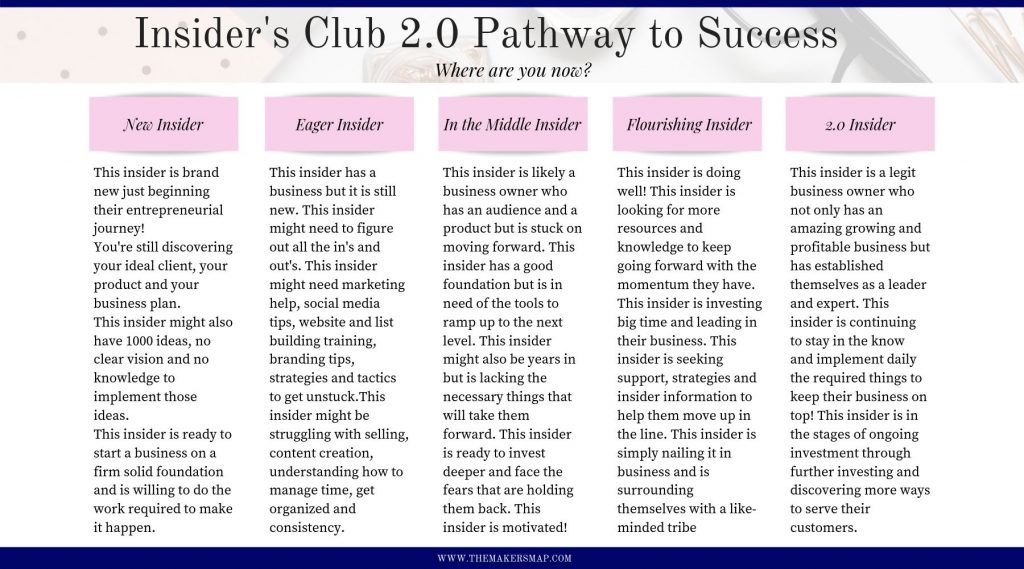 Now that we are all caught up through this rather lengthy and totally necessary letter, let's do this GREAT BIG THING TOGETHER!
XOXO – Amber
p.s. if you are looking for a free resource to help you get started before the group coaching begins, take a look at my free masterclass! The pop up group isnt LIVE anymore but you can still go through the masterclass!
FIND ME ON PINTEREST!