Free Course for Entrepreneurs and Creative Business Owners
My free course I titled The Entrepreneurs Starter kit is for creatives or entrepreneurs like you who want to start or re-ignite a profitable business locally, online or both! Can I be honest? Business ownership is hard! But business ownership can be so rewarding! My free course/class is going to get you started in the right direction! I like for all my potential clients to dive in the my free course first!
Starting a new business and getting it up and running requires clarity, mindset, vision and the ability to execute consistently on the right strategies and leverage the best outcomes. I wholeheartedly believe that without the proper steps and guidance, the process of business ownership can be overwhelming and can keep you stuck and down for the count! Yes business ownership is a constant process!
I created this free course initially as a pop up masterclass to help fast-track you to creating a business you love! My pop up masterclass was a huge hit that I decided to take it up a notch! Since then, It has wildly become a staple free course that I offer!
Through this free course "aka" Starter Kit, what I will not offer is an instantly successful business right away! This will not create over night success! Friends, There is no magic wand for business ownership! But what my free course does is it allows you to start, re-evaluate, learn, apply, grow and save you years of expensive trial and error on the simple things that you must do from the very start! I have already helped many business owners just like you and I would be so honored and humbled to work with you too through this free entrepreneurs course that helps you take your business Idea and lift them off!
So, Tell Me What's Included?
The Free course originally took place inside a free pop up group on facebook, that is now my FREE FACEBOOK GROUP FOR ENTREPRENEURS "Grow Your Business-Grow Your Impact" You can join right here   There is tons of value inside this free business course! Plus, inside the free business group on Facebook you can catch all the REPLAY trainings that were LIVE!
JOIN "Grow Your Business – Grow Your Impact" Free Group Today!
Looking for my Signature Paid Course BUSINESS NEXT LEVEL? That is currently closed but you can join the wait list right here! 
UNIT 1 
Define your PURPOSE
Establish the Problem You will Solve
Find your Passion
Identify your strengths and weaknesses
HOMEWORK
UNIT 2
Identify your product or offer
Learn how to identify your ideal customer
Learn how to set up discoverability
Establish your business plan of action
HOMEWORK
UNIT 3
Free to start – Free Mini Canva Bundle
Marketing 101
Understand Launching
Stay the course and get a business buddy
HOMEWORK
UNIT 2 – Established
Evaluate your current business problem
Re-think your mindset
Discover new strategies
Establish your new way to do business
HOMEWORK
This free course was recorded LIVE and each unit and the contents of the free course trainings are now loaded into the Free Business Course hub that is nestled inside The Maker's Map University on the Thinkific platform where I keep all my digital courses and free curriculum.
Join the FREE FACEBOOK GROUP BELOW
I will be honest! My Free Entrepreneurs Starter Kit Course is a serious mini course to get you started! It is not one of those pathetic courses you might have taken! I actually GIVE YOU WHAT I SAY YOU'RE GETTING!
I often say there is no elevator to the top! You absolutely must take the stairs in your business! But, know this…. Your results 100% depend on you!
Through my free course you will have the tools and beginners mindset to start the business you have dreamed of having and get it lifted off! There are NO MORE  excuses, NO MORE believing the lies you keep telling yourself. But Most of all, you will establish the confidence to do the thing you have pushed aside that you didnt think you could do! But guess what! You can do it! And I am going to show you how! Listen, it will require consistent daily action and a willingness to stay the course.
One of the things I am a believer of is the business mindset. That's why my primary goal is to train you to think, behave and make smart decisions like an entrepreneur so you have skills that serve you for life. You must think and act like a business owner from the moment you take your business idea and lift it off!
So are you in? Are you finally ready to create a successful business?? Are you ready to take your current business up a level?
I What if I already have a business?
My free course is perfect for those who already have a business, why? Because the free course helps you re-evaluate, re-think, re-discover, and re-ignite! I hear from so many business owners who are just stuck! They are discouraged, tired and desperate for change.
My FREE COURSE will allow you to not go back to the beginning but it will allow you to get a refresher on the business mindset from the start. Maybe you started your business without the proper foundation? (that was me by the way) Maybe you started your business as a hobby and bam here you are business owner but not sure how to be a business owner.
My free course is going to help the established business owner as well as the new starter! You are going to find great take-aways from this Free Entrepreneurs Course and a fresh perspective! To Light You up and get you on fire again for your business! 
HOW LONG IS THE FREE COURSE?
When I created this free course (i taught it LIVE) it was roughly 1 week long, And YES, I know that is fast! So, How can I learn everything in 7 days? Good question! That is exactly why everything I covered during my free masterclass was loaded in to my Course University! Because it was so popular and loved by everyone who took it I turned it into this Free Course!
SO, NOT TO WORRY! You can go through it at your own pace! My free course is designed to help you get started for free, it's my mini course or as I call it "my prelude to my paid courses". This free course will help you get started and my paid courses takes you deeper and farther in to business ownership! My signature course Business Next Level dives deep into the FULL framework of business ownership, creating a stellar business from the ground to ongoing ownership and simply taking it to the next level.
Even if you do not get into any of my paid courses this free course is your's inside The Maker's Map University hub.  Remember, even though this was a 1 week free course, I layout all the things to help you start and then I offer the next steps through my courses to help set you on the successful path of business ownership. (get on the course wait list)
Because I am in the early stages if building my digital course curriculum, I ask that you have patience as I learn the in's and out's and fix any issues that may arise as you take my courses! I have fully prepared myself as a digital course creator for hic-ups and things to go sideways sometimes with technology. let's be honest….. doing new things will often come with the unexpected things and we learn through the processes. I ask that you have patience and understanding, if something breaks, will not load or a video disappears please email me!
But remember you are taking a FREE course. Please be considerate of the FREE time that has been offered to show up and help you. If you contact us for support through the free course please be aware there may be 24-48 hour delay!
Please share this Free Course with your business friends and if you want to feature it as a resource on your blog, website or collaborate with me, please reach out via email. But I ask that my students share it with everyone you know! It is extra important that I have the opportunity to invest in as many as I possibly can, that is my mission and driving force.
Your help getting the word out is so appreciated! Let me say a big thank you in advance as I know some of you are already on red alert spreading the free course all over the internet!
How do i sign up????
It's EASY!
Simply click below to go over to the sign up area for my Free Entrepreneurs Business Course!  Again, It's totally free….. promise! Now go ahead, what are you waiting for??? SIGN UP NOW!
Listen, My goal is to teach you how to be a business owner and to re-ignite your current business. Through the creation of the free course we had Q & A time, and those videos as well as the trainings are all inside the free course hub! Why did we do this as a LIVE class? As a first time course creator it was very important to me to create a small community as I launched with absolutely no proof, I wanted everyone to see the happenings inside the group to validate that this free course actually works for any level of business owner! AND IT WAS A HUGE HIT! Over 500 business owners and entrepreneurs have gone through this free course!
I hope that you are pumped up to get your business on board to a step in the ROCKSTAR Business ownership direction!
Come on and get in!
BUSINESS NEXT LEVEL COURSE
THIS COURSE IS CURRENTLY CLOSED!
GET ON THE WAIT LIST!
If you are READY to take your business to the next level! Ready for freedom to work from home, the ability to earn more income, to really un-stuck your business or maybe to start fresh… don't wait another second to to make it happen!
Don't miss your chance to invest in yourself and get the help and entire business framework you need to grow your business.
Course CLOSED to new students on April 15th 2019 and will not open again until late 2019. 
Let me ask you, if you are still ready get on my wait list please! 
Seriously, think about it! Ready to invest? Grab more info right here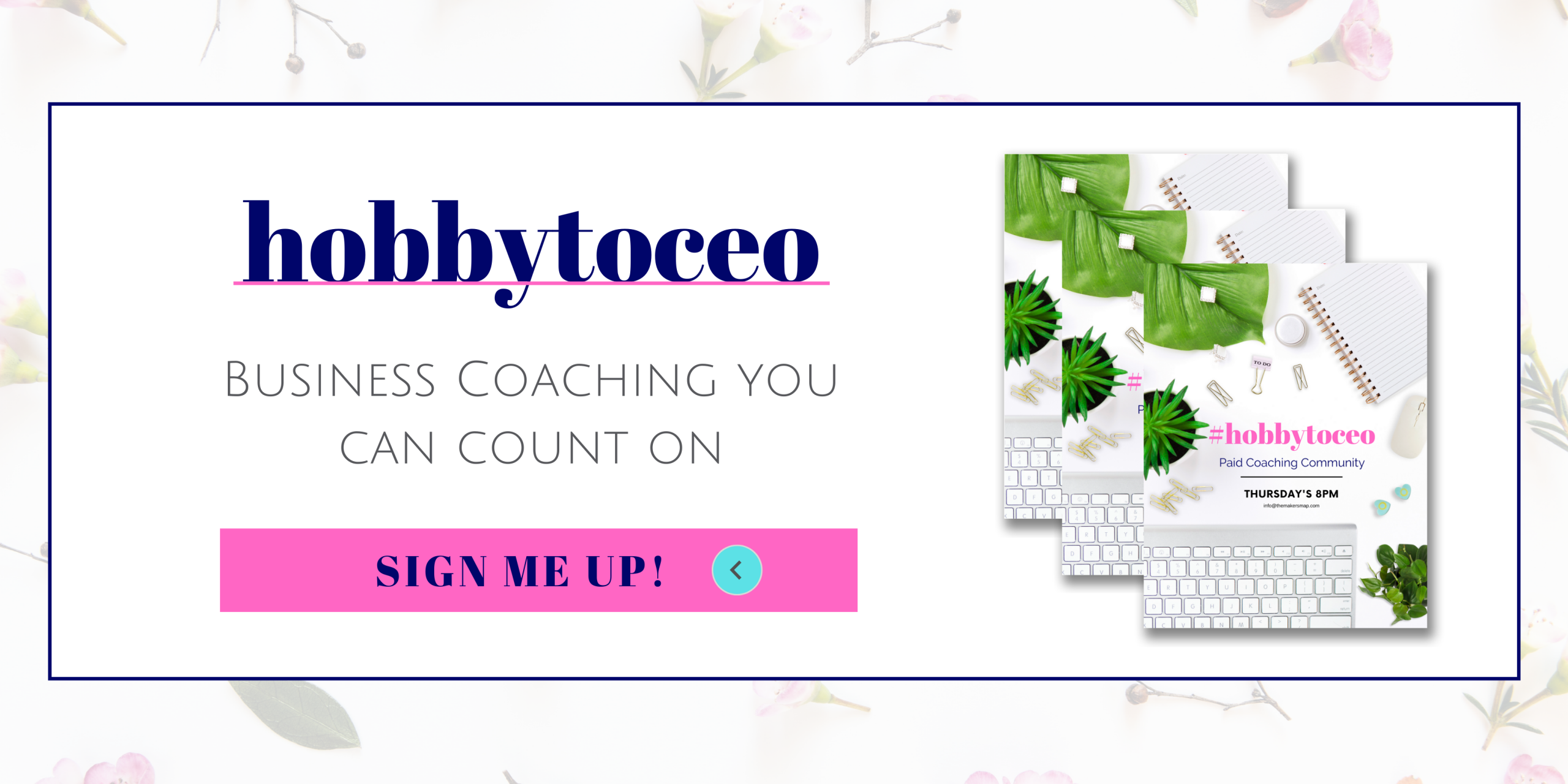 Is Business Next level for me?
We identify businesses in three stages:
1. Dreamers are those who dream about starting a side or small business but haven't yet nailed down their idea. If this sounds like you, we recommend starting with the FREE Course for Entrepreneurs In the free course, Amber guides you through the process of choosing your best business idea — so you can finally start making money doing what you love.
2. Starters are those who have their business idea and are in the beginning stages of getting it off the ground. Business Next Level is a great place for Starters to build their business on a strong foundation and avoid many of the mistakes that new business owners make! And if you are looking for monthly guided coaching then maybe #hobbytoceo insider's club is for you! 
3. Builders are those who've been building and working their business and are looking to grow and scale. Business Next Level helps business builders chase their version of success. Sometime's Business Builders often have a business that gets STUCK. This course will help you get your business un-stuck!
Business Next Level is the entire framework to running a sucessful business. and is taught with the HOW included! I pride myself in that arena of teaching! Show the HOW! The course has been tailored to help you suceed in business ownership. Remember there is no elevator to the top in business. We all must take the stairs, but we can do so by working smarter. That is what Business Next Level will help you do!
I am scared to fail!
Fear kills more dreams than failure ever will. It's cliché because it's true. Stop letting fear hold you back. As an Business Next Level member, you'll gain the confidence you need to move full speed ahead.
LISTEN!
There are people who need what you have to offer, and you don't need a business degree to serve them. Stop wondering if you're doing things the right way. Whether you're learning how to run a business or you've been doing this for years, my course helps you build your confidence so you are prepared to handle every new stage or set back, every curve ball or crazy customer!
Going alone??? Running a business can get lonely. That's why the Business Next Level is more than just a course I am creating a community. It really is a family you can trust and lean on for support so you never feel alone. 
Your membership in the course includes access to our exclusive Facebook Community group where you can connect with Amber, her team and your fellow students/members.
Accountability and support are critical to making progress in any business. That's what we love about connecting you all to each other, beyond the course itself. You've got an army of women/men who have great advice, tips and solutions, and who want to help you win! Team work makes the dream work! YOU GOT THIS! 
Have questions about the course? Send us an email please allow 24-48 hours for a response.