Hey there!
I am back with another power blog post for you! By now you have heard lots of changes have been happening in the Facebook and Instagram worlds! So how do we fight the algorithm? How do we find new ways to stand out in our businesses? We use our profiles! You might have heard me say time and time again that your profile is the gateway to your business! AND IT IS! I talk about this often in my private coaching group, btw I have a serious special offer for you at the bottom of the blog don't miss it! ($9 trial in my coaching group) 
In this post we are going to give your social profiles a bit of an audit just to make sure that they are looking good and really helping you to stand out!
Many times we are off in social land networking, communicating and establishing our presence in the social arena! Whether it be in groups, on other peoples pages, in messages and so on! Often times I find my self curious about what another poster does, and I click their profile bubble only to find ZERO DETAILS! I don't know if they have a page, a group or a business and every thing on their profile is so secret. Listen I understand you want privacy! Me too! that is why you can actually post to your newsfeed and change the setting to friends only or private and still use your profile as a gateway to your business. (you can find my recent facebook live free training here)
When I see profiles like that I am like that is so "janky"! I know that probably isn't a word but I am using it! In this blog post I am going to show you how to up your profiles game! Both on Facebook and Instagram! I will break it all down for you! Plus you can use this blog post as a free guide to help you "un-jank your social profiles"!
The reason behind this mentality is that you want people to discover you and your business! You want to establish a presence for your expertise and authority! You are in fact becoming known for something! It is your job to lead out in your business and be YOU in your business! Your profile friends is the gateway to your business! We will not cover facebook PAGES in this post. But I will cover it in an upcoming blog so be sure to subscribe to my newsletters so you don't miss out on future posts from me!
Let's get started! I will begin by showing you my personal profile on Facebook (as of August 2019) THIS IS NOT MY PAGE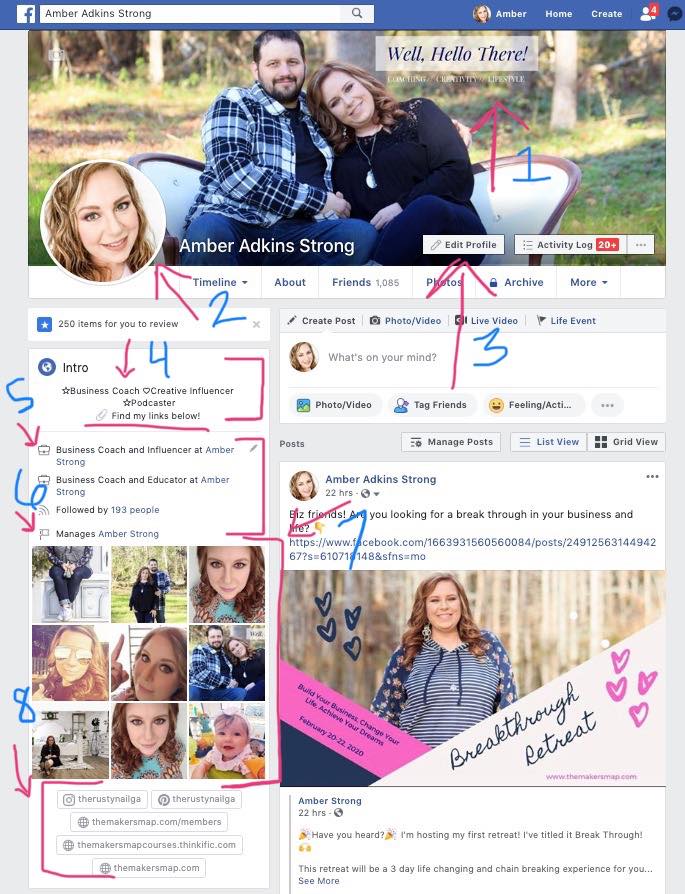 I have numbered the sections so you can keep up!
Your profile cover photo. You want to use a good photo that is clear and either tells a story (through the image) or is a photo of you. You can include text as I did. Remember the Policy of Facebook has always been YOU CAN NOT USE YOUR PROFILE FOR BUSINESS OR SELLING! You will EVENTUALLY get shut down! So do not do this! If you have been running a business on a PROFILE, you need to create a page asap! Your cover photo should be 820×360 for desktop but the visible are on mobile is in the view range of 640×312 You can use a free service called SNAPPA to help you create the perfect cover photo! Or Canva which is one of my favorites! Notice I added a bit of text overlay to my photo. 
Next you want to add a profile photo of you! Yes of you! I know you may not be a fan of photos of yourself, and I am not to fond either but it is important as a business owner to have your photo of you on your profile! Make sure it is clear to see who you are! Listen we are trying to class up your profile! Your photo should be a square! If it is a rectangle you may have trouble because it will select a round portion of your photo to focus in on. Try to use 180×180 or 300×300 the point is keep it square! Be sure to update the profile photo every few months or so!
To edit your profile you can click the edit profile button, OR you can see on the left side as you hover over there will be a pencil that shows up that allows you to block edit areas. or you can choose to edit profile from that tab area.
The area shown here is not clickable but it is the first area shown under your profile cover and your profile photo. You should keep this brief and yet clear to you! If you will add links under the featured photos area be sure to draw attention that you have links below.
You want to add YOUR page to your WORK area. We do not get the word "Owns" from facebook it simply states WORKS! You can edit this area and tag your page! You do not want to tag a company you consult for! PLEASE DON'T DO THAT! You want to tag YOUR PAGE! Even if the company you consult for requests you do this, you can tag them UNDER your wn TAG! But i prefer you not tag them at all! Doing so is sending them off your profile and to the main companies page! Be sure your page is created first and you can tag your page on facebook. THIS is where the GATEWAY part comes in! That tag in the "WORK" section is clickable! People can find your page through your profile there! Plus you can add other pages you manage as well! This gateway is to your things not to someone else's if you are a consultant or direct seller.
Once you have a page you can select that you MANAGE it! So it will show again to those viewing your profile! You can not tag your page too many times! Due to the restrictions from facebook we must get clever! So be sure you include in this area all the pages you manage!
This area you can choose to set up or not to set up. But the featured images area on your profile is a brief over view of you! Especially to new people who are discovering you! Choose a few photos, one of you, maybe your family, a favorite vacation, your pet and your business products, and possibly something else dear to you!
Lastly, this is the final area you will edit in your profile. THE LINKS AWAY FROM FACEBOOK! Yes friends you can use your profile to send people out of Facebook to other things you offer, a blog, a website, your online shop, maybe Etsy. Doesn't matter you will want to include this in your profile. You will also want to include other social sites like Instagram, YouTube, Pinterest, SnapChat and so on! Do not leave anything out! Remember this is your chance to lead in your expertise and what you do! If you do not have links yet you can edit this later. If you have consultant links or affiliate things you want to promote do so in this area.
Coming soon- You may have this feature. The "hobbies" feature area on your profile, found on mobile only. You can set this up just to share another aspect of YOU! It is not required but a cool thing you can do to show off your personality and who you are! Check if you have it under "edit profile" on mobile devices.
Here is a closer look at my profile information.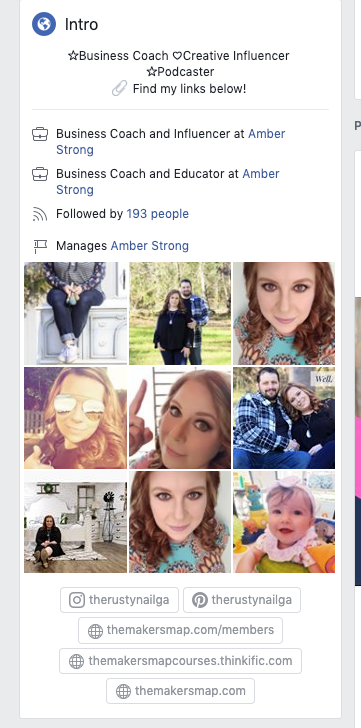 Let's move on to Instagram!
On Instagram you want to switch your profile to a business account. It is easy to do under settings! You will find the lines top right corner. Tap the 3 lines, it will open a new area. You will see I have drawn arrows to some helpful areas you should make note of. (one of which is request verification) The request verification will be available to click once you have a business account. You can switch to business account or activate it under account tab.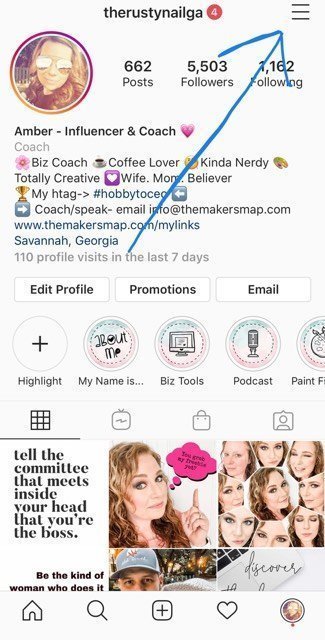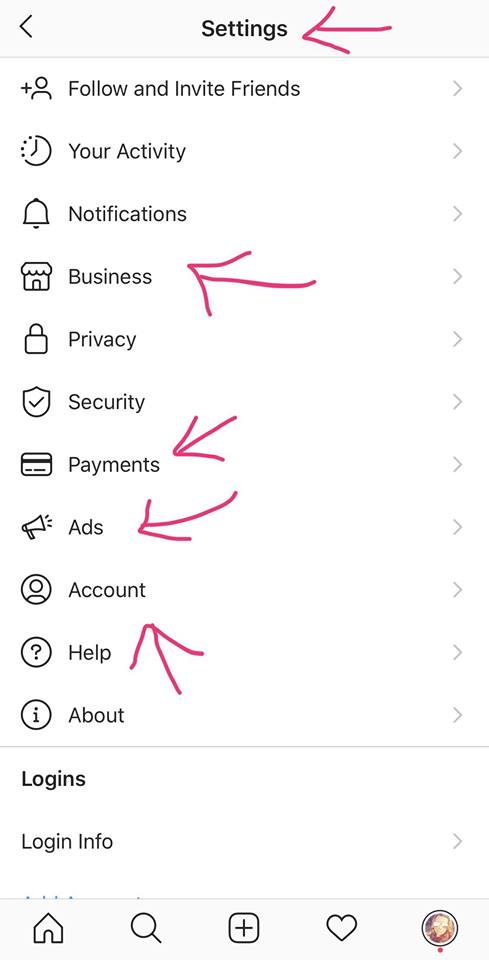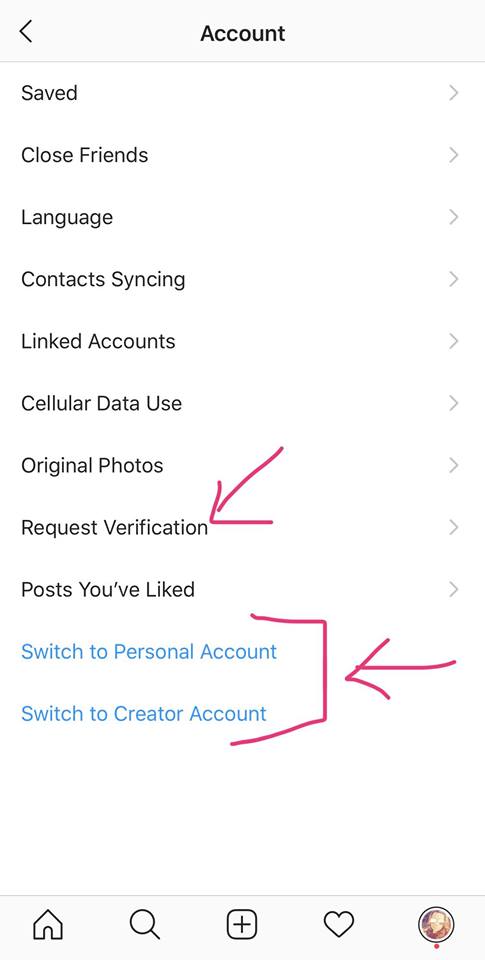 Now you should see the same features that I have. Same tabs too. If you do not have a shop on facebook you may bot have that option available. Whether you want a facebook shop at the moment or not it is ideal for you to get one set up. I have a hack for you to use to check out on your own website, but that will be in a different blog post. You will want to get my blog alerts so you don't miss out on it here!
To get your Instagram profile UN-Janky! You need to set up your profile to include important key things. Let's go over them! Take a look at the 1st photo below. You can see I marked those 3 lines up top again for you to see. But I also marked the EDIT PROFILE tab! Just click there and you can begin those edits!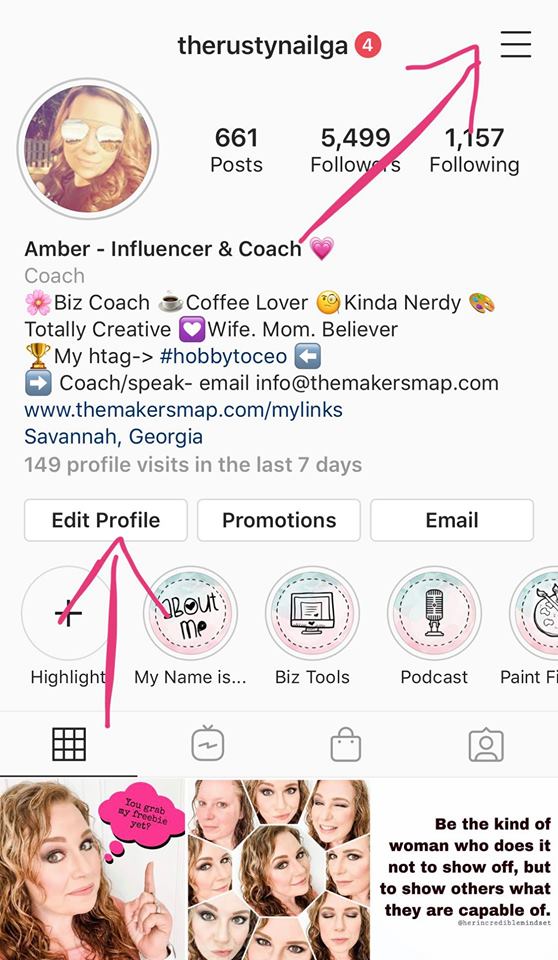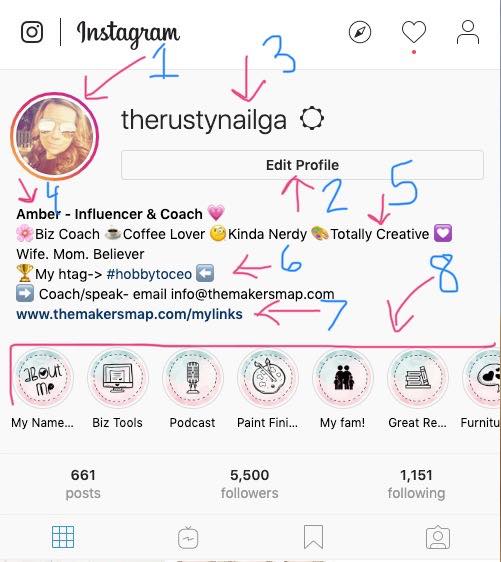 Now that you are ready to edit your profile I want to focus on the main areas of your Instagram Profile.
Your profile photo. Depending on how you have your business set up, whether it features you offering a service or a product you can choose to include a profile photo of you or your product. But be sure that it is YOUR photo and not someone else's or a stock photo.
I took this screen shot from my iMac computer, you can edit your profile from your computer or laptop. But you can see on mobile that you can edit there too!
Your @ handle or username. You want to choose this wisely, I unfortunately am stuck with one that I created many years ago in my at home furniture painting and DIY days. I don't mind too much that i am kinda stuck with it at this point, it is just apart of my story plus I have it linked everywhere. BUT if you change this @ username or handle please know that if you have tagged yourself anywhere else the OLD @ link will be broken, it will not redirect to your newly created @ username. So please choose this wisely from day one. But if you cant change it just go with it! It's not that deep!
This is where you can add your business name, or your first name or whatever you decide. But this is like your name tag AFTER your @ name. This field is a searchable field. You can add key words here and hashtags too!
The description area is important, this is where you can show off your personality and your business. Get creative here! You are limited in text so use it wisely. DO NOT ADD LINKS HERE! I reserve the website area to include my link. Not my description. Now, if you have a few links you want to feature you can use this area but I would not clutter my description with multiple links.
Add your hashtag to your description! I used this area to feature my hashtag #hobbytoceo because it is clickable! Plus I want people to know they are invited to use my hashtag! Again searchable! If you have a few hashtags I would only feature your focal ones that are YOUR's!
The website area of your profile is absolutely key! Most people like to switch your (link in bio) link out regularly, that is alot of work and I personally do not like this method. I teach my coaching students to use YOUR OWN WEBSITE to add your MY LINKS too. NOT linktr.ee or any other LINK service pages. Why am I not an advocate for linktr.ee???? It is not your land (your website) you can not add pixel here and you are not getting people off Instagram to your website to discover you. You are sending people off Insta to someone else's website with your stuff on it. Simply create a page on your own site and add all your links to your things. That is the best practice! You are then capturing the traffic on your website and you are able to use Pixel to capture these people. You also are able to earn ad income from these people visiting your links page. If you want to learn more about why I refuse to use linktr.ee I have a freebie for you! you can go here
Highlight your stories! You can use this if you want, some people don't worry with it, but you might want to keep a story around a little longer and this is the best place to do so! You can make your own highlight covers on Canva or find free ones on Pinterest! (by the way if you are not following me on pinterest you totally should)
Alright now that you have your profile looking totally un-janky, let's look real quick at insights and some other great features!
We already covered settings, you can explore that more if you like! but let's look at what we see when we simply click the 3 lines again up top! You see settings at the bottom!
You see shopping bag! Did you know you can shop right from Instagram? THAT MEANS so can your followers and anyone on Instagram! This is why you should consider adding a shop on facebook because you can tag products on Instagram!
Lastly let's look at the insights feature! Insights are so key in understanding your instagram TRIBE! You will want to review this and become familiar with your what is happening on your profile and with your audience. Get to know your insights and check them at least weekly! (i also recommend that you track this because some things you can only see by the week) (i have a free tracker here you can grab!)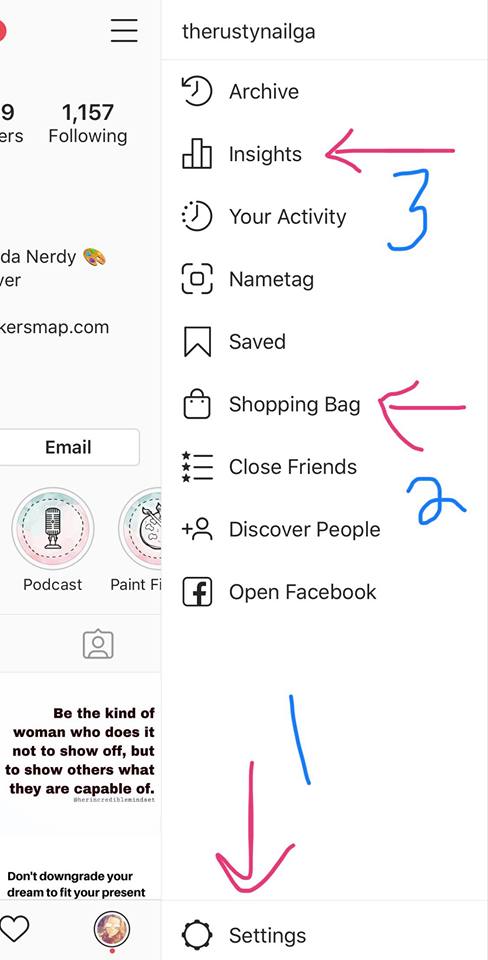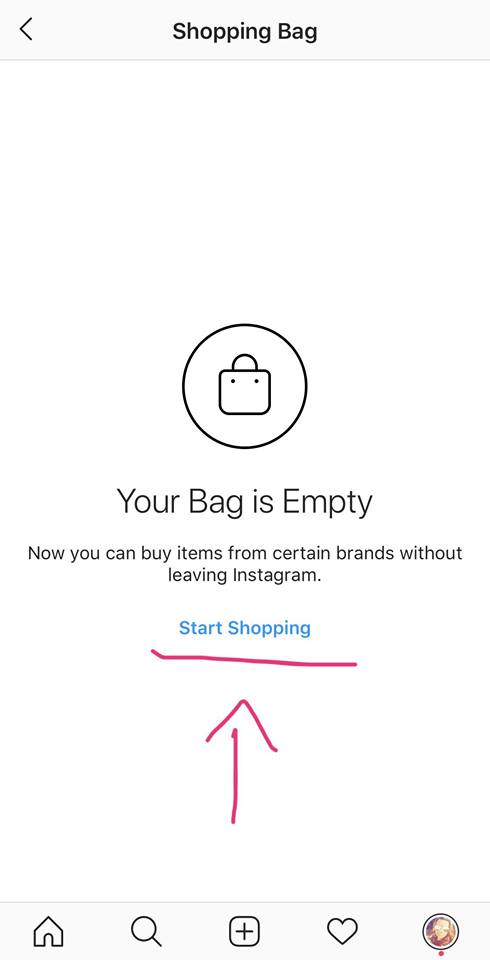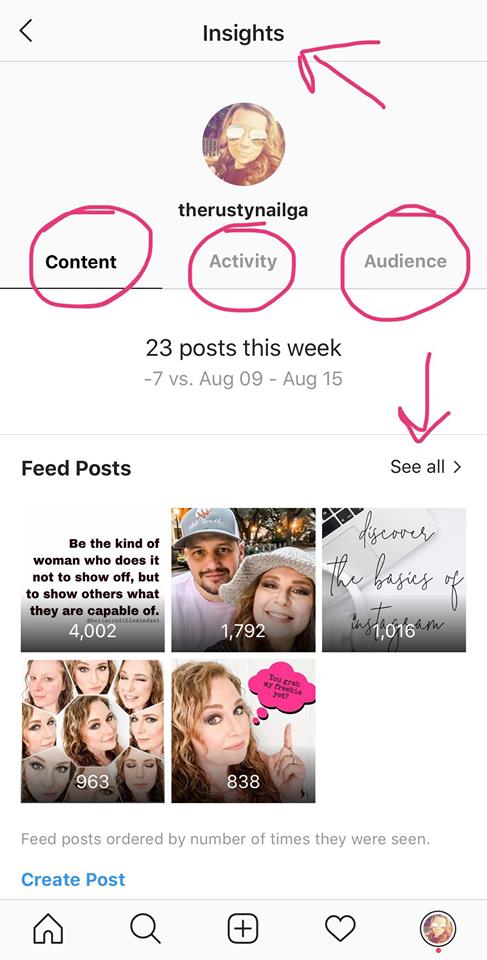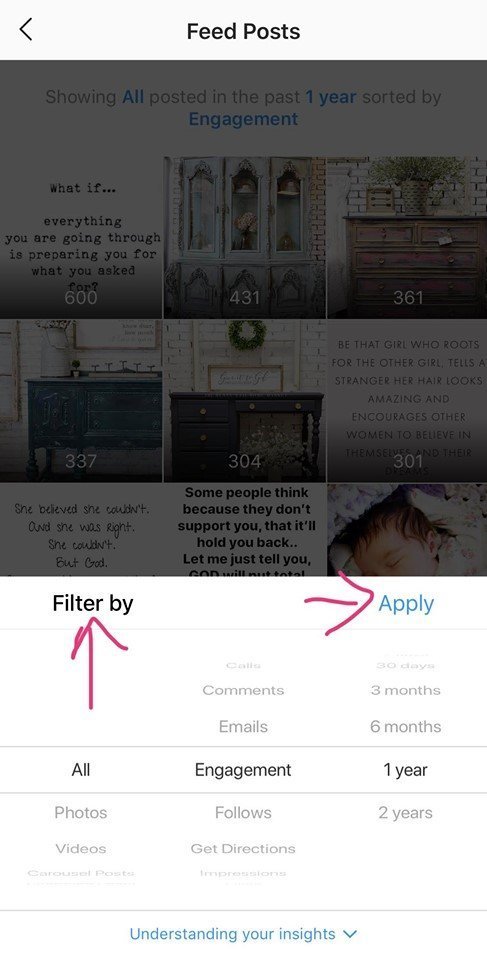 You will want to dive deep in to the insights area! You can choose so many different metrics to look at by simply clicking on Insights, Feed Posts and then word ENGAGEMENT The photos above will help you navigate this! You can also choose stories as well! This can only be found when you have switched to a business account!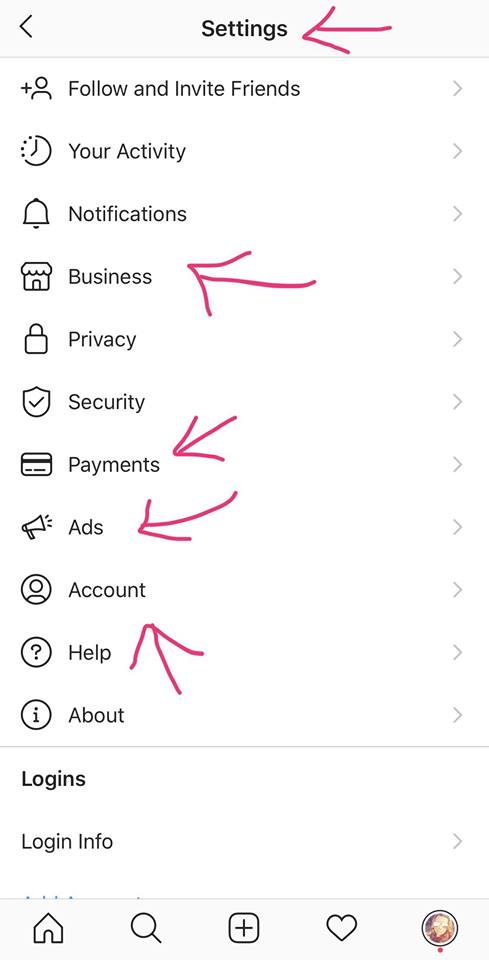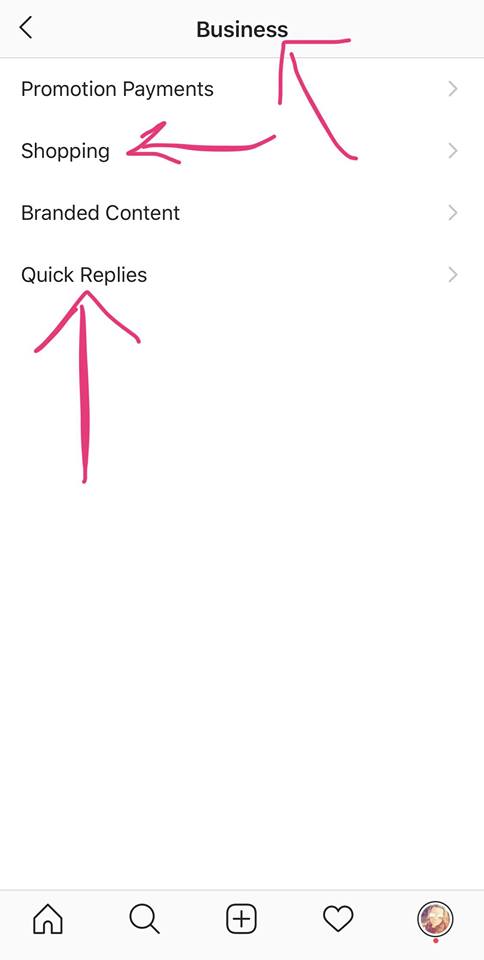 The last 2 things we will cover are going to be found under settings. This is the business area, the payments area, ads and of course your account.
Under business settings you can set up quick replies! You can also also see what shop is linked from facebook under the shopping tab.
Payments, this allows you to shop on Instagram.
Ads allows you to run ads on Instagram and this account is linked to your facebook business ads account. You can go to facebook to set that up.
I took a little extra time to dive deeper in to the behind the scenes of Instagram simply because you can have a business account and a personal but if you can not add another thing to your place simply switch your PERSONAL instagram to a business.  And in an upcoming blog post I will dive deeper into facebook pages and groups!
This blog post was packed full of information that might have overwhelmed you a bit and you might just be wondering why is this so important? Good question. My theory of owning a social business or being an influencer is this. You must "stay in the feed" that means personal, biz pages and IG accounts. Discoverability is key! You must create another way to be discovered and your profiles often times are the first thing people find, typically it isn't your pages unfortunately! So take the time to UNJANK your profiles! I truly mean this! You might think it is optional and not all that important but I promise you this. A well presented, organized and packed with information will go so much farther to help you in your business than one that has NOTHING TO OFFER the potential customer/follower!
Let's look at the difference of 2 facebook profiles. both of these are profiles that i found in a very large women's entrepreneurs group on facebook for networking! One has zero information! and one clearly has photos for sale but again no other connections. These women are both in an entrepreneurs group and they were dishing out their business links but yet nothing was found on their profiles linking to a single thing they mentioned in the group! If I wanted to be their customers they totally lost me!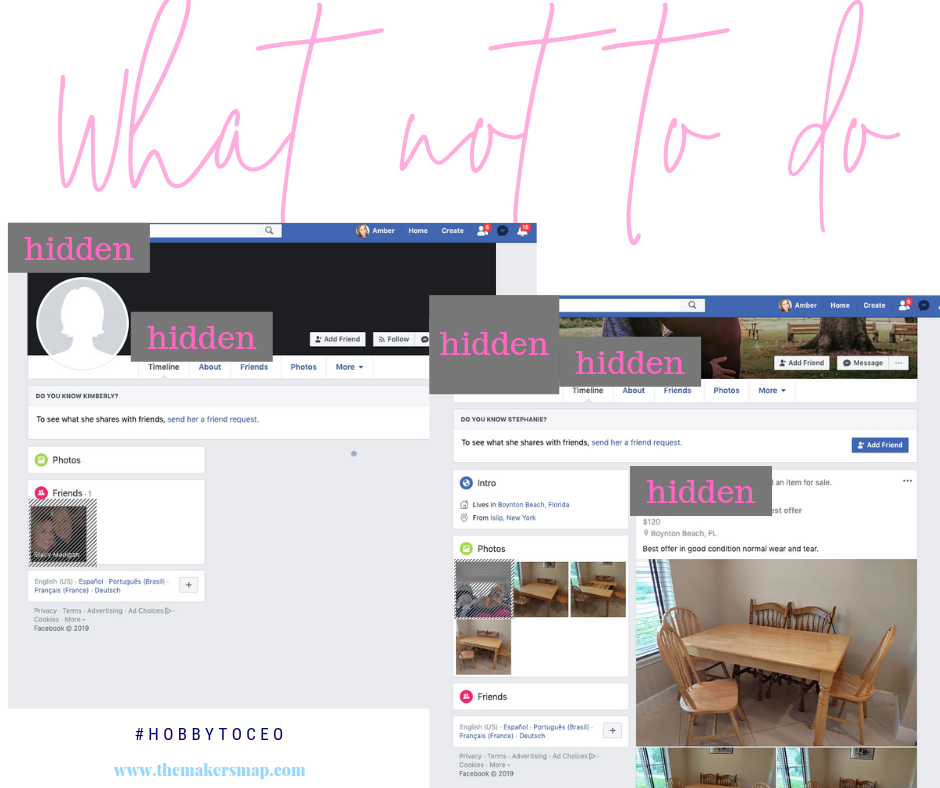 Let's look at a side by side of the first profile shown from that same women's entrepreneurship group on facebook (by the way, the facebook is really focusing on groups in connection to your pages too) You can grab my free notes on the latest facebook updates here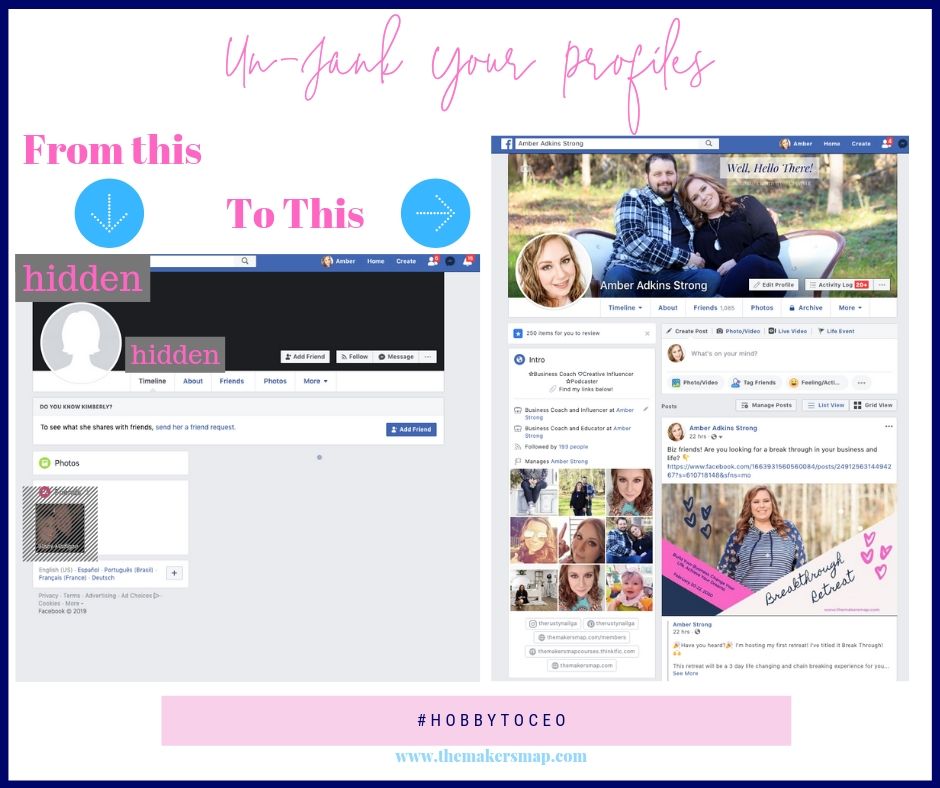 I hope you can see the difference! How important it really is to use your profile as your gateway to your business!
I hope that you enjoyed this blog post and if you find my blog helpful pass it on, subscribe and leave me a quick note below! I love to hear from my readers! And If you would totally tag me when you UNJANK your profile I want to see the before and after and I want you to be proud of your profile and business. (if you want to keep your business private from your profile, just know that you can set your private posts to not be public if you tap the globe) Be sure to tag me, and use my hashtag too! I want to see how your business is doing and growing too! #hobbytoceo
Until next time! I look forward to you taking quick action on this!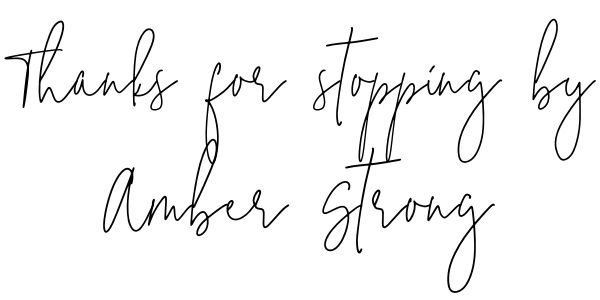 SPECIAL OFFER!!!!!
If you are interested in teaming up with a business coach, don't forget my coaching group is open and you can snag up a $9 trial month that is $30 in savings! You can join in here like I said just $9 for your first month! It is a trial but you have access to everything inside my group! Cancel anytime, otherwise renews monthly! JOIN IN HERE FOR JUST $9 (use code tryit at checkout) #hobbytoceo Insider's Club Private Paid Monthly Coaching Community!
PIN OUR BLOG POSTS!