Tell me all about how easy it is to mis-manage your time, because I swear I have mastered that!
On my blog today we are going to take a look at just that " HOW TO MANAGE YOUR TIME AS AN ENTREPRENEUR "I personally can tell you that I have "SOS" that i code for Shiney Object Syndrome! I am easily distracted, try to do all the things, or spend too much time on one or many things! I easily lose track of time! And because I believe that you might relate to this too, I decided to share with you something that I do to try to HELP me manage my time better! Yes, I said try! Because I believe that there is no possible way that I will always be on task, on time or the most efficient but I can certainly try!
But in a recent poll on my facebook page, I asked my business friends what they are struggling with most in their business and the results were kinda surprising! I figured most would say, I am not making enough money (some said that) but majority of people said TIME MANAGEMENT! I was like ME TOO! I need more time! So how can we work towards getting more time or at least being smarter with the time we have?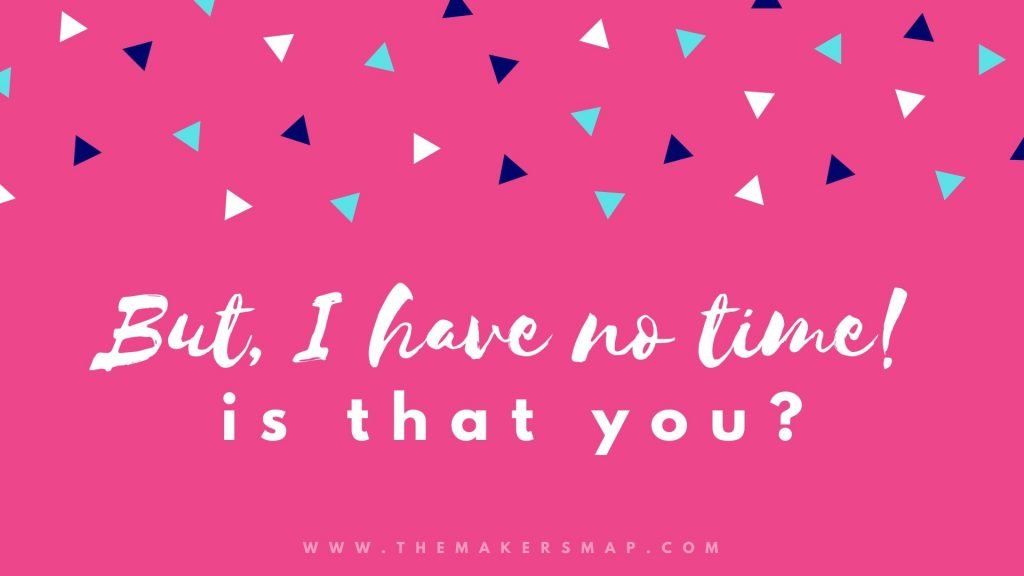 I have made that statement many times, to my husband, my children, to customers, to friends and to my clients and to myself! I have no more time left to give! Can I break this down for you? Just a little deeper! You have time for the things you want to do! Period! You simply do! That concert, that vacation, that super awesome black Friday deal, you can fill in the blank! But what you don't have time for are the hard things, or you spend too much time on the things you absolutely love that you lose track, or you are knee deep trying to learn new things that you thought you might pick up super quick and time passes so fast and you are now even further behind!
Can I tell you that I am talking about myself! I am not standing on a soap box here! As a business coach and motivator of people, I am often looked at with sideways eyes when I say that I am "WORKING ON IT"! Seriously, I have crap in my bucket too! And I use that stuff to help me get better, to help others and simply to be relatable! I never want to be so far ahead in the line that I can not also reach back and grab my fellow entrepreneurs and pull them along with me! I too struggle so much with this very topic! To the point that i almost didn't want to write about it! As you know recently, I attended Rise Business Conference, and I walked away with one truth, to tell the truth, be intentional, rip off bandaid's and simply be real! So that is what you are about to get! Hope you enjoy this blog post!
Alright so this morning (Thursday November 14th, 2019) I spent time on my Facebook page with my business friends, I like to do this often! I like seriously love to spend time with my facebook people! But I do this thing called Coffee & Conversation, but this week has been the interactive edition! Like I am showing up for real! And we have been talking about consistency in our business and our actions. Creating some clear intentional insights in our lives and business. (I've been steady issuing challenges to my Facebook friends) Seriously if you have missed it, you need to come follow along and join us! Follow me on Facebook Here!
So this morning was all about TIME MANAGEMENT as an ENTREPRENEUR! You can watch that replay here! I am telling you now be prepared! I brought out the post it's and my white board! I mean't business! I broke down the processes that I use to HELP ME, I didn't say master, my time management! If you want to watched seriously I encourage you and then be sure to tell someone else about it because I believe it is THAT GOOD!
What I do is use post it's to help me map out my time and how to be effective in it! You can take a look at the photos below to help guide you! I split mine into 3 colors but you can of course use more if you like. I get my post it's on Amazon! (aff link) You can grab some too! Grab them here!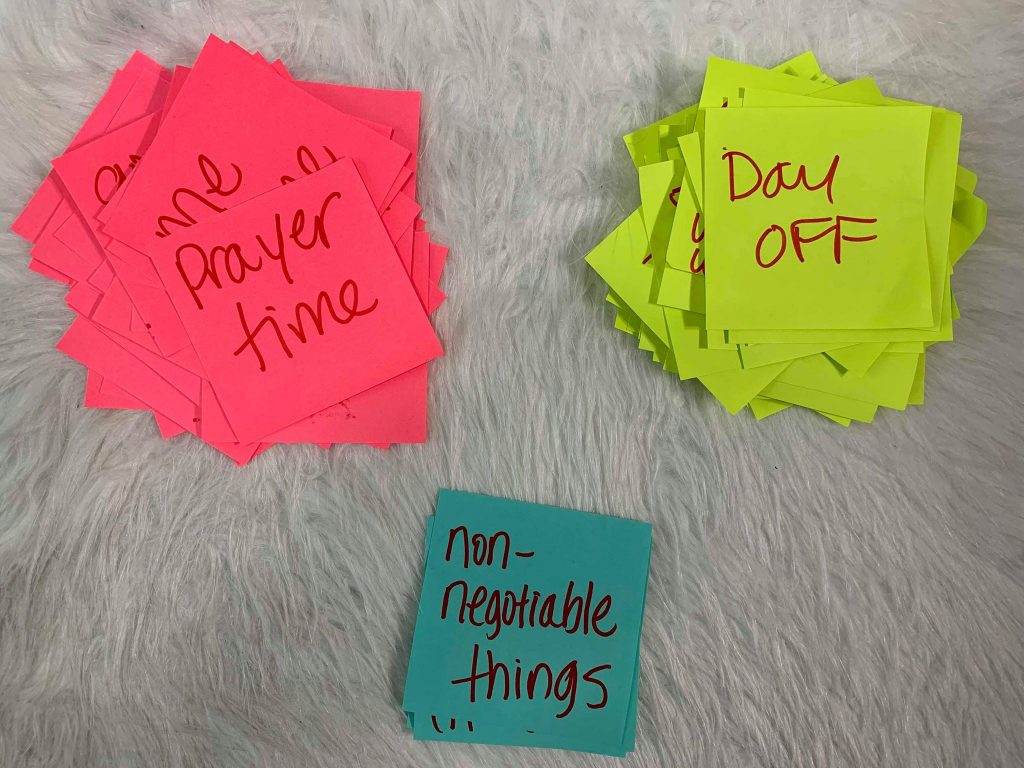 The next thing I did was grab my white board, need one of those? You can check my (aff link) link on Amazon to grab the one I have or pick up one at your local store. OR you can use a window in your home, a door, or a blank wall! And if you want to grab my printed Time Management Workbook Freebie just click here! (yes, totally free for you) I created it just for yall! GET IT BELOW!
Ok So lets look, at some photos I took from that LIVE VIDEO SESSION we had that I talked about earlier!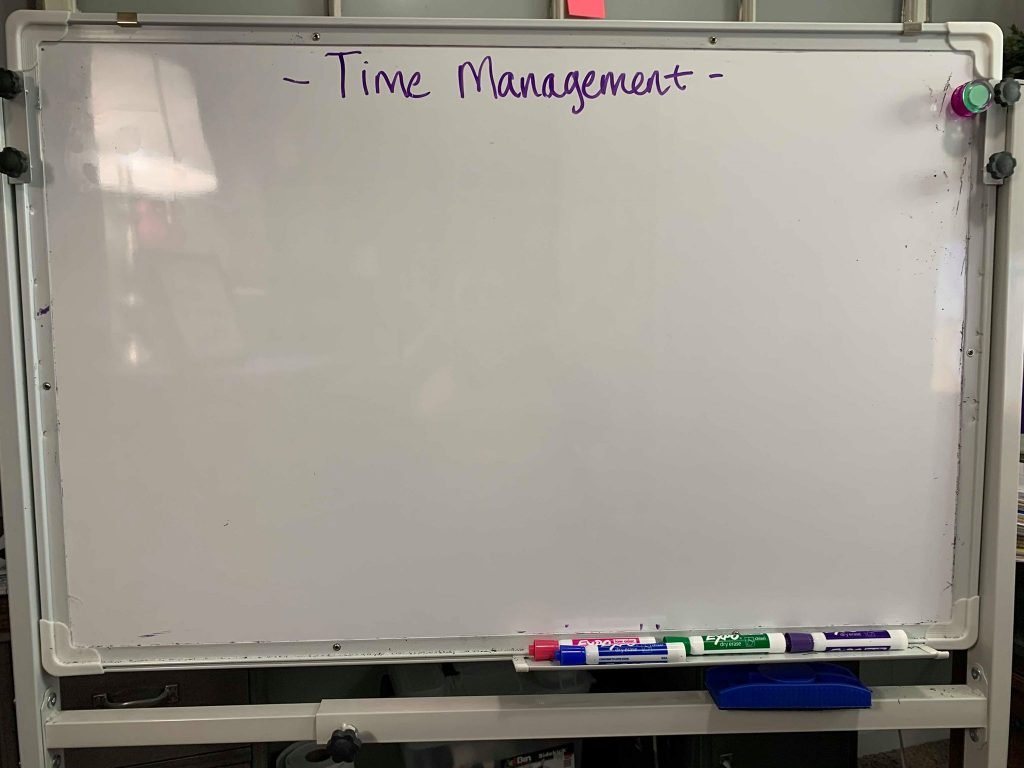 I used my rolling dry erase board to write out time management, I grabbed my EXPO Dry Erase Markers (aff link) You can get those in a colorful pack, I used the purple one! Then next thing I did was write out on my post it's the daily life things on pink post it's, my business stuff on the yellow post it's and the non-negotiable on the blue post it's! (again, those colorful post it's come in handy, and I use alot so I def buy in bulk)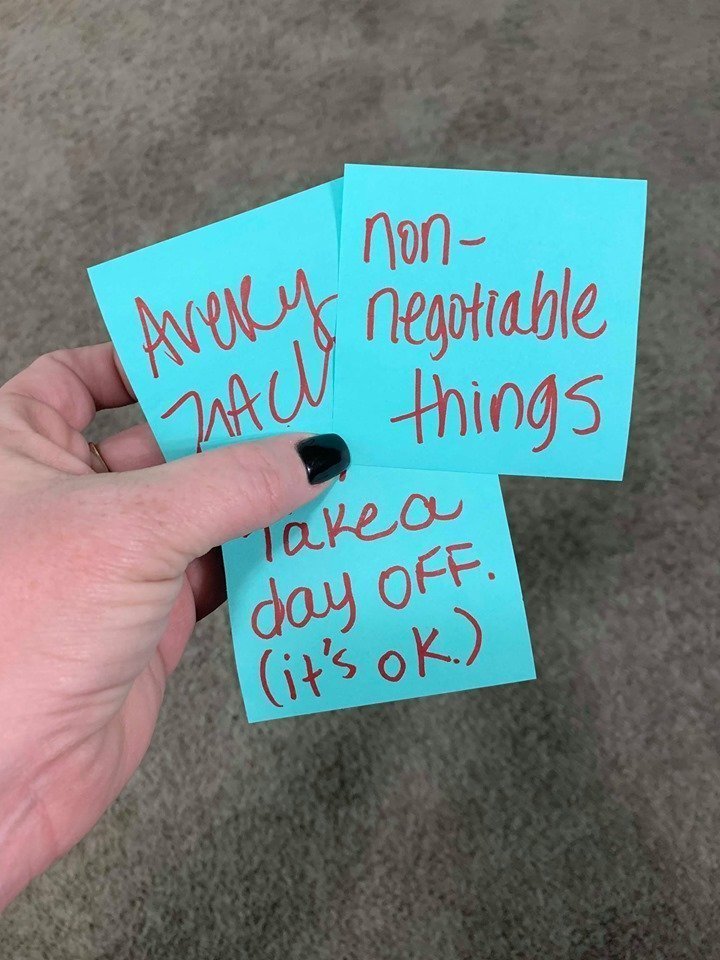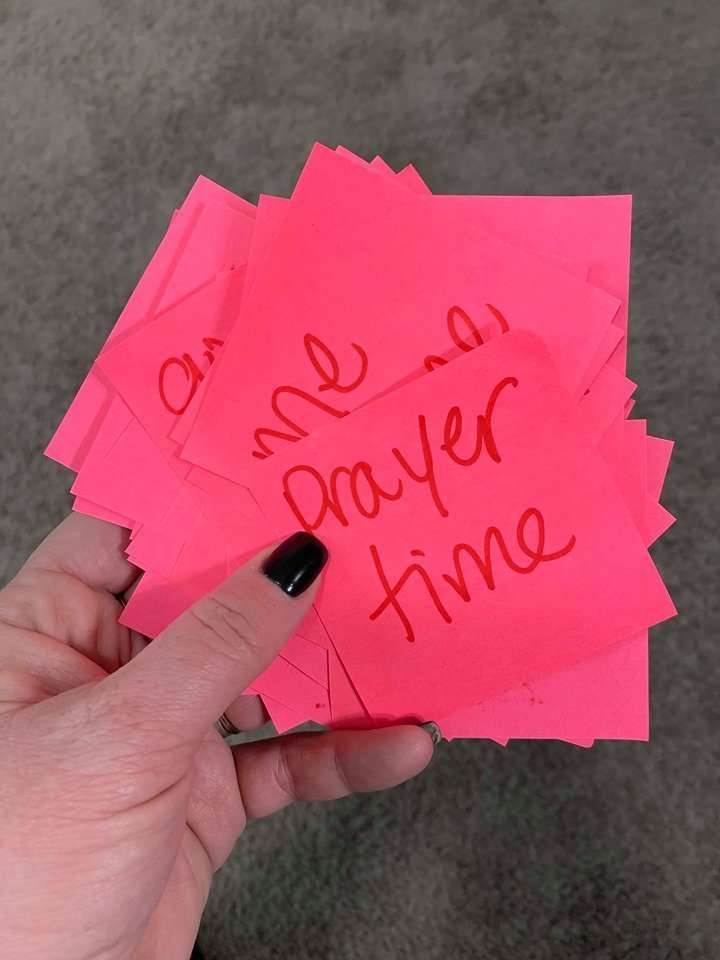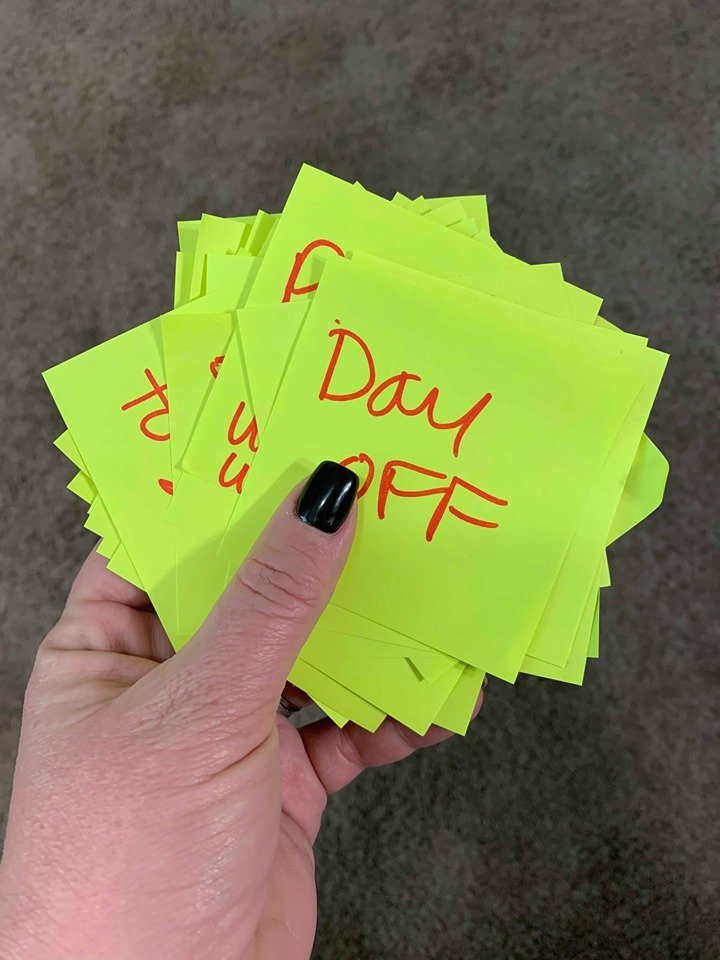 I started with the pink ones, and put all them on my board and started going through each ones to weed out my daily activities, removing the things I need to remove to make time for the things that are most important! You can see the blank spaces below! All those spaces had post its in that area! Process of elimination! The next thing you can do with this activity is fill in your workbook (don't forget to grab it) see below! You will blend your daily life things later with your business! (life things can be done before working or after or you can fit them in between each other)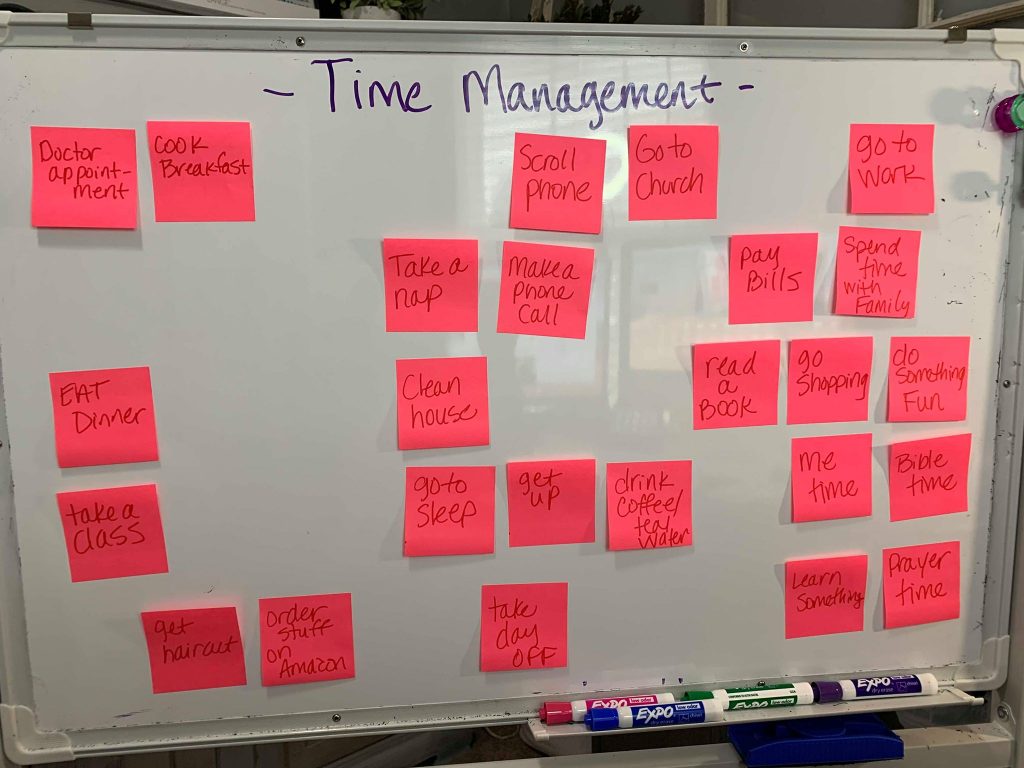 Now that you have what is left, write those things down in that workbook freebie, You can use it to plan out your daily life week AND business week or you can blend them (print multiple pages if needed)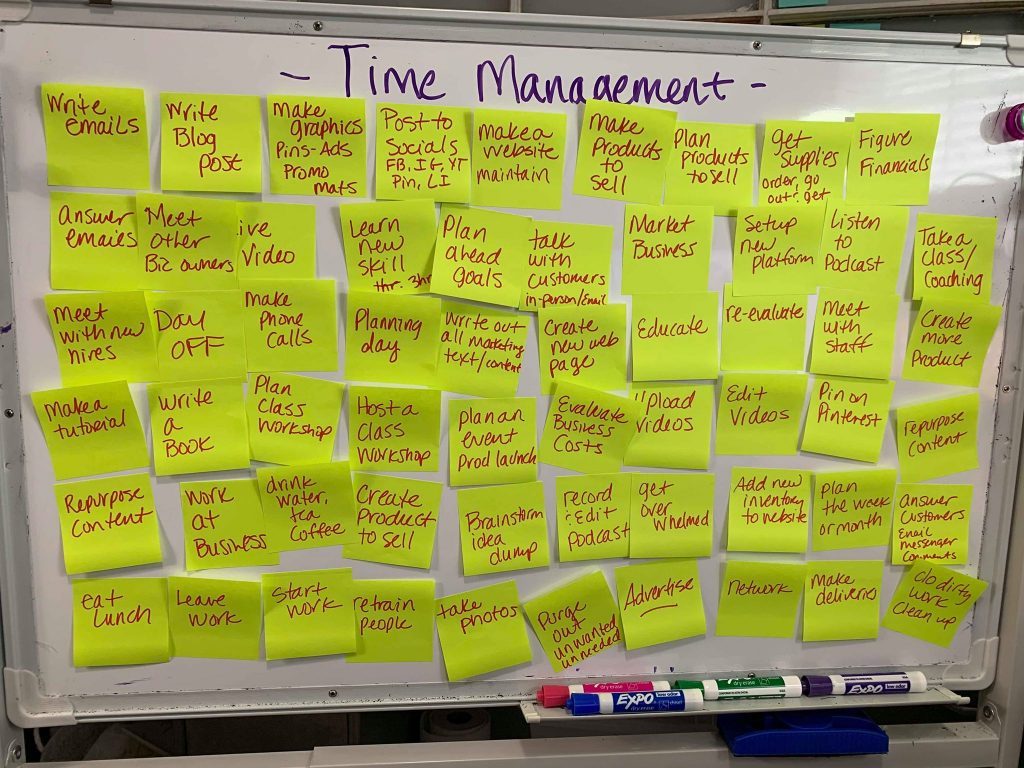 After clearing out the pink post it's for my daily tasks and activities from my white board, I got my yellow post it's and started putting up my business tasks! This can be overwhelming but it will help you gain clarity at just how much its required as a business owner/entrepreneur. And this is just an example of the tasks in the photo above!
Now you will see in this next photo, how overwhelming things can get! You get distracted, or just want to give up on business sometimes and you decide to go on to your daily life activities, such as WATCH TV! I will show you how you can easily avoid your business in the next photo! Get ready! Things can start to get ugly!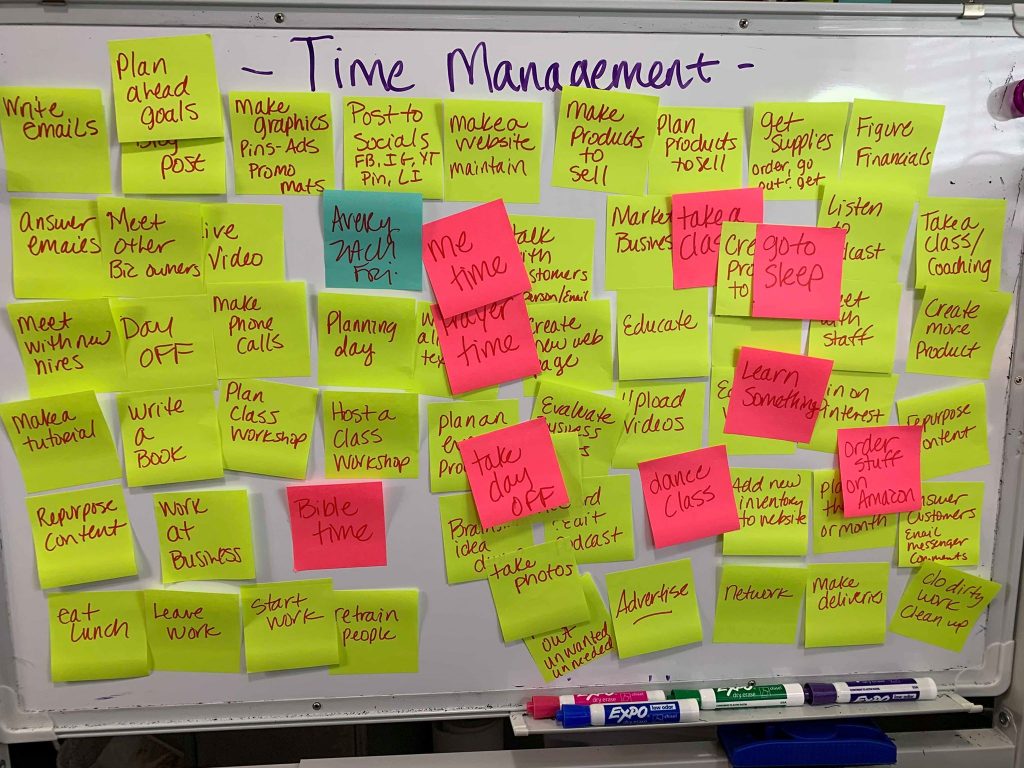 Notice how now there are some pink post it's and a blue post it! (the blue post it is my non-negotiable) meaning I will easily walk away from work for my kids, my husband and my grand daughter Avery! (by the way isnt she the best ever) Who wouldn't take time off for her EVERY DAY! (Stay focused!) (By the way isnt Savannah, GA just beautiful)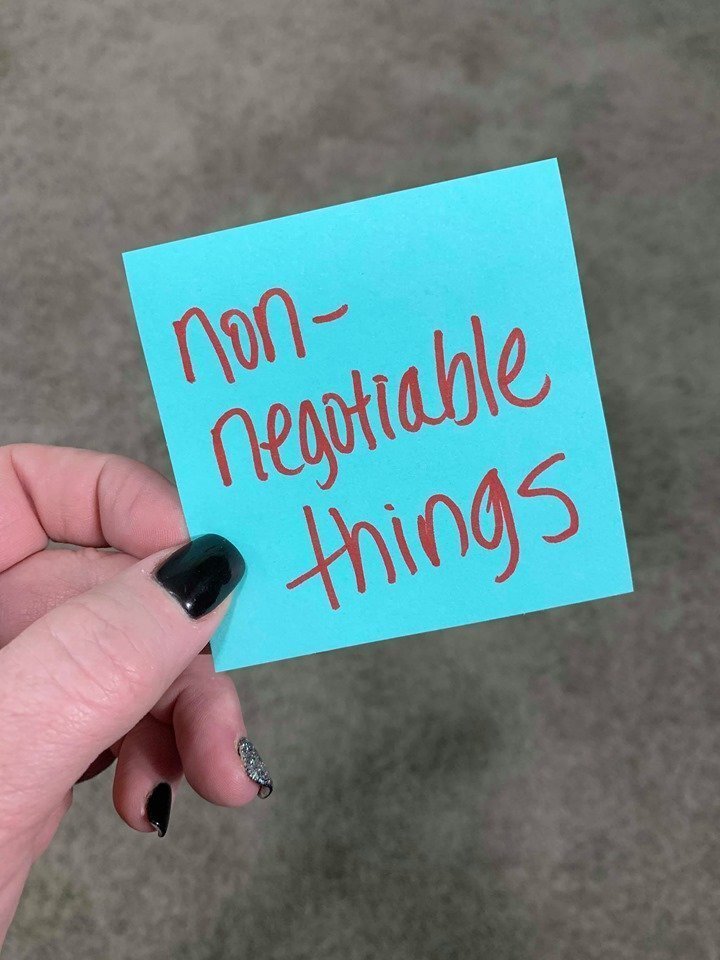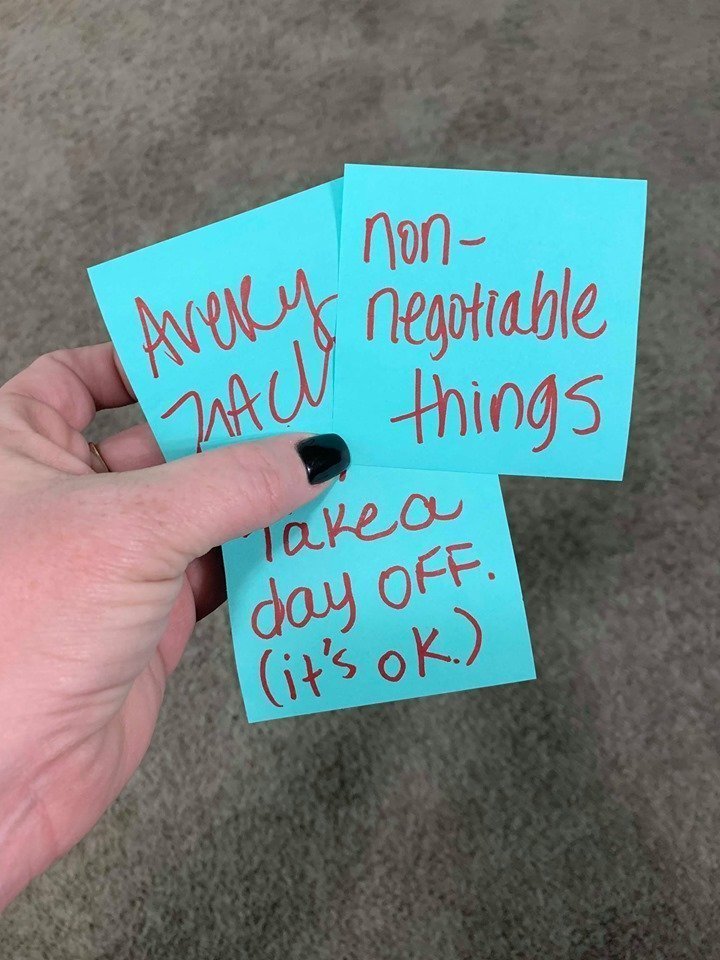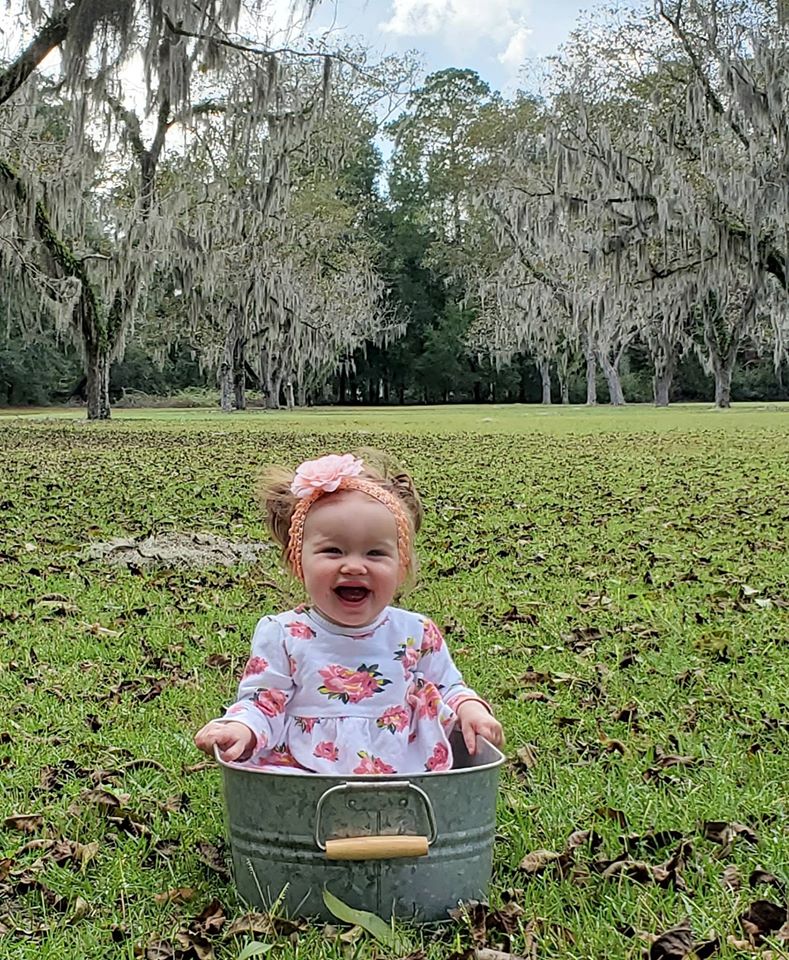 So it is very easy to get off task and mess up your effective time management! But when you do, or a wrench get's thrown in, it is ok to move things around and just possibly you might have to work a little extra to get back on track! That is 100% normal! But quitting isnt! So just jump back in and stay on track even if you veer off just a little! Remember you gotta do the dirty work! The stuff that isn't so fun sometimes!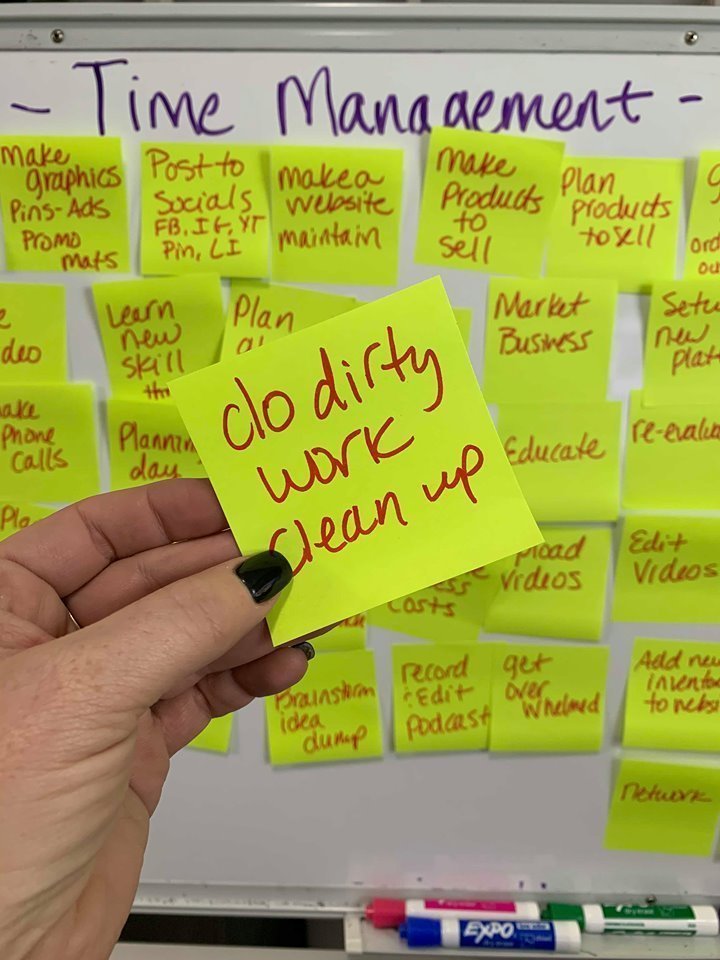 It is very easy to get overwhelmed! Just check those photos you see below!! But when that happens you need to remember that you are a work in progress, both in life and business so try to stay on track!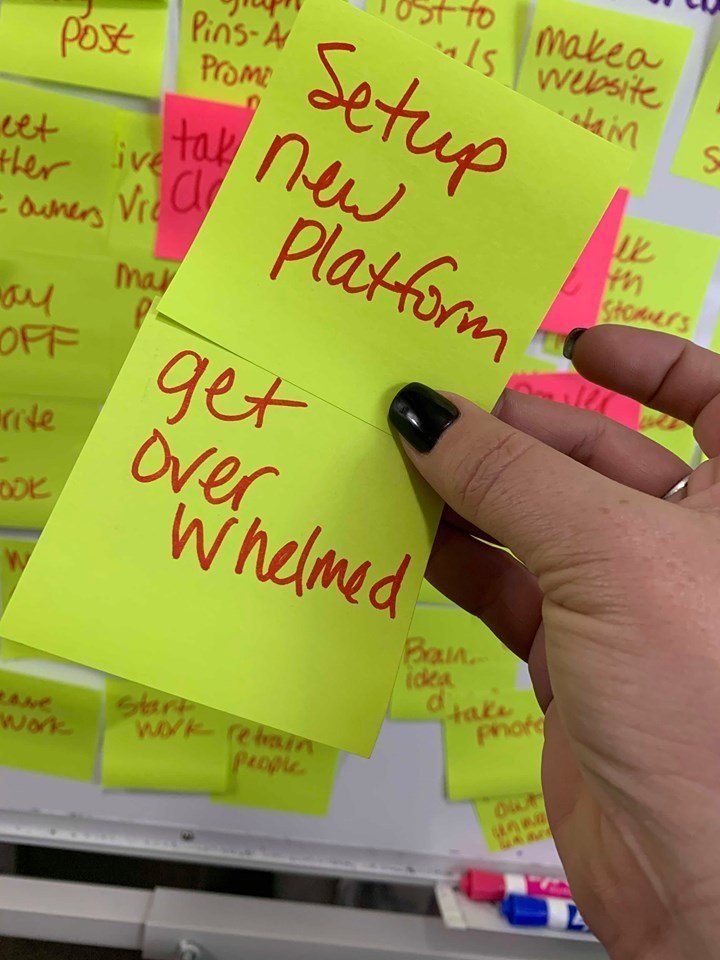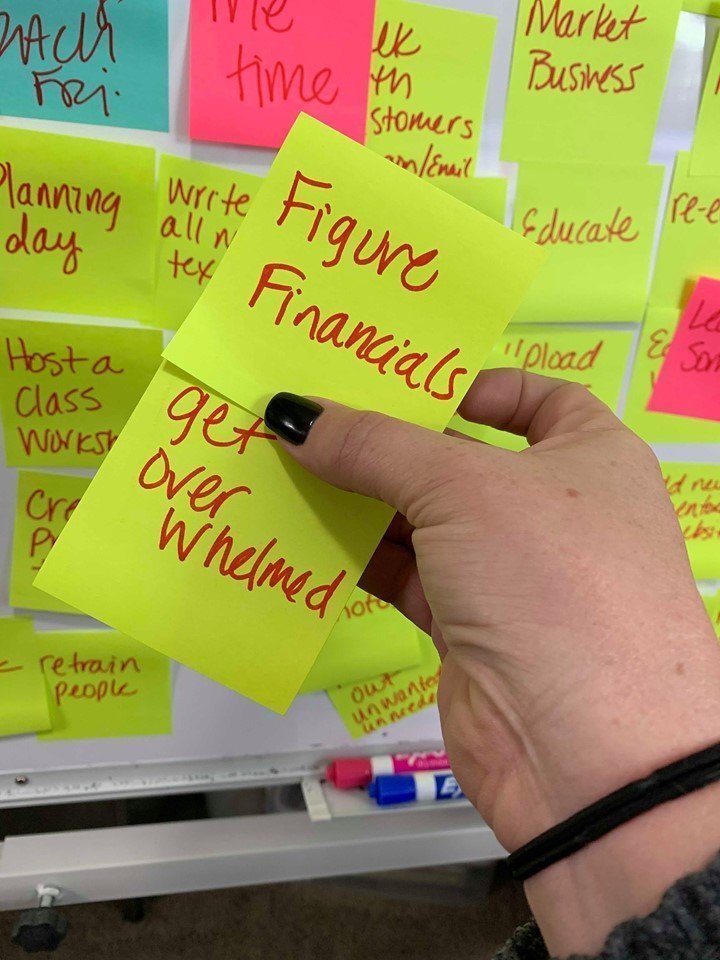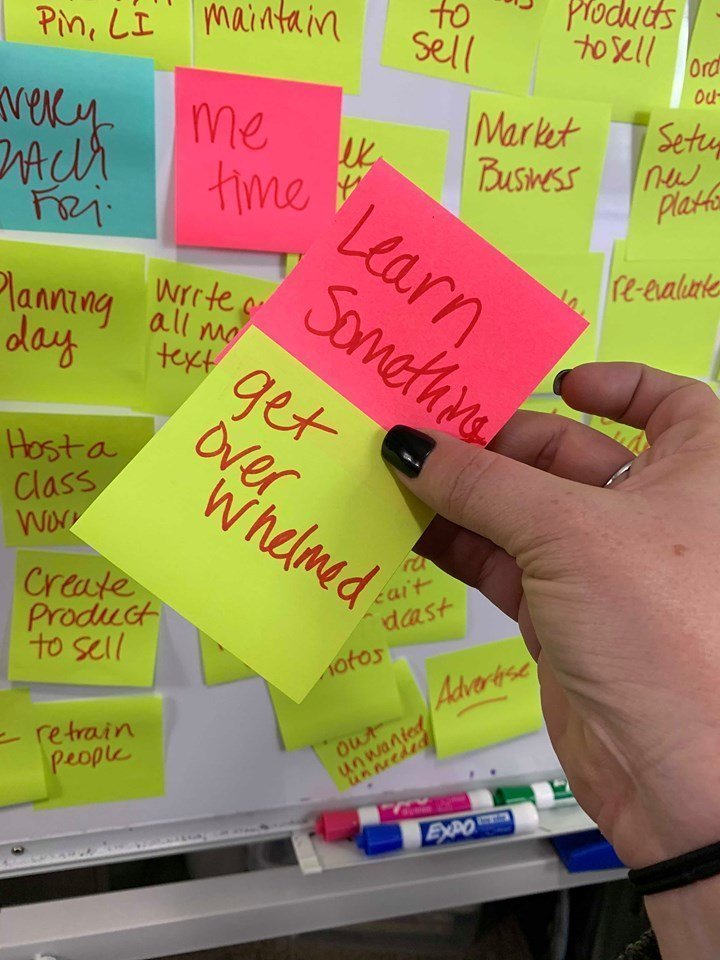 Sometimes, we creatives and we busy bee's often will work ourselves crazy! Work over sleep! But sometimes you just need to go to bed and decompress! Your brain needs at least 45 minutes to decompress the stimulation to relax!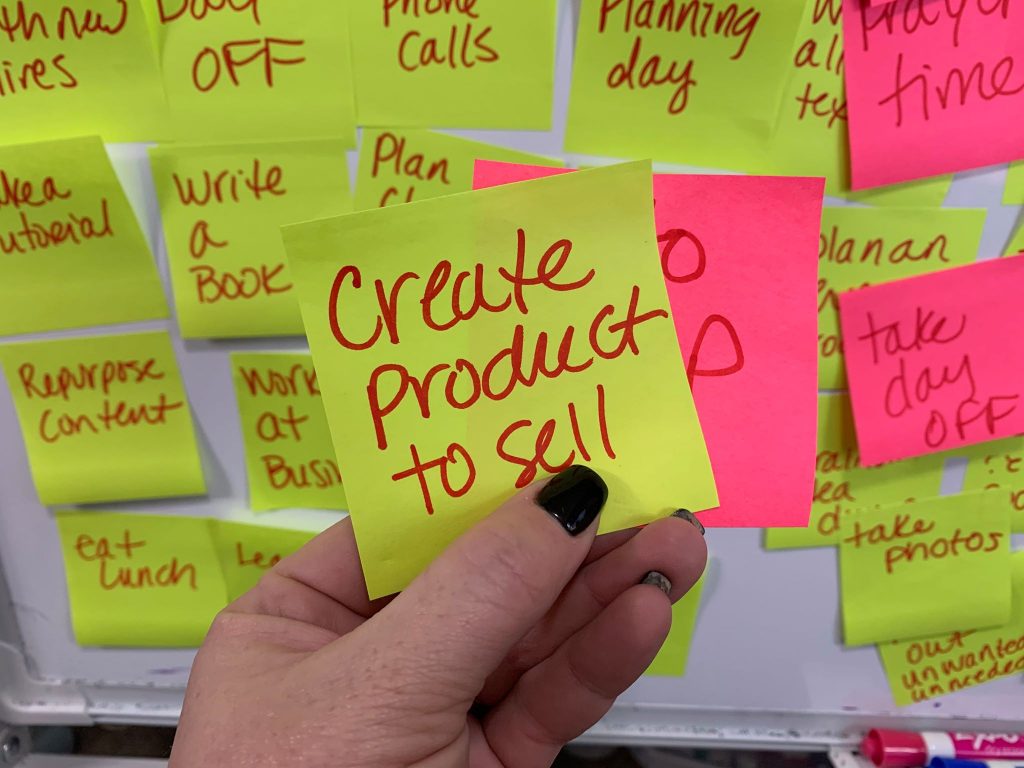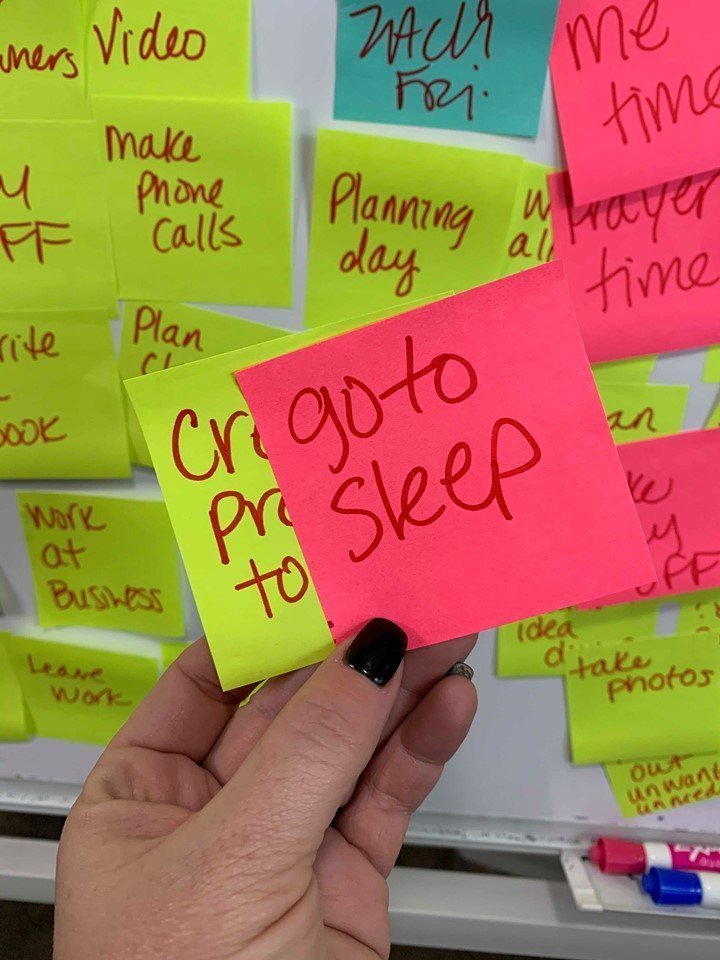 Now that you have an idea from this huge brain storming session just to manage your time better (by the way, isn't visual learning fun) You take the tasks in your business and you write those in the freebie workbook, either on its on page or merge on the daily life page. You can decide what is best for you! (BIG TIP: if you need to manage down to time blocks, give each task a time limit, and try to stay true to it) (EXAMPLE: I gave my self 2 hours to write this blog post, I am pushing hour 3, and it is ok!)
Now that you have all this data, what happens next? (GRAB YOUR FREE WORKBOOK) Well, each week or month hopefully you will get better! You will find a work and life balance! And you will simply try new things! And maybe you will have a new routine! It will take discipline! But part of creating consistency is taking care of the time you have and using it wisely! If you really want to get a good idea of how the conversation went please go check out that Facebook Live Video HERE!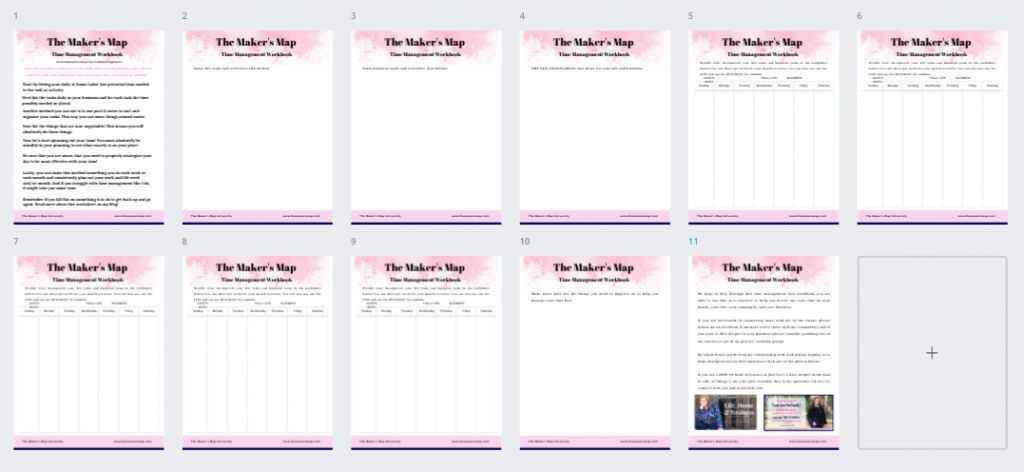 You will find that you will see a new perspective of your life and business. And you will also possibly have a better appreciate of what you do in your business, things you may not have noticed! But you might see an increase in productivity and growth and possibly your sales and income! But you gotta do the work! That I do know! Now it is time for you to fill in the blanks! And remember if you fall flat, you drop the ball or quit, just get back up and go again! This time management task might be a rough one! I fully expect that as I also continue to dive into this! I am not afraid to say that I need to get better at managing my time! Maybe we all do! And I hope that through this blog post you have a fresh new way to start to do that too! AND REMEMBER TO TAKE A DAY (or TWO) OFF and HAVE FUN! Otherwise what are you working so hard in your awesome business for?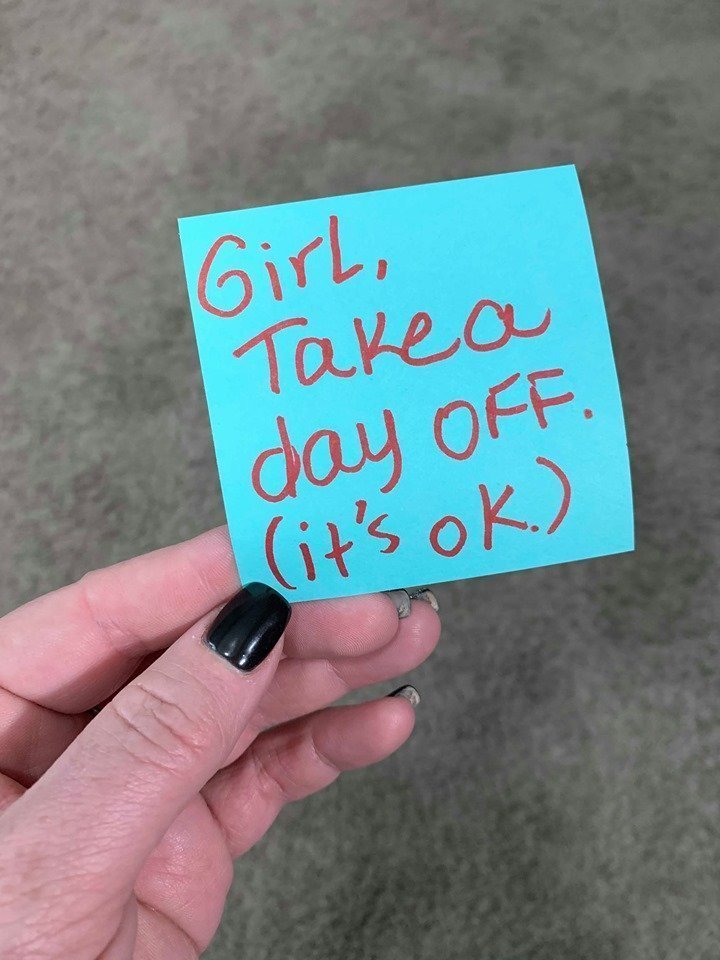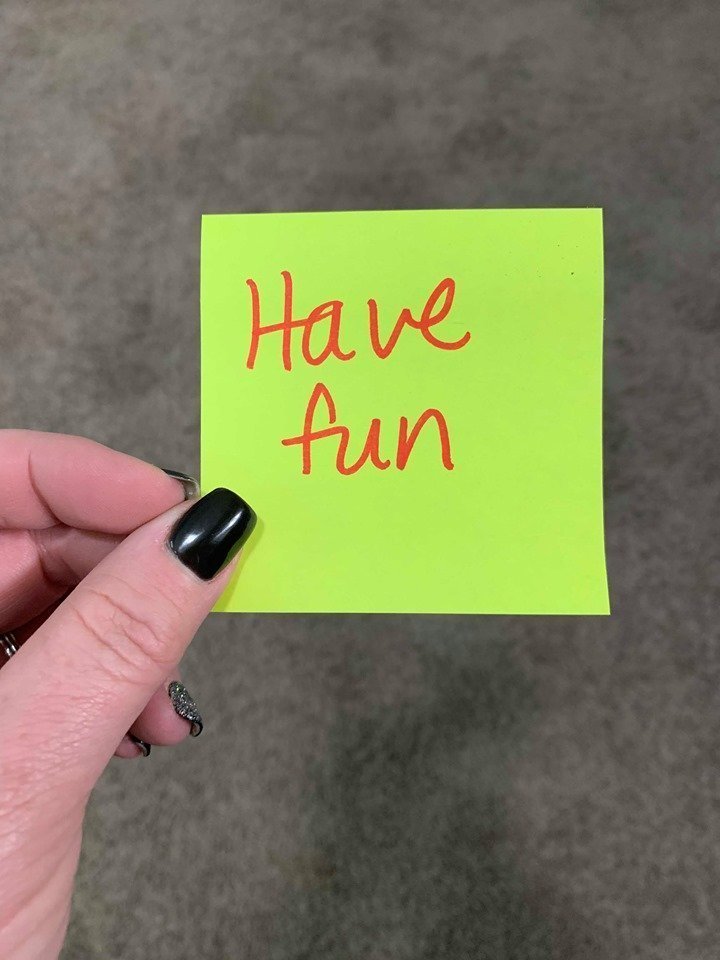 Another blog post is in the books for y'all! and I hope that this blog post was extra helpful, insightful and motivational for you and your business! I hope you found extreme value and will tune in for more nuggets of goodness like this one! If you are not on my email list please consider joining it! There is more goodness that goes out to my email list! Secondly, would you tell someone about me and my blog? My mission is to make money myself, but it is also to help business owners gain clarity, level up, gain new skills, believe they can and make more money doing what they love and still living a life they love!
BUT, If you are ready to level up, invest and get a business coach! I am your girl! My coaching group #hobbytoceo is open for members! and right now I have a special offer you can snag! You can learn more here!
I really do DIVE DEEP weekly with "HOW TO" coaching and quick action training, the visual how to coaching and the HOW TO TECH STUFF are my members favorite and you will find an amazing community that is a serious powerhouse! I love the women in my coaching group and I am so proud of them! I hope that you decide to join us too! GO HERE FOR MORE DETAILS!
OH! IF you are still in hobby mode or not yet started, better yet, maybe your stuck and need a refresher on business! I put together this super awesome freebie just for you!
It is my FREE STARTER KIT! You can snag it here!
Thank you again for jumping in my blog today! I can not wait to see where you are, what you decide and where you go!
PIN OUR BLOG POSTS!