I hear you loud and clear! 😉
You are having content creation block! I have been there! That is why I created a content calendar to help me throughout the year and the best part is I use it over and over! And I am giving you to opportunity to use it too! If you want to snag it you can grab it right here, and it is extremely affordable too!! Seriously, peace of mind knowing there are NO MORE creative blocks when it comes to your social media post creation, plus you can use this content calendar on Facebook and Instagram (with a few tweaks)!
I bet you have spent so many hours just trying to come up with content. What do I post on social media today? Did you know that content batching is the best thing you can do in your business? What is batching? that is the process of creating several things at one time. AND I personally use this method in my business daily! From my podcast, blog, to video creation and to my social posts! You gotta batch create!
But one of the things that I have always hated about being a content creator (and yes, if you are inspiring, serving or selling…. you are a content creator too) was the forced feel of creation. Let me just throw something up on my socials because I have not posted today. Anyone else feel that way, and then on top of that you have creative content block! Girl, I have been there!
Now my content calendar tool isn't free, but it is affordable! And I am telling you it is worth every penny! So go ahead and grab it! One time fee, and many years of reuse!
I bet you're wondering, is my guide out dated itself? No, because each day explains what type of post to make and you can make it as current and relevant to your audience over and over!
Another thing I like to share with those who use my content calendar is to place it in a see through sleeve and use a dry erase market to mark off the days, when you do that it is easy to select the content you want to use and jump around the calendar, then erase and reuse. SIMPLE! OH, and if you are in my #hobbytoceo insider's club (my monthly coaching group) then you already have access to this calendar as well as many other resources!
My content calendar also controls the spam issues most content calendars offer, my calendar is not a copy and paste calendar. So you will not get flagged by coming across as a bot on social platforms.
If you are ready to grab my calendar just go get it here and be prepared to be relieved that you will not have any more issues with content creation! 🙌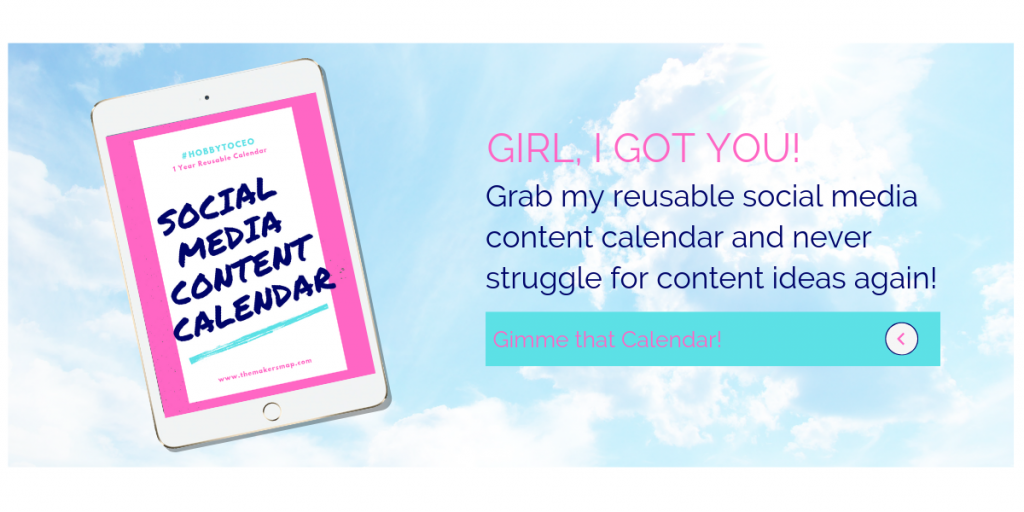 Thanks for popping in to the blog this week and checking out my newest digital download, this week my sister arrives in town for a visit. SO, I will not have a new post up until the following week but in the meantime there are tons of resources here on my website and if you have not heard, I am working hard on my youtube channel and I would love for you to subscribe to my channel! And don't forget my coaching group cart closes July 28th so if you have been shuffling your feet to jump in let me encourage you to get in quick! Just go right here for the details!
Alright friends, go get your calendar and then be sure to drop me a comment here and let me know what you think!
XOXO Amber
PIN OUR BLOG POST!