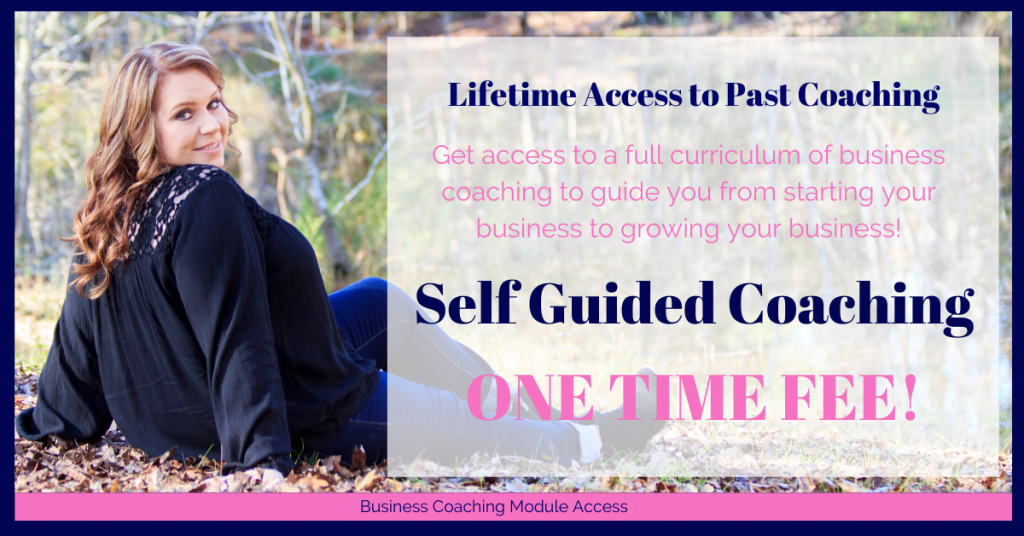 Hey there! I'm Amber Strong, and in 2019 I closed down my brick and mortar to embark on season in my business in which I created a full curriculum showcasing the steps I took and the secrets behind my business journey. I launched a business course, which evolved to a business coaching group, and now that coaching group is closed. I made the decision in 2020 to take a look at my own business and where I see it going moving onward. I took a deep look at all the twists and turns and as I teach others, it was time to evaluate. Growth and evolution in business is totally normal, in fact it is expected to cross your path one way or another. And in 2020 I decided it was time to close my business coaching group and offer the curriculum inside to everyone for a one time fee. No more monthly fees.
I also decided that I felt comfortable with all the past archived coaching and that nothing new needed to be added. Everything under the sun is in my group for you to utilize. MINUS me guiding you every week. Middle of 2020, I realized that we are at capacity with content to be taught, and I felt the nudge to pivot on. Leaving behind the content in my group to be self guided.
I will not be teaching any more weekly sessions or guiding the students. It will be solely self guided by you the student taking access to the content.
Inside, my previously live instructed facebook group, I teach entrepreneurs and small business owners how to make money online doing what they love! If you're a boutique, consultant, painter, booth biz, artist, DIYer, crafter, consultant or a maker of all things pretty who is just ready to have more ease, support and freedom in your life and business without sacrificing your everything, then my coaching is for you. If you are ready to come out of the 9-5 corporate world or stay home with those sweet babies and amp up your side hustle, I created curriculum to help you. I will teach you through my previously recorded coaching sessions how to take your business online, grow your social media platform, learn the tech side that often holds people back and show you how you can reach more ideal clients and nurture the ones you already have so you can get back to loving what it is you do again!
Many ask how do I know this is even possible for you? Friends, I have done this for myself and I have taught hundreds of others and I know my methods work! Over the past 8 years I have dug deep in the trenches of my own business evolving it from $0 dollars to a 6 figure business. Not only have I transformed my own business I have had the honor of helping transform other peoples businesses!
You can do it too! Maybe you are not looking to build an empire brand, but maybe you are! Would you believe that most hobbyists become an accidental success? That is my very own story! The absolute success of my business is largely due to the fact that I did the work and hired out the things I just was no good at, or simply didn't know! But I know that by me growing my social media platforms from the ground up and discovering my ideal customer is what pushed me even further! OH AND CONSISTENCY!
Maybe you are worried that this previously recorded curriculum is old, and wont work in today's business journey. Well, I am here to tell you everything that was taught I STILL DO DAILY!
Not only have I built a business on social media, I also built my business on my own land, off socials. This is crucial!
I know what your thinking, I have no audience or a very small one, I have no list and I barely know who my customer is, and I am not even sure what I sell is what they even want! Listen, I can help you hone in on all those things! Just as I have built my business, I can show you how to build the same thing for your business and motivate you to finally believe in yourself and your dream!
Someone once told me that if I wanted to see big things happen in my business I had to believe that it was possible, and I needed to put my money behind those decisions! I get it, how can you afford another thing? Can I say how can you afford not to? Friends, I remember those days of trading time for small pennies and dollars and the stress that came with it! I'm here to help you help you! My promisie is to show up and deliver, but the only guarantee comes from you doing what is required! You got this and I know that my #HOBBYTOCEO Insider's Access Coaching Vault will help you get there to a life you love and a business that is on fire!
I would love to have to have you join. Access to my group is self guided and it does not feature me supporting you or showing up weekly with coaching or a promise of answering your questions in depth.
All the coaching is at your disposal and it is all very much relevant!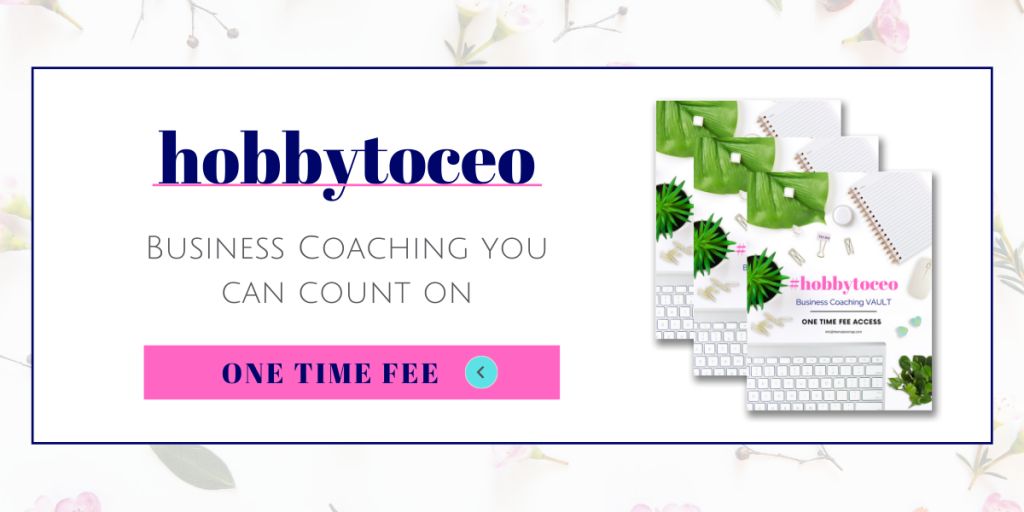 Inside my private #HOBBYTOCEO Insider's Club, you will have exclusive access to the full business coaching archive. It is very much a jam-packed course like no other but in live recorded format including previously asked questions and the answers. You get exclusive trainings that you won't find on my public social pages or on my website, you get the strategies and marketing that converts, mindset, hacks, accountability, and unit you will be able to take away what I call actions that are printable or simple things you can do when ready that go with the previously recorded live training! My business coaching group was previously guided prior to the content being established. Now the content is there and this is a self guided group effective August 2020.
Not to worry, the curriculum in this group is not outdated, in fact, many of the things you will discover I have been doing for well over 8 years, and as social media platforms change we merely update a few things along the way, that is something every business owner should be doing anyway. (I give you the places to go to stay up to date as well)
Inside my private #hobbytoceo Insider's Access, you will have access to a full archive of business coaching that was previously recorded live. You will be there with other members and everyone is at different stages of their business.
Members are absolutely encouraged to chat with each other.
You will find in-depth coaching for every part of your business. You will have full access to watch over and over if you need to! Every single video is DEEP and detailed. I leave no stone unturned!
Each module/coaching lesson is organized in units. And you can see what is covered and where you can access it. My teaching style is not only verbal, textual but also visual! I fill the void that other coaches have lacked! The "How To" Side of business! But I also believe in teaching in a way that showcases the many things you will encounter in your business journey.
You will find raw and honest coaching and sometimes the hard to hear things as well.
My #HOBBYTOCEO Insider's Access is for newbies and seasoned business owners! One thing I believe is that business ownership is an ongoing process that changes and evolves. Our businesses all look different and by curating a community of business owners at different levels there is no ceiling that you will reach so to speak. Each day you will level up in your business! And I create the perfect place to for you to do just that! Once you arrive inside you will see a full archive of past coaching sessions to refresh you or get you started! The coaching group is no longer supported with guidance or weekly coaching. It is fully operational to get you going as a self-guided approach.
Have you been in a business coaching group before? What you will find different here in my self-guided group (no new coaching because it is already there) is that I showcase the what, when, where and how.
I need this sign me up!
$229 LIFETIME ACCESS ONE TIME PAYMENT
Just Getting Started? Join My Free Group For Entrepreneurs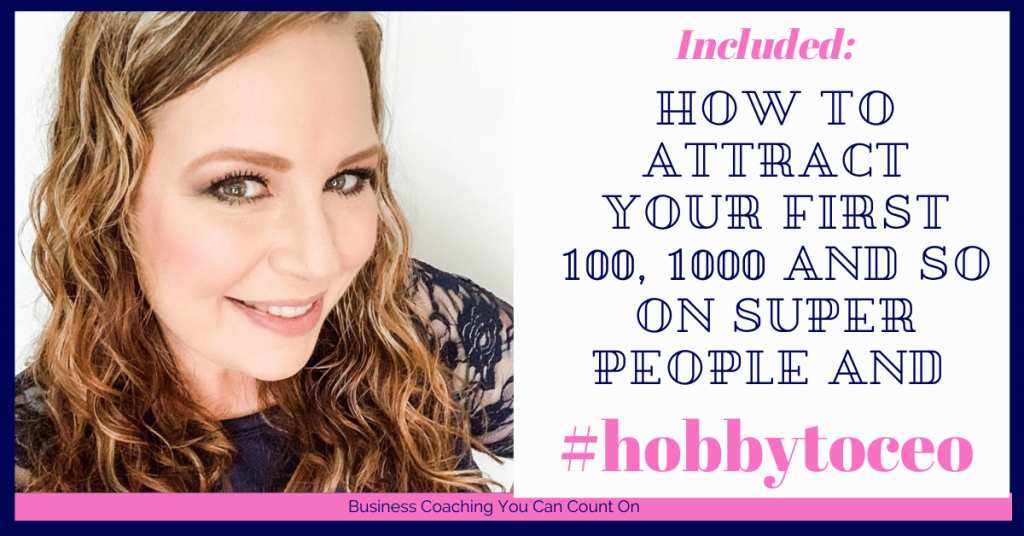 My name is Amber! And I am your biggest fan and cheerleader!
In fact, when I started #HOBBYTOCEO Insider's Access, Which is my private Coaching Group with the full archive of coaching, I created it to give you the what, when, where and how.
Here are just a few things that you can expect in my SELF Guided group (there will not be any live coaching as of August 2020) You are gaining access to past pre-recorded coaching sessions. (this is not the entire list) Business discoverability, branding, Social Media from A-Z, growing your audience and your list, strategies that work, the tech side, what works and what doesn't work. How to use different features on your Profile, Business Page, or in your Groups to help you in your business. I also dive you deep into creating your own website, graphics, using my favorite apps, Youtube, Blogging and so much more!
My Topics Range from: – Discoverability – Building a Following – Networking – Graphic Design – Membership and Course Creation – Groups – Blogging – Pinterest – Business Pages – Where to get started – Live Video – Recorded Video – Content – Time Management – Daily Habits & Routines – Implementation – Creating a clear plan – Scaling your business – Troubleshooting – In-depth look inside the software and apps you will need – Editing – Youtube
The list goes on! My approach is very hands-on and detailed in my instruction! My trainings are longer and I do not short cut you! My goal is to coach business owners like you and help you move forward in your business in a self-guided manner because all the curriculum is already created and ready for you in whatever stage your business is in no matter what type of business you are creating. In my coaching group, it is implementation and learning. In a coaching group, you are either guided or self-guided. When I created this group, it was guided but now that all the exclusive curriculum is there it is set up in a way you can self-guide and implement.
I also teach you how to problem solve and how I go about answering questions that I have.
Once you join and sign up, you will be redirected to join the Facebook Group! That is where all the curriculum is!
So what kind of businesses can sign up for access? Well honestly, I firmly believe that it doesn't matter as long as you are hungry to learn, grow, and take your business upward. Business ownership very much is the same no matter what kind it is! You will hear me say that often! Business is Business!
Local Business
Realtors
Service-based business
Consulting based business
Traditional Business Owners
Direct Sales
Makers and Creators
Painters
Content creators
LIVE Sales
Non-Profits
Online Business
Bloggers
Influencers
Locals (Brick & Mortar, booths or Online)
At Home Seller
Online Boutiques
the list goes on!
So, Are you ready to get in? Listen, then this is for you!
There will be absolutely zero refunds issued. Results will vary and no guarantees are made through my programs.
Still not sure?
Maybe you think you're not ready just yet, maybe you are and don't know it.
Grab my free starter kit and get inside my free business community today! After all we all gotta start somewhere, this is why I created this amazing guide to help you and paired it up with my free coaching community on Facebook! JUST CLICK BELOW!
Membership Services are subscribed services on a recurring payment plan. Through memberships you gain access to exclusive content, products, or information each month you remain active.
One Time Fee Services are just that. You purchase one time and have full access with no additional payment required.
Digital Goods or Information Products are general phrases used to describe any goods that are stored, delivered, and used in its electronic format. Digital goods are shipped electronically to the consumer through email or download from the Internet.
Digital Goods or Info Products can also be in the form of courses, video, or any type of virtually consumed information.
There are no refunds, credits or exchanges offered for my coaching programs, courses or memberships.
*I will be honest, some of these tools and resources contain my affiliate links. SO I might earn a tiny kickback if you use my link. By you using any of my links, it will not cost you anything extra, intact most of my links include special savings just for my audience. This page contains affiliate links. And while we do get a small commission when you purchase through one of these links, it doesn't cost you anything additional to use that link.
I need this sign me up!
You will be so glad you made this investment in your business.
Contact
info@themakersmap.com
Disclosure Statement | Terms of Use (digital Goods) | Privacy Policy