So maybe you are a business owner already or you want to become one! Can we start this conversation out with YOU giving me the permission to just tell the truth, by the end you will totally understand why I am asking you to give me the permission to dish it all out! Before we go any further! I need to be really honest about where this blog post is going today! It might get ugly, it might be the best blog post you have ever jumped onto, but then again it might just hurt a little, open your eyes to a different point of view, a different perspective that could be the exact thing you needed on this very day! I only know how to bring the full on raw truth! So here we go! I am going to dish out the "Why you need a business coach"!
Get ready and hang on for the scariest most exhilarating ride of your life people. Let me first start by tell you nothing is going to give a life lesson to you like starting or running your own business. There are not enough books and webinars out there to prepare you for what is to come. I mean that! BUT WAIT! Before you try jumping off thinking I have no time for this negative chatter! I want to tell you this. I have read hundreds of blogs, watched a bazillion videos and read countless books and all of them are filled with EAR and EYE pleasing words! Very few bring a sense of reality! The reality is this BUSINESS OWNERSHIP and ENTREPRENEURSHIP is HARD! It's like real hard! Too hard in my opinion to just decide one day "oh I think I want to own a business"! And that is truth! No one really goes in to the mindset of starting an EASY does it, NO ISSUES, I am gonna make lots of MONEY FAST, type of decision without reality hitting them! They had it all wrong! Yes being an entrepreneur is great, it is amazing but it is far from easy! And it is not easy when you are going at it ALONE!
Again, I don't want to scare you or push you into a spiral of doubt but I need to give you a dose of reality.  Truth is It may be hard, you may find yourself crying at times (ok maybe crying a lot) and eating cookies and sitting at your computer still in your pajamas, your hair is a hot mess and you might still have yesterday's makeup on, a while all your friends are out having fun. But you know what you chose this life or you are thinking of choosing that life. The thing I want to drive home to you is that, while that sounds not so fun and who would ever want to cry, eat a whole package of cookies and give up free time to have fun, the answer is your future and secondly it does not have to be that hard or scary all the time! Chasing your dream does not have to feel like a nightmare. In fact, building your future is not a nightmare it is a huge investment that sometimes might seem like a rollercoaster that is just so scary but fun at the same time that you are not sure when you are simply ready to uncover your eyes, throw your hands up and finally be in a place to actually see that the rollercoaster has some of the best experiences and rewards you ever could imagine!
In the photo you see next, make note of the girl on the left and the girl on the right! My entire mission is to get you from the girl who is like "what did I sign up for" to "this is amazing"! Yes, that is your entire plan as a business owner!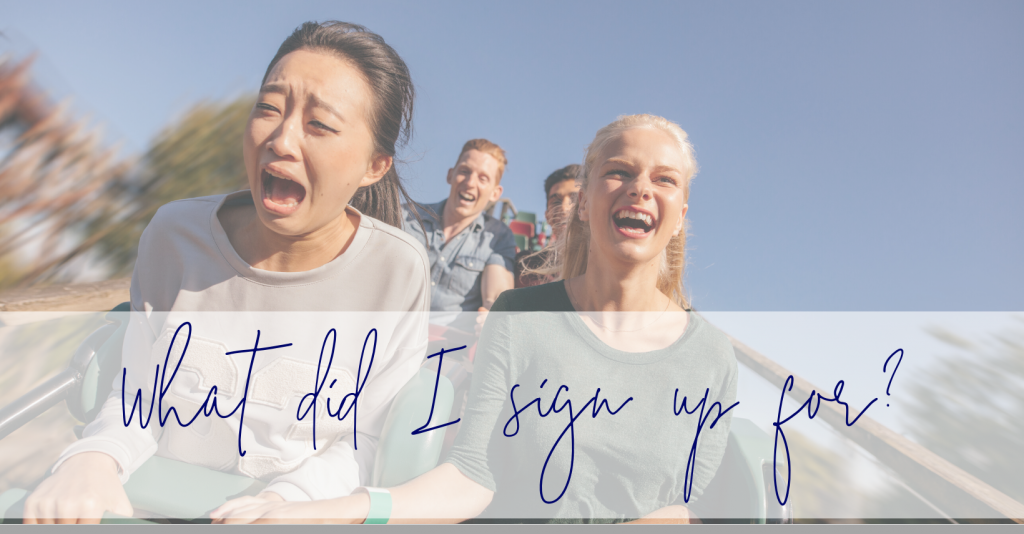 Tell me you can you relate? I know I can because I have been where you are. I have sat at my computer for days on end. I have not showered or changed for days because I was glued to my computer, too scared to interrupt the flow, or too scared to take a break because I felt like I needed to be "busy" all the time. I would sit in my paint area (because I didn't even have a place that was cool enough to call a "STUDIO") power painting, doing all the things and basically running around like crazy trying to figure out how to make all the things I knew I needed to do actually happen, even when I could barely keep up with just making the stuff I was trying to sell to make more money!
Being successful in business requires some planning, some skill, a vision and let's face it a little bit of luck.
One of the best things you can do for your business and your health is to hire a Business Coach. And that's where I come in! That is right! I am a business coach! And I am not telling you that you need a business coach just because, but because I once hired my first business coach years ago, and it transformed not only my business but my life! I went from being a single mom in 1998 to working corporate jobs to get by, to being a stay at home mom and then to owning my own business. I have hired and fired people. I have made lots of money and lost money. I have come up with some really great ideas and I have totally bombed at some ideas I thought would take flight as well as many other things. I have truly felt the pain and the joy of entrepreneurship. What I would love is to take a minute to share a few reasons why you should hire a business coach and mentor.

Let me tell you this, No matter what stage your business is at a business coach can give you both the tools and perspective you need to go from point A to point B, helping you get un-stuck, discover things you might have missed in your busy entrepreneurial journey and they will be that much needed support when you might be lacking that in your circle!
Let's take a look at some of the benefits and reasons why you should partner up with a business coach! And I will share a few things to look for!
1. You'll step outside your comfort zone.
This is especially true for introverted entrepreneurs who run online businesses, (by the way, I too am an introvert) it's easy to become deeply meshed in my own business world. Yes, I have a coach still and always will! So, my own business coach has helped give me the push to step outside my comfort zones, meet new people and try new things in my business. And even you extroverted entrepreneurs can get caught up in the ruts — a business coach will push you out of them. A business coach will challenge you to think outside the box and try new things, listen one thing I know is some of us try to perfect things rather than just put it out there even if it is imperfect! A business coach will test your limits and that is something most of us struggle with, the possibility of failure! 
2. You'll get personal attention from someone who knows your business inside and out.
I personally have had a business coach for more than six years. That is right! The one aspect that a coach brings, that overly large group coaching sessions or big time mentors do not, is a keen awareness of your entire business and getting to know you and your business beyond your checkbook or bank account! There are few times when someone is going to focus just on you for an entire hour, probing you about something that happened last quarter, an issue you had three weeks ago or your leadership in actually owning your business. I've learned through several coaches that I have had over the years that some were "at your service" coaches, while others "barely even noticed you"! It is very important that you invest in a coach that is willing to give you the attention and time to actually show up beyond just reminding you that your credit card expired! (Yes, that actually happened to me) I went through a few coaches and finally found one that see's not only my business but see's me! Be careful getting wrapped up in the NUMBERS! The coaches with groups over 500 and up over the 1000 number often are hiring community managers to SERVE YOU! And that means the coach isnt! That is where the people get lost! Having access to the archive of coaching is fine, but when you are missing the support factor from the coach then that means you are not being served with the right support you need and you are lost in the numbers! You want a coach who will take the time to respond to YOU, to listen to YOU and to serve YOU! I take great pride in keeping my coaching community small so that I can in fact effectively SERVE my members personally and actually respond and give them the 1 on 1 they need!
3. You'll finally have someone who isn't afraid of correcting you.
Here is the truth, every great team has a coach. Think about it! The best NFL and NBA teams, all have coaches. A coach is someone who's not afraid to confront you and tell you when you're doing something incorrectly. They have a proven method to success and can help you take your business to the next level. It's not just about the coach telling you all the things you are doing wrong! A business coach is looking out for you, remember often times they have been before you in most situations! But a coach should not just tell you all the wrong things! They should be telling you all the good things you are doing as well! But I have learned over the past few years, things that I thought were great ideas, actually were not great for my business model and I needed my coach to tell me that, and I am glad they did! Did it hurt sometimes, did I feel like sometimes I had it all wrong? Yes, of course! But I figured out real quick how to turn that mess around with some simple instruction that was exactly what I needed! Often times coaches can see and forecast things that we do not see! I need a swift kick sometimes! But I am also thankful for the celebration that I get when I get it right and I have my coach to celebrate with me! 
4. You'll learn how to make your ideas a reality.
Business coaches have one main goal: to make your big ideas into a reality. Although you may have many brilliant ideas for your company, sometimes it's hard to know where to start and what to tackle first. Business coaches will evaluate your plans, assess if they are realistic or will be successful and set out a way that you can implement them correctly. A business coach will help you collect all the tools and knowledge so that you can implement your ideas and set into motion your business goals! A business coach will not have a magic wand though! They will not do anything for you! That is not their job! You can not blame your coach if things are not going as you expected, in fact the first time tackling something might be a rough go but you will get through it with time, patience, persistence, consistency and sometimes a little money invested too! A business coach will be able to guide you through each step and explain how to take action! Too many coaches are not showing the how side, but instead they talk a lot of fluff! Often times the how is overwhelming, but let's face it business is hard, and knowing the in's and out's is sometimes a brain cruncher! But the more you level up your skills and use those skills the more familiar you will be come and the easier it will get! Remember this, a business coach is your business's coach, they work for your dream! Often they know exactly what your dream needs to become a sustainable reality! 
5. You'll gain a needed confidante.
When you run your own company, it's often hard to talk to people about your true concerns. Most of the time our spouses, family, staff, peers, and friends simply don't get it for many different reasons. In fact entrepreneurs are simply wired differently! And that is ok! But at the same time, there's a lot of noise in your head and around you. A business coach can provide that confidential, safe, quiet space to focus, be a soundboard and problem-solve the priorities and challenges you face. Often I hear how hard it is to find a business friend to share with simply because of these various reasons: They are your competition, your unsure you can truly trust them, you are afraid of being judged, you are worried you will look and sound like you do not have any clue what you are doing, and lastly you are too afraid to tell anyone anything because you are avoiding that mental battle overall! Entrepreneurs need to be able to just vent! Trust me! We all go through this! One thing I love about my coaching community is that I make sure each of my coaching students know that I am a safe place to turn, and my group is a safe place! We do not run our mouths! Period! But my coaching clients know they can trust me and that I am there for them! Because I absolutely GET THEM! Honestly, a business coach is like your business best friend but without the judgment!
6. Your networking opportunities will skyrocket.
I naturally feel as though the more you are surrounded and involved with successful people, the more you will succeed. I believe this is a mindset thing too! Aside from the other great points in this blog, I believe that by having a business coach and the community that comes with it your networking opportunities can skyrocket! You never know who the other coaching members are and how those newfound networked friendships can evolve! You never know the opportunities that your coach has access too that you can tap into! Your coach will not network for you or market for you, and you can not expect that from your fellow coaching members, but in getting to know each other and putting yourself nestled in a coaching community and with a stand up coach you can open some new doors and in some instances you can begin to grow yourself in to new opportunities also! Your coach and the community members they get to know you, and your expertise. and that will position you to be on the top of their mind in many cases! As I said before expand your circle and you will expand your opportunities! Maybe not over night but absolutely over time!
7. You'll make more money.
Simply, a good business coach will help you uncover strategies and ways to make more money. But they will not guarantee you will, because that in fact depends on you in the end! But over all a coach should be brainstorming, researching and testing processes to in the end help you make more money! I learned long ago that every good coach in business, has a process that they obsess over! That process is the art of strategizing ways to make more money! You want to look for a coach that isn't just ticking your ears with "helping you make more money" but you want to find a coach that creates overall strategies to build the best business funnels, ideas and strategies to level you up in a position that you are making more money and profiting more! Lot's of times you might find that a coach might not just tell you do this make more, but in turn it is an overall grand plan that works so seamlessly together that once you have all the things set in motion it will pay out more and more! I personally strive to teach the full blueprint of what business looks like and how all the moving parts need each other to in fact pay you big! But if you are trying to cut the hard corners then your income might suffer, and that means your business could end up costing you! A coach will help you plan out your business and help you start setting in place the things you need to earn more money in your business.
8. You'll develop self-confidence.
Have you ever noticed how much sports players love their coaches who often are the hardest on them? That is because those coaches truly love their players and want the absolute greatest for them! Sometimes the thing that builds confidence is the hard stuff we gotta go through to get to the other side to build the confidence! A coach will help you in more ways than you know! They see more in you than you probably ever will! As humans we are very self sabotaging! Be aware of those coaches that only praise you! Yes, I had a coach once that was very praising all the time, not to ruffle feathers so they didn't lose coaching clients, I knew right then it was the paycheck they were after! I needed a coach that would help me see my issues and call them out but then see me through with love and care! One thing that has always been a driving force for me was that my coach has been open about real time struggles, failures and mistakes! By my own coach showing me the trenches they are in and how they are pushing through shows me how I can also be confident to keep going and believe that I can get through my mess too! There is this big myth that coaches have it all figured out! That is false! I want to know what my coach is going through, I want to see the example they set as a coach as to how they also struggle, and that wrenches are thrown in the mix for them too. That alone helps me build my confidence that I can truly keep going in my own coaching business! I need to know personally that my coach is not so far removed from where i am that I feel less than and I lose my confidence. You want to find a coach that has been before you but is also still going through things too!
9. You'll be held accountable for what really matters but you will have guided support too!
A business coach can do wonders for busy entrepreneurs. As you run a growing business, everything gets more and more complex; you get busy and sometimes push off things you know are important. You lose touch sometimes with the current things that are happening on social media, the latest and greatest happenings in the business world! And you simply drop the ball and need a quick answer to a question that has you hung up and distracted! Or you get super focused on that one thing that you think is the game changer in your business but in fact it is the one thing keeping you stuck. Listen, This is where a business coach comes in. You can discuss the vital things you need to accomplish in order to achieve your goals, and your coach will hold you accountable and layout the things that you just might not see! Your coach wont be your secretary, but they will be there to say hey, where you been, how is it going, but they will not babysit you! In fact part of having a coach is the fact that they push you to actually be accountable to yourself! AND That alone will make you more effective in your efforts. One thing I try to do is offer my coaching members a special request post, they can come in to the coaching community and get answers and they can get real time feedback based on what they are experiencing but they can also take away some knowledge to go put into action the things to move them ahead, if they do not follow through then I talk about it! I bring to light that they must take action, knowing the things isn't the same as doing them! I try very hard as a business coach to give guided support but still keep my members accountable to own their own business.
10. You'll hear unbiased opinions.
One great thing about having a business coach is that he or she should know more about business and have strategies to help you and will likely have no biases over any one industry or company. I personally do not recommend MLM's, Network marketing or Direct Sales Companies! When you partner with those kinds of companies and business models you are not actually your own boss or full owner! There are restrictions and limitations! But I have a few members who are apart of these types of businesses and I do my very best to help them leverage where they can and guide them to success! But I teach based on processes and results! I also love that my coaching members are from all different levels of ownership and industry! There are new coaching clients as well as seasoned, and there are non-profits, bloggers, realtors, makers, painters, booth owners, store fronts and Etsy sellers! And each coaching member comes with fresh perspectives and chimes in too! While I do share my unbiased opinions and mentorship to help you in your business, I take great pride in the fact that the community as a whole chimes in! But it isn't in a bullying way but a super supportive way! Being in a coaching community or partnering with a coach that provides a great forum for unbiased advice based on your concerns as a leader is highly regarded in the fact that they truly care about the success of you and your business and isn't there just for the money! And allow me to point out that Good business coaches can lead coaching members to some really great "aha!" moments and uncover solutions that people close to the business just may overlook. 
11. You will gain new skills and a better understanding!
The thing that I have noticed myself through having multiple coaches is the need to keep some key detail a super secret! Now, do not get me wrong, I offer free coaching on my social pages and on my website and I do not share it all for free! No ma'am! I do not work for free! But inside my coaching community and when I am teaching anyone anything I do not keep secrets from my students! It pains me when I see and get feedback from people how they felt that they were not given the whole story! Have you felt that way? It's like you learn just enough to feel like you got it only to realize you were missing things and were still stuck? I see that happening over and over with big time coaches! They give you just enough to keep you stuck and paying in hopes of learning more to actually be able to do what they said 3 months ago! That my friends is not ok! I take great pride in not only telling you what I show you how! Yes, my coaching sessions are longer, detailed but I leave nothing out and no stone unturned! I committed to my coaching clients to tell the truth and lay it all out! A big chunk of my coaching is the HOW PART! But i know how important the how side is, including the tech stuff and I know that you need these skills, tools and things in place to grow not only you, your confidence but to also grow your business. I stand by the mindset of "the more you know the more you grow"! But you must also go use what you know! We can not just binge coaching and know all the things and not actually take action and use those new skills or better understanding!
These are just a few of the benefits and why you need to team up with a business coach! I am pretty darn sure that hiring a Business Coach will be your priority after reading these 11 tips. 
OR you are making excuses as to why this doesn't apply to you or that you just "can't afford" it! Here is the truth when I hear people say that! You can afford what you want! Yes, you can! It burns me up to hear people say I can't afford it. You cant afford not to in my opinion! Funny things is, right after someone tells me they can not afford it, they are over on social media posting the newest handbag they bought, or the 4 new makeup palettes they just scored! You can afford what you want to afford! You can find money for everything else but when it comes to coaching or the HARD stuff you might actually have to double down on for that BIG dream business you have, you all the sudden cant afford it! I call BS on that one! If you are steady making excuses then in my opinion you do not want it bad enough! Can you sacrifice less than $50 a month? Chances are, you might be avoiding hiring a coach because you are just not ready to fully be a legit business owner! You are saying you are but the doing part, ok not so much! Maybe you need to finally go all in on that business and that dream you have! And maybe you need to put that money where your heart is! Face the fear, the doubt and the sabotage you have created and finally go all in! (yes, that is the coach in me coming at you! said with love of course)
But those of you who read this and you are desperate for that business of yours to explode, and you are ready for the clarity, the strategies, the challenges, the joys, the big wins, and the new found confidence, you are ready for all your confusion and the unanswered questions to finally be answered, YES you, Can you feel your heart pumping? Are you so nervous? Can you see the dollar signs?  Can you see your goals coming to fruition?  Then don't waste another minute.   Let me help save you your money and time chasing your tail! Learn from my mistakes.  It's ok, I'm happy to share all that I have learned and you better know that I will! But I will dish out all the secrets too! Before you even finish this blog, go sign up and sign up for access to the self guided business curriculum taught by me!  
Go on, Sign up! Just click here and it is that easy!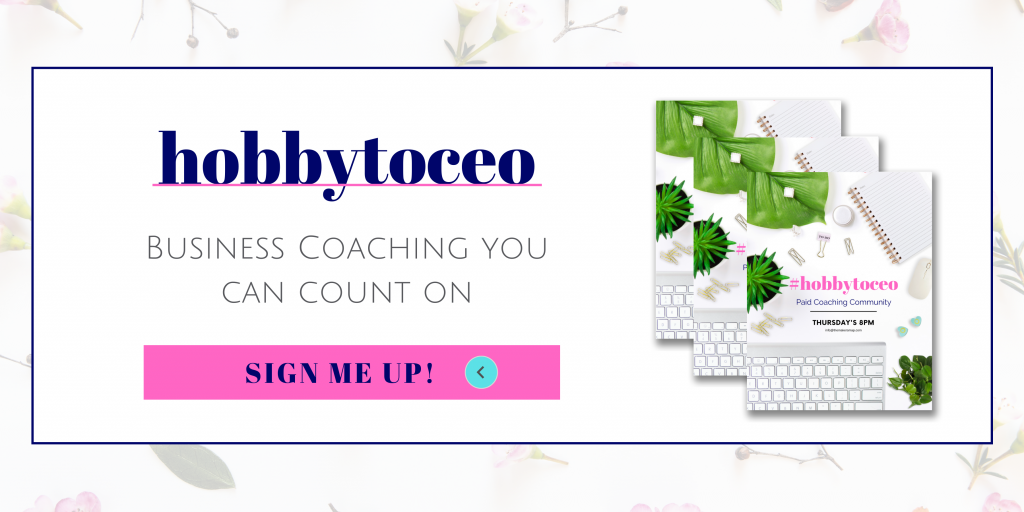 This part is really hard to talk about! I want to take a quick second (yeah, I know another long blog post. I warned you I am a talker) I want to take a moment to share something, actually it is something that is really hard to talk about and shed light on because of the fact that I myself am a business coach! Over the past few years since hiring several coaches. And going through a few, the one thing I have seen time and time again with high ticket, big name coaches is this. And I know this will ruffle some feathers! And this can also apply to anyone in business really! Having a team is wonderful, and investing your earned money in the dream possessions you have is lovely! But one thing I want to shed light on is this, at some point a choice will be made. 1. To stay true to your roots and truly stay on the relatable level as your clients and truly keep them in the forefront, or 2. You are chasing dollars instead of people! I do not care how many people I serve or how big or small my client base is or my following gets to be, I will not trade people for dollars! Period! And I absolutely will not flaunt it either! Be mindful of one thing, use discernment! Are you a person to the coach you seem to like, meaning they have so many followers, they look like they are so successful but yet they repeatedly say check the files, or they flat out do not reply (chances are they cant answer because they do not know what their team member taught for them on a printed file for you to grab) or are you simply a dollar bill paying for their expensive lifestyle? Don't get me wrong there are some great coaches out there! Absolutely, but just remember anyone with big dollars can buy a following or people! Big numbers do not mean good advice or actual teaching for you!  Chances are you're simply buying in to the fandom and ideology!! Pray that you actually invest in a coach that in fact know's their stuff, they see you, can invest in you, and will serve you! Pray and discern, because the decisions you make on who you allow to speak over you and your business are extremely important! Flashy houses, clothes, cars and lots of followers are not at all what it looks like!  Most coaches are not making money by teaching you HOW they made their money, they are teaching you how to keep needing them so you keep funding them! It's the dirty secret in coaching! Keep people stuck just enough to stay! If you are not being seen, heard or noticed by your coach but there are class favorites who are, then chances are those people are PAYING that coach more than you know through another service (could be 1 on 1, a mastermind or so on) But chances are it isn't because they dropped a few dollars a month in a coaching group to explode! It is because that student who is the "case study" that is being given so much attention most likely invested more of their money to be pushed to the front of the line) or that student was hand picked and given extra attention for the sole purpose of being the "case study" proof the coach will be using to draw in more members claiming you will get those same results! But that just simply isn't the truth! Wow, that was hard to type! But it needed to be said!
PEOPLE, if you are reading this! If you know me, keep me accountable! Keep me rooted! PERIOD!
OK, Just one more thing.  I think it's vitally important that you know:
I have no special skills. I was not born wealthy. I like to talk and I sometimes get distracted! I don't buy followers, and I teach organic business growth!I have no magic tricks up my sleeve. I do not have a magic wand or send out business fairies and I have zero college degree and ZERO formal certifications! I do not pick class favorites! And I live in a boring subdivision because I got a really good deal on our home! I do not personally know any of the famous business guru's like Rachel Hollis (which I adore) and I will out loud keep running and growing my own business including having success and failure myself, out loud, in your face chances are in real time!! What I will tell you is this, I am also an entrepreneur. I am a human, I am smart and I work really hard. I dream crazy big, I fight hard and I do not give up! I only show up in my authentic form whether it is with my make up game strong or my hair is a mess and my hidden pajama pants are still on that you cant see! Chances are you will only find me in my raw authentic form! And you will 100 % get honest and open truths in love! I wont have all the answers, but know this, I know a lot and what I do not know I will get the answers to, even if it takes me a while! Remember I do not quit! I am not a know it all but I am an "I know enough" type of coach! And I serve people over fortune! and That is it! 
So if you are revved up with ramping up your business there should be nothing stopping you!!!  Absolutely NOTHING!  I believe more now than I ever have that right now is the time to create your business and lifestyle that totally illuminates you. I did it and so can you!!! ARE YOU READY? Let me say that again ARE YOU READY? Then come on and let's do this!  Just click here and sign up!
Maybe you are like, "Amber, I love you but you are just too much" listen that is ok! If you need a meek and mild coach there are plenty out there and I encourage you to "shop around" but book mark this post because I know you will be back! There is no other coach I know like me! I am I strong willed, do I see the potential in you that you wont sometimes? Will I ruffle your feathers? Yes, but you will not find another coach like me! Promise! I am the best kept secret in coaching! And I absolutely like it that way! That allows me to lead out among the masses in a way no other coach can!
I hope that you took great value from this weeks blog post, honestly I hope that it opened you up to a new mindset and re-ignited fire and a new found courage! I believe that every entrepreneur both brand new and the seasoned needs a business coach! And sister, if you have no time to have a coach then that reason alone is all the more reason why you need one even more than I thought you did! You need help managing your time! I look forward to seeing you in my coaching community.
Thank you again for stopping in to my blog and for tuning in for each one I dish out! I hope that you come back next time. If you have something you want to add to this conversation then please chime in below in the comment section! I am always eager to hear from my readers!
I will see you on the next blog post friends! Blessings to you!
PIN OUR BLOG POSTS!